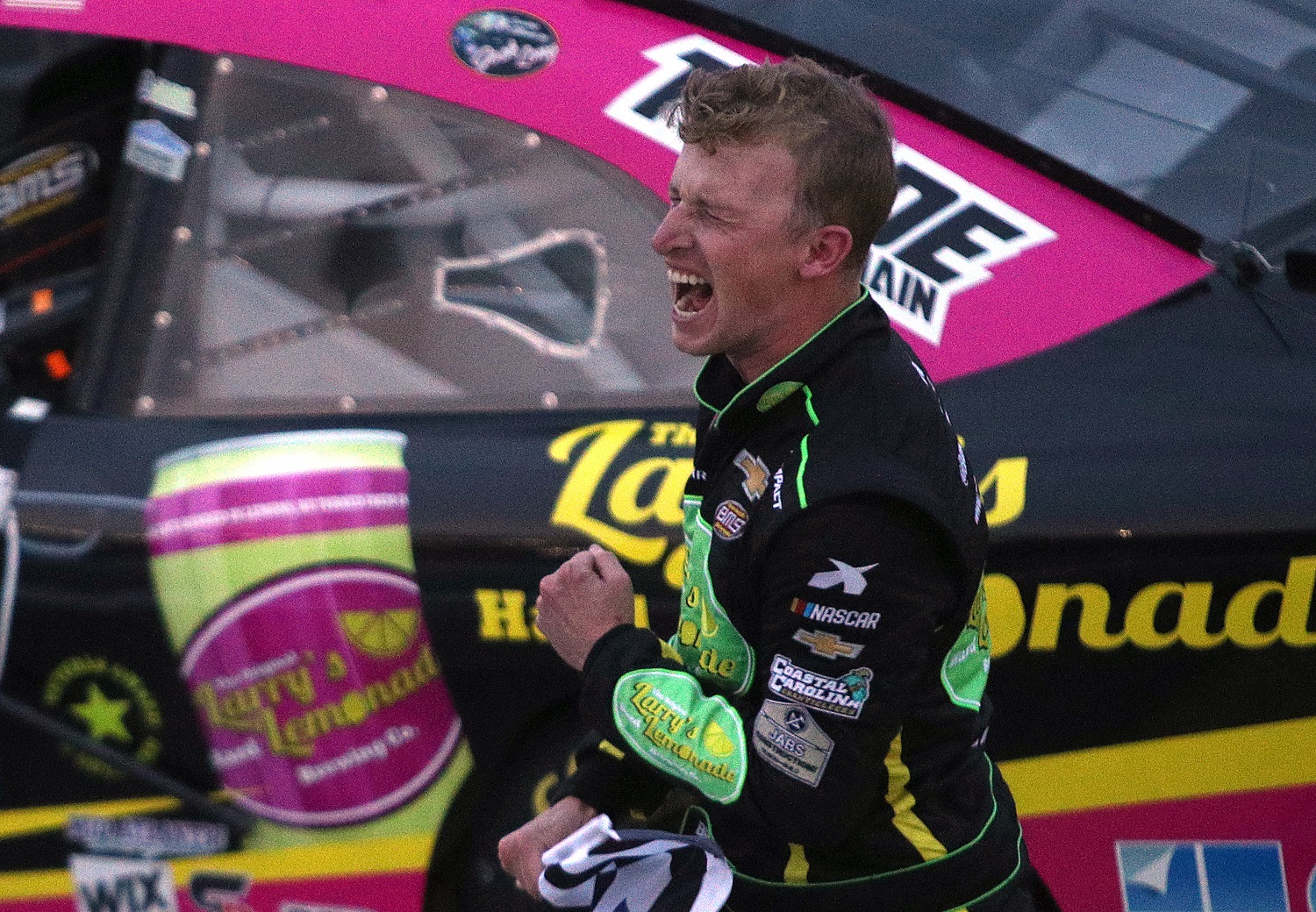 Brandon Brown Deserved to Win the NASCAR Xfinity Race at Talladega if for No Other Reason Than His Zany Recruiting Pitch to Attract Sponsors
Brandon Brown's Xfinity team feared running out of money by Memorial Day. The driver's brilliant social-media sales pitch and stunning Talladega win have secured the team's future.
Racing fans who knew the back story screamed, "Let's go, Brandon," while awaiting the final restart of an action-packed and occasionally dangerous day of NASCAR action at Talladega.
After 135 races without a victory, Brown became an overnight sensation. His first triumph, courtesy of a crazy ending, represented a triumph for a family-owned team that began the NASCAR Xfinity Series season uncertain whether it would have enough money to make it past Memorial Day.
Brandon Brown won the Xfinity race following a rare yellow/checkered finish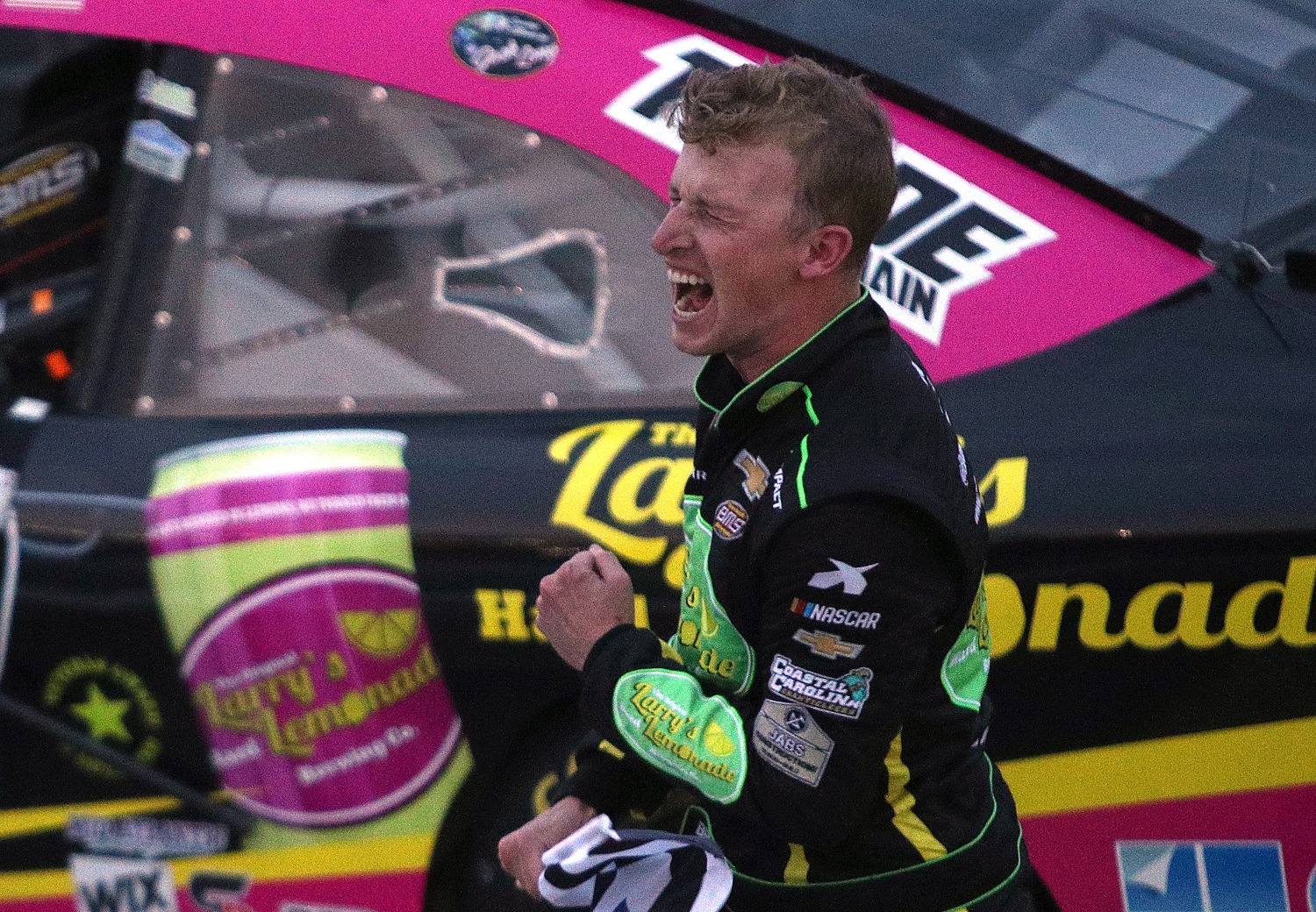 Brandon Brown was racing Brandon Jones for the lead on lap 102 on Saturday at Talladega when the action behind them got crazy. John Hunter Nemechek bumper Brett Moffitt, who turned Harrison Burton. By the time it was over, 11 cars took hits, and the caution flag came out.
It had already been a long day thanks to an incident-filled trucks race to start the doubleheader and a red flag, the race's second, to clean up a 12-car incident that had included Jones and Moffitt.
Talladega lacks lights, and the day's natural light was waning. As crews raced to clear the track, NASCAR officials went about a two-part task. They reviewed data from the scoring loops to ascertain the order for the field once action was OK to resume, and they queried spotters positioned around the track about racing conditions.
The last scoring loop Brown and Jones crossed under the green flag showed Brown ahead by 0.006 seconds. The report from the spotters was that they could no longer see the length of the track, and they felt drivers could no longer safely judge the corners.
The officials made the decision to end the racing. The field finished out under the yellow, and Brown cruised to the checkered flag on lap 107.
Upon hearing from his crew chief that the race had been called, Brown responded, "Oh my God! Oh my God! Wow! Just wow! Oh my God! This is a dream come true! This is a dream come true!"
Brandon Brown put his marketing degree to use to help save the team
Brandon Brown began racing NASCAR trucks in 2014 and in the Xfinity Series in 2016. Jerry Brown started his son's team, but funding has always been tight. They've repaired the No. 68 Chevy more times than they can count because it's cheaper than buying a replacement.
"When you fight so hard for so many years and the odds are all against you and you finally beat the odds, just an unbelievable feeling," Jerry Brown said, according to NBC Sports.
That will change now. The owner says he's retiring the history-making car. When he goes shopping for a replacement, his first call should be to the winning Talladega driver.
With sponsorship money lagging at the beginning of the season, Brandon Brown put his Coastal Carolina marketing degree to use. He created a minute-long faux commercial on social media to generate interest. Dressed in a suit and tie, Brown started the spot by explaining that the car lacked sponsors for multiple races. Then, he switched into his car salesman persona to highlight all the panels on the car that advertisers could lease.
It contains all the slick talk of used-car commercials you see during Arrow reruns at 2 a.m. Walking to the back of the car, Brown says, "You could sponsor my rear end."
It was a humorous spoof of a serious subject. Looking over their books at the start of the season, the Browns projected they could run out of money by Memorial Day.
"It was getting very, very frustrating," Jerry Brown said. "I kept asking myself, 'How much longer can I go through this?' Luckily, I never answered that question."
The victory buys the team time
One victory doesn't pay a whole season's bills, but it does make it easier for Brandon Brown's team to attract sponsors for next season. Certainly, they have momentum for the future. And they have a driver with some ability.
After a grand total of two top-five finishes in the trucks and Xfinity cars before this season, Brandon Brown has placed in the top five three times in 2021. There have been six other top-10 showings as well.
He placed 15th in regular-season points after finishing 11th a year ago. With a little more money in the budget, it isn't difficult projecting the No. 68 Chevy making the playoffs in 2022.
We can't wait to see Brown's pitch to potential sponsors offering them a piece of that action.
All stats courtesy of Racing Reference.