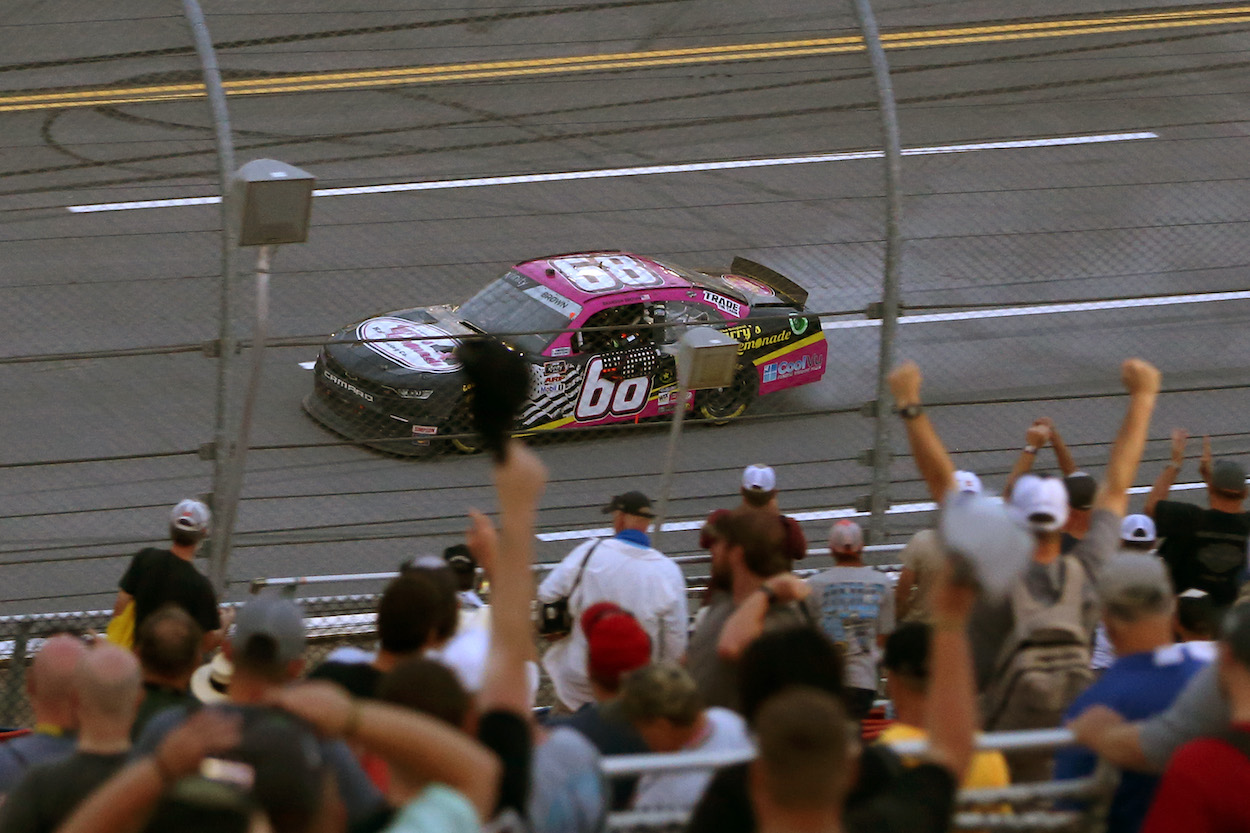 NASCAR Fans Clearly Shout Vulgar Chant Directed at President Biden Following Brandon Brown Xfinity Series Win and NBC Reporter Awkwardly Acts Like It Never Happened
After Brandon Brown won for the first time in his Xfinity Series career at Talladega, things turned ugly when fans directed a derogatory chant at President Biden, and awkward, when the NBC reporter acted like it never happened.
Brandon Brown is unquestionably one of the feel-good stories of the 2021 Xfinity Series season. The 28-year-old, who races for one of the smaller family-owned teams, made his 114th career NASCAR start on Saturday at Talladega. When it was over, he earned his first career victory. 
A jubilant Brown didn't hide his emotions during his postrace interview. Unfortunately, the celebratory moment turned ugly when a nearby contingent of fans in the stands began audibly shouting a derogatory chant directed at President Joe Biden. NBC's Kelli Stavast awkwardly tried to provide cover and suggested the fans were cheering for Brown. 
Brandon Brown earns first career win
Brandon Brown is the definition of an underdog. As a small family-owned team, competing against the big teams like Joe Gibbs Racing and JR Motorsports is challenging enough. Beating them and actually winning a race is next to impossible. 
Since making his Xfinity Series debut in 2016 on a part-time basis, Brown had earned 15 top-10s. Of those, three were in the top five, and all came in the last two seasons with his best finish a third-place earlier this year at Phoenix. 
Brown has been a solid example of how a smaller team on a limited budget can compete with the big boys on a consistent basis. However, competing doesn't necessarily translate into trips to Victory Lane. 
On Saturday, that changed when Brown held the lead late in the race at Talladega and a caution came out. NASCAR called the race due to darkness shortly after. 
Fans shout derogatory chant directed at President Biden
Following a lengthy celebratory burnout, NBC's Kelli Stavast caught up with Brandon Brown for the postrace interview. 
"Oh my God, this is a dream come true! Wow, Talladega! Oh my God, Dad, we did it. Let's go!" he shouted. 
When Stavast asked how the reality of the moment matched up with the dream, Brown offered a simple and sentimental response.
"This is just everything we have hoped and dreamed for. This is everything I've ever wanted to do was take the trophy home to Mom and Dad," he humbly admitted.
He then started thanking his sponsors when a nearby group of fans started clearly chanting in the background. "F*** Joe Biden!" the cluster of fans repeated. As the camera panned to the crowd, Stavast awkwardly offered up a cleaned-up version of the chant.
"As you can hear the chants from the crowd, 'Let's go Brandon,'" she said. 
Brandon Brown wins in controversial fashion
Despite that select group of vocal fans, Brown's victory was popular with both the fans and drivers because everyone likes to pull for the underdog. However, that's not to say everyone was happy with the way it ended as NASCAR called the race six laps short of its scheduled distance due to darkness. 
Some fans posted to social media questioning NASCAR's decision, while others wondered why there were no lights. Another driver named Brandon wasn't necessarily pleased with NASCAR's decision before it called the race. 
Brandon Jones felt like he was in first position when the final caution for the race came out. NASCAR awarded the top spot to Brown based on the timing technology it uses around the track. 
"You look at the whole day and all the scenarios that happened, I think the best option without us winning is to have the 68 win. It's good for him," said Jones, who is still in the playoffs. "Think that it obviously doesn't affect the points too bad for us. I had some solid moments there. … A lot of positives. We're close, but it's tough to swallow." 
Brown's first victory is a memorable one and will go down in the history books for not only its controversial ending but also the ugly moment when a select group of fans could clearly be heard on national television directing a profane chant at the President and the awkward attempt by an NBC reporter to act like it never happened. 
Like Sportscasting on Facebook. Follow us on Twitter @sportscasting19.