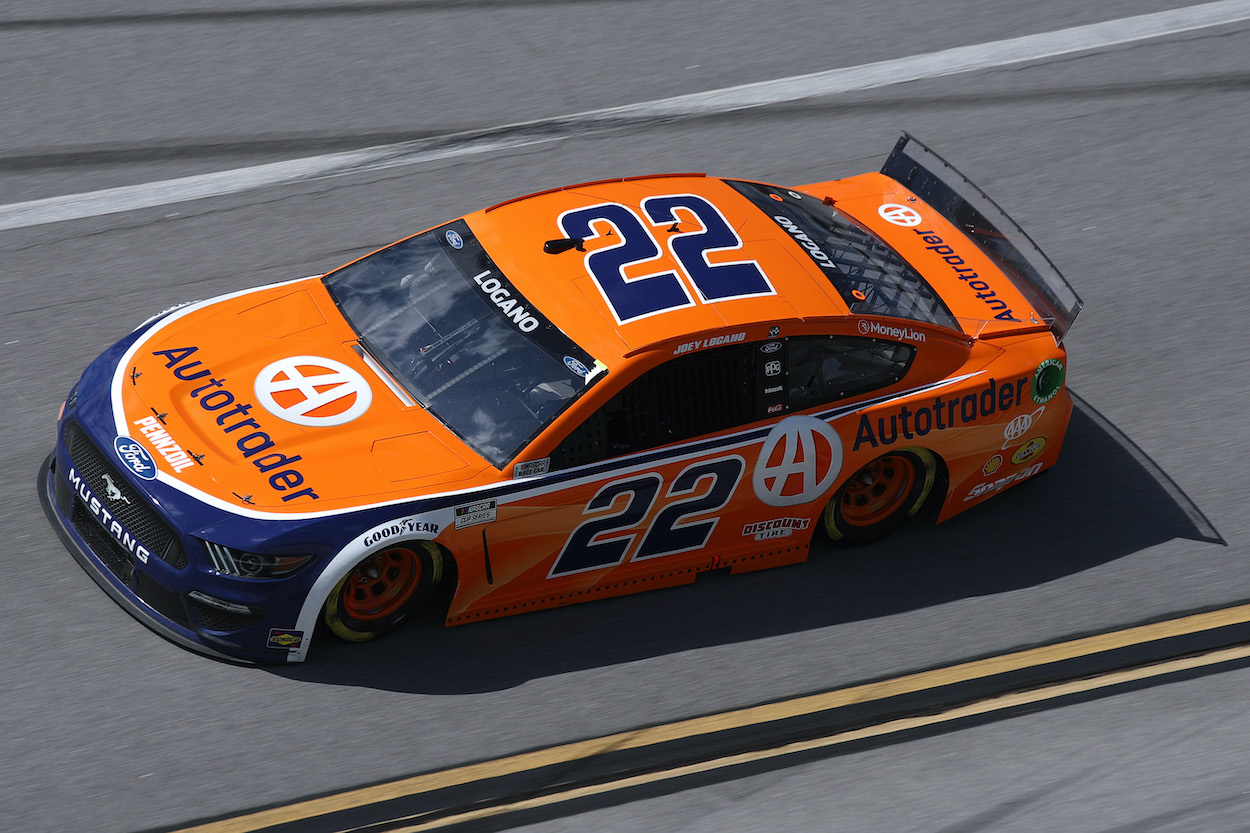 Joey Logano Candidly Admits He Came Dangerously Close to Dying During His Frightening Accident at Talladega in the Spring: 'It Was That Close and We Cannot Have That'
Joey Logano candidly admitted this week how he narrowly avoided death during his scary crash at Talladega back in April.
NASCAR is unquestionably dangerous. Numerous drivers have died in accidents in the past. To its credit, the organization has dramatically improved its safety record with Dale Earnhardt's death at the Daytona 500 in 2001 the last fatal accident.
This week on NASCAR Race Hub and just days before the Cup Series playoff race at Talladega, Joey Logano revisited his frightening accident at the superspeedway back in April, when his car went airborne and landed upside down on its roof. He also candidly admitted how dangerously close he came to dying in the violent crash.
Joey Logano goes airborne in frightening accident at Talladega
Talladega, like Daytona, is a superspeedway known for "the big one," which takes out multiple cars due to a combination of high speeds and pack racing. During the spring race at Talladega, the "big one" never came. But the scary one did. 
Late in the first stage, Joey Logano was racing with a large pack of cars when Denny Hamlin tapped the No. 22 Penske car on the left rear and sent it sideways. Ricky Stenhouse Jr. delivered a glancing blow to the same area, and Logano lifted off the ground.
The orange Autotrader car sailed up in the air before it violently slammed back down on its roof directly over where Logano sat. After sliding down the track on its roof for several seconds, the vehicle slowed and flipped over on its four wheels before coming to a stop.  
Joey Logano breaks down the Talladega accident and changes NASCAR has made since
This week, Joey Logano appeared on NASCAR Race Hub, and the crew talked about this week's upcoming race at Talladega. As part of the discussion, they revisited Logano's accident back in April. Show host Shannon Spake asked the 2018 Cup Series champion to reflect on that scary moment. 
"When you watch it back, it doesn't look like it's that bad of a crash," Logano surprisingly said. "It just landed in the worst possible spot you can ever ask a race car to land, right over your head. And for me, I'm pretty tall, a lot in the neck as well. That roof, when it came down, it crushed right down on to my helmet. When you watch the in-car footage of that it becomes a lot more scary for myself looking back at it. 
"Our goal as a sport is to keep improving safety. That's what we have to do. That's what the pioneers of our sport have done to give us as safe a car as we have today. That doesn't mean we just rest. We have to keep moving forward on the safety perspective as well to keep getting it better. Because of that, we have a new bar to try to help hold the roll cage up off the driver's head in that scenario. We've knocked a little bit of speed out of the cars to help keep them on the ground because that's the most important part because the car doesn't stop, and it doesn't steer when it's in the air."
Admits he came dangerously close to dying
When Spake asked if Joey Logano felt like NASCAR was in a "good place" from a safety perspective heading into Talladega, the 31-year-old father of two with a third child on the way didn't directly answer the question. He also candidly admitted just how close he came to dying during that race. 
"I feel like we've made improvements," Logano suggested. "Anytime you see something like that from inside the car, you take a step back. You naturally do. You just take a step back and realize how close you were to not being able to race again, maybe not seeing your family again. It was that close and we cannot have that. We have to be better than that. We've made improvements. We're never going to be where we need to be. I think that's the attitude we have to have is to keep forging forward to make our cars safer and safer."
Logano understands each time he straps in behind the wheel that he might not get out. Talladega was a frightening reminder of that. He also knows NASCAR has made tremendous strides when it comes to safety in the last two decades. But Talladega also glaringly revealed the work for improving safety never ends.
Like Sportscasting on Facebook. Follow us on Twitter @sportscasting19.