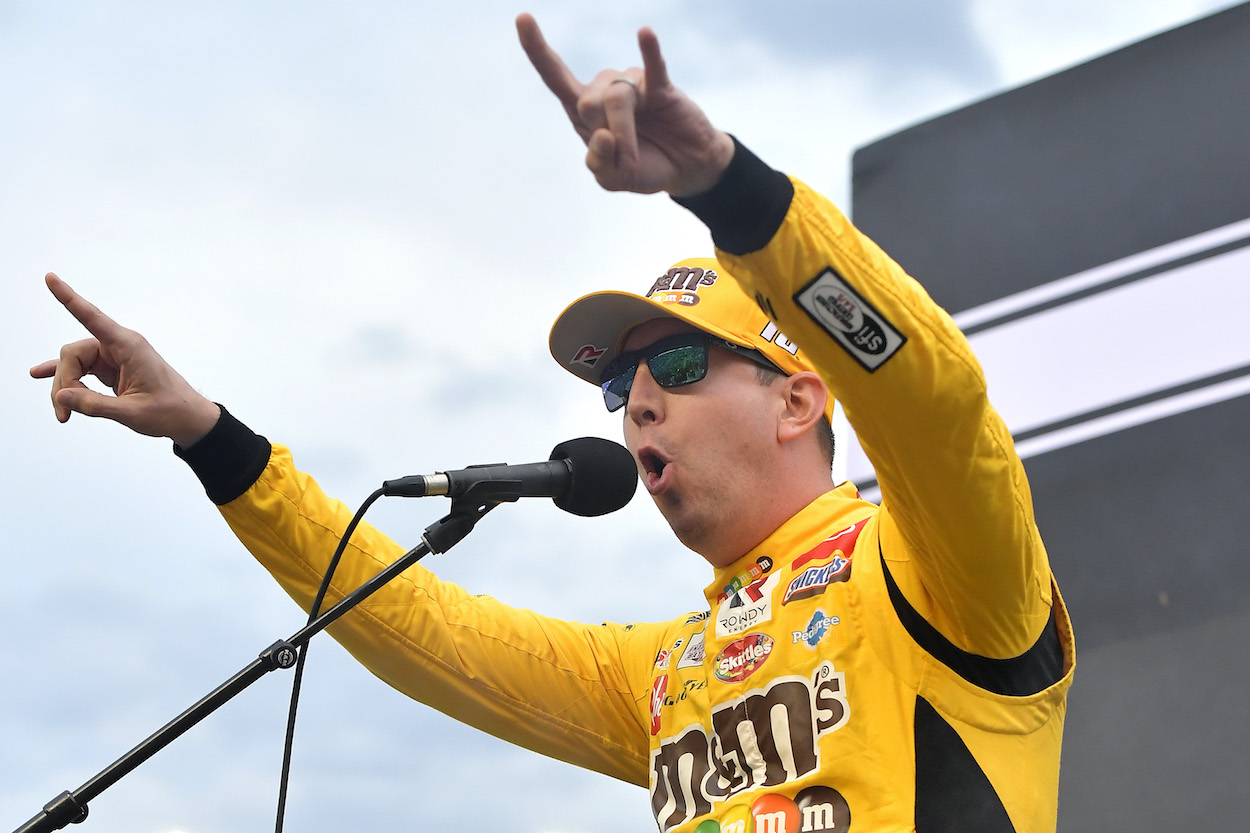 Kyle Busch and Denny Hamlin Brilliantly Shut Down Boisterous Booing Fans During Driver Introductions at Bristol
Kyle Busch and Denny Hamlin were greeted by a chorus of boos at Bristol. Both drivers creatively found ways to effectively shut it down.
Some NASCAR Cup Series drivers just have a way of getting under the skin of fans. Whether it's something in the past that they said or did, or maybe a combination of the two, some fans really love to hate certain drivers. Kyle Busch is a prime example. 
On Saturday night at Bristol, those fans let Busch and Denny Hamlin know how they felt about them, showering both with a boisterous cascade of boos during driver introductions. While the NBC broadcast crew was surprised by Hamlin's frosty reception, they were equally impressed by how he and his Joe Gibbs Racing teammate were both able to creatively shut down the noisy fans with minimal effort. 
Kyle Busch plays the villain role well
Kyle Busch embraces his antagonist role better than anyone else in the NASCAR Cup Series. There was no better evidence of this than on Saturday night at Bristol. 
After walking through the fog machines, he immediately put on his dark sunglasses and approached the microphone stand, all with a chorus of boos raining down from the stands. He made a couple of dance moves to the music playing in the background, then addressed the crowd.
"If you love ya some Rowdy, let me hear you go booooo!" Busch said while showing the standard rock-and-roll salute with both hands. And the fans heartily booed, which Busch had brilliantly turned into a cheer for himself.  
"That's my man right there," Kyle Petty said. 
"Aww. You love it. Encouraging that," Marty Snider said. "You love it, right?"
"Embrace it. That's what he does," Petty said. 
Denny Hamlin receives surprisingly cold reception
Kyle Busch's Joe Gibbs Racing teammate, Denny Hamlin, made his way onto the stage a few minutes later. A large contingent of fans in attendance voiced their displeasure with the driver of the No. 11 car as he waved to the crowd. 
"I'm hearing more boos for this one," Petty said, surprised. 
"Hm," Snider replied, equally puzzled by the negative response as Hamlin stepped up to the microphone. 
"I love you all, too," the three-time Daytona 500 winner said, which drew a huge laugh from the broadcasters. 
"That's perfect," Petty said.
"What a great line. I think the boos caught him off guard," Snider suggested. 
"Yeah, that was good, though. Good comeback by Denny Hamlin," Petty complimented.
Why fans don't like Kyle Busch and Denny Hamlin 
Kyle Busch has a history of playing up the villainous role and antagonizing fans. Earlier this year after he swept the Truck and Cup Series races at Kansas, fans booed him during the postrace interview. The two-time Cup Series champion looked into the crowd, then started moving his head side to side and rubbing his eyes like a crying baby. 
The disdain for Hamlin is less prevalent, but tabloid news in recent weeks might have been one of the reasons fans at Bristol were so vocal. Hamlin's longtime girlfriend and the mother of his two daughters, Jordan Fish, blasted him on Twitter in early September. 
"I have been quiet for far too long.. and I have endured things no one person should EVER have to endure, and today was no exception. @dennyhamlin I hope everyone will finally see you for the person you truly are," Fish tweeted. "Myself and our children deserve better than what you have given. I cannot believe I ever thought that someone like you could change. Because you cannot. You have a long road ahead of you, and one I graciously no longer will be apart of. Have a great life @dennyhamlin."
While the specific reasons for her since-deleted message were never publicly verified, social media reaction clearly revealed fans chose a side.
Regardless of the reasons fans at Bristol chose to boo Busch and Hamlin, both drivers creatively used them to their advantage and shut down the fans in the process. 
Like Sportscasting on Facebook. Follow us on Twitter @sportscasting19.