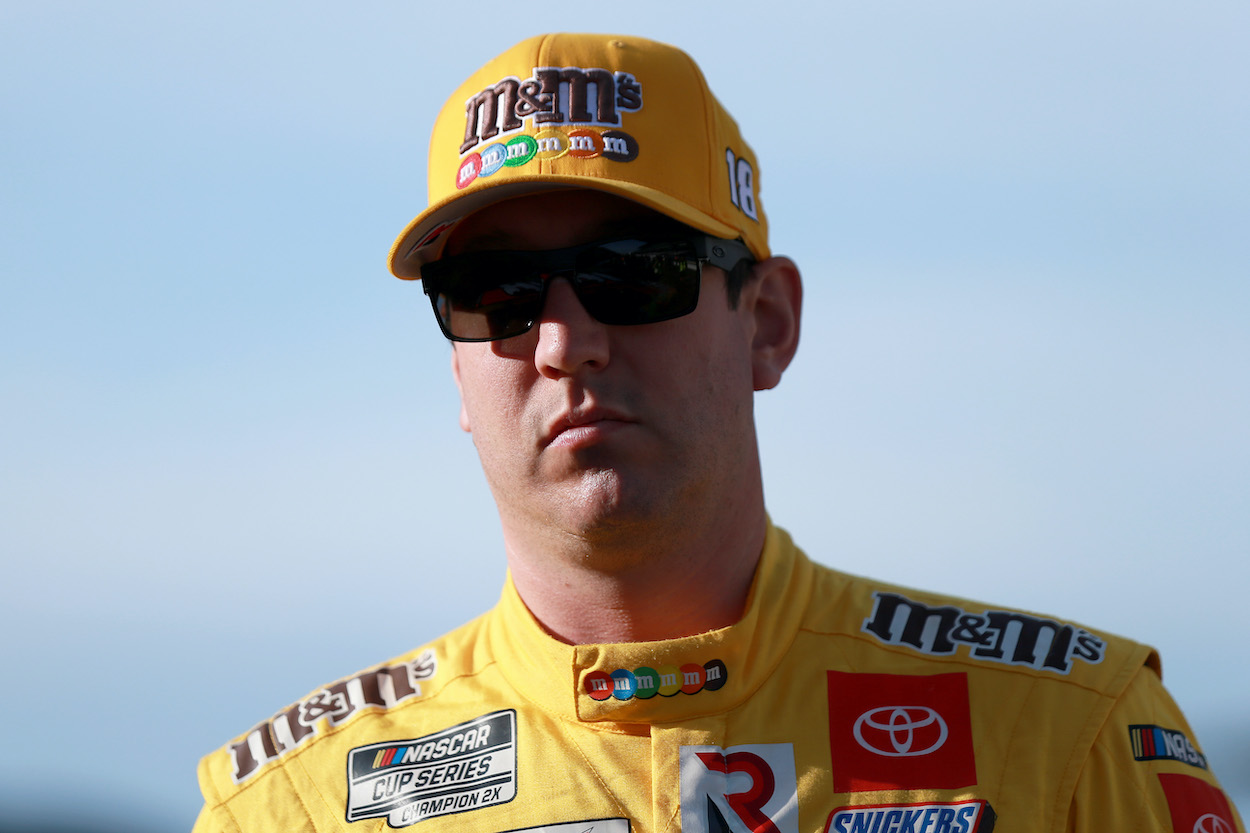 Kyle Busch Doesn't Sugarcoat Feelings on What He Thinks About Next Gen Car: 'It's a Step in the Wrong Direction'
Kyle Busch never shies away from sharing his thoughts. He did just that and wasn't too kind when asked what he thought about the Next Gen car.
Kyle Busch is never one to hide the way he feels about something. It's that honesty, among other things, that endears him to his fans and rubs others less fond of him the wrong way. This week the two-time Cup Series champion appeared on a podcast and had the Next Gen car in his sights. And in typical Kyle Busch fashion, he didn't sugarcoat what he thought about it. 
Next Gen car safety called into question earlier this year
After years of planning and preparation, the Next Gen car is finally scheduled to make its debut at the start of the 2022 NASCAR Cup Series season. To say the car has encountered some issues is a major understatement, including a worldwide pandemic that delayed its debut by a year.
In recent months, the car has been under intense scrutiny from the drivers for potential safety issues after various reports suggested that the car had performed poorly in crash tests, including test dummies suffering what would be considered fatal injuries. 
"When it comes to the crash stuff, I've asked questions to two different NASCAR people, executives. I can't get a response. That, to me, makes it even scarier," Denny Hamlin said in mid-July when asked about concerns with the car's safety. "Man, the disconnect right now between all the parties — NASCAR, the tracks, and all the drivers, it's tough right now. It's not a good place."
Kyle Busch not a fan of Next Gen car 
Like the rest of the drivers, Kyle Busch expects NASCAR will address the safety issues before the first race in 2022. However, this week when the playoff-bound driver appeared on The Final Lap podcast, he was asked his thoughts on the Next Gen car, and safety wasn't on his mind.  
"Yeah, I've kind of seen it, but I've not driven it," Busch said. "From my vantage point, when you take out all the ability for race teams to be creative and ingenuity and the engineering aspect, everything's gone, you know. So it's just a race of engine development, I guess. That's all the manufacturers have any say over the new car is just what engines are in it and what their engines do and that sort of stuff. So I'm not necessarily a fan of it. I think it's a step in the wrong direction, but that's what we got."
As Busch mentioned, NASCAR has taken a templated approach with the Next Gen car, which is intended to reduce operating costs and make the vehicle look more like the production cars found on showroom floors. 
Kyle Busch critical of Atlanta Motor Speedway earlier this year
Around the same time drivers were voicing concerns about reported safety issues with the Next Gen car, Atlanta Motor Speedway officials announced the track would undergo a major reconfiguration following the races in July. Kyle Busch was not happy with the announcement and made it clear how he felt. 
"Other than getting into my teammate Daniel Hemric and him crashing, I sure am glad to win the final Xfinity Series race on a real Atlanta racetrack," Busch said. "Because the next one is just going to be a showpiece, and it's going to be s—."
Kyle Busch is never one to mince words. It doesn't matter if you're another driver, a race track, or the governing body. If you're on his wrong side, you can expect to hear about it. And his fans love him for it.
Like Sportscasting on Facebook. Follow us on Twitter @sportscasting19.