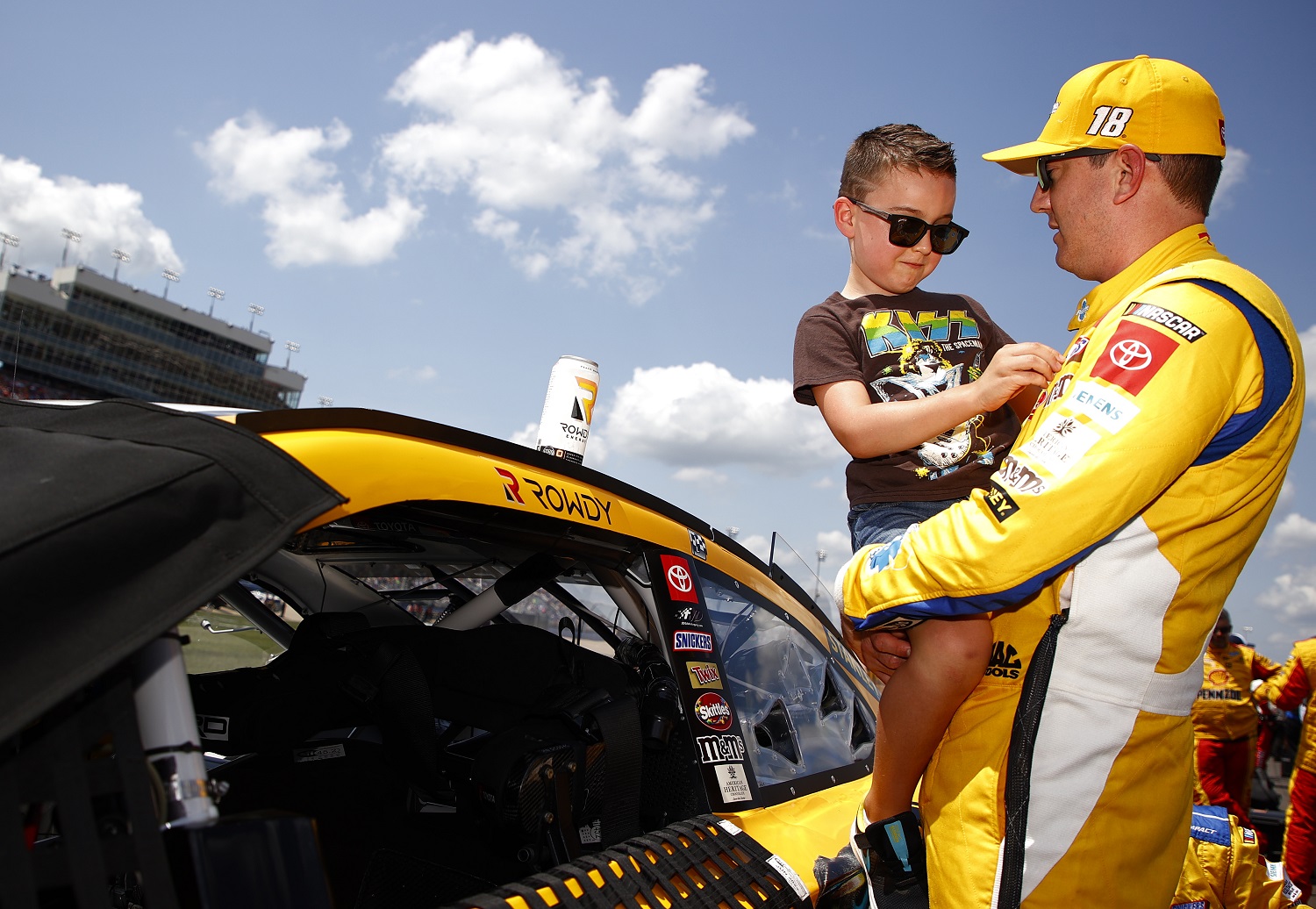 NASCAR Star Kyle Busch's 6-Year-Old Son Puts the Winner of 222 Races in His Place: 'You're Drama'
Watching his 6-year-old son Brexton compete in kart racing helps Kyle Busch take his mind off the hectic NASCAR Cup Series competition.
Travel can be rough on NBA and MLB players, but at least they play half their games at home. Meanwhile, NASCAR stars like Kyle Busch may fly home for two or three days a week, but nearly every weekend race from mid-February to early November is a "road game."
That makes the time with family especially meaningful. Even then, though, Busch can't always get away from racing. That's because the veteran NASCAR Cup Series star's 6-year-old son has taken up the family business.
Patriarch Tom Busch achieved success at local tracks in the Las Vegas area. A mechanic for a dealership by trade, he won 15 of 16 races in one season while doing most of the work on his cars. Brothers Kyle and Kurt Busch learned racing and competitiveness from their father and have put the knowledge to good use.
Kurt Busch, 43, has won 33 Cup Series races and the 2004 season championship. Kyle Busch, 36, reached NASCAR's upper echelon in 2001 and has posted monster numbers: 59 Cup Series victories, 102 in Xfinity cars, and 61 driving trucks. He won Cup Series championships in 2015 and '19.
The family is on its way to a third generation in motorsports, and Brexton Busch is following in papa Kyle's footsteps in more ways than one. Jeff Gluck wrote an amusing feature for The Athletic this week capturing how coaching his son in kart racing gives Kyle something to look forward to between Sunday afternoons on the drama-filled NASCAR ovals and road courses.
Busch and wife Samantha regard Brexton as their miracle, the result of successful in vitro fertilization. The couple has tried unsuccessfully to present the 6-year-old with a sibling, a subject that Samantha has detailed in a book and in television interviews. They are immersed in making sure Brexton's life is everything it can be, and that means spending Tuesday nights at Millbridge Speedway, a 1/6-mile track in Salisbury, North Carolina, where he can drive just like his dad, who didn't start competing until he was 13.
And drive like Dad he does. Brexton does well in his races, but he doesn't take losing well.
"For as mad as he gets when he doesn't win, we have to work on teaching and growing," Kyle told Gluck. "Not long ago, he wouldn't sit down and watch any race. Now, he wants to debrief his own races."
He remarked, presumably joking, that Brexton has more friends than his father does. That would be true by default since Kyle claims to have no friends.
"That's not true, you have one," Brexton said.
"Who's that?" Kyle says.
"Your brother!"
"Is he my friend or does he have to be my friend?" Kyle asks.
That's the combination of dry humor and bluntness that sometimes gets the 19th-year Cup Series driver in trouble, especially in conjunction with his temper. Busch rang up a $50,000 fine Sunday at Darlington for the way he drove his wrecked car back to the hauler at Darlington. NASCAR presumably threw in his profanity-laced interview afterward on NBC for free.
When The Athletic caught up with the Busches, Kyle was decompressing after finishing second to his brother Kurt at Atlanta. Being back with his wife and son was a perfect night out, even if it was at a racetrack.
All did not go smoothly for a bit as Brexton had trouble with his helmet visor and complained when Dad tried to help, leading to Kyle walking away in frustration.
"Drama queen," he muttered, according to Gluck.
The aspiring pro driver was having none of that.
"You're drama!" Brexton shot back.
Those would be fighting words if uttered by a fellow NASCAR driver in the garage, but Kyle knew enough to let it slide in this instance. All was quickly forgotten as Brexton executed a strong restart from the outside of the front row to win the pole.
But winning a pole doesn't really qualify as a life skill that will come in handy 20 or 30 years down the road. What really made Dad's day was hearing from another parent about how nice Brexton was to friends during a recent birthday party.
"You definitely wouldn't have heard that about 6-year-old Kyle," Kyle kidded.
All stats courtesy of Racing Reference.