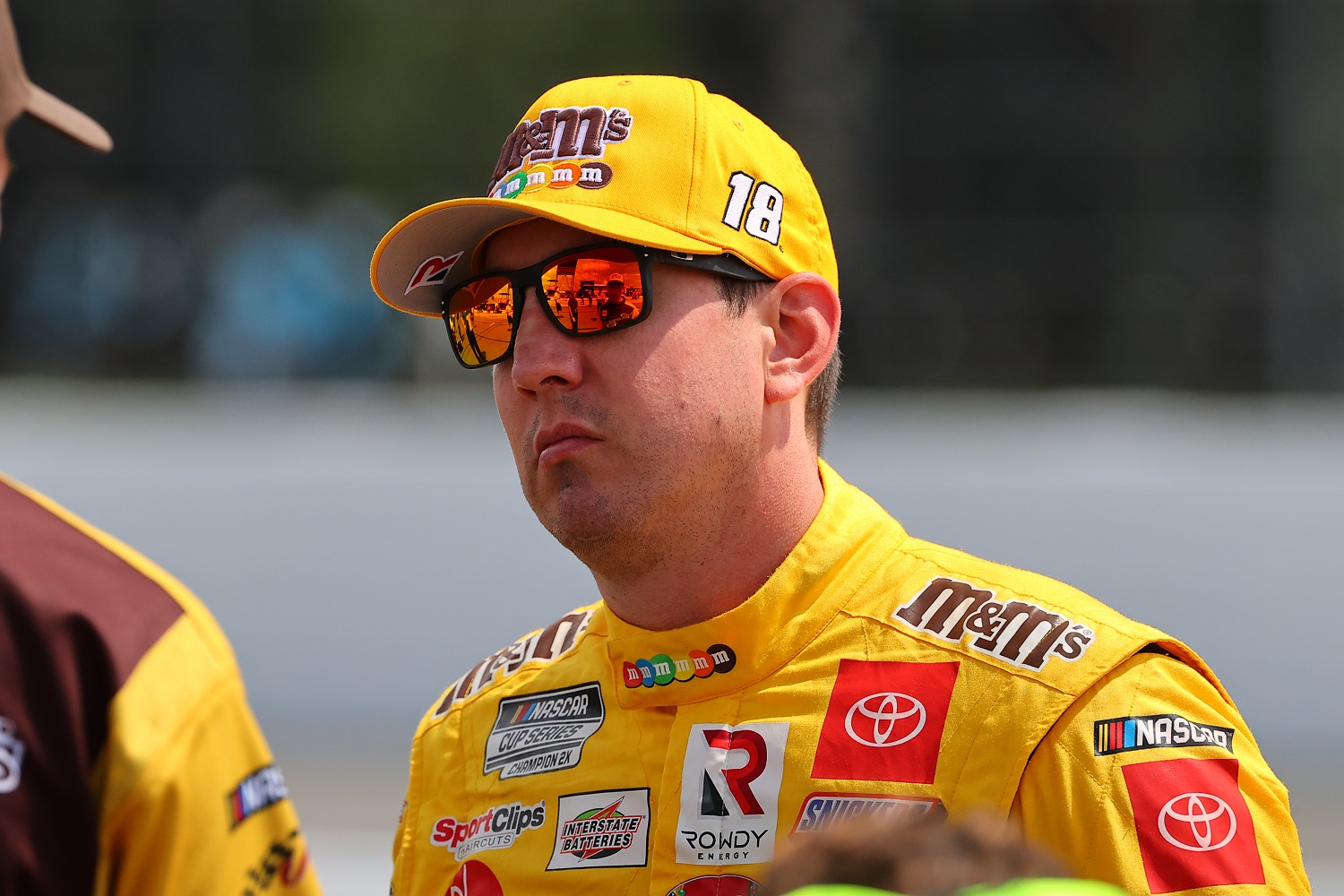 Kyle Busch Has Been Embarrassing NASCAR in Post-Race Interviews Since the Car of Tomorrow Made Its Debut
Kyle Busch raised eyebrows by using profanity live on NBC over the weekend. It was hardly the first time he made NASCAR uncomfortable, and his 2007 review of the Car of Tomorrow remains a classic.
When Kyle Busch won at Bristol in 2007 in the debut of the Car of Tomorrow, it marked the 200th victory by a Hendrick Motorsports car, the 600th NASCAR Cup Series triumph for Chevrolet, and one of the 1,000 or so times that Busch refused to hold back during an interview.
If the race itself was run-of-the-mill, Busch's words were memorable. Naturally. Just this past weekend, Busch followed his early exit from the first race in the Cup Series playoffs with a profane interview that reminded NASCAR fans that he can be blunt while forgetting who his audience is.
Austin Dillon got into the left rear fender of Busch's No. 18 Toyota late in Stage 2, sending the two-time Cup Series champion into the outer wall. Recognizing the severity of the damage, Busch took to the bottom of the track. He radioed his crew that their night was over and drove to the hauler. Along the way, he ran over a row of orange pylons, sending workers scurrying out of harm's way.
That move earned Busch a $50,000 fine Tuesday, but the real fireworks were just beginning. NBC Sports pit reporter Marty Snider caught up with Busch to find out what happened. Unlike his car at that point, Busch was firing on all cylinders. He absolved Dillon of blame but still found plenty to say.
"We're running like s—. We got wrecked. It's what you get when you run like s—. Shouldn't be there. I don't know what our problem is. Every time we go to (the simulator) and use the sim and think we have a good sim session, we go to the race track and we suck. I'm done with that. We'll have to use some other tools on figuring out how to be good. The M&M's Camry was not very good and we're running terrible." 

Kyle Busch
The only surprise in that deal is that it didn't occur to anyone at NBC to put the interview on a 10-second delay instead of running it live. Fans know Busch for his 59 victories in the Cup Series, 102 in Xfinity cars, and 61 driving trucks. They also know he owns a clogged filter when doing interviews.
And even when Busch holds his temper in check, he has a knack for speaking his mind. One such memorable moment came early in the 2007 season at Bristol, and his target of choice was NASCAR. The fact that he had just scored his fourth career victory, helped by Tony Stewart's fuel-pump failure, may have minimized the damage.
Competing in his fifth and final season for Hendrick Motorsports, Busch prevailed in overtime, holding off Jeff Burton and teammate Jeff Gordon. The last bit of drama came just before the white flag. Burton had Busch lined up to dump him, but he backed down and let Busch take the checkered. The sportsmanship wasn't lost on Busch.
"I think I earned some brownie points from the way I raced him at Las Vegas," he said. "If the roles were reversed today, I probably would have tried a little harder (to make the pass). But if I couldn't get under him, I probably would have done the same thing."
It was the fifth race of the season but the first using the Car of Tomorrow, developed to even out competition and standardize safety innovations in response to Dale Earnhardt's death in 2001.
Interviewed on the air in victory lane, Busch dished out some honesty as he reflected on the milestone victory.
"That's 200 for us. That's 600 for Chevrolet. So I'm glad we could do that for everybody, but I'm still not a very big fan of these things," he offered. "I can't stand to drive them. They suck."
Busch doubled down later in the media center.
"I said that I wanted to go out and win this race so I could tell everybody how terrible this thing is to drive," he said.
With the Next Gen car scheduled to roll out early in 2022, everyone with a microphone should consider themselves forewarned.
Like Sportscasting on Facebook. Follow us on Twitter @sportscasting19.