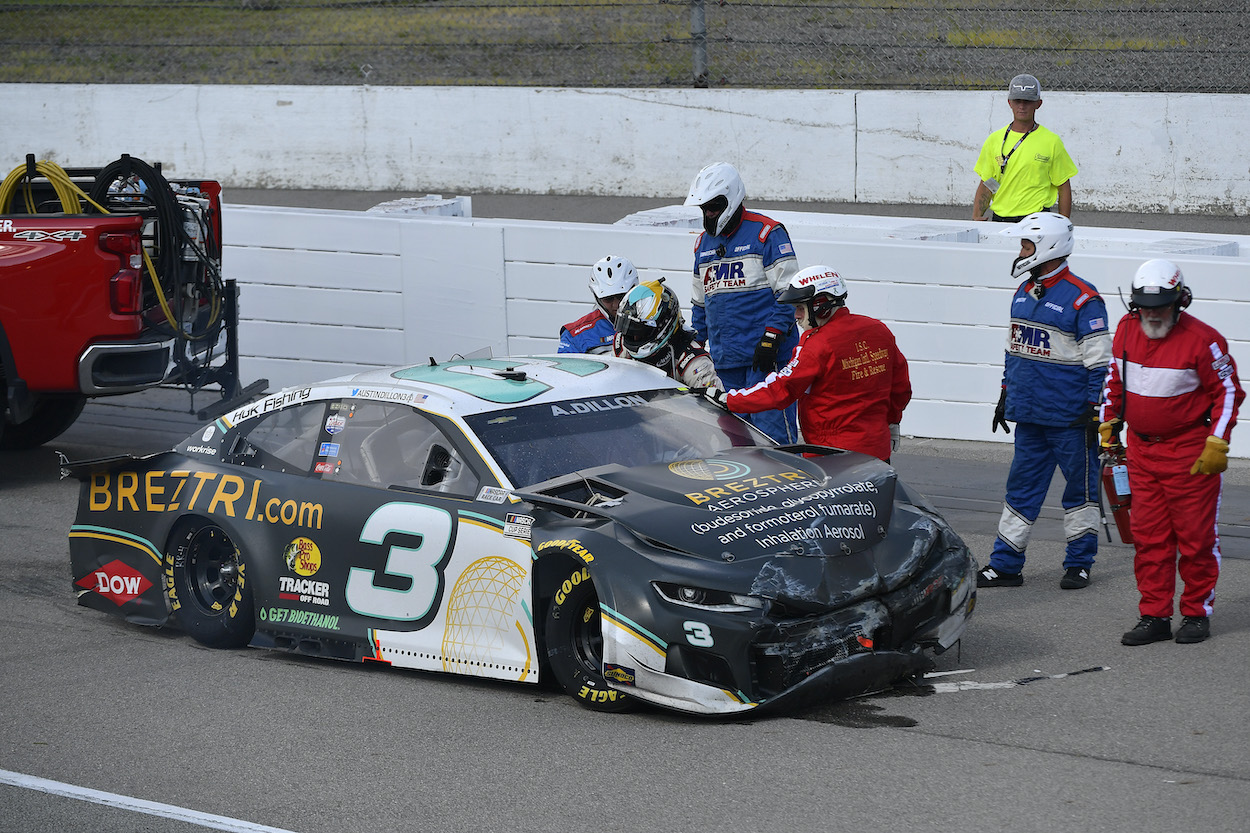 After Austin Dillon Violently Crashes at Michigan, Team Owner Richard Childress Goes Off and Directs His Anger at Brad Keselowski: 'I Can Kick His Ass'
Austin Dillon crashed hard after crossing the start-finish line in Stage 2 at Michigan. Team owner Richard Childress didn't mince words in directing his anger at Brad Keselowski.
Richard Childress is understandably tense these days with his two NASCAR Cup Series drivers — Austin Dillon and Tyler Reddick — fighting to make the playoffs. During Sunday's race in Michigan, Childress revealed just how tense when he angrily went off on Brad Keselowski after the No. 2 car made contact with Dillon after the end of Stage 2, sending him violently slamming into the outside wall and ending what was a promising day. 
Austin Dillon gets off to solid start at Michigan
With his playoff life on the line, Austin Dillon came into Sunday's race at Michigan with a lot of confidence. During NBC's prerace show, the 2018 Daytona 500 winner said he felt like he was piloting a "rocket ship." 
Starting from the 26th position, Dillon rocketed through the field in the opening stage, moving into second place and battling with the two Hendrick Motorsports cars of Chase Elliott and Kyle Larson for the lead. He finished third after Stage 1. 
Dillon remained up front for most of Stage 2 before slowly fading in the segment's final 10 laps. He finished sixth with Brad Keselowski right behind him. 
Keselowski turns him after crossing the start-finish line ending Stage 2
Unbelievably, right after Dillon crossed the start-finish line on the apron, Keselowski made contact with his right rear, which sent the No. 3 car sideways before it shot off to the right and slammed violently into the outside wall and up on two wheels, nearly flipping. 
Seconds after the accident, Keselowski apologized over his radio.
"Aw man, I didn't want to do that," he said. "Aaaah. Why'd he come? Aaaah!" 
"It's all good, man, he knows," Keselowski's spotter, TJ Majors, told him.
"I didn't want to wreck him. I was just following him down. Man, I'm sorry about that." 
Moments after he left the infield care center, NBC caught up with a disappointed Dillon. 
"I was just trying to get as many stage points as I could get right there and did a good job of side-drafting and came down to the apron," Dillon said. "I was starting to come up off the apron because it's so rough down there. But I figured by that point, [Keselowski] would have given me a little room. I hate it."
Richard Childress not happy with Keselowski
Team owner Richard Childress incredulously watched the sequence of events unfold from pit road. Moments after realizing Austin Dillon was uninjured, he communicated over his team's radio. 
"I'm an old man, but I can kick his ass," Childress said, referring to Keselowski. 
And he wasn't finished. Photos on social media showed the 75-year-old made his way over to the No. 2 team's pit box to voice his displeasure with the move. 
And who could blame him? He watched one of his playoff-contending cars, which had been fast all day and could have possibly been in contention at the end, get senselessly wrecked after the stage was over. Add in the violent nature of the collision happening to his own grandson, and Childress was hot. 
Dillon is now in a must-win situation. He's got one more shot to make the playoffs this weekend at Daytona, where he's won one of his two Cup Series races, the Daytona 500 in 2018. He finished third there at the season-opening race. 
Like Sportscasting on Facebook. Follow us on Twitter @sportscasting19.