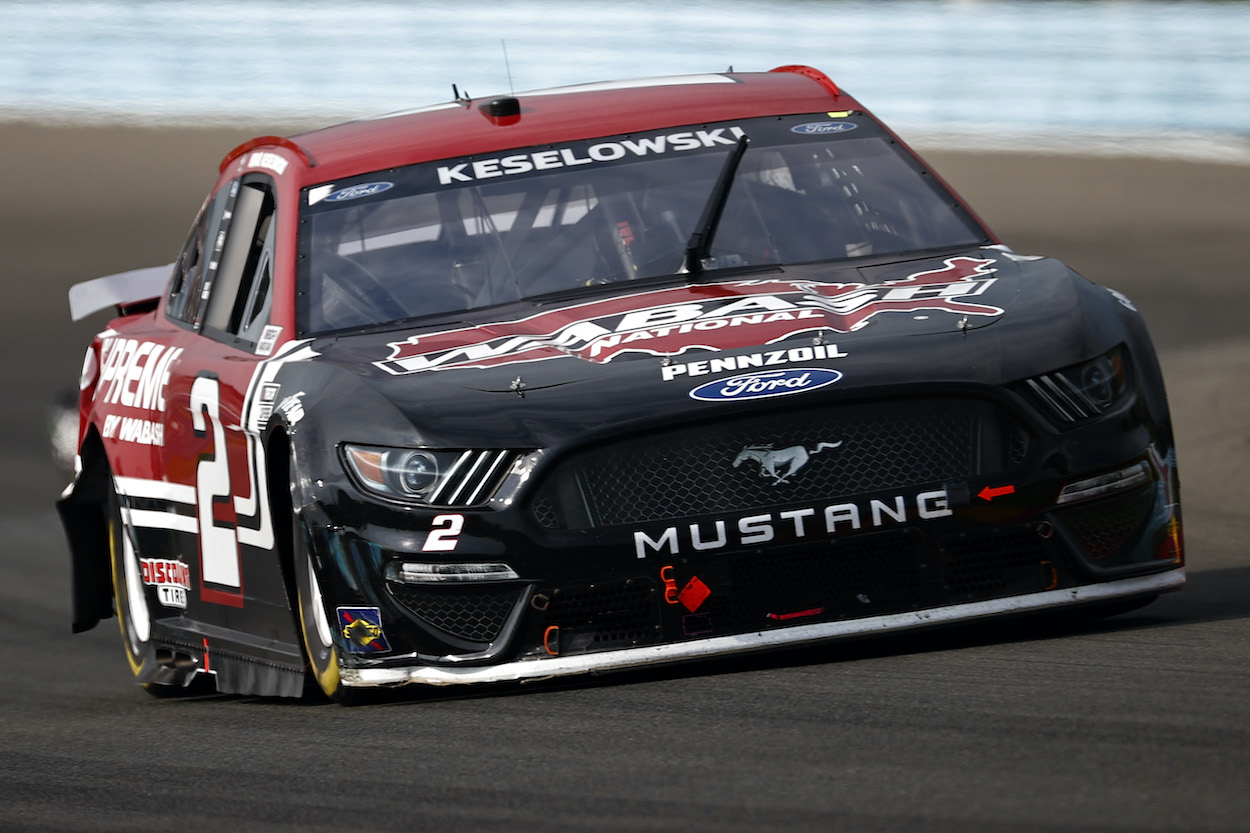 Brad Keselowski Ironically Calls Out NASCAR for Too Many Road Course Races Just Days After His Worst Finish of 2021
Brad Keselowski had his worst finish of the year at Watkins Glen. Just days later he called out NASCAR for putting too many road courses on the schedule in 2022.
Brad Keselowski made NASCAR headlines in the last month with the announcement that he was trading in his current ride with Team Penske and joining Roush Fenway as a driver/part-owner in 2022. This past weekend in his first race since the announcement and after the two-week Olympic hiatus, the 2012 Cup Series champion ran a race he'd like to forget.
This week he joined NASCAR Race Hub and talked about his dreadful day at Watkins Glen, and then was asked about the upcoming road course race at Indianapolis. Keselowski didn't hide his feelings and called out NASCAR for what he views as a bad decision on a much larger scale. 
Brad Keselowski has terrible day at Watkins Glen
Brad Keselowski started the race on the pole in the front row alongside his Penske teammate Joey Logano. After the drop of the green flag, Keselowski took the lead coming out of Turn 1 and led until lap 10 when his day took a dramatic turn for the worse. 
Keselowski spun in Turn 6, surrendering the lead to Logano and dropping to sixth place. Unfortunately for Keselowski, it was just the beginning of an awful day. He spun out two more times, including once in the final stage, when he took out Logano.
After all the spins, Keselowski finished 35th on the day, his worst finish of the year. 
"Not the day we wanted with our Wabash Ford," Keselowski said. "We'll bounce back next week at Indy." 
Brad Keselowski calls out NASCAR for too many road course races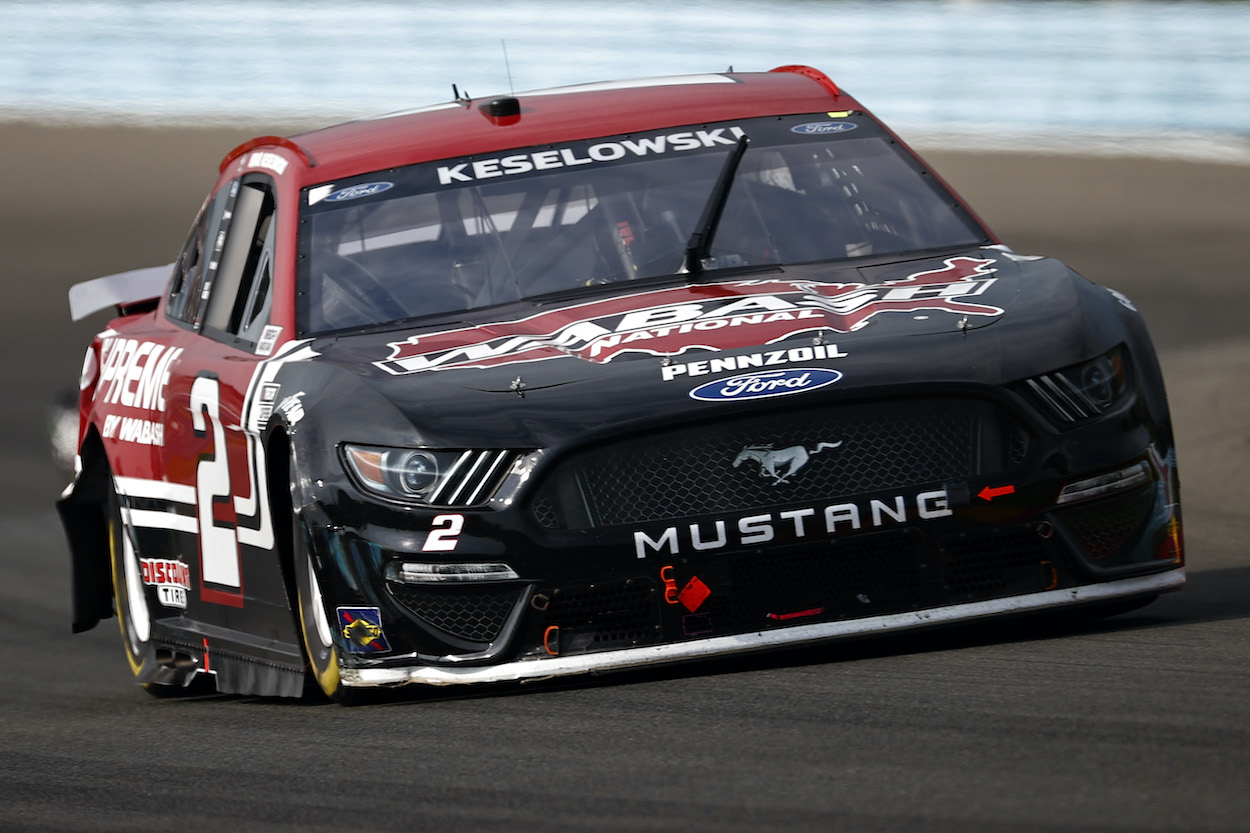 This week Keselowski made one of his regular appearances on NASCAR Race Hub, and he talked about his terrible day at Watkins Glen.
"The Glen did not go our way," Keselowski admitted. "It was pretty miserable. Glad to be out of there and looking ahead." 
While understandably hopeful for a better performance at the upcoming race on the Indianapolis road course, Keselowski didn't hesitate to offer his thoughts when asked by show host Shannon Spake about racing on back-to-back road courses.
"I think one or two road courses a year is all we needed," Keselowski said. "Our sport was built on short tracks, occasionally Daytona, Talladega. Why we've gotten off on this beaten path of wanting to go to all these road courses, I don't know. Give me Talladega. Give me Martinsville. Give me the traditional tracks. That's where we should be."
Keselowski's dislike for NASCAR adding more road courses to the schedule is understandable when you consider after the event at Watkins Glen that he's never won in 28 career Cup Series road course races.
Other drivers unhappy racing Indianapolis road course
While Keselowski is opposed to racing a large number of road courses on the schedule, multiple drivers, including Kevin Harvick and Kyle Larson, spoke out against racing on the Indianapolis road course because it takes away from the tradition of racing on the famed oval.
"It's unbelievable. I can't even believe it," said Harvick, who has won three Brickyard 400s, including the last two in 2019 and 2020. "It's the Indianapolis Motor Speedway. I'm just old school. Watching them run the Cup cars around there the first time in '94 and remember the excitement and enthusiasm that I had my whole life to go race on the oval, and now we're going to backwards down the front straightaway and race on a road course. I'm sure there will be a lot of people that will enjoy it. I won't be one of them." 
Kyle Larson agreed. 
"There's no denying that the oval doesn't produce the best racing, and arguably maybe the worst racing of the year," Larson admitted. "It's just something about that place. We all want to go there and run the oval and kiss the yard bricks from the oval. Definitely bittersweet to win on the road course there. Obviously, we all want to win on it, but I'm bummed like Kevin Harvick."
After his wins at Watkins Glen and Sonoma, Larson is a favorite at Indianapolis. Keselowski has had success in the past on the oval, but after last weekend's finish, he's likely just hoping to get around the road course without any spins.
Like Sportscasting on Facebook. Follow us on Twitter @sportscasting19.