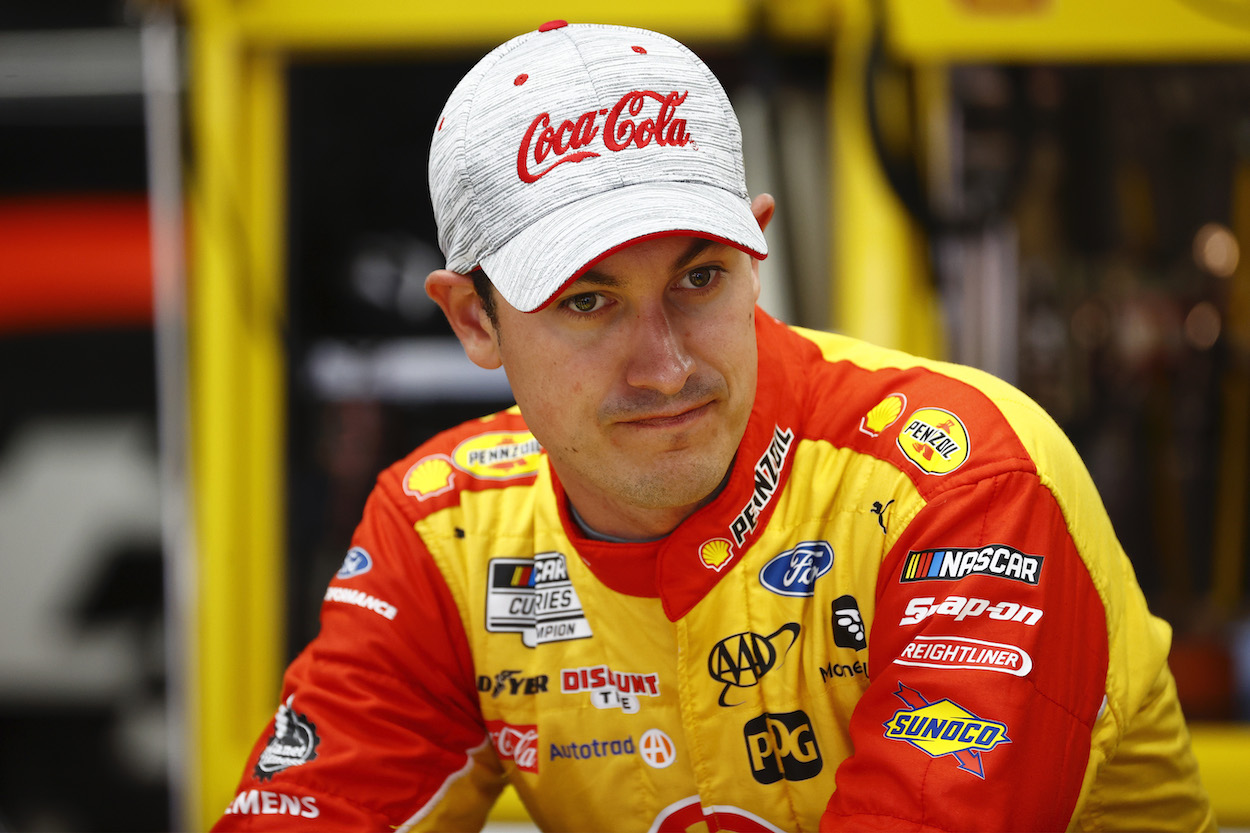 Joey Logano Candidly Confesses YouTube Played Role in Changing His Aggressive Behavior on and off the Racetrack
Joey Logano admitted during appearance on NASCAR Race Hub that YouTube played a role in changing his aggressive behavior on and off the racetrack.
Joey Logano has had a successful NASCAR Cup Series career with 27 wins, including the 2018 championship. Through the years, he has never shied away from confrontation and instigated it on more than a few occasions. 
During a recent appearance on FS1's NASCAR Race Hub, Logano explained how he's toned it down and isn't as aggressive anymore, and that has resulted in fewer appearances on the show's "Radioactive" segment, which often featured him cursing and in conflicts with other drivers in the past. Why? YouTube and his kids.  
Joey Logano fights with other drivers
Don't let Joey Logano's perma-smile fool you. That happy-go-lucky persona changes once he puts on that helmet and straps in behind the wheel of his No. 22 car. He hasn't won 27 Cup races, including the 2015 Daytona 500, by being nice.
However, it didn't start that way. Early on in his NASCAR career, the younger Logano got pushed around by other drivers like Kevin Harvick. Eventually, he had had enough and began to push back.
Through the years, he's had run-ins with Tony Stewart, Ryan Newman, Matt Kenseth, Kyle Busch, and Denny Hamlin. The feud with Hamlin has been on and off since 2013 after Logano left Joe Gibbs Racing. As recently as 2019, the pair got into it after a race at Martinsville. They briefly tangled after exchanging remarks but were promptly separated. 
Joey Logano admits seeing videos of himself on YouTube forced him to change his behavior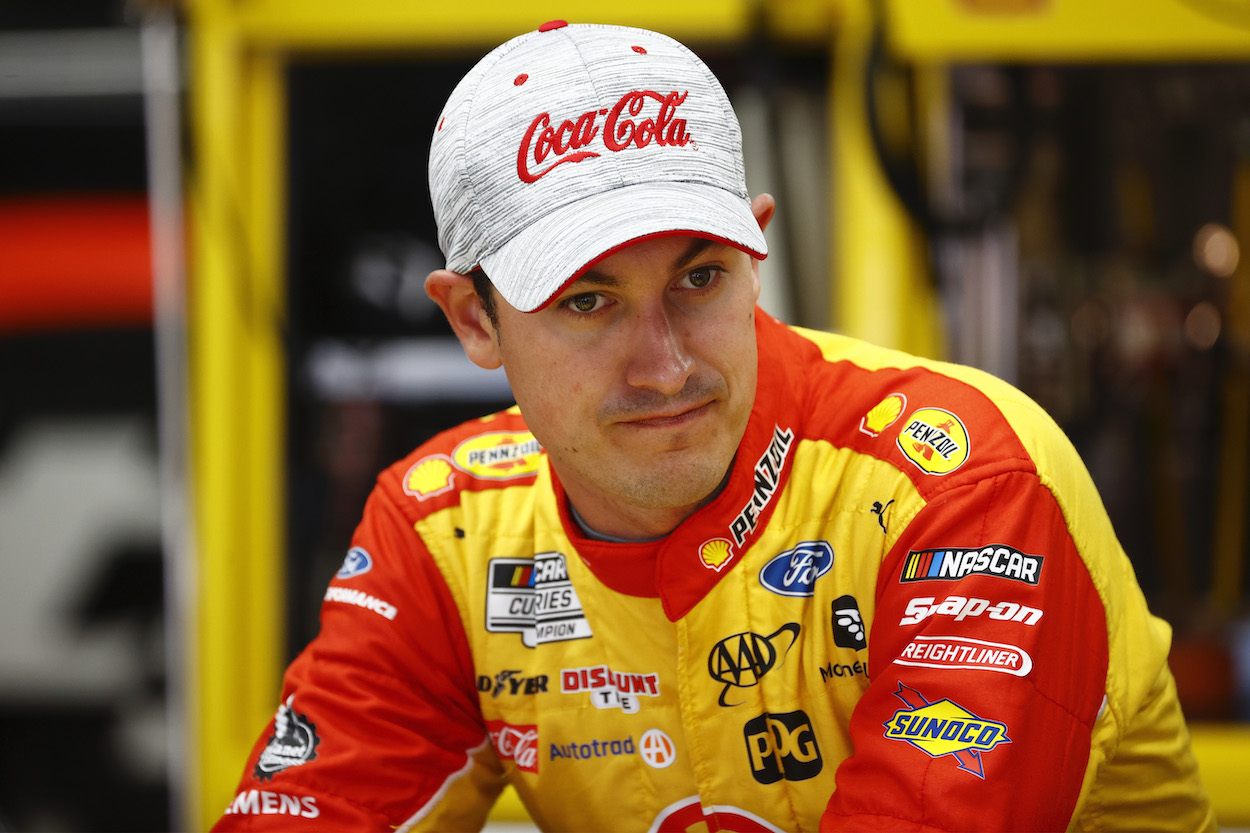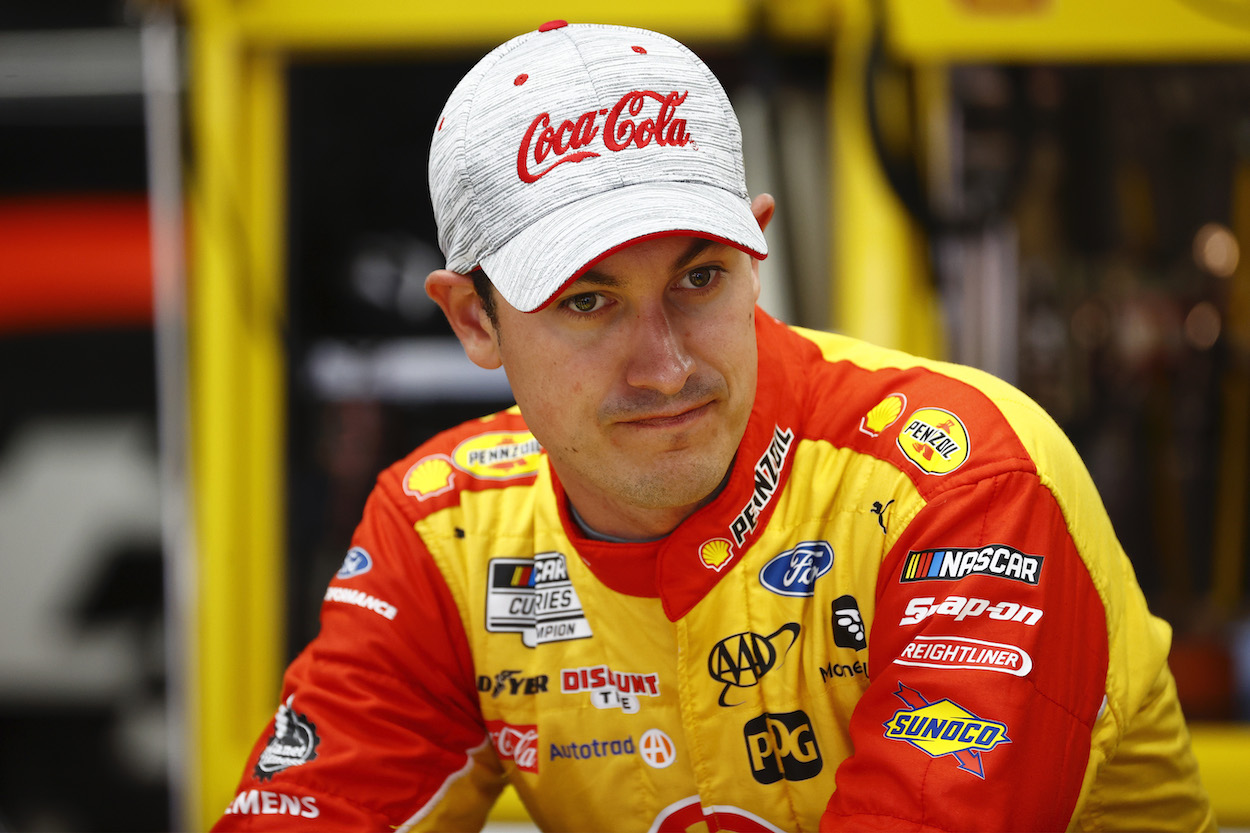 In the last couple of years, Logano has, by his own admission, been more subdued. And it's been by design. During an appearance on NASCAR Race Hub, Logano explained to host Adam Alexander that he hasn't appeared on "Radioactive" as much since he became a parent early in 2018 and for another interesting reason.
"I'm not on there as much," Logano acknowledged. "The dad thing changes a little bit. When you YouTube your name or something and there's daddy fighting on pit road, maybe I should clean it up a little bit."
"When you put in Joey Logano and the first word that comes up after the search is fight," Alexander said laughing.
"You've got to change some things here. A couple of things," Logano confessed. 
Don't expect him to be completely quiet
While Logano's demeanor has changed, don't mistake that for someone who's going to get pushed around like in those early days. His feud with Kyle Busch, which came to a head in 2017 when Busch sucker-punched Logano at Las Vegas, is still ongoing. Back in May during an appearance on the I Am Athlete podcast, Busch made it abundantly clear where he stood with Logano. 
"The problem with Joey is he's two-faced," Busch said. "So people know I'm an a——. So I might be an a—— on the race track, which I'm really not, but Logano, he'll come in here and he's laughy and go lucky, go with the flow, like super-nice guy and all this stuff. Does great for charity and all the stuff like that. When you put him on the race track, he flips the switch on the back of his head. To me, I hate two-faced guys. That drives me absolutely nuts. Like if you're going to be a nice guy, be a nice guy on the race track as well. That fries me."
"That's cute…let me know when you are ready to hear my side of the story @ochocinco @BMarshall @IAMATHLETEpod," Logano replied to the I Am Athlete tweet promoting Busch's appearance.
This season Logano made an extended appearance on "Radioactive" back in March when he won the dirt race at Bristol. Those are the kinds of YouTube highlights Logano hopes to make more of in the future.
Like Sportscasting on Facebook. Follow us on Twitter @sportscasting19.
RELATED: Scary Rumors About NASCAR Next Gen Car Crash Test Results Gain Traction After Cup Series Driver Mysteriously Deletes His Comment on Subject