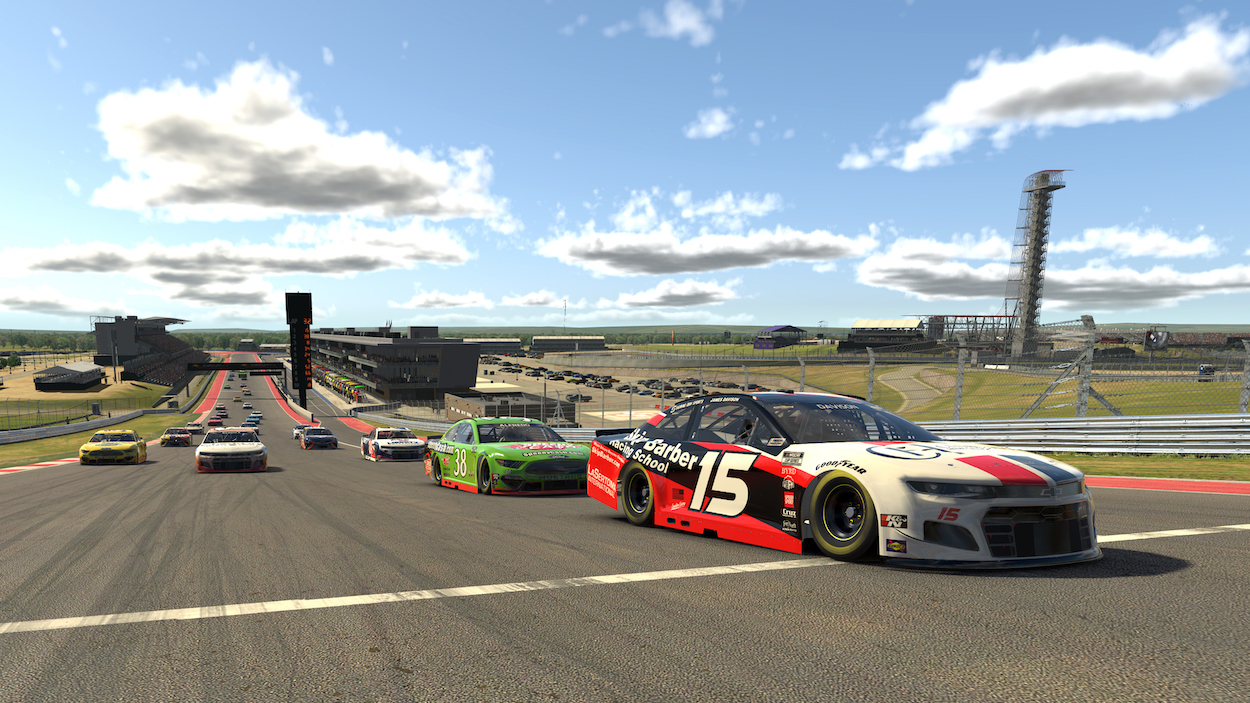 Joey Logano Not Happy During iRacing at COTA After Receiving Black Flag Following Accident Where Another Driver Intentionally Wrecked Him
Joey Logano got agitated during iRacing event at COTA after he got black flagged following an accident where another driver intentionally wrecked him.
When the 2021 eNASCAR iRacing Pro Invitational Series schedule came out, most drivers circled the race at COTA. The virtual race would be a welcome addition to the series, and it would serve a purpose and allow those competing at the actual race in Austin one last chance to make laps around the unfamiliar 20-turn road course layout. 
During FS1's broadcast of Wednesday's night iRacing event, the excitement from all the drivers and the Fox crew was palpable. Unfortunately, the race itself didn't live up to the expectations as James Davison led from the pole and won by more than 18 seconds over Anthony Alfredo.
But the end of the race did provide some excitement as driver/Fox analyst Joey Logano got noticeably irritated when he received a black flag after an accident where another driver intentionally wrecked him.  
Joey Logano gets irritated after being intentionally wrecked and black flagged
With just a couple of laps remaining in the virtual race from COTA, the Fox broadcast came back from a commercial break, and announcer Mike Joy provided an update on the action missed.
"While we were away, Joey Logano received a black flag for mandatory repair," Joy announced.
"Yeah. Oh, my buddy (Corey) LaJoie got me pretty good," Logano said. "And I hate to say it's on purpose, but I know it was on purpose, and I think he thought it was funny," he suggested as both Joy and Jeff Gordon laughed in the background. 
"But I fail to find the humor in this one, guys," a clearly perturbed Logano admitted. "So here I am getting my tires." 
"Now nothing that happens in iRacing carries over to Sunday. Right, Joey?" Gordon questioned. "You guys just put all this behind you."
After Logano expressed how he still remained unclear about what had happened, Gordon got the conversation back on track and suggested LaJoie just enjoyed racing with Logano.
"I think that's what it was," Logano agreed. "Ever since we've been kids racing at the go-kart track, I think that's what it has been."   
LaJoie sends text explaining what happened
Moments after James Davison crossed the finish line to take the checkered flag for the victory, LaJoie fishtailed in the background, and Joy could only ask, "What happened?" 
"TV time," Gordon immediately suggested. 
A few minutes later, Logano gave a post-race interview and provided some insights into LaJoie's actions with him and at the finish line. 
"Here's what I found out. There's a disadvantage of racing the car here at Fox while people know that you're on TV. I got a text message from Corey Lajoie saying, 'I needed some TV time, so I hooked you.' Are you kidding me!" Logano's voice raised. "There's a little bit of a disadvantage now I know that I have a little bit of a target on the back when I am racing on TV with you guys here at Fox."
"Well, this is all about having fun and TV time," Gordon reminded him. 
In the final results, LaJoie finished 25th and Logano finished 27th. 
2021 season started with Logano irritating his own teammate
More than a few NASCAR Cup Series drivers will view Logano's agitation during the iRacing event with a bit of irony. Logano, on more than a few occasions, has agitated other drivers by pulling off similar wreck-inducing moves, including one earlier this year. 
Logano drew the ire of Penske teammate Brad Keselowski at the start of the 2021 NASCAR Cup Series season in the Daytona 500. On the final lap of the race, Logano attempted an ill-advised block of his teammate that caused a massive accident, which took out both Penske cars and allowed Michael McDowell to sneak through and capture his first Cup Series win. 
"Had a big run down the backstretch. Wanted to make the pass to win the Daytona 500," Keselowski said after the race. "It ended up really bad. I don't feel like I made a mistake, but [I] can't drive everyone else's car."
Logano frustrated his own teammate this year in a real event that cost both of them a chance to win the biggest race of the season. He's not likely to find much sympathy from any of his fellow drivers for getting wrecked, especially when it happened in a race that means absolutely nothing.
Like Sportscasting on Facebook. Follow us on Twitter @sportscasting19.