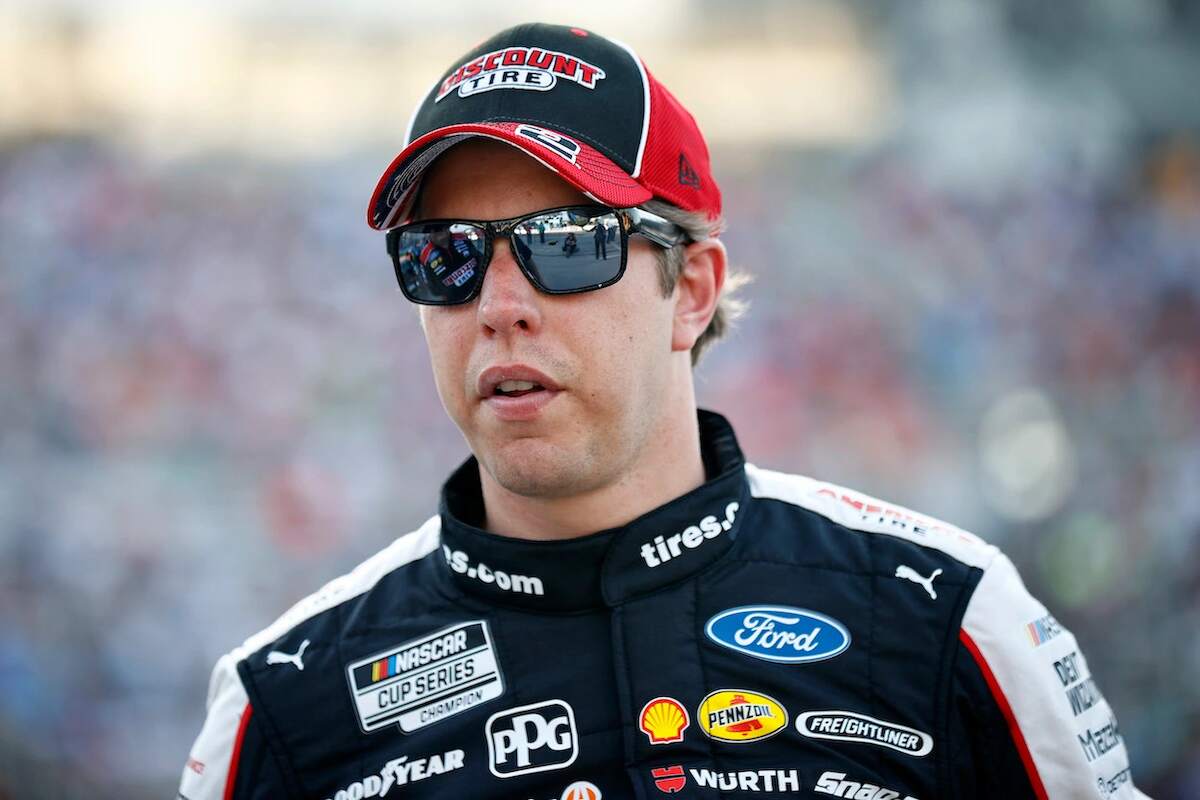 Brad Keselowski Opens Up With Kyle Petty and Talks About Being an 'Outsider' in NASCAR and Why Fighting Is Sometimes a Necessary Part of the Sport
Brad Keselowski had a candid conversation with Kyle Petty and talked about why he's an "outsider" in NASCAR and why fighting is sometimes necessary.
Brad Keselowski will be in the NASCAR Hall of Fame one day. At 39 years old, his accomplishments of 35 Cup Series wins and the 2012 championship already make him worthy. And he's nowhere close to being finished. His move to Roush Fenway, now RFK Racing, in 2021 proved that.
In a late 2021 interview with Kyle Petty, Keselowski talked about a wide range of topics, including how he's always been treated as an "outsider" in NASCAR circles and why he believes fighting is sometimes necessary.
Brad Keselowski raced to a Hall of Fame-worthy career
Brad Keselowski started his career on the path of so many other underfunded drivers. He raced in the Truck Series for the family team in 2005 before it suspended operations. In 2007, the same thing happened on a different team with the Xfinity Series. Enter Dale Earnhardt Jr. 
Keselowski joined JR Motorsports late in 2007, and it changed his career trajectory. With a quality car, crew, and equipment, he displayed his talent, winning twice in 2008. After another successful season with Earnhardt's team, Keselowski made the switch to Penske Racing for a full-time schedule in both the Xfinity Series and Cup Series in 2010. 
He's been a top Cup driver since, winning 35 times, including a Southern 500, Brickyard 400, and Coca-Cola 600. He has been in contention to win the season title on multiple occasions but managed to do it only once in 2012. He came close in 2020 but finished second.  
Keselowski said fighting is a necessary part of NASCAR
While Keselowski was a fan favorite early in his career, winning the Most Popular Driver Award for the Xfinity Series from 2008-10, his competitors haven't always viewed him as fondly. Through the years, Keselowski has ruffled a few feathers and got into fights with fellow drivers, including both Jeff Gordon and Brad Kenseth in 2014. 
During an interview on Kyle Petty's show "Coffee With Kyle," the host mentioned a quote from Keselowski several years ago about fighting.
"There's a sense of accomplishment that comes from that in a very bizarre way because when you're in a competitive environment, the only time a competitor is going to like you is when they're beating you," Petty read the quote. He then asked Keselowski if he still felt that way. 
"Oh, absolutely. Yeah," Keselowski didn't hesitate in his response. "Now, there's a difference between like and respect. The only time you're going to see a competitor that really likes you is when they feel confident they're superior to you." 
Why Keselowski has always been an 'outsider' in NASCAR
After discussing his fighting history, Petty segued into Keselowski's career and how, from the very beginning, it felt like he was always viewed as an outsider in the sport. He then quoted Keselowski again.
"I'd rather have enemies in NASCAR than have friends and be sitting at home," Petty read the quote.
"When Junior opened that door, it's like you came to the door, and you got to play in there, but you were never inside. Have you always felt like an outsider?" Petty asked.
"A little bit. Honestly, some of that is by choice," Keselowski admitted. "I think, subconsciously, I like to play that role because I'm more comfortable with it. There's a freedom in it where you're not always worried about what other people think."
Keselowski's carefree style has worked out pretty well for him. It's that same attitude that will likely help him eventually achieve success for an RFK Racing organization that hasn't had much of it in more than a decade. 
Like Sportscasting on Facebook. Follow us on Twitter @sportscasting19.