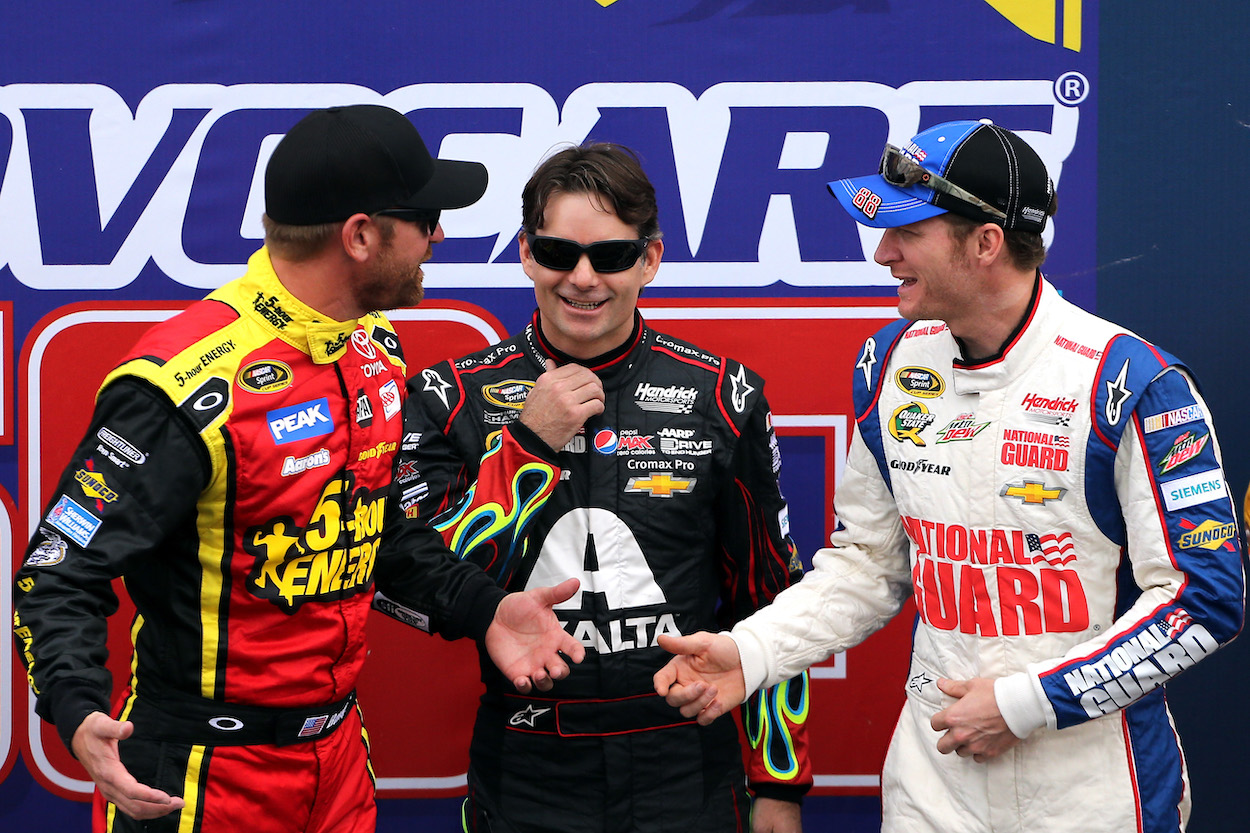 Jeff Gordon, Dale Earnhardt Jr., and Clint Bowyer Were Invited to Drive Next Gen Car for Celebrity Race During All-Star Race Weekend, but Plans Fell Apart Before It Happened
Jeff Gordon, Dale Earnhardt Jr., and Clint Bowyer were asked to participate in celebrity race for All-Star Race weekend, Bowyer accidentally admitted during Dale Jr. Download.
Jeff Gordon. Dale Earnhardt Jr. Clint Bowyer. All successful NASCAR Cup Series drivers who transitioned up to the broadcast booth. Fans would love to see the three former drivers trade in their dress suits for fire-suits one last time and race against each other and other competitors. It almost happened last month.
On a recent episode of the Dale Jr. Download, Bowyer slipped up about the race that almost happened last month in Texas during All-Star Race weekend. Earnhardt surprisingly admitted he was part of those conversations and offered an interesting thought on how he might have been a big reason why it didn't happen.
Jeff Gordon, Dale Earnhardt Jr., and Clint Bowyer moved from driving to covering NASCAR Cup Series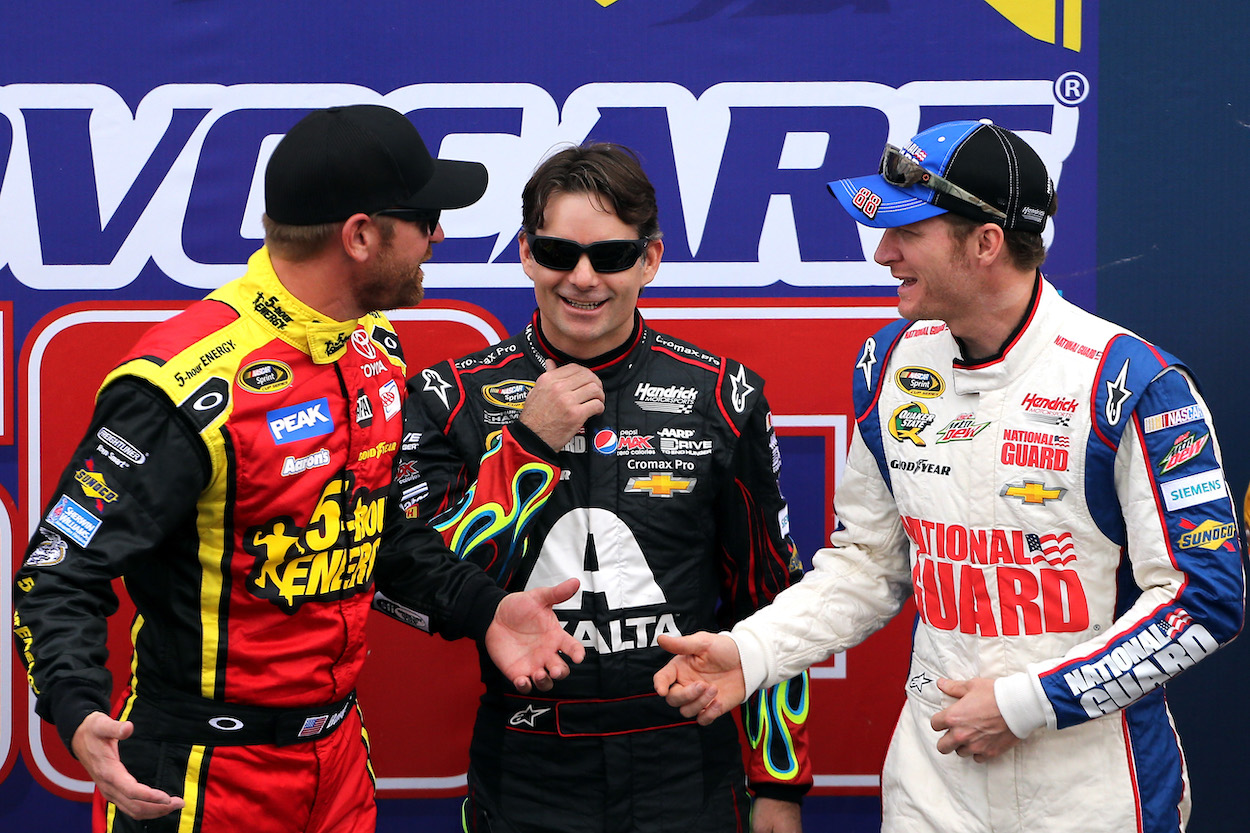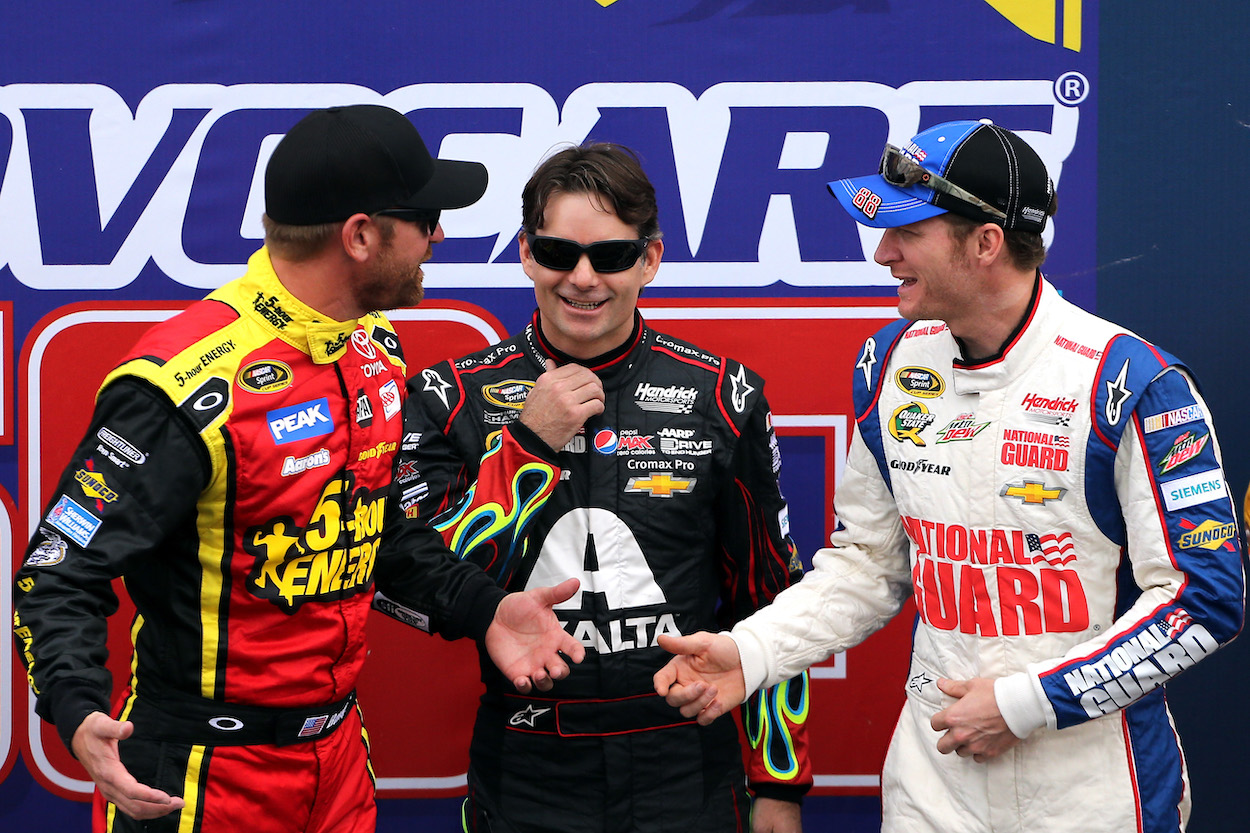 Between Jeff Gordon, Dale Earnhardt Jr., and Clint Bowyer, Gordon unquestionably raced to the best career, recording 93 Cup Series wins and four championships. While Gordon didn't officially retire from full-time racing until after 2016, he made his broadcasting debut in April 2015 for FS1's coverage of the Xfinity Series race at Texas Motor Speedway.
After earning 26 Cup Series wins in his Hall of Fame career, Earnhardt wasn't far behind Gordon in moving to the broadcast booth. He worked for Fox and NBC in 2016 while missing racing action due to concussions. He retired following the 2017 season and became a full-time broadcaster at NBC in 2018.
Bowyer retired from racing following the 2020 season after recording 10 Cup wins. He joined Gordon and Mike Joy up in the Fox broadcast booth for the network's coverage of NASCAR in the first half of the 2021 season.   
Gordon, Earnhardt, and Bowyer invited to drive Next Gen car for celebrity race that never happened
Jeff Gordon made headlines last week with a big announcement that he was leaving Bowyer and the Fox crew to take up a role as the vice chairman for Hendrick Motorsports. The news didn't come as a surprise to most in the industry because Gordon has been considered the heir apparent to Rick Hendrick for years. 
However, Gordon's name did surprisingly come up this week when Bowyer appeared on the Dale Jr. Download. During a conversation between Bowyer and Earnhardt on a desire to test-drive the Next Gen car, Bowyer revealed how he, Gordon, and Earnhardt were invited to participate in a celebrity race that would include the new car scheduled to debut in 2022.
"But you've got to be careful what you ask for. You do know what (Steve) O'Donnell wanted us to do?" Bowyer mentioned to Earnhardt, alluding to an idea presented to him by the NASCAR executive vice president. "He wanted us to run. I probably shouldn't say this," Bowyer paused.
"The race?" Earnhardt asked.
"Yeah, they wanted us to run the All-Star Race like a damn celebrity race or something at the All-Star Race in the Next Gen cars. Gordon called me and said, 'Hey man, I don't know, man. I think we ought to bow down out of this." 
"Didn't they try that at Bristol, and somebody ended up in the hospital, like a couple of years ago?" Download co-host Mike Davis asked.
"I think that guy was like 106 years old," Bowyer joked. 
"Jeff called me, and I told him what the rate was. He didn't call me back," Earnhardt confessed, which resulted in all three men laughing.
"The hourly rate," Bowyer said.
"You're going to have to just go ahead and write me the winner's check," Earnhardt laughed. 
Previous celebrity race included terrifying crash and serious injuries
While the event with Gordon, Earnhardt, Bowyer, and other celebrity racers never happened, and the real reasons may never be clear, Davis' remarks about a celebrity event gone wrong have some merit. 
Back in 2010 at Bristol Motor Speedway, the 71-year-old Charlie Glotzbach, who won four Cup races, and NASCAR legend David Pearson's 56-year-old son, Larry, were involved in a scary t-bone crash during a legends race that ignited the back of Glotzbach's car and left Pearson unconscious. 
Pearson was airlifted to the hospital, where he was diagnosed with a fractured pelvis, fractured right hand, and a compound fracture of his left ankle that required surgery. 
Like Sportscasting on Facebook. Follow us on Twitter @sportscasting19.