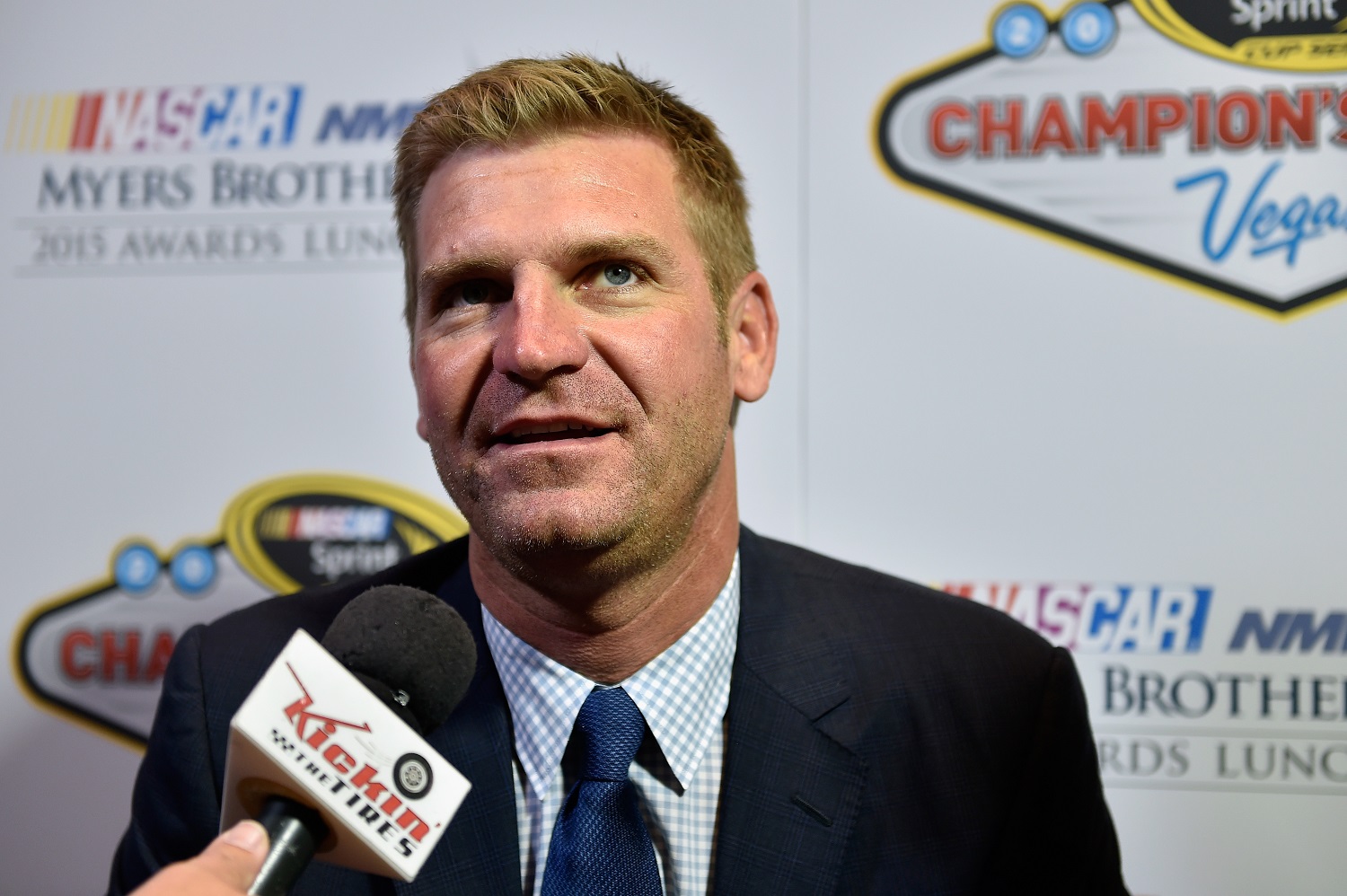 Clint Bowyer's 8-Word Answer Landed Him in Fox's NASCAR Booth
Clint Bowyer is about to wrap up an eventful first season of NASCAR Cup Series broadcasting alongside Jeff Gordon and Mike Joy on Fox Sports.
Clint Bowyer wasn't sure how he'd fill his days after retiring as a NASCAR Cup Series driver. However, Bowyer showed himself as a natural in the Fox Sports broadcast booth this spring, sparring with old racing rival Jeff Gordon and sharing his expertise.
Now, with the Fox portion of the TV schedule coming to an end, Bowyer is back to wondering how he'll keep busy.
"You've got a second half of the season and I honestly don't know what to do with myself," Bowyer told NASCAR.com. "I've got to figure it out because I've never had time off."
Bowyer's eight-word answer won over Fox Sports executives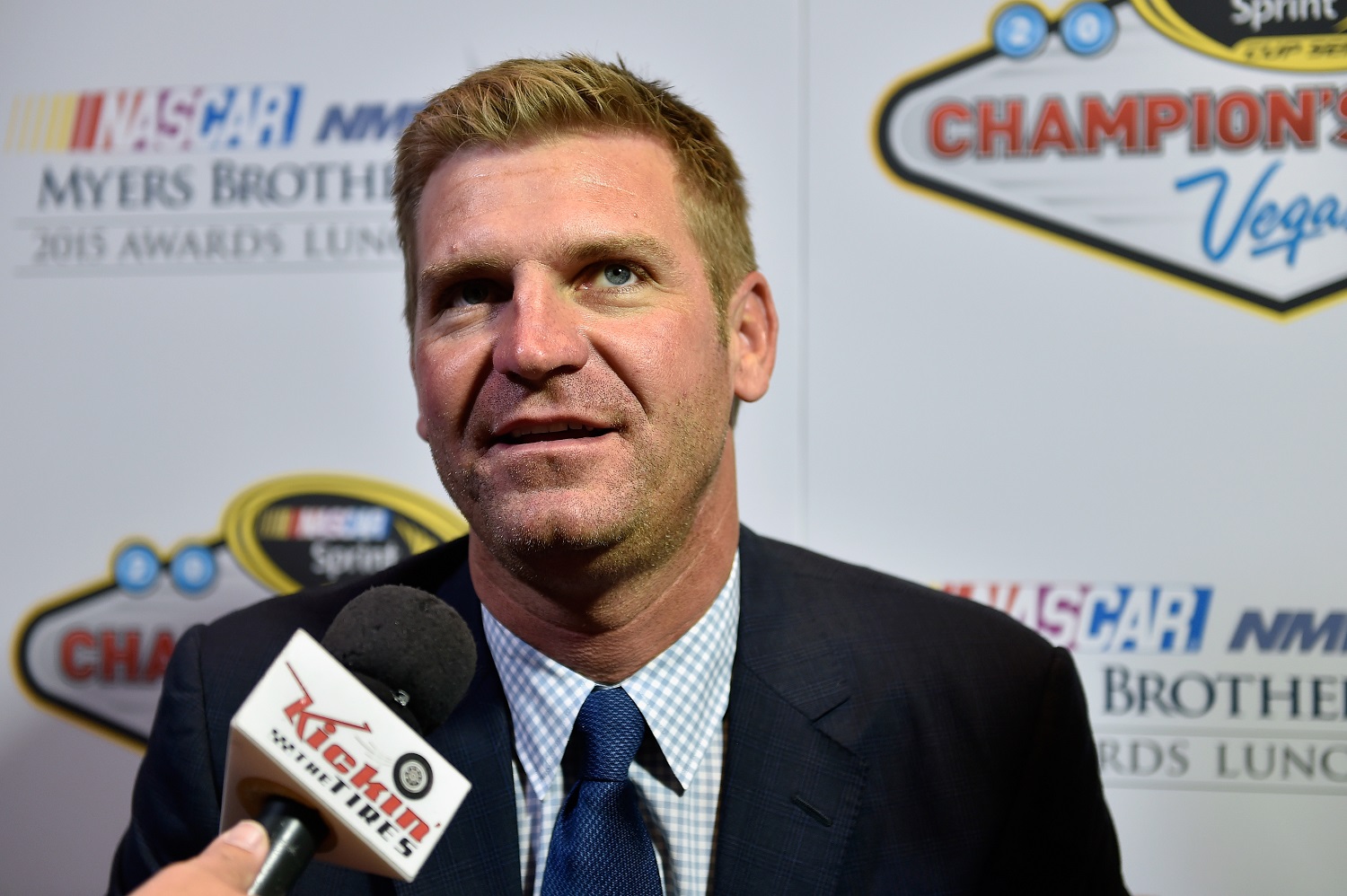 Bowyer had an inkling early last year that he might be done driving. Once the pandemic halted the schedule after four races, he found himself with more time on his hands than he was used to.
By year's end, he was sure it was time to leave, turning the Stewart-Haas Racing No. 14 Ford over to Chase Briscoe. By then, though, he had already stumbled into his next career: color commentary for Fox Sports.
Fox asked Bowyer to sit in with Gordon and Mike Joy to broadcast an eNASCAR iRacing series event during the COVID-19 hiatus.
"There was a moment during iRacing last year — an 'a-ha' moment — and it was when Clint was in the simulator in the studio, and he was iRacing while Jeff and I were describing it," Joy told NASCAR.com. "He had some big problem, and I go, 'Clint, what happened?' And he says, 'I don't know, my give a damn broke.'
"That was the a-ha moment when I think everybody at Fox — Jeff and me included — took a step back and said, 'Wow, we could really have some fun with this.'"
Fox executives pursued Bowyer. Landing a role that allowed him to stay in touch with the NASCAR Cup Series made it easy for Bowyer to retire after 10 victories and 226 top-10 finishes in 541 starts.
"It just kind of happened," Bowyer said. "I never really thought about it. I knew I probably had a little more personality than some of the other drivers."
The NASCAR Cup Series moves to NBC
Bowyer, Gordon, and Joy will handle the All-Star Race this weekend, after which NBC picks up the remainder of the NASCAR Cup Series, beginning at Nashville Superspeedway on June 20. The split schedule allows Fox Sports to clear out its Sunday afternoons after Labor Day for NFL telecasts.
Rick Allen handles NBC's play-by-play, with retired drivers Jeff Burton and the ever-popular Dale Earnhardt Jr. handling the majority of the commentary.
According to Motorsport.com, the Fox/NBC arrangement runs through 2024. However, Fox could be looking at a lineup change when 2022 rolls around. That's because Gordon, who retired from racing in 2015 and joined the broadcast booth the following season, is "weighing his future," according to Sports Business Journal.
Gordon, a four-time Cup Series champion, owns a minority stake in Hendrick Motorsports. Rick Hendrick, 72, is enjoying a huge season by his stable of drivers — led by a breakout season from Kyle Larson — but he may be ready to start stepping back from the day-to-day responsibilities of his racing team, as well as his automotive empire. Gordon is the logical heir in picking up more duties with the racing team.
Bowyer and Gordon have been a fun pairing
If their partnership in the booth is over after one season, then Bowyer and Gordon certainly made the most of it. The two raced against each other from 2005-16 and even feuded a bit, including a racetrack scuffle at Phoenix in 2012. But Gordon's relatively calm demeanor and Bowyer's jolt of adrenaline, with Joy occasionally instigating, have made the combination work.
"I knew going into it that Jeff and I would have good camaraderie and good conversation, good banter and obviously strong opinions on any given subject," Bowyer said. "I knew that would be good. I really did.
"The bosses didn't know that. They were like, 'Man, I know you guys have had some differences in the past,' and I'm like, 'I'm telling you, that's going to be the smallest part of the equation that we have.'"
Bowyer's bigger concern was learning how broadcasting works. Dealing with Gordon proved to be one of the easiest aspects of the job. He compared it to coffee-shop conversations.
"I know if I shoot fire at Jeff, I want it back," Bowyer said. "I think that banter is good. If he has an opinion on something, thinks a guy didn't wreck somebody, I'm going to say, 'You're out of your damn mind. Do you need glasses? Did you miss that one? How do you have that opinion?'"
Like Sportscasting on Facebook. Follow us on Twitter @sportscasting19.