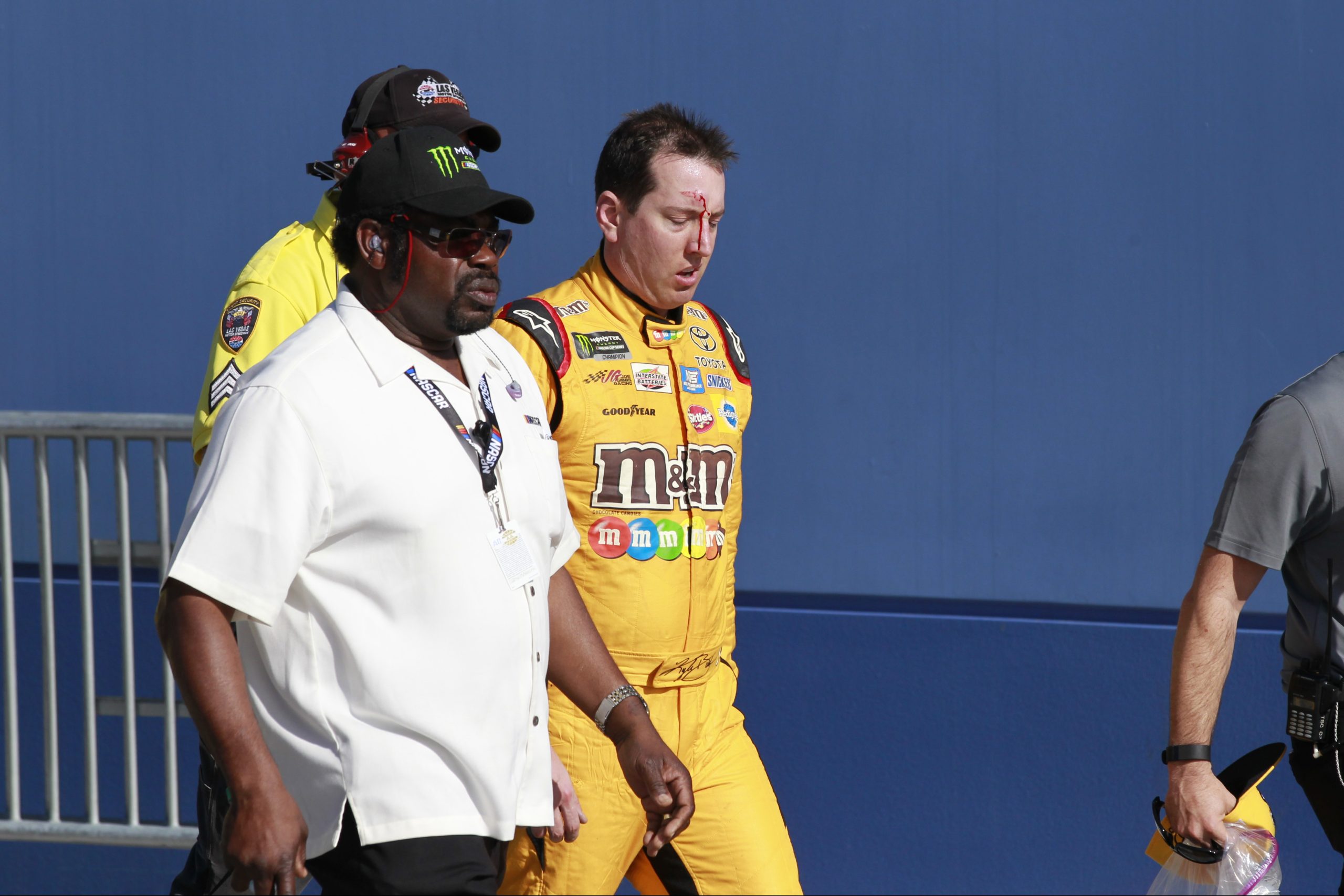 Kyle Busch Never Backs Down From Confrontation and Candidly Discusses What Happens When You Create Enemies in the Playoffs
Two-time Cup Series champion Kyle Busch talked about what happens when you create enemies in the playoffs.
Kyle Busch is not someone who shies away from confrontation. As a result, he has made more than a few enemies since joining the NASCAR Cup Series full-time in 2005. Starting the 2021 postseason at Darlington, the two-time Cup champion visited with reporters and candidly addressed his thoughts on creating enemies in the playoffs. 
Kyle Busch has been the top playoff driver in elimination era
Kyle Busch is undeniably one of the greatest drivers in NASCAR history with his record 102 wins in the Xfinity Series and 59 victories in Cup racing. That sheer number of wins shows the 36-year-old driver knows his way to victory lane. 
More impressively, since 2014 and the start of the playoffs elimination era, Busch has been the best in the business. In that time, his worst finish in the final standings is eighth. He's finished fourth or better every other time and is the only driver with a pair of titles, which he earned in 2015 and 2019. 
Despite finishing 20th or worse in three of the last five regular-season races in 2021, the Las Vegas native has a recent postseason history that suggests when it comes to the end of the playoffs, he will be in contention, vying for his third title.
Kyle Busch talks about creating enemies during the playoffs 
Kyle Busch and the other 15 Cup Series playoff participants visited with the media to talk about the upcoming postseason. During Busch's session with reporters, he talked about his playoff history and a couple of rules he tries to follow in the playoffs to help give him the best chance for success. 
"Don't beat yourself, speeding penalties, obviously, and leaving lug nuts off. Just dumb stuff," Busch said. "Those are definitely things to kind of live by."
Interestingly, the driver who has had his share of rivalries in the past said when it comes to the postseason, it's best to avoid those types of conflicts because they can prove to be costly later. 
"Not really trying to put yourself in a bad spot. Every spot is important, especially if you're trying to point your way through the rounds if you don't have chances of winning," Busch said. "If you're coming down and you're running fifth, but fourth and third are right there in front of you, at say Bristol, wanting to pass those guys and get by those guys but not creating enemies in the way of going about that and setting yourself up for a future hard time at the next race with that guy. You're just trying to do what you can to be as clean as you can."
Has built-in rivalries from years past
While Kyle Busch, by his own admission, doesn't want to make any enemies during the playoffs, he's developed some adversarial relationships with several drivers through the years. Busch was vocal about his dislike for Brad Keselowski during the 2017 playoffs.
"Sometimes, you just don't like a guy," he said while sitting a few feet away from Keselowski. 
Busch has also had issues with Keselowski's Penske teammate Joey Logano. Earlier that year in Las Vegas, the two had a disagreement during the race. When the race was over, Busch made his way down pit road and sucker-punched Logano.
Busch admitted earlier this year during an appearance on the I Am Athlete podcast that he still doesn't like Logano.  
"The problem with Joey is he's two-faced," Busch said. "So people know I'm an ass—-. So I might be an ass—- on the race track, which I'm really not, but Logano, he'll come in here and he's laughy and go lucky, go with the flow, like super-nice guy and all this stuff. Does great for charity and all the stuff like that. When you put him on the race track, he flips the switch on the back of his head. To me, I hate two-faced guys. That drives me absolutely nuts. Like if you're going to be a nice guy, be a nice guy on the race track as well. That fries me."
Busch not wanting to create any new enemies in the playoffs makes sense. He's already got several drivers to worry about before the postseason even starts.
Like Sportscasting on Facebook. Follow us on Twitter @sportscasting19.