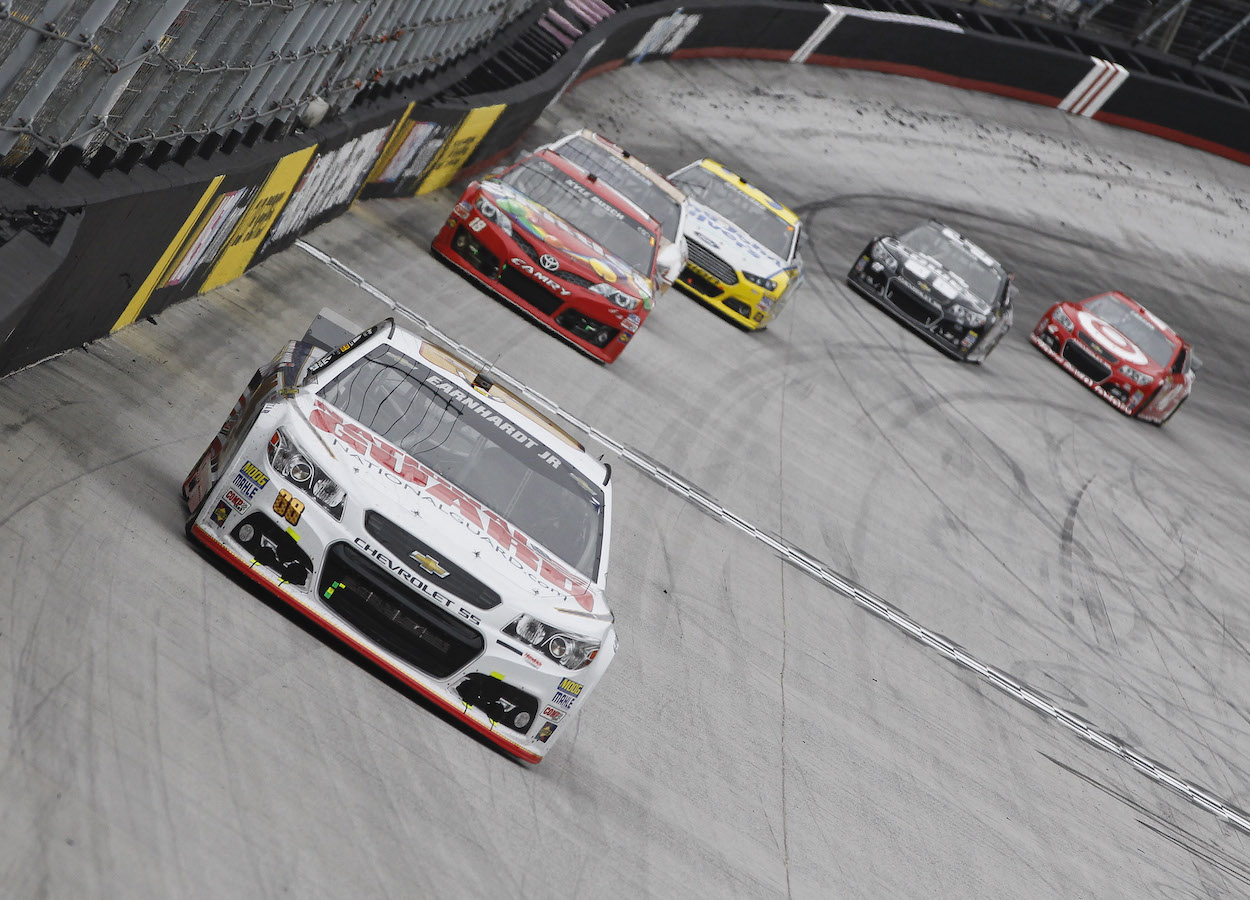 Dale Earnhardt Jr. Calls Out Sister Kelley for Her Unexpected Reaction During a Ride Along at Bristol
Dale Earnhardt Jr. called out his sister Kelley on his podcast for her unexpected reaction during a ride along with him at Bristol.
Dale Earnhardt Jr. is a NASCAR Hall of Famer for a reason. He won 26 Cup Series races, including a pair of Daytona 500s. If given the opportunity, most NASCAR fans would jump at the chance to ride alongside Earnhardt around a track.  
In a recent episode of the Dale Jr. Download, Earnhardt was asked if there was any memorable moment from his ride along program where a participant freaked out when flying around the track at speeds of more than 170 miles an hour. Earnhardt provided an unexpected answer when he called out his sister, Kelley, and her surprising reaction while riding shotgun with her brother. 
Dale Earnhardt Jr. offers program through foundation for fans to ride along
Like so many athletes, Dale Earnhardt Jr. has a foundation. The foundation's mission is dedicated to providing underprivileged individuals — with a focus on youth — the resources to improve their confidence and education, and the opportunity to achieve extraordinary goals. Since its inception, the foundation has raised more than $10 million.
One of its most successful programs has been Ride with Dale Jr., which is a raffle program where the winners get a once-in-a-lifetime opportunity that includes three laps around the track, a tour of JR Motorsports, and typically includes tickets to an Xfinity Series race. 
That program, along with the others in the foundation, raised nearly $1 million in 2020 during the middle of a worldwide pandemic. The foundation distributed more than $750,000 in the form of 60 grants that helped 53 organizations with in-kind contributions.
Dale Earnhardt Jr. calls out sister for reaction to ride along
Through the years Dale Earnhardt Jr. has witnessed a wide array of reactions from his passengers riding shotgun and traveling at high speeds around the race track. In an episode of the Dale Jr. Download, Earnhardt was asked in all of his ride alongs, was there any particular one that stood out. 
"Kelley," he said, mentioning his sister without hesitation. "We got to do the Dale Jr. Foundation Ride Alongs at Bristol. We've been doing the ride alongs for a long time. We usually do them at Charlotte Motor Speedway and they're pretty fun there. At Bristol, we did it for the first time and it was a really amazing experience. I think for the person riding along, it was as profound or hard-core as you could probably make that for somebody. A lot of people going into it not knowing what's going to happen, it's over before they really have a chance to ask you to stop or slow down or freak out.
"My sister, having had some driving experience, I think she kind of had an idea of what this might be like and she got to that point much quicker of, 'Hey, this is fast enough. I don't want this anymore.' She'll disagree. She might say, 'No I was saying go faster.' I felt like that she really was surprised, I guess, by what that experience was like riding in a car at Bristol because it's unlike any other race track."
Kelley Earnhardt Miller could have had a successful racing career
As Dale Earnhardt Jr. mentioned, both he and his sister Kelley followed in their legendary father's footsteps. After driving a car around the family farm as a pre-teen, Kelley started racing stock cars at local tracks. It was there where she caught her father's attention.
Dale Sr. once told ESPN of all his kids, Kelley had everything — aggression, mental toughness, a willingness to push the car to its limit — to become a championship driver. In that same article, Junior agreed.
"(Kelley) could have had a lot of opportunities had it been a different environment and a different culture and a different climate," Earnhardt said. "She was hardheaded and tough and drove hard. She would eventually have polished her abilities to where she would have been a pretty good race car driver at the higher level." 
It never worked out and now she's a successful businesswoman, and co-owner of JR Motorsports with her brother. She's more than willing to work with him on the business. Just don't ask her to get in a car with him for a ride along.