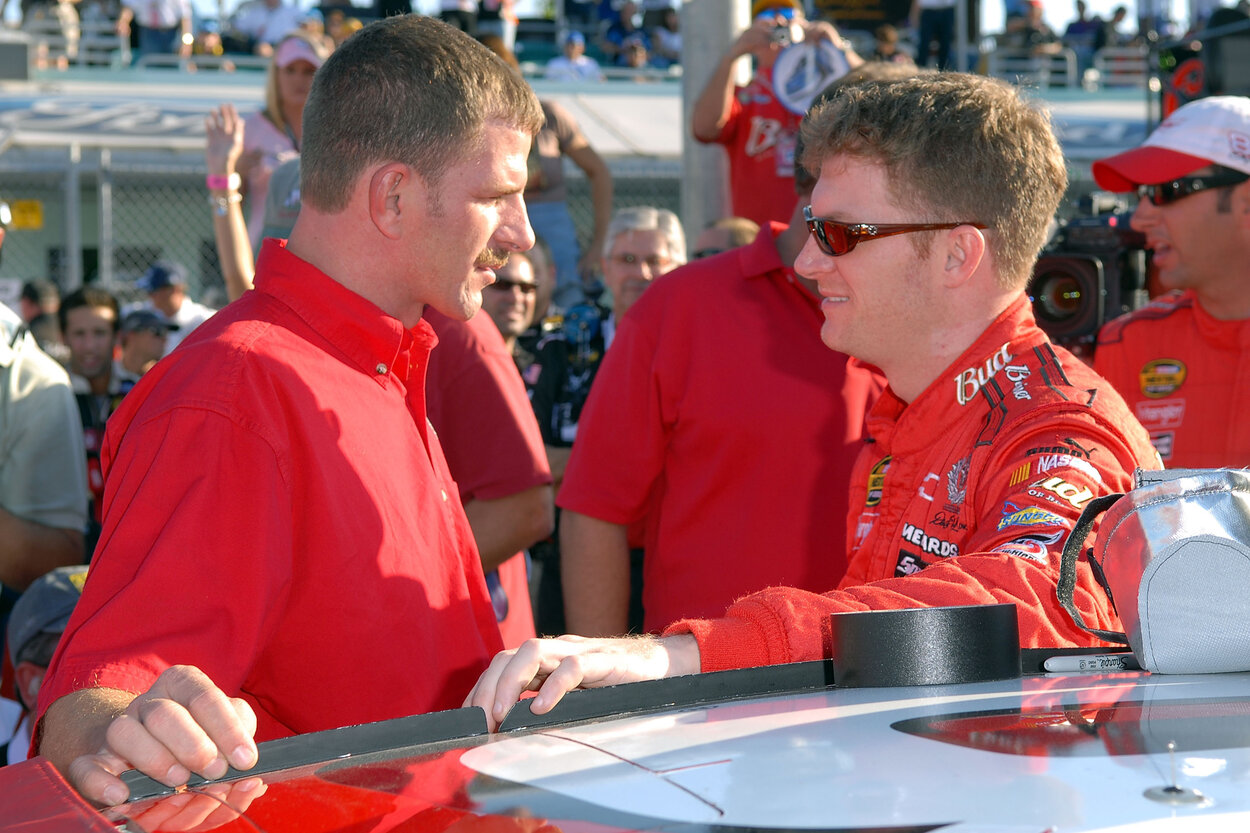 How Many Siblings Does Dale Earnhardt Jr. Have?
NASCAR legend Dale Earnhardt Jr. is racing royalty and is part of a famous family. How many siblings does Earnhardt Jr. have?
When his father was off winning NASCAR races, Dale Earnhardt Jr. was far from alone growing up.
Earnhardt Jr. is racing royalty, and his family has always been a crucial part of his journey from NASCAR fan to an iconic driver. Here is everything that you need to know about Earnhardt and his siblings, both those by blood and those who are related to him through marriage.
Dale Earnhardt Jr. has two sisters and a brother
The Earnhardt family has a long history of racing, and Dale Earnhardt Jr. is no exception.
The son of NASCAR legend Dale Earnhardt Sr., Dale Jr. has three siblings, although he shares a mother — Brenda Lorraine Jackson — with only one sibling, his older sister, Kelley.
Kerry Earnhardt, their older half-brother, comes from Dale Sr.'s first marriage. The racing great also has a younger half-sister, Taylor Earnhardt-Putnam, who is from his father's third and final marriage.
Big families are nothing new for the Earnhardts. Dale Sr. was the third of four children between Martha and Ralph Earnhardt, himself a former NASCAR driver.
His brother, Kerry, also briefly drove in the NASCAR Cup Series
For a time in the early 2000s, the NASCAR Cup Series had brief flashes of a sibling rivalry between Dale Earnhardt Jr. and his older brother, Kerry.
The elder Earnhardt raced in seven races at the Cup Series level from 2000-05, never finishing higher than 17th in an event. Interestingly, that 17th-place finish came at the Aaron's 499 — a race held at Talladega Speedway (Ala.) — on May 1, 2005.
Both Dale Earnhardt Jr. and Sr. had a history of dominating at Talladega. Dale Jr. won five times at Talladega between 2001-04. Kerry spent most of his career at what now is the Xfinity Series, totaling six top-10 finishes in 72 races from 1998-2009.
The oldest Earnhardt never won a race at the NASCAR level, however. Kerry's son, Jeffrey, is a full-time driver in the Xfinity Series. He raced in 76 races at the Cup Series level from 2015-19.
Kelley Earnhardt and Dale Jr. co-own JR Motorsports
NASCAR fans who have paid any attention to Dale Earnhardt Jr.'s career should be very familiar with his sister, Kelley. 
Kelley, who is two years older than Dale Jr. co-owns JR Racing with him. The siblings have an incredible bond, one that they discussed in a 2019 episode of the Dale Jr. Download podcast.
When discussing the emotional hardships of lacking a "family loving situation," Kelley explained just what her brother meant to him. USA Today transcribed her comments.
"We had our feelings then of how we felt unloved or just didn't have the right family unit, I would say, knowing what family should be like now. But I don't think it bothered us as much then because we had such a good relationship."
And they still have a good relationship to this day. Dale Jr. is no longer a full-time driver — he participates in one Xfinity Series race a year — but he and his sister are in charge of an organization that has multiple drivers at the Xfinity and Nationwide series level this year.
Like Sportscasting on Facebook. Follow us on Twitter @sportscasting19.