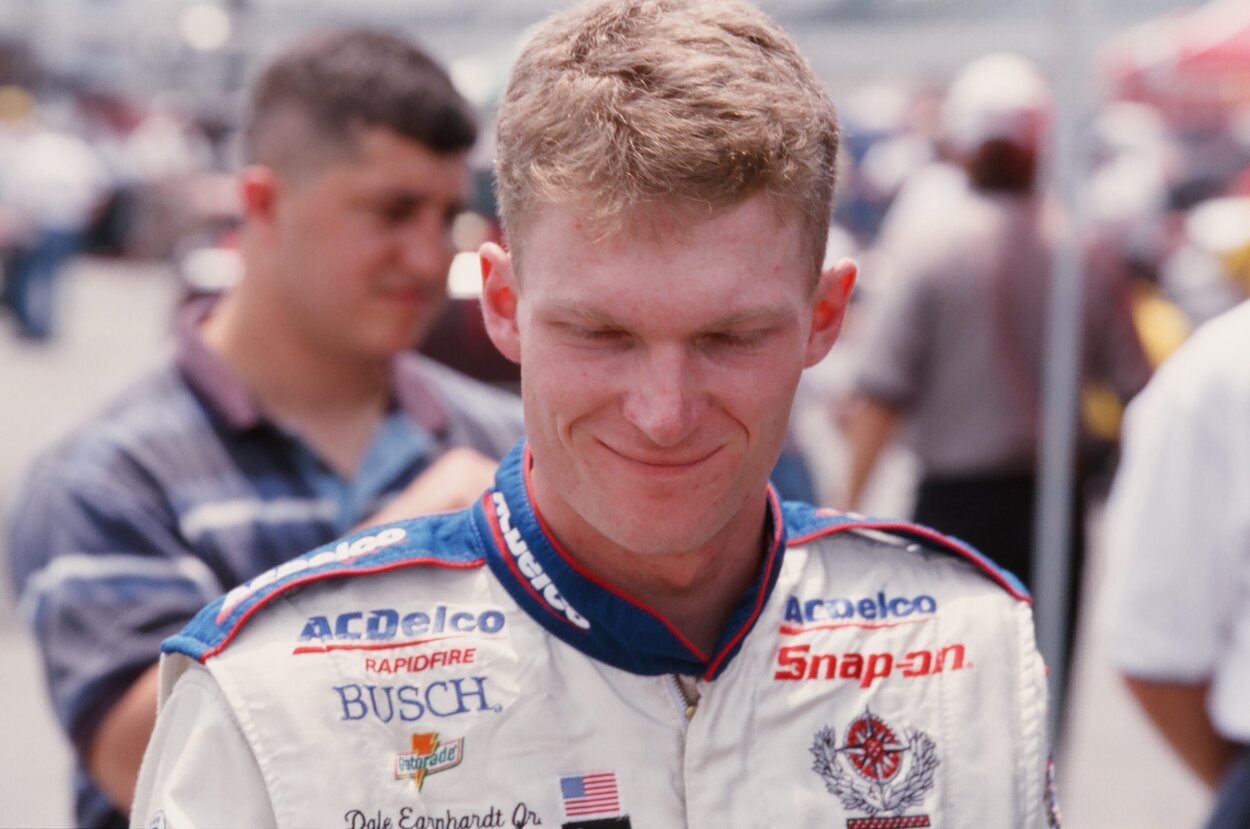 Dale Earnhardt Jr. Spent His NASCAR Career Bothered by a Specific Assumption Involving His Father
NASCAR legend Dale Earnhardt Jr. made plenty of friends in his career, but a specific assumption involving him and his father bothered him for years.
Dale Earnhardt Jr. was attached to racing greatness as soon as he entered the world. 
His father, Dale Sr., is among the greatest NASCAR drivers to ever take the wheel. Dale St.'s father, Ralph, was a successful short-track driver in North Carolina. 
With racing genes in his blood, Dale Jr. has spent his life — fairly or unfairly — being attached to his father's legacy. No matter what he did, the younger Earnhardt felt haunted by a specific assumption throughout his life. 
Dale Earnhardt Jr. is racing royalty
Even in 2021, the sight and sound of "Dale Earnhardt Jr." bring back memories of his father. 
Dale Earnhardt Sr. is a racing legend, and his son was the prince of the proverbial racing king. Whether Dale Jr. pursued a career on the racetrack or one in finance, he'd always be known to a certain sector as "Dale's son."
That was the case for many years, even after Earnhardt Sr. tragically died in 2001. Earnhardt Jr. had his own iconic career, and he'll officially enter the NASCAR Hall of Fame at some point in 2022.
But for a good chunk of his life, Earnhardt Jr. had to deal with the highs and lows of being his father's son. 
Earnhardt was offended by people who believed he was spoiled
Dale Earnhardt Jr. was born in 1974, not long before his father debuted in the Cup Series. 
While the younger Earnhardt grew up in North Carolina, his father was becoming a household name and racing legend. His father's success created unintended problems for Earnhardt Jr. 
In a 2010 interview with SB Nation, Earnhardt Jr. said he felt frustrated by the assumptions that people made about him during that time. On the idea that he grew up spoiled and wealthy, Earnhardt said he "grew up poor, and I grew up rich."
From there, Earnhardt was off to the races and eager to share his mind.
"I think some people who have never met me have a misconception that when I was living with my father when he was successful, that I was somehow adversely affected by his success or the money he had and was making at the time. I think that carries on into when I started racing Late Models. Sure, it was better than most guys – some guys didn't have f—— race cars. But people assume that I had the best car, the best motors, the best help. And it wasn't like that at all."
Earnhardt admitted in the interview that he "had it good" growing up. Still, the accusations and assumptions left a clear impact on him. 
"I don't want to complain or piss off anybody who was providing for me back then – those people who are still around," Earnhardt said. "But it wasn't all roses."
Dale Earnhardt Jr. has become a self-made man
Dale Earnhardt Jr. is his father's son, but everything that he has accomplished is his own doing.
It wasn't Earnhardt Sr. who got behind the wheel of his son's car and won 26 races. Earnhardt Jr. might have royalty in his genes, but he — along with his support team — is responsible for all that he has achieved.
In his own way, Earnhardt Jr. is a self-made man. He benefited from who his father was but carved out his own legacy and success, and that alone is what should matter in the end.
Like Sportscasting on Facebook. Follow us on Twitter @sportscasting19.