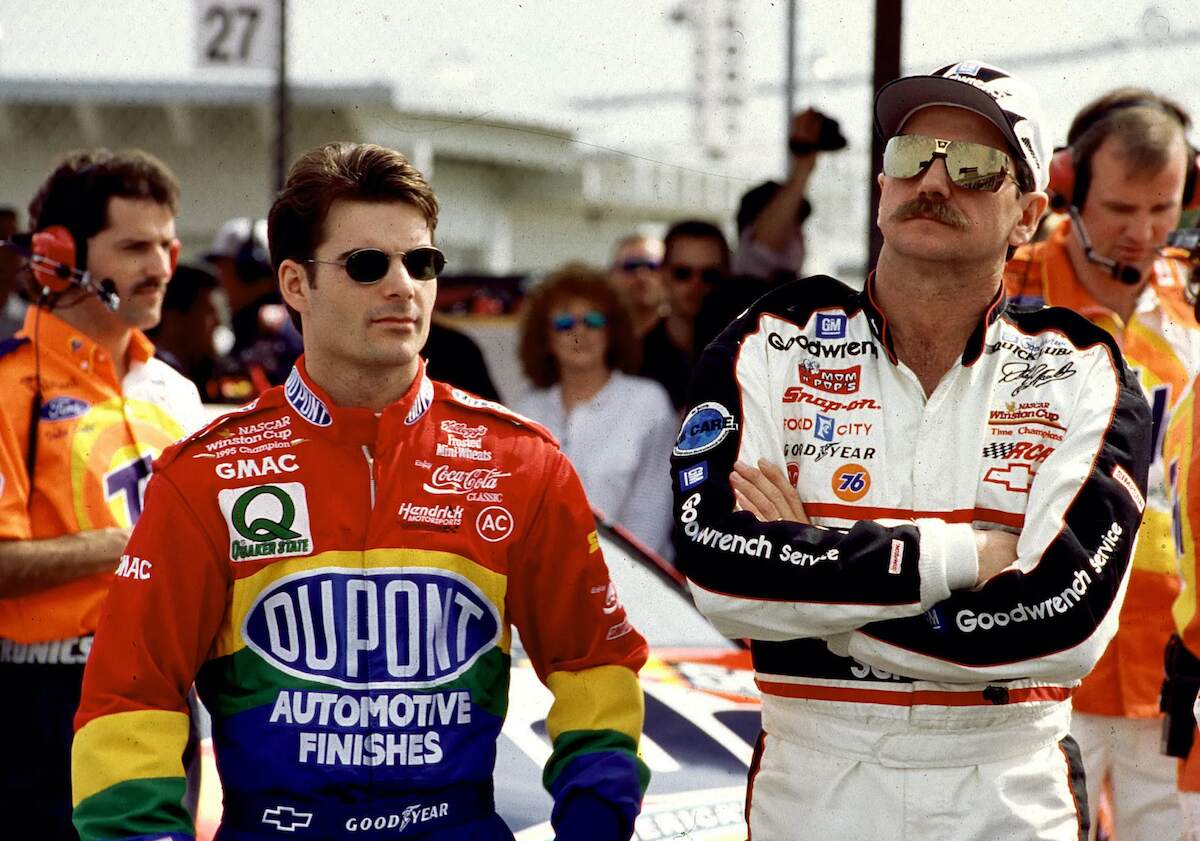 Dale Earnhardt Sr. Prophetically Predicted Jeff Gordon's NASCAR Greatness When He Introduced Him to Dale Jr.
When Dale Earnhardt Sr. When Dale Earnhardt Sr. introduced Jeff Gordon to Dale Jr., the Intimidator made a prophethic prediction about NASCAR's future.
During his time on the motorsports scene, Dale Earnhardt Sr. made quite a name for himself. The Intimidator earned a reputation as a fearless driver who was willing to do whatever it took to win. He also happened to win pretty frequently. That wasn't his only gift, though. Just ask Jeff Gordon and Dale Jr.
While Dale Earnhardt Sr., Dale Earnhardt Jr., and Jeff Gordon are now household names, things used to be much different. The Intimidator, however, had an early inkling that Gordon was destined for NASCAR success.
Dale Earnhardt Sr. was a legendary NASCAR star
Unfortunately, Dale Earnhardt Sr. will forever be associated with his tragic death at the Daytona 500. That crash, however, shouldn't overshadow the success he had on the NASCAR circuit.
Although Ralph Earnhardt hoped that his son would find his calling in something other than auto racing, Dale Sr. eventually joined the family business. He made his Winston Cup Series debut in 1975 and claimed Rookie of the Year honors in 1979. That title, however, was only the beginning of what became a legendary career.
Earnhardt captured his first Cup Series championship in 1980. He'd win six more by the time his career came to an untimely end. He also took home 76 total checkered flags during his time behind the wheel and built up a $70 million fortune.
February 2021 marked the 20th anniversary of Dale Earnhardt Sr.'s tragic death at the Daytona 500. It's safe to say, however, that NASCAR fans won't forget him anytime soon.
Predicting Jeff Gordon's greatness in a conversation with Dale Jr.
Dale Earnhardt Sr.'s skill set wasn't limited to driving, though. During his lifetime behind the wheel, he apparently developed an eye for talent. That eye had no problem identifying Jeff Gordon.
On a 2018 episode of the Dale Jr. Download, Earnhardt and Gordon reminisced about the first time they ever met. Their introduction also included a prophetic prediction from Earnhardt Sr.
"The way I remember it is Dad and you had been out on the track," Earnhardt Jr. explained. "And I don't know whether that was something that y'all did or he would do with you from time to time, but maybe he had taken you around the track or talked to you about the race track or something. … Y'all pulled up to the entrance to pit road in this pace car, both of you got out, some official jumped in and took off. And y'all were walking by, and I was sitting on the pit wall; we had all our late model stuff everywhere."
When Dale Earnhardt Sr. noticed his son, he decided to introduce him to a young Jeff Gordon. He also made a prophetic prediction about the driver.
"He goes, 'I want to introduce you to Jeff Gordon," Dale Jr. remembered. "And he said, 'This kid's gonna be somebody."
Jeff Gordon certainly lived up to Dale Earnhardt Sr.'s prediction
During their time on the motorsports scene, Dale Earnhardt Sr. and Jeff Gordon had their share of battles. The younger driver, however, still managed to become "somebody" in the world of NASCAR.
Gordon claimed the 1991 Busch Series Rookie of the Year crown and only found more success once he graduated to the Cup Series. By the time he brought the curtain down on his impressive career, he had added 94 Cup Series victories and four overall championships to his resume.
Based on Dale Jr.'s story, it's not exactly clear when Dale Earnhardt Sr. made his prediction about Jeff Gordon. While the Intimidator may or may not have had some inside knowledge, he certainly was 100% correct.