Dale Earnhardt Sr. Received an Ominous Gift From Darrell Waltrip's Wife the Same Day He Tragically Died at the Daytona 500
It's hard to believe that it's almost been 20 years since Dale Earnhardt's crash at the Daytona 500 that ultimately resulted in his tragic death. He had proven to be one of the greatest NASCAR drivers in motorsports history. That legendary career, though, sadly came to an abrupt end in the worst possible way. While there are many horrifying memories from that day, three-time Cup Series champion Darrell Waltrip saw his wife actually give Earnhardt an ominous gift, which may have also given him the comfort he needed.
Dale Earnhardt Sr. was one of the greatest drivers of all-time
There is one word that can describe Dale Earnhardt best in terms of his racing career: winner.
Earnhardt is still tied for the most Cup Series championships with seven. His first title came in 1980, which was only his second season in the Cup Series, and it came after he had won the Rookie of the Year award in 1979, according to Bleacher Report.
Earnhardt then went six years before winning his second title, as that one came in 1986. The championship ultimately kicked off his very dominant run in NASCAR, too, as he then won his third title the next season in 1987. The 1987 campaign was also probably the most dominant season of his career, as Earnhardt ultimately won a career-high 11 races that season.
Earnhardt then went a couple of seasons without a title but won his fourth championship in 1990 before winning another second consecutive title in 1991. Earnhardt wasn't done dominating yet, though, as he then won his sixth championship in 1993 before going back-to-back again in 1994.
That Cup title was ultimately his last, but he finished second in the standings two other times afterward. His career then came to a tragic end, though, in 2001.
Dale Earnhardt tragically died in a Daytona 500 crash
On Feb. 18, 2001, Dale Earnhardt competed in the Daytona 500. According to ESPN, Earnhardt had the lead during Lap 183 before allowing Michael Waltrip and Dale Earnhardt Jr. to get by. Since two Dale Earnhardt Inc. drivers were leading, Earnhardt chose to block anyone from trying to pass Waltrip and Earnhardt Jr., per ESPN.
However, as you may know, Dale Earnhardt was later involved in a fatal crash during the race. ESPN reported that, "according to the official accident report, Earnhardt's Monte Carlo was traveling 160 mph when it blasted into the bare concrete wall at the 1 o'clock angle and immediately decelerated by 42-44 mph. The impact registered around 60 G's, so much force that it pushed the entire right front corner of the car from an aerodynamic curve into a flat surface that fit the wall as perfectly as a jigsaw puzzle piece. The engine stayed put, but everything around it moved, in some cases a full two or three feet to the right."
Earnhardt suffered broken ribs, a broken ankle, a fractured sternum, and cuts to his scalp, as well as his chin. What sadly resulted in Dale Earnhardt's death, though, was a basilar skull fracture. The fracture included breaks in all the bones where the skull and spine meet, according to ESPN.
It was a devastating moment for NASCAR and all of sports.
However, before the crash, he received an ominous, but meaningful gift.
Stevie Waltrip gave him an ominous, but meaningful gift that day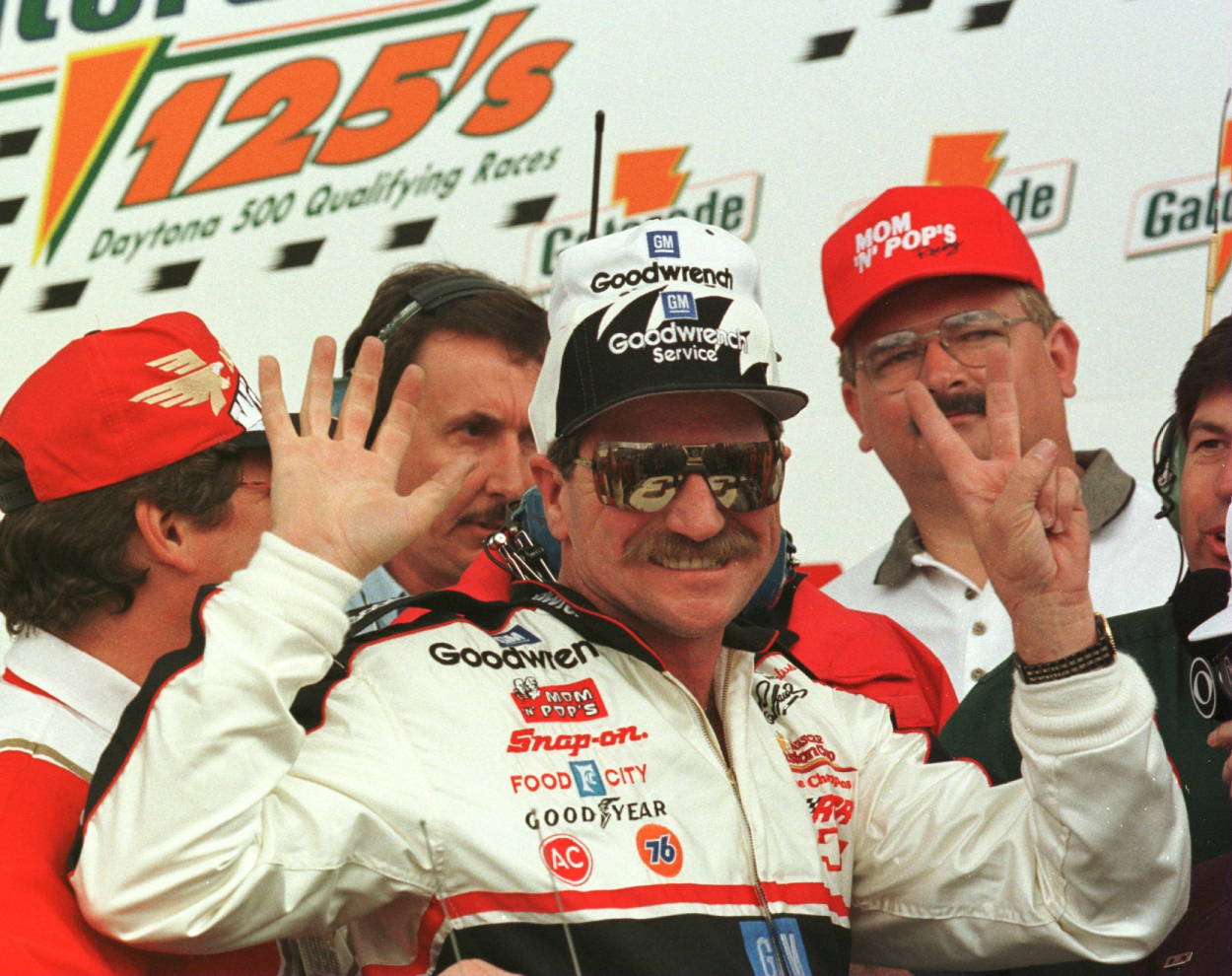 According to ESPN, on Earnhardt's instrument panel when he crashed was a Bible verse written out on a slip of paper. Darrell Waltrip's wife, Stevie, gave it to him. She did so after it had been a pre-race routine that she had done with her husband for years. Earnhardt had then asked her to start doing it for him, too.
The verse? It was Proverbs 18:10, which says: "The name of the Lord is a strong tower; the righteous man runs into it and is safe."
It's definitely an ominous verse, especially considering the way in which Earnhardt sadly died that day. Darrell tried to get her to find a different verse, too. However, she said that something had told her she needed to go with that one.
"It turned out to be exactly what he needed in the car that day," Darrell said to The Daytona Beach News-Journal.
Dale Earnhardt's tragic death was one of the most horrific moments in NASCAR history. Maybe, Stevie Waltrip's gift, though, gave him the comfort he needed on that terrible day.
Like Sportscasting on Facebook. Follow us on Twitter @sportscasting19.