Dale Earnhardt Jr.'s Brutal Honesty Cost Him $10,000 After Winning at Talladega
NASCAR legend Dale Earnhardt Jr. couldn't be blamed for looking forward to his yearly race — or races, depending on the year — in Talladega, Ala.
Earnhardt Jr. and his father, Dale Sr., each had a great deal of success at Talladega. In the fall of 2004, Dale Jr. left the historic racetrack with another victory.
Although Earnhardt made a great deal of money by winning that day, his brutal honesty after the race wound up hurting his wallet.
Dale Earnhardt Jr. won at Talladega in 2004
RELATED: Dale Earnhardt Jr. Revealed What He Enjoyed Most About NASCAR Racing
Dale Earnhardt Jr. was in the prime of his career when he got behind the wheel on Sunday, Oct. 3, 2004, to race at Talladega Superspeedway.
Earnhardt led for 78 of the EA Sports 500's 188 laps and emerged victorious over Kevin Harvick. Dale Jarrett, Brendan Gaughan, and Kurt Busch rounded out the top-5 that day.
The victory was Earnhardt's fifth at Talladega since the start of the 2001 Cup Series season. Earlier that year, Jeff Gordon narrowly defeated Earnhardt Jr. in a photo finish at the Aaron's 499, another race held in Talladega.
Earnhardt lost $10,000 for cursing on TV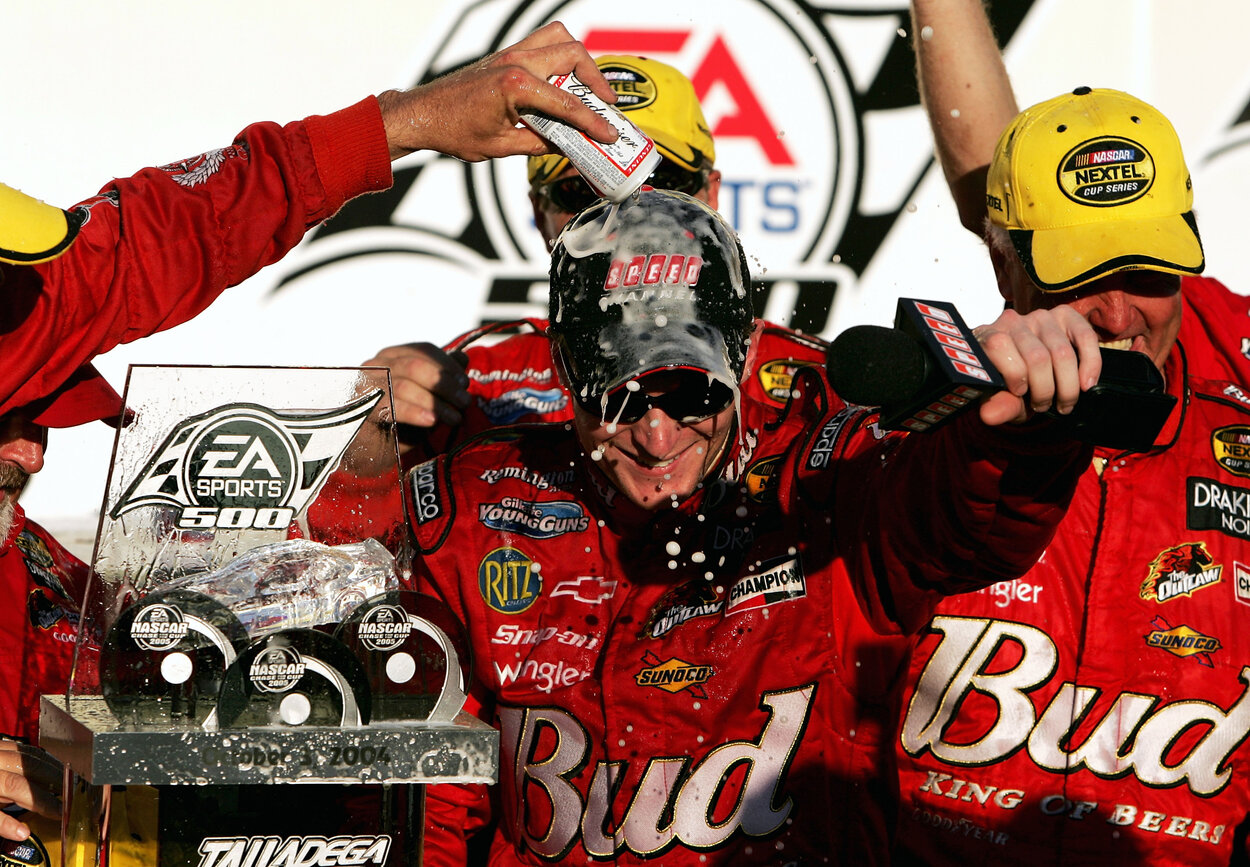 RELATED: Tommy Lasorda's Expletive-Filled Rants About Dave Kingman and Kurt Bevacqua Are Hall of Fame Material
Dale Earnhardt Jr. had plenty on his mind after winning at Talladega in October 2004.
Earnhardt did a post-race interview with NBC, and he was asked about his fifth career victory at Talladega. Earnhardt replied, "It don't mean s— right now. Daddy's won here 10 times."
NASCAR fined Earnhardt $10,000 and docked him 25 points for his language, which knocked him out of first place in the Cup standings.
According to ESPN, NASCAR spokesman Mike Zizzo defended the harsh punishment.
"NASCAR President Mike Helton made it clear back in February at the drivers meeting at Rockingham that we, as a family sport, were taking this very seriously and adhering to FCC guidelines. The timing is unfortunate for Dale Jr., but NASCAR also made it clear to the competitors that we would police the last 10 races just like we did the first 26."
Earnhardt placed fifth in the Cup Series standings that year. Kurt Busch won the Cup Series after he finished ahead of Jimmie Johnson and Jeff Gordon.
Dale Earnhardt Jr. had a long history of success at Talladega
RELATED: Dale Earnhardt Jr. Received Unforgettable Retirement Gifts Honoring His Father From Talladega Superspeedway
Dale Earnhardt Jr.'s controversial post-race interview came after his fifth victory in four years at Talladega.
Unfortunately for Earnhardt, that incident may have led to bad karma for the NASCAR legend going forward. Despite his and his father's success on the Alabama track, Earnhardt didn't win at Talladega again until May 2015.
In 2017, Earnhardt finished seventh in his final race at the iconic speedway. Although Earnhardt has participated in an Xfinity Series race in each of the last three seasons, none have been at Talladega.
Earnhardt had not announced as of publication which of the Xfinity Series races he will participate in this year.
Like Sportscasting on Facebook. Follow us on Twitter @sportscasting19.