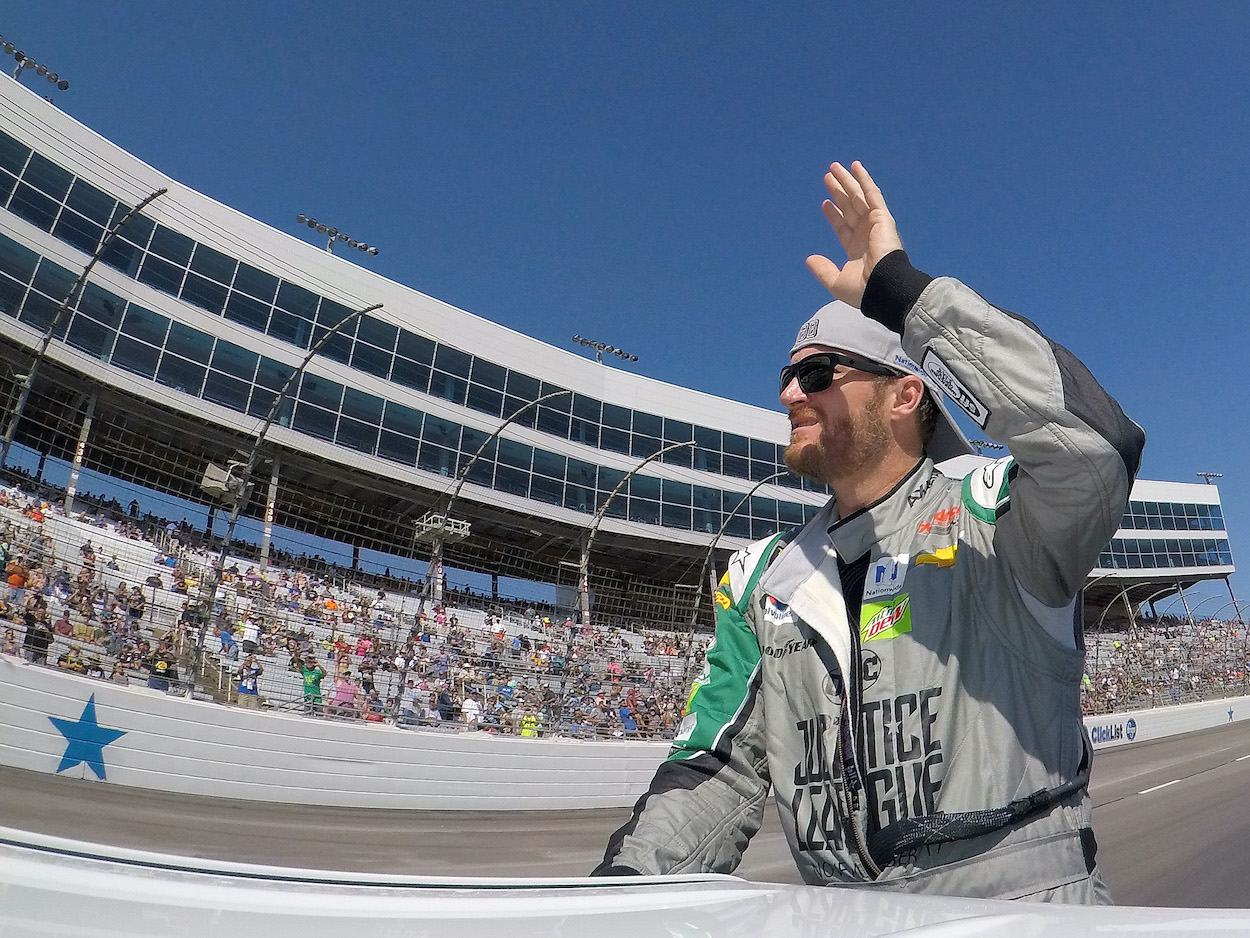 Dale Earnhardt Jr. Wishes He Could Tell His Father 'I Told You So' About 1 Booming NASCAR Trend
Dale Earnhardt Jr. always saw a future in iRacing, but his legendary father thought virtual racing was a waste of time.
In the Earnhardt household, Dale Sr. was always right. After all, he was the one who got Dale Jr. into NASCAR in the first place, and he built up a legendary racing career before his son could even drive.
But Dale Sr. was wrong about one thing. He always believed computers and virtual racing games were a waste of time, but Dale Jr. knew virtual racing had a bright future ever since it only existed on PC. Last year, Dale Jr. explained that he wished his father was alive today so he could jokingly say "I told you so" about iRacing.
iRacing is the hottest new trend in NASCAR
As the world shifts more and more to the Internet, even car racing has found a niche in the online space. Once the COVID-19 pandemic struck last spring and forced NASCAR into a long hiatus, drivers found a new way to stay on the track — iRacing.
Here's how iRacing's official website defines the trend if you're unfamiliar:
"iRacing is the world's premier motorsport racing simulation. iRacing puts you in the driver's seat by allowing members to experience today's newest form of competitive motorsport: virtual racing. iRacing is a fun, inexpensive and highly-competitive way for race fans and gamers to break a sweat by braking hard at the apex, while overcoming head-to-head racing challenges usually reserved for professional racers."
iRacing isn't a new trend, though. The eNASCAR Coca-Cola iRacing Series has actually been around for 11 years. The virtual series consists of 40 drivers and 20 races throughout the season, all leading up to a $300,000 prize for the ultimate winner.
Before COVID-19, iRacing wasn't very popular in the racing community, but now that more famous drivers have gotten involved, it's become a nationwide phenomenon.
Dale Earnhardt Jr. has found success in iRacing
After the pandemic hit last March, it sent drivers off the track and into their homes. Dale Earnhardt Jr. was one of the many who took up iRacing in quarantine, and he immediately fell in love with the unique racing trend.
"It's as close to the real thing as you're gonna get without feeling the car in the seat of your pants," Earnhardt Jr. said last year during an appearance on SportsCenter. "To be honest with you, the iRacing software that we use is the best, most realistic that you'll find. And they don't pay me a cent — I've been using that software for 20 years. I used it in my career to get better, and it is as close as I will ever get to the real thing."
Earnhardt Jr. loved it so much that he joined iRacing as an executive director and part of the company's management committee last November. He knows the future of racing is heading online, and now he just wishes his father was still here so he could give him an "I told you so."
Dale Earnhardt Jr. wishes he could tell his father "I told you so" about iRacing
Everyone in the racing world probably agrees today that there's a place for iRacing in NASCAR, but Dale Earnhardt Sr. never saw it that way.
When Dale Jr. was younger, he wanted to explore virtual racing, but his father thought it was a waste of time. He just wishes Dale Sr. was alive today so he could brag about being right for once.
"[Dale Sr.] would be doing something else, I'm sure," Earnhardt Jr. said on SportsCenter last year. "I was trying to buy my first computer in 1996 because I wanted to race online. They had a PC NASCAR game, actually made by the same people that are making iRacing today. And I wanted that game. I didn't have any credit, so I had to get my sister to go with me to the store to buy a computer and she put it on her credit. So, I had to pay her back. And when dad saw that sitting in my house, he was like, 'Those things are a waste of time; computers are a waste of time.' I was like, 'How could you say that?'
"And look at it now. I would probably be rubbing that in his face. There's not many times you got one over on dad, but that was definitely one of his misjudgments."