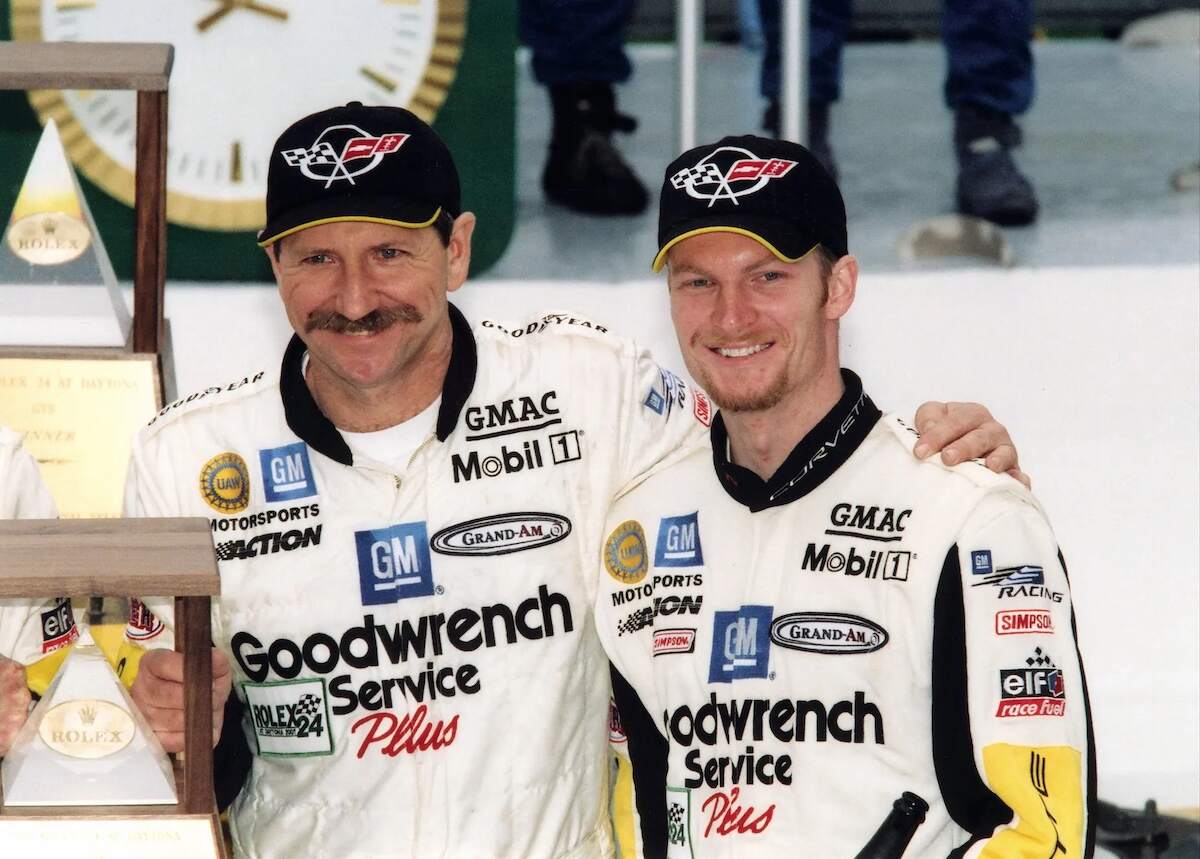 Dale Earnhardt Jr. Once Recalled the 'Only Time' His Father Coached Him on the Track: 'I Had No Idea What I Was Doing'
While Dale Earnhardt Sr. didn't offer much advice to his son, Dale Jr. will never forget a single, five-minute coaching session.
When it comes to modern motorsports stars, it's tough to get much bigger than Dale Earnhardt Jr. While he's no longer driving, the living NASCAR legend built up quite the resume during his time behind the wheel. Along the way, however, he certainly needed a few pointers. Luckily, that's where Dale Earnhardt Sr. stepped in.
Although Dale Earnhardt Jr. and his famous father didn't always have the greatest relationship, the Intimidator did offer his son one on-track coaching session. In retrospect, it seems like that impromptu lesson paid off.
Dale Earnhardt Jr. started racing to form a relationship with his father
In the history of professional sports, there have been plenty of famous father-son duos. While Dale Earnhardt Sr. and Dale Earnhardt Jr. are certainly one of the best pairings, things could have worked out much differently.
Although it's now impossible to imagine Dale Jr. as anything other than a NASCAR star, he didn't plan on following his father's professional footsteps. In fact, he climbed behind the wheel for a much more personal reason.
"We just didn't have a relationship," the younger Earnhardt told Graham Bensinger. "We didn't do a lot of hanging out. We didn't communicate much unless he was telling me where to stand or where to be or what to fix or what to clean up. We didn't go hunting together. He didn't take me on trips. Like when he would go do things, I was never like an idea or a consideration."
That, however, is where racing came in.
"The only reason I raced was to get closer to my dad," Earnhardt Jr. continued. "That was the only way I would. Nothing I did would register with him … and finally, when I started racing and I won a couple of races, I noticed we would talk about it, and he'd come in the shop and want to know what happened. And so I got more and more into [it], like 'hey I gotta, I want to do racing' because it gets me closer to dad."
Remembering the only father-son coaching session
Even once Dale Earnhardt Jr. started racing, he and his father still kept somewhat of a distance. The Intimidator wasn't exactly one to sit his son down and run through a slide show about the specific strategy needed for a given race. On one occasion, though, he did share some wisdom with Dale Jr.
"We ended up going to Bristol the first time. That place is super fast. I had no idea what I was doing," Junior once explained on NASCAR on NBC's Facebook page, according to The Sporting News. "In a Cup car with a little more power, I was having a lot of trouble. For the first time — the only time I can ever remember — Dad, in the middle of practice, got out of his car and got on the radio and coached me around the race track. 'Lift here. Get on the gas here."
While their interaction was still pretty brief, it made quite an impact on Dale Jr.
"It was completely opposite of what I was doing," he continued. "That little five-minute coaching session really worked at a lot of different racetracks, just the patience that he showed me with what I needed to be doing versus what I had been doing. That's something I'll never forget.''
Dale Earnhardt Jr. certainly put that lesson to good use during his NASCAR career
In isolation, a five-minute coaching session doesn't seem like much. How much information could anyone, even Dale Earnhardt Sr., impart in that short of a time? Without knowing the specifics of what was or was not said on that fateful day, it certainly seems like it made a difference for Dale Jr.
While he may have had some issues with a Cup Series car during that practice session, Junior eventually hit his stride. Although he didn't find the same success as his famous father, he still won 26 Cup Series races during his time on the circuit. He also proved to be incredibly popular and built up a $300 million net worth along the way.
During his NASCAR career, Dale Earnhardt Sr. wasn't the easiest guy to work with. On one occasion, though he made sure to take some time out to help his son. The Intimidator may be gone, but Dale Jr. will never forget that coaching session.