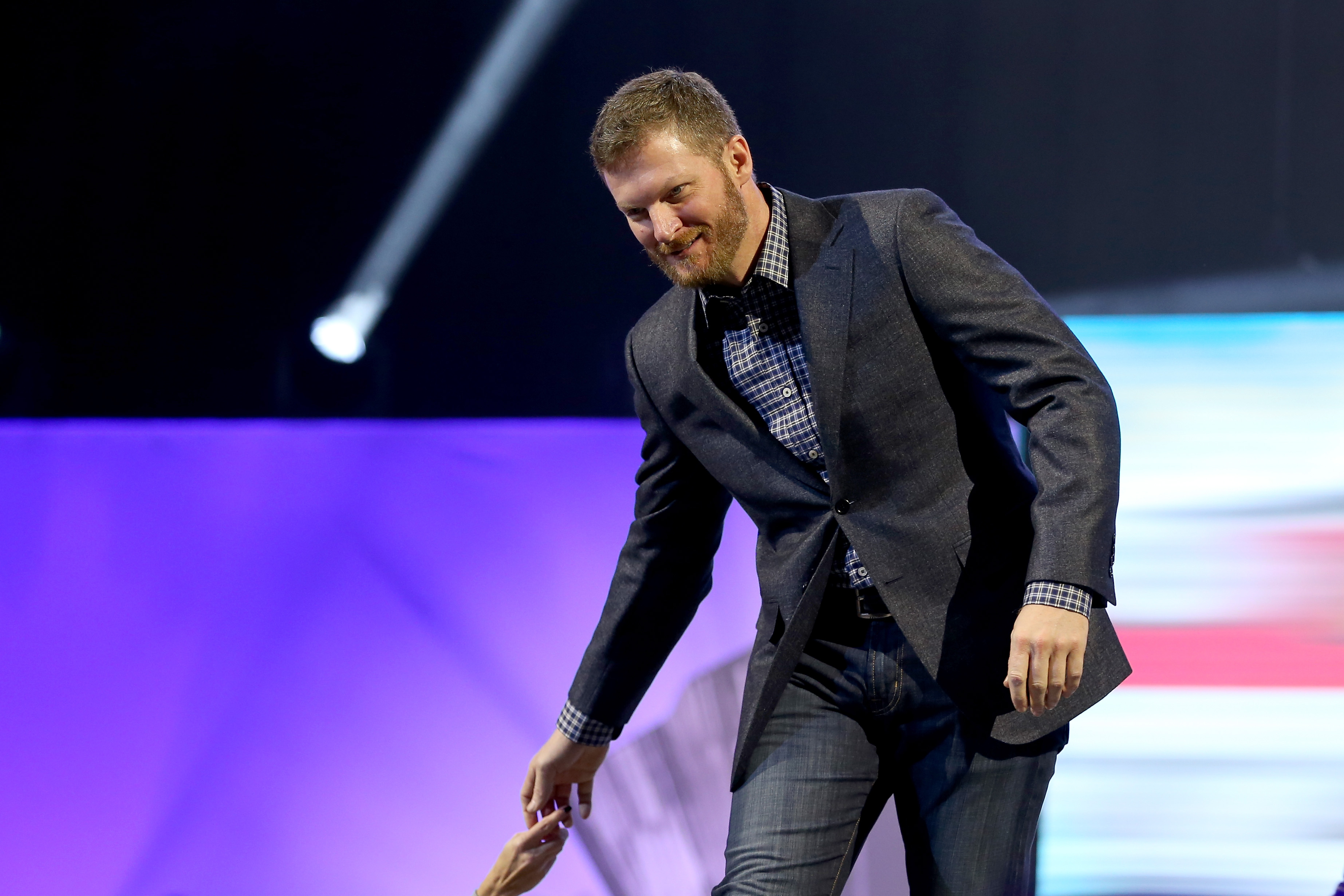 Dale Earnhardt Jr. Reveals Why He's Not Likely Ever to Be the Life of the Party
Dale Earnhardt admitted to always being shy and awkward, especially around people for the first time.
Dale Earnhardt Jr. has certainly come out of his shell. The Hall-of-Fame NASCAR driver has learned to adapt to fame after running in 631 Cup Series races over 19 years. Although Earnhardt Jr. has become more vocal during interviews and has his own podcast, he had admitted he's never been the life of the party and explained why.
Dale Earnhardt Jr. is one of three to be inducted into 2021 NASCAR Hall
Dale Earnhardt Jr. has already gotten the phone call. Now it's just a formality. Earnhardt Jr. was notified last year that he was one of three members to be inducted into the NASCAR Hall of Fame (Class of 2021). The ceremony was scheduled to take place last month, but COVID-19 forced the postponement of the event.
"Without question, the safety of our inductees, our guests and our staff is the highest priority for us," said Winston Kelley, NASCAR Hall of Fame Executive Director. "The ongoing public health crisis prohibits our ability to plan for and celebrate these honorees' landmark achievements as originally scheduled to the fullest extent – with their families, friends and fans present – and in a manner that's representative of their incredible accomplishments in NASCAR and their contributions to the sport."
Earnhardt Jr. is entering the Hall with the late Mike Stefanik and Red Farmer. Earnhardt Jr. is a two-time Daytona 500 winner and had four straight victories at Talladega Superspeedway. He was named the Monster Energy Cup Series Most Popular Driver for 15 straight years. He's also a 2017 inductee of the Texas Motorsports Hall of Fame.
Earnhardt Jr. was well-traveled as a youngster
Dale Earnhardt Jr. attended several different schools when he was younger. His parents divorced when he was very young and he lived with his mother as his father, the late Dale Earnhardt Sr., pursued his Hall-of-Fame racing career. After a fire destroyed the family home, Junior and his sister Kelley went to live with their father.
"Mom was broke and had to move back to Norfolk, Virginia, to be closer to some family," Earnhardt Jr. told Danica Patrick on her Pretty Intense podcast. "That was the decision she made. It was just going to be too hard on her to maintain me and Kelley and so we went to live with Dad."
Junior said it was tough because he wound up attending various schools. He struggled to find friends, both because he was shy and because he was always switching schools. "We went to a lot of different schools," he said. "I ended up getting sent to military school for a couple of years. I was in a Christian school and got in big trouble there – just doing stupid stuff and being a clown." He said it was at that Christian school where he felt comfortable because many of the kids were just like him. The only problem was, he was only there for half a year.
Earnhardt Jr. explains why he likely won't be the life of the party
Dale Earnhardt Jr. struggled to make friends as he was growing up. He just wasn't the type of kid to strike up a conversation in a new environment. "I had like two, three, or four friends," Earnhardt Jr. told Danica Patrick on the Pretty Intense podcast. "I wasn't outgoing and wasn't one to strike up a conversation and I was real, real quiet. It just created this sort of sustained personality and approach to life all through my teenage years."
As he's gotten older, Earnhardt Jr. has learned to break out of his shell a bit, but he's never felt overly comfortable around people, especially in the first meeting. "I've just always felt super awkward around people, meeting new people," he said. "I get real comfortable once I get to know people and can be myself. But I've just always been uncomfortable and awkward. I don't have a lot of social skills in terms of small talk and chit-chat. I just don't have that ability to really come off as authentic because of that awkwardness.
"When I get put in a room with people I don't know, I just kind of lock up. I'm not outgoing and I'm not going to take over the room and I'm not going to be the life of the party. But maybe the fifth time I'm in that room, I might be that person. It just takes me a while to sort of get comfortable and trust the environment and the people I'm around."