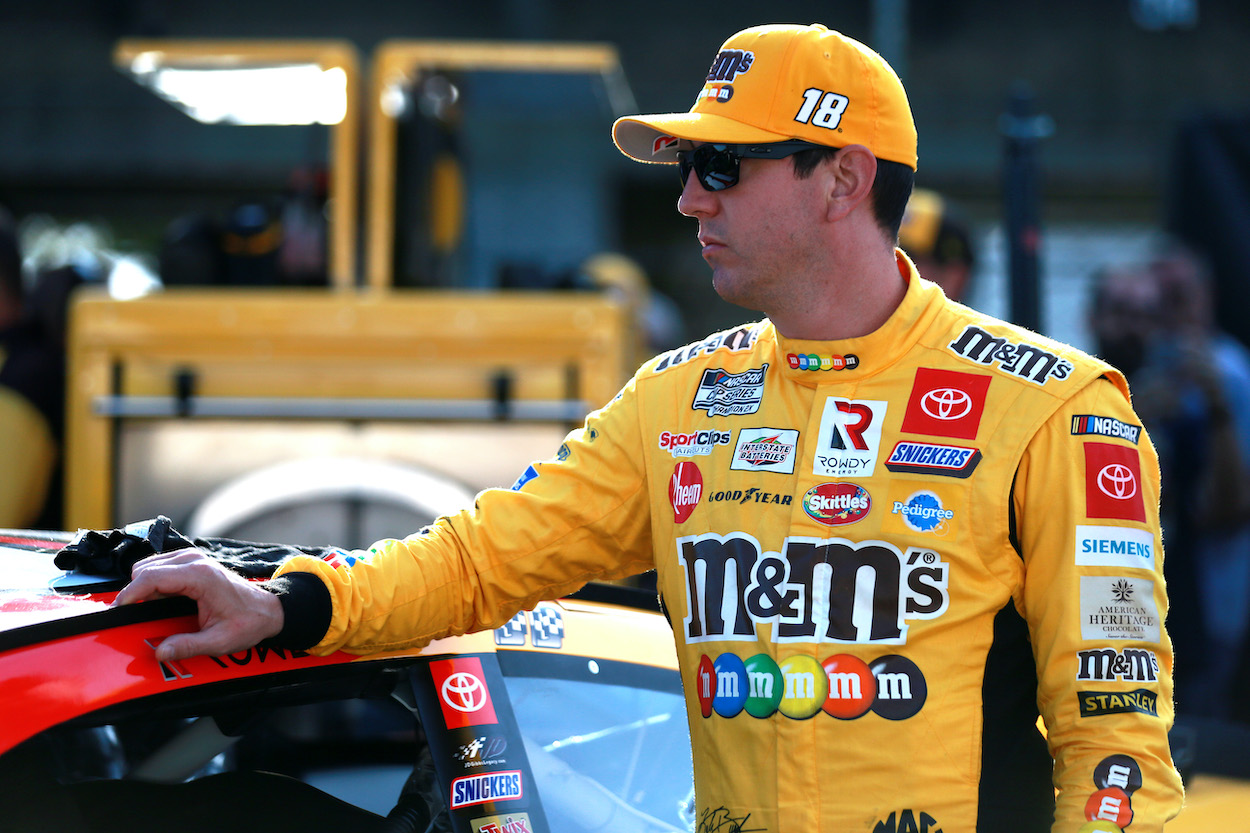 Kyle Busch's Bank Account Takes a Hit From NASCAR for Safety Violation and 'Detrimental' Behavior at Darlington
Kyle Busch learned on Tuesday just how much his dangerous actions during this weekend's Cup Series race at Darlington are going to cost him.
Kyle Busch will go down as one of the greatest drivers in NASCAR history. Fans will also remember him as one of the most temperamental drivers. The high emotions of the two-time Cup Series champion have resulted in confrontations with a variety of subjects, ranging from other drivers to the governing body. 
On Sunday, Busch let his emotions get the best of him at Darlington following a wreck in Stage 2 that sent him to the garage. His resulting actions put others in danger. On Tuesday, NASCAR made it clear that his behavior was unacceptable and levied a fine against him. But was it the right move? 
Kyle Busch gets wrecked and displays his anger by aggressively driving through pits 
Kyle Busch didn't enter the 2021 playoffs on a high note after finishing 34th at Daytona in the regular-season finale. No one could have imagined that the first round of the postseason would start worse for the Joe Gibbs Racing driver, but that's what happened. 
Austin Dillon made contact with Busch late in Stage 2 at Darlington, sending the yellow No. 18 sideways and the right rear slamming into the outside wall. With severe damage to his car, Busch dropped down to the lower line and declared his day over.  
"Going to the garage," an agitated Busch said over the radio. 
After driving down pit road, he made a quick left turn toward the garage, running over a barricade of four pylons, with one of the orange cones lodging under the front of his car. 
His speed coming off pit road surprised numerous race personnel, who darted to the side to avoid getting hit. Busch then drove straight to the rear of his hauler, where he quickly exited his vehicle and disappeared. 
NASCAR fines Kyle Busch $50,000
On Tuesday after the three-day weekend, NASCAR made it clear it was reviewing Busch's behavior at Darlington. 
"It was a situation that could have been bad. Fortunately nobody got hit or anything like that," Scott Miller, NASCAR's senior vice president of competition, said on SiriusXM NASCAR. "It all worked out, but putting people in harm's way for no reason is something we take seriously."
Later in the afternoon, NASCAR showed just how serious by fining Busch $50,000 and citing multiple infractions, including a safety violation, actions detrimental to stock car racing, and violating the NASCAR member conduct guidelines.
Minuscule penalty considering he's worth $80 million 
While $50,000 sounds like a hefty fine, it's a drop in the bucket for Busch. According to Celebrity Net Worth, the 36-year-old Las Vegas native has a reported net worth of $80 million.
Interestingly, NASCAR opted to fine Busch that amount for putting others at risk and for his detrimental actions and conduct, which included a postrace interview when he cursed multiple times while ripping his team. 
"It wasn't the 3's fault. Just take our lumps. We're running like s—. We got wrecked," Busch told NBC's Marty Snider. "It's what you get when you run like s—. Shouldn't be there. I don't know what our problem is. Every time we go to sim and use the sim and think we have a good sim session, we go to the race track and we suck. I'm done with that. We'll have to use some other tools on figuring out how to be good. The M&M's Camry was not very good and we're running terrible. We got wrecked. It wasn't the 3's fault." 
Kyle Busch got off easy. NASCAR could have docked him points, which would have reduced his chances of winning the title, and potentially affected his bank account by a larger amount. However, that didn't happen. So no one should be surprised to see Busch do something just as reckless in the future considering he hardly got punished for his actions this time around.
Like Sportscasting on Facebook. Follow us on Twitter @sportscasting19.