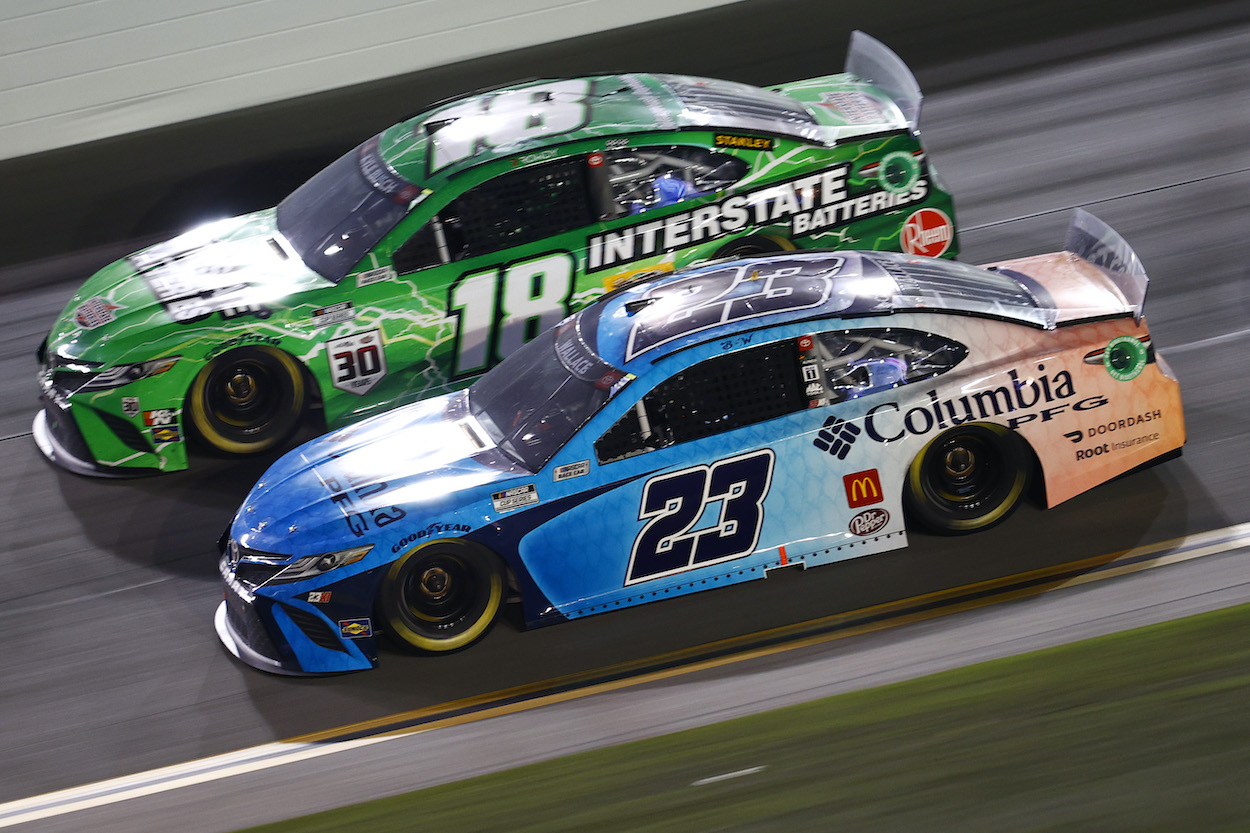 Emotional Bubba Wallace Doesn't Hide Feelings and Calls Out Toyota Teammates for Not Working With Him at Daytona: 'I'm the One That Gets Left Hanging'
Bubba Wallace didn't hide his emotions after the Cup Series race at Daytona, calling out his Toyota teammates for not working with him.
Bubba Wallace miraculously escaped a last-lap crash to finish third (later changed to second due to Chris Buescher's disqualification) in Saturday night's Cup Series race at Daytona. It was his best finish of the season and tied for the best finish of his career at the 2018 Daytona 500. Despite the success, Wallace was in no mood to celebrate after the race. Instead, during the postrace interview, he expressed his unhappiness with what happened in the race and specifically called out his Toyota teammates. 
Bubba Wallace makes move and Toyota teammates don't follow
Bubba Wallace admitted before Saturday night's race at Daytona that he couldn't explain why, but the World Center of Racing always seemed to bring out the best in him, including a pair of top-5 finishes at the 2018 Daytona 500 and in last year's summer race. 
Saturday night was more of the same as Wallace made his way to the front earlier in the race, settled back in the pack, then returned to the front in the final stage. With 37 laps to go, the No. 23 car took the lead on the outside lane. He was joined soon after by his Toyota teammates, Kyle Busch, Christopher Bell, and Martin Truex Jr.
With 23 laps to go and the Ford teams having already completed their green-flag pit stops, Wallace's spotter Freddie Kraft radioed to his driver that the four Toyotas had cleared the bottom line of cars and could all move down and get into position to make final pit stops. 
"We can all go to the bottom if you want to drag them down there. All four Toyotas are clear," Kraft calmly told him. Following his spotter's guidance, Wallace dropped down to the lower lane. There was but one problem — no one else followed.    
"Watch 18 (Busch) looking top," Kraft frantically said moments later, the inflection of his voice noticeably changed. "He's outside, outside, outside. Unbelievable." 
Several seconds later, an unhappy Wallace voiced his displeasure. "That's f—— bulls—." 
"Shake it off. We'll be fine," Kraft told him.
No. 23 crew chief and spotter have interesting conversation about move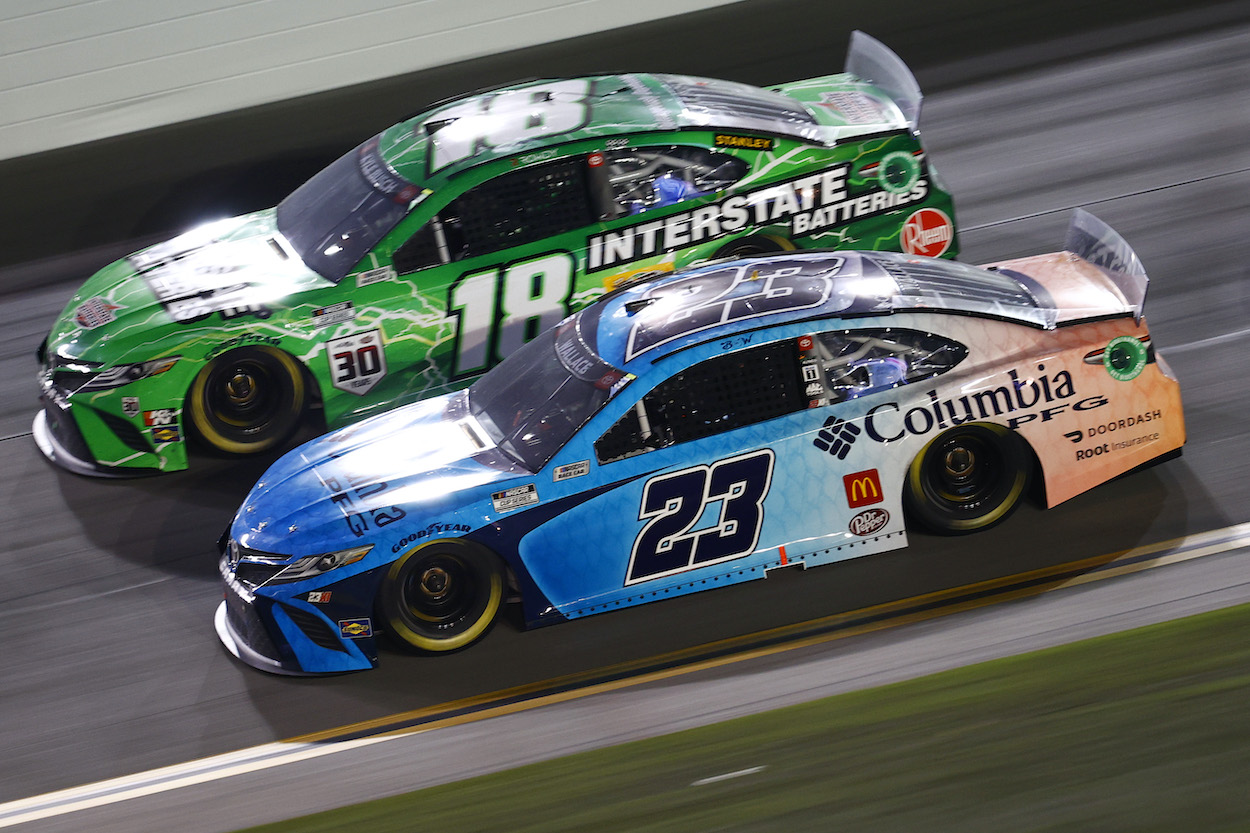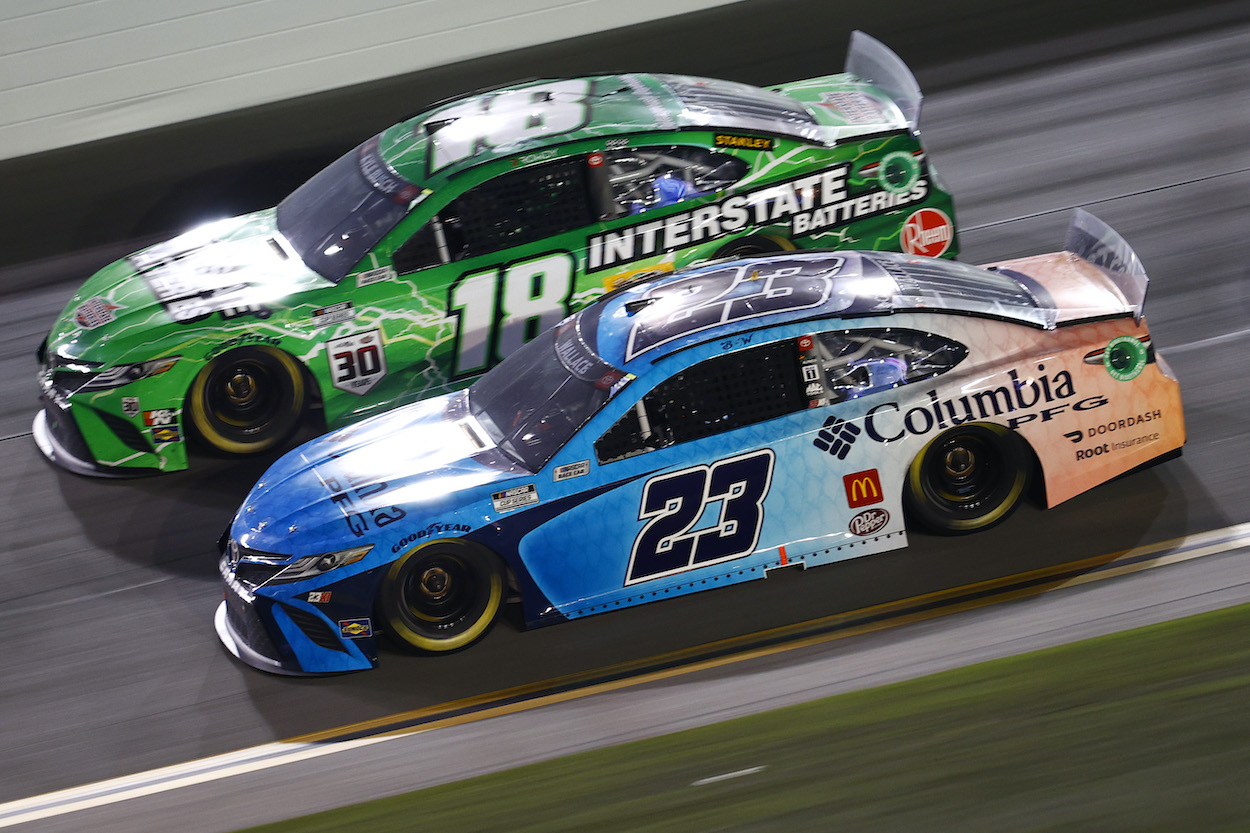 Several minutes later after an accident and during the resulting pit stop, Wallace's crew chief Mike Wheeler and Kraft discussed the move and surprisingly revealed not everyone was on the same page.
"I know we moved down slowly to the bottom, I thought, I'd assume they'd just all follow us, but they didn't want to get to the bottom until a lap later, I guess," Kraft said over the radio. 
"Yeah, none of us in here ever talked about doing that," Wheeler responded. "I could have helped there, but I'm not sure what you guys heard up there." 
"I just assumed once we all got clear we could pull the bottom faster," the spotter replied.
"That's a fair assumption," the crew chief told him. "We just got to make sure we have enough teammates." 
"Yeah, 10-4," Kraft said. 
Bubba Wallace calls out Toyota teammates after race
Daytona lived up to its reputation in the race's final laps with multiple big crashes destroying numerous cars, including the Toyotas of Busch, Truex, and Bell. Wallace survived the carnage and remained on the track in 10th position on the final restart in overtime. 
On the white-flag lap, Wallace rode in the middle row, mid-pack, when multiple cars went sideways. Incredibly, the sea parted, and he snuck through the smoke with a clean car and finished third behind Ryan Blaney and Chris Buescher. Despite his best finish of the season, Wallace didn't hide his frustration in the postrace interview and talked about what might have been.
"I'm a little frustrated," a dejected Wallace said. "I'm the one that gets called out for not working with teammates, and I'm the one that gets left hanging. There's a reason why Ford is in Victory Lane because they always work together."
Wallace is correct. 23XI Racing co-owner Denny Hamlin called him out earlier this year for not cooperating with his Toyota teammates on superspeedways, including the season-opening race at Daytona. 
On Saturday night, Wallace went out of his way to be a good teammate. It cost him at the time, but in the end, it all worked out, and he outlasted his teammates. Wallace will now circle the early October date at Talladega, which is the next chance to see if his Toyota teammates are any more willing to work with him than they were at Daytona.
Like Sportscasting on Facebook. Follow us on Twitter @sportscasting19.