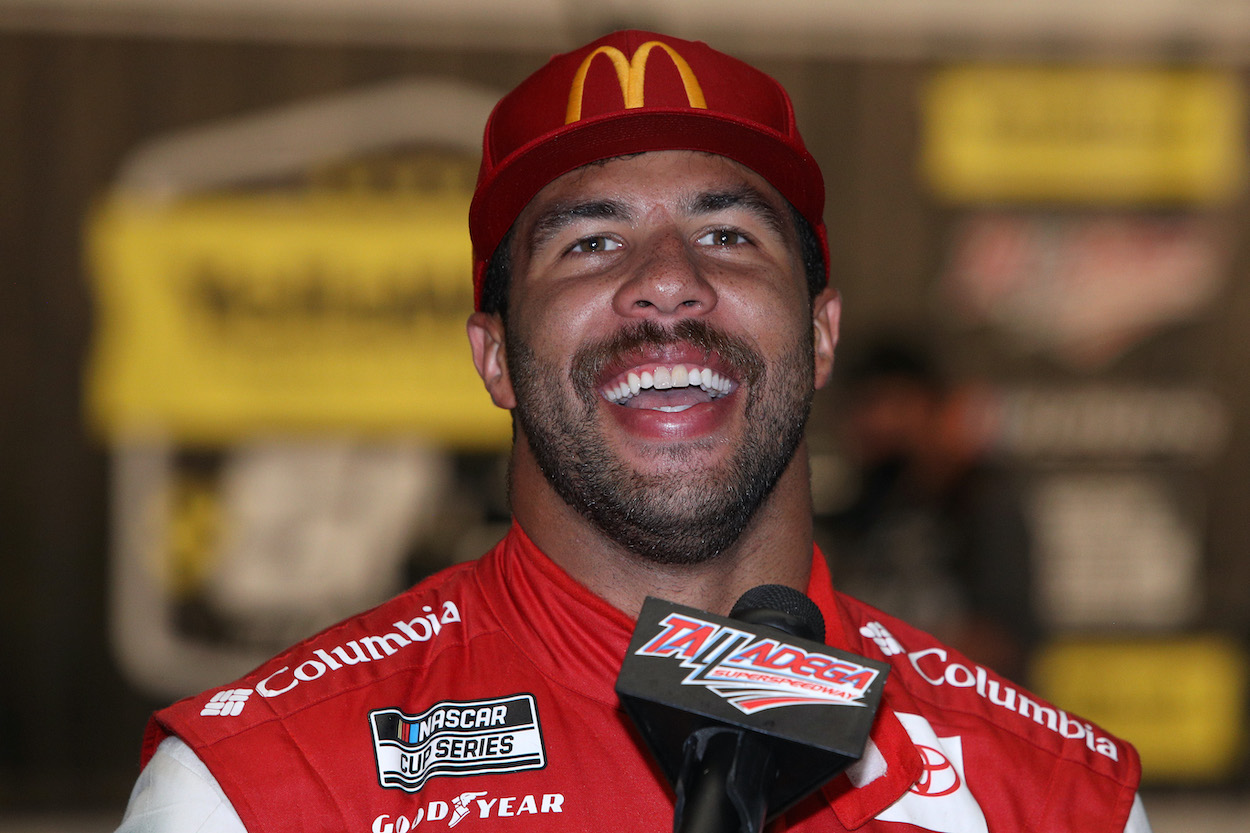 Wendell Scott's Son Reveals Bubba Wallace Communicated With His Late Father in Closing Moments of Historic Win at Talladega
Bubba Wallace became the second Black driver to win a NASCAR Cup Series race and it was revealed that he communicated with the late Wendell Scott in the historic race's final moments.
Bubba Wallace won his first career Cup Series race on Monday at his home track of Talladega. He became the second Black driver to win a Cup race and first since Wendell Scott did it more than 57 years ago. During an episode of NASCAR Race Hub, Scott's son Franklin revealed a brief chat he had with Wallace just moments after the history-making win. And he surprisingly revealed that Wallace admitted to a conversation he had with his late father in the waning laps as he closed in on history. 
Bubba Wallace joins Wendell Scott as second Black driver to win Cup Series race
Wendell Scott made history back in 1963 when he became the first Black driver to win a race at NASCAR's highest level. It took a half-century before another Black driver ever won again on one of NASCAR's top three series when Bubba Wallace did it with the Truck Series at Martinsville in 2013.
A year later, Wallace proved that his first win wasn't a fluke when he won three more times with the Trucks and finished third in the season standings. It was a precursor of things to come. 
He spent a couple of full-time seasons with the Xfinity Series and earned 23 top-10s, including six top-5 finishes, but victory proved elusive. Since arriving on the Cup Series full-time in 2018, the 27-year-old driver from Alabama has had several near-misses with Victory Lane, including his first race in 2018 at the Daytona 500, where he finished second. 
On Monday, Wallace matched Scott when he won his first career Cup Series race at Talladega.      
Scott reveals Wallace talked with late father during race
The NASCAR community has been buzzing with excitement all week since Wallace's historic win. On an episode of NASCAR Race Hub, Clint Bowyer and Bobby Labonte joined host Kaitlyn Vincie and talked about the history-making moment and its meaning to the sport. The three also had a remote interview with Franklin Scott, Wendell's son. 
During the segment, Scott shared that he was talking with NBC's Dustin Long immediately after the race when the reporter told Wallace who he was talking to on the phone. The driver grabbed the phone and started talking with Scott.
"Oh man, how are you doing?" Wallace asked Scott.
"Congratulations!" Scott jubilantly said.
"Franklin, during the race in the end I thought I heard your father talking to me from heaven," Wallace explained. 
"Well, Bubba, he was talking to you," he informed him.
"He was?" the driver questioned.
"You know what he was saying?" Scott inquired.
"No. What was he saying?" Wallace responded with a question of his own.
"Bubba, relax, it's not going to stop raining," Scott finished, which drew a big laugh from Wallace on the other end.
Wallace present when Scott family received trophy
In 1963 when Wendell Scott won his race in Jacksonville, Fla., he never took the trophy home. Officials declared Buck Baker, who finished second and two laps down, the winner. Scott contested the scoring "mistake" and received his race winnings a couple of hours later. Several weeks later, he received an award for his victory but it wasn't the original trophy. 
In late August 2021, before the Cup Series race at Daytona International Speedway, NASCAR presented Scott's family with a custom trophy commemorating his 1963 victory. NASCAR President Steve Phelps gave Franklin Scott the trophy on stage before driver introductions. Bubba Wallace joined the family members on stage for the ceremony eight years after both Scott sons joined him for his first Truck Series win in 2013.
There's forever a connection between Wallace and Scott as the first two Black drivers to win a top NASCAR race. And with the growing momentum for inclusion and diversity in NASCAR, they certainly won't be the last, and it won't be another 57 years before it happens again. 
Like Sportscasting on Facebook. Follow us on Twitter @sportscasting19.