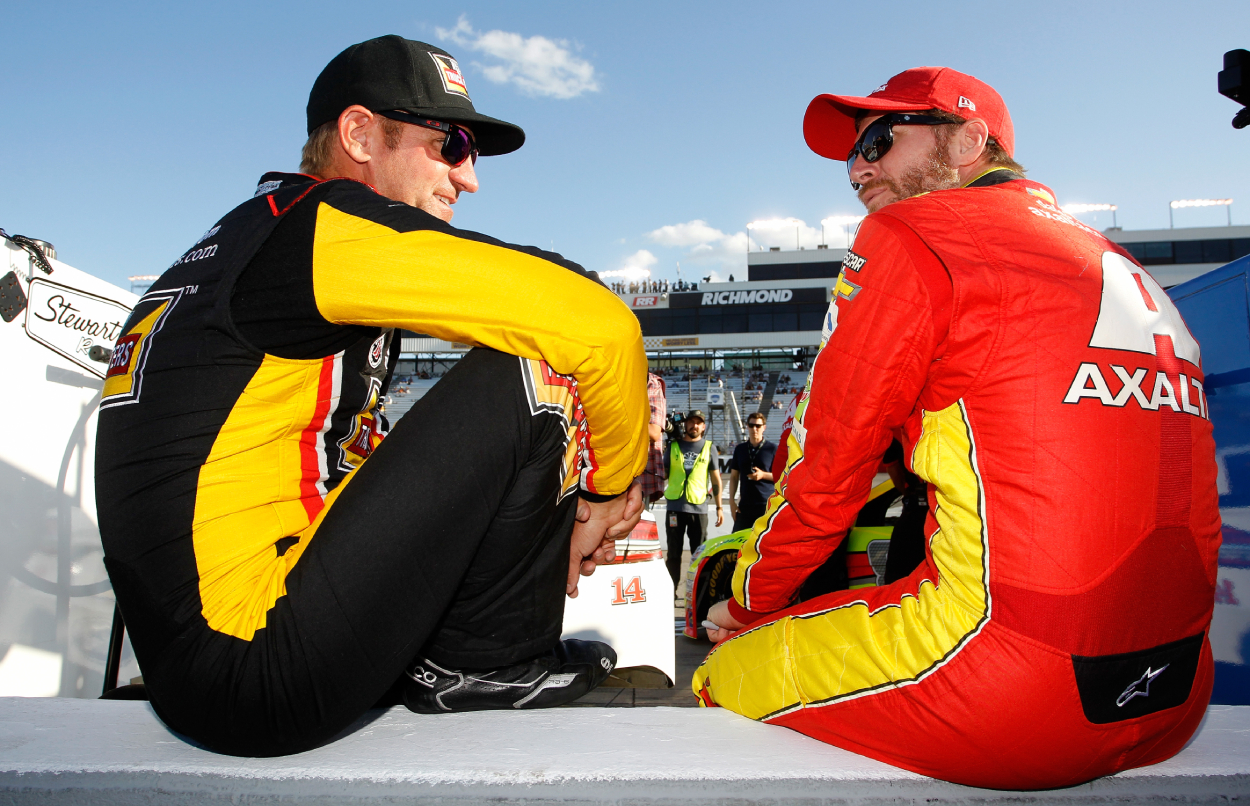 Clint Bowyer Dishes to Dale Earnhardt Jr. About Life in the Broadcast Booth: 'What the Hell Have I Done?'
Clint Bowyer and Dale Earnhardt Jr. recently talked about transitioning from the tracks to the broadcast booth.
Clint Bowyer and Dale Earnhardt Jr. are two guys taking the same path. Both recently completed lengthy NASCAR careers and are now in the broadcast booth. The two recently got together on Junior's Dale Jr. Download podcast and covered numerous topics, including missing getting behind the wheel. The subject prompted Bowyer to look at Earnhardt Jr. and say, "what the hell have I done?"
Clint Bowyer and Dale Earnhardt Jr. make smooth transition from the track to the booth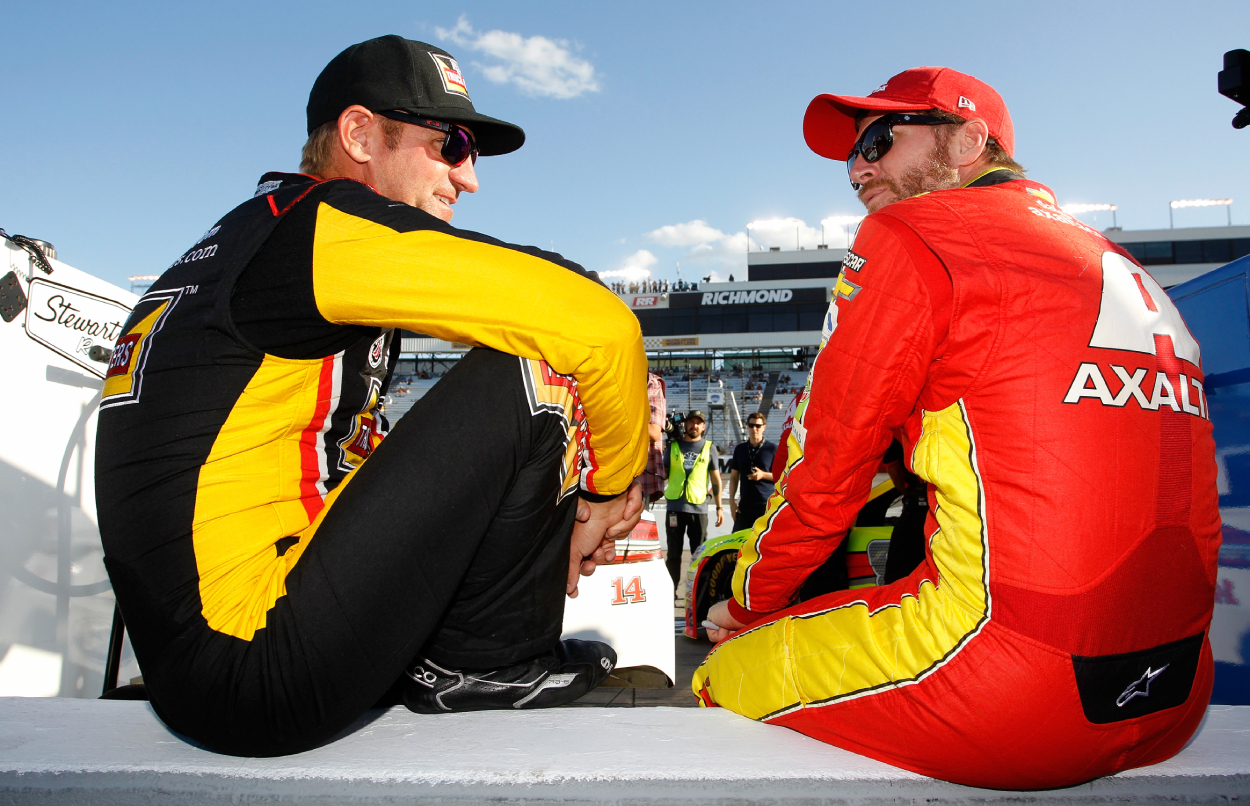 Earnhardt Jr. has come a long way. Getting him to talk for a living seemed out of question years ago when he was a bit on the shy and awkward side. Denny Hamlin, a NASCAR driver and friend of Earnhardt Jr., believes the switch was turned when Junior met his wife Amy. She's what pulled him out of his shell, according to Hamlin.
"I just think she had a positive influence on him coming out of his shell," Hamlin said during a 2019 appearance on The Dan Patrick Show. I remember when she came into his life, he, instead of being in the bus for three days during race weekend, he was going to dinner in the local area and just trying to get out a little more. That's when I think he started being more comfortable in his own skin."
Bowyer, on the other hand, was meant for television. Never one to shy away from the camera, Bowyer is a perfect fit for the booth. He had been teaming up with NASCAR legend Jeff Gordon at Fox before Gordon left to become vice chairman at Hendrick Motorsports.
Clint Bowyer asks 'what the hell have I done?' when talking to Dale Earnhardt Jr.
When Bowyer was a guest on the most recent edition of the Dale Jr. Download, the two discussed the transition from the track to the booth. Earnhardt Jr. said he knew they were both still fans of NASCAR even though they were both looking at the sport from a different perspective now. He asked Bowyer if there was a moment when he looked at the track before a race and wished he was still part of it.
For Bowyer, that moment was right away. "There's that moment, and I don't know when it was for you, but for me, it was Daytona 500," Bowyer said. "I looked over my shoulder, and they were up there on the stage, and I see them putting their helmets on, and I'm like, 'oh man, what the hell have I done? I wanna be out there. Sonoma, cool racetrack – one of my favorite racetracks. It was hard to call that one."
Bowyer admitted to getting caught up in the moment as he's broadcasting races. Sometimes those emotions get to him, but he said it doesn't eat away at him all day. It just comes in spurts.
"It's just moments," Bowyer said. "You see someone who didn't take a poke at somebody or got off the corner better than somebody else. That was something that I was good at, and you're like, 'oh man, that was it right there.'"
Earnhardt asked Bowyer how he fills the void of no longer racing
Bowyer's emotions ooze out when he talks about racing. He's passionate and he doesn't try to hide it. That's what makes him so good at what he does. While he was animated in telling Earnhardt Jr. how much he misses getting behind that wheel, Junior asked him how he replaces that rush of racing.
"I think you can relate to this," he said. "When you're contributing to the product, you feel like you're bringing something to the table. You feel like you're part of a team. The team aspect is certainly still there. You have success. You leave Sunday, and you feel like you did good and contributed to the overall outcome.
"Sometimes you leave there like, 'dang it. I wish I had done that a little better. I screwed that up.' So I love that aspect, and it still trips that trigger. the competitor in you still lives up there in the booth. You want to be good, and you want to make everybody happy."
As much as Bowyer misses racing, he is made for television and continues to make NASCAR fans happy.