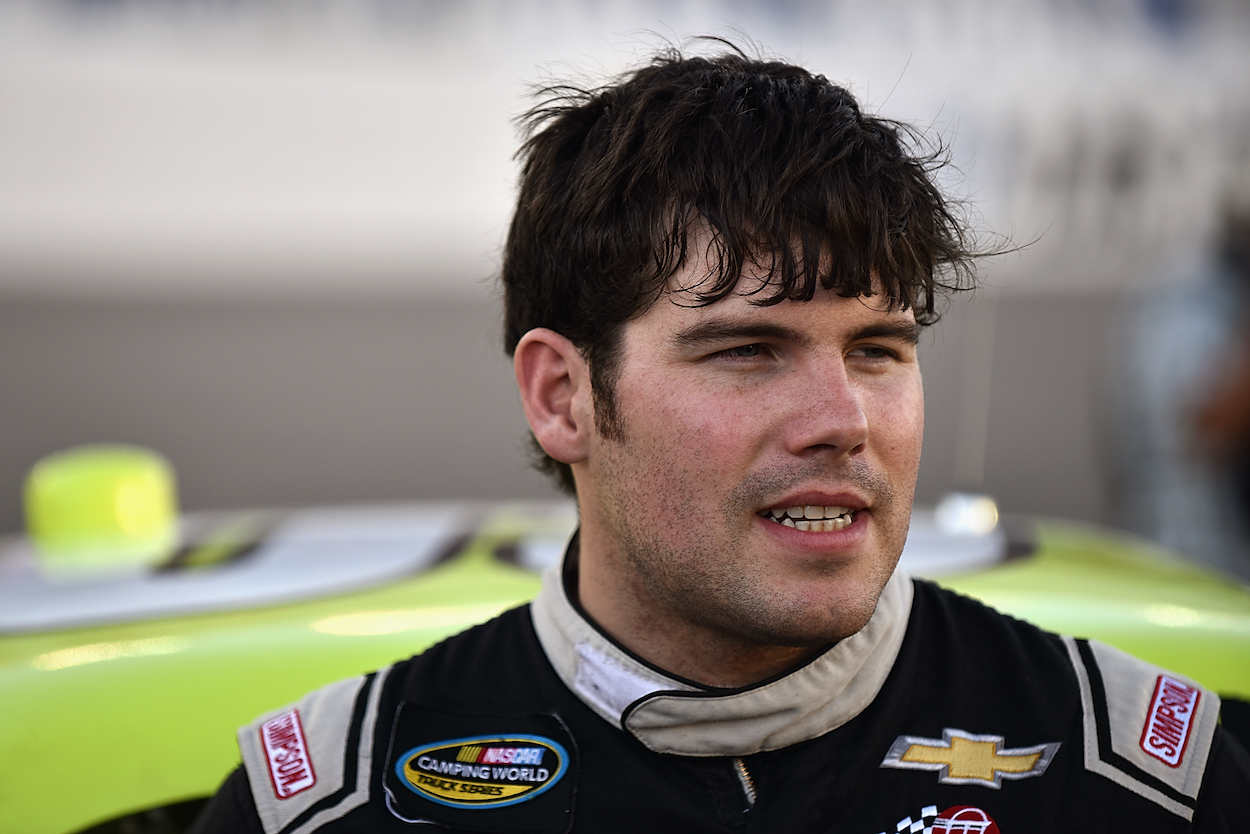 Former NASCAR Driver John Wes Townley Shot and Killed in Georgia; Won His Lone Truck Series Race Six Years Ago Today
Former NASCAR driver John Wes Townley was shot and killed in Georgia. He won his lone Truck Series race at Las Vegas on this date six years ago.
John Wes Townley raced to a modestly successful career in the NASCAR Truck Series over six seasons, racking up 24 top-10s, including a win in 2015 on this date in Las Vegas. He raced another season and retired. The NASCAR community was shocked today to learn that the 31-year-old native Georgian was tragically shot and killed in an incident that is still under investigation.
Former NASCAR driver John Wes Townley shot and killed in Georgia 
According to the Athens-Banner Herald, John Wes Townley was killed during a double-shooting that occurred in the Athens area. Police responded to a shooting around 9 PM on Saturday night and found Townley and a 30-year-old female had been shot. Both were transported to a local hospital. 
Townley died from his injuries at the hospital while the woman is listed to have "serious" injuries. According to the paper, police identified the suspect as a 32-year-old man who knew the victim. There are currently no charges against him.
The tragic news made it to NASCAR and several of his former competitors responded.
"Damn. Rest Easy JWT. Heartbreaking," Bubba Wallace tweeted. "I am at a loss for words….. RIP John Wes. Thinking of the entire Townley family," wrote Xfinity driver Josh Williams.
John Wes Townley won only Truck Series race six years ago today
John Wes Townley made his NASCAR Truck Series debut in 2008 with Roush Fenway Racing. His season-best finish that year was 18th, at Talladega and Milwaukee. A year later, Townley raced exclusively with the Xfinity Series, earning a best finish of 16th at Bristol. He raced a partial schedule in 2010, earning his best-ever Xfinity finish, 15th at Las Vegas. It was a precursor of things to come.
From 2012 to 2016, Townley raced with both the Xfinity and Truck Series, but focused most of his efforts on the latter. On October 3, 2015, it paid off. He drove a fast truck at Las Vegas, led 23 laps, and defeated veteran Matt Crafton to capture the win. 
"I hadn't put a dent on the truck all night, but I slightly wrinkled the left-rear when I blew the tire doing a burnout. But it's all good. There's nothing like getting that first win," he said after winning the race. 
Townley finished third later that year at Phoenix and finished eighth in the season point standings. After the 2016 season, in which he had a pair of top-10s, Townley retired. His father, Tony, and co-founder of the Atlanta-based chicken restaurant chain Zaxby's, also closed the Athenian Motorsports team operations.  
Fights with Spencer Gallagher at Gateway
While John Wes Townley's death is a tragic headline, he also made non-racing-related news during the 2016 season for one of the most bizarre fight scenes in NASCAR history. Townley and Spencer Gallagher got tangled up on the track at Gateway, and it spilled over into an entertaining WWE-style fight moments later. 
After exiting their trucks, Townley took down Gallagher and the pair rolled down the sloped track. The two drivers got to their feet before Townley put Gallagher in a semi-headlock and then pulled off a classic wrestling move, dropping to his back and bringing Gallagher with him.  
The two stood back up, and Townley delivered a couple of fists and elbows before tiring, and the two helplessly clutched one another. 
"Now it looks like they're dancing right there," one of the broadcasters described. 
NASCAR officials separated the pair, and it was over. NASCAR fined Townley $15,000 and placed him on probation for the remainder of the season.
Like Sportscasting on Facebook. Follow us on Twitter @sportscasting19.