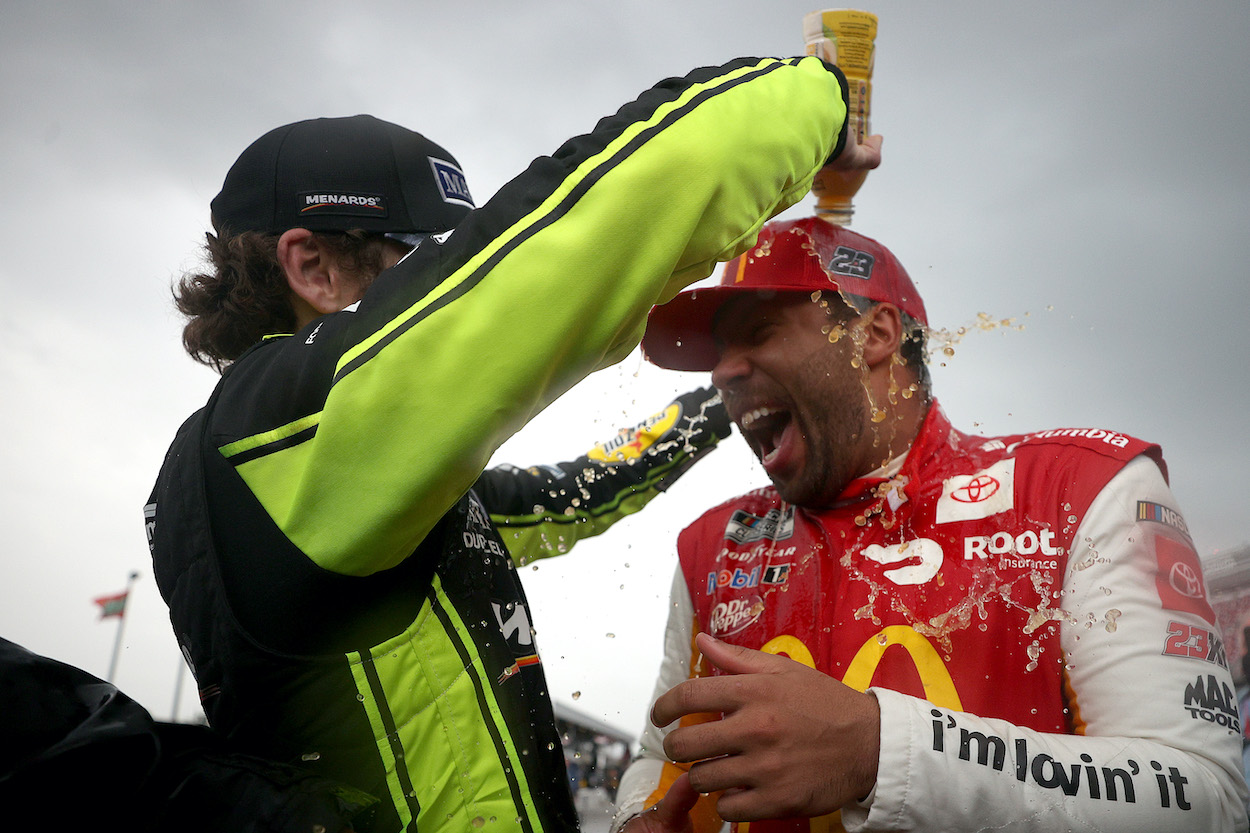 Ryan Blaney Candidly Admits Most Fans Don't Realize How Challenging It Is for Bubba Wallace and the Amount of Criticism He Receives From 'Ignorant People'
Ryan Blaney celebrated with his friend Bubba Wallace after his first Cup Series win at Talladega. He also candidly addressed the criticism his friend regularly receives from "ignorant people."
Ryan Blaney is one of Bubba Wallace's best friends on the NASCAR Cup Series. This season Blaney has had a breakout season, winning three times. On Monday, the Team Penske driver watched his buddy break through with his first career win. After the race, a happy Blaney talked about his friendship with Bubba Wallace and candidly discussed the criticism the lone Black driver in NASCAR faces on a regular basis and how all of it would take a toll on any person. 
Ryan Blaney congratulates Bubba Wallace on first win
Bubba Wallace exited his car on a wet pit road at Talladega as the race leader. At that point, there was nothing official. Despite the race's completion still up in the air, multiple people came up and offered congratulations. Among them, his good friend Ryan Blaney. 
"In 2017, he was one of the first ones to victory lane," Blaney told reporters, referencing Wallace showing up for his first win. "That was cool so I wanted to make sure I was one of the first guys to see him. I saw him during the initial rain delay and kind of talked to him for a little bit. Then went back and it started raining again and they called it. So I had to go shower him with some Body Armor. 
"Just happy for him. He did a great job of working his way up through the field. He's back where I was. I don't know, 15 laps before the rain, 10 laps. And he picked a really good lane and was able to get up front and get the lead and hold it long enough. I think we all kind of knew we were racing to the rain. It's going to be a fun night. That's for sure."     
Ryan Blaney talks about Wallace's challenge of dealing with criticism from 'close-minded and ignorant people' 
Ryan Blaney knows Bubba Wallace better than most. In the midst of the postrace celebration at Talladega, Blaney talked about their relationship and acknowledged his friend is regularly on the receiving end of attacks on social media. For example, just hours after Wallace's first Cup Series win, the Internet began buzzing with rumors that the race was rigged. Blaney said not surprisingly, all the criticism would take a toll on anyone.
"I know there's been some tough times for him, for sure," Blaney said. "All the stuff that he gets hassled about from close-minded people and ignorant people and things like that. He's got to deal with a lot of that and I don't think a lot of people really see that he has to deal with it. He's a person and a lot of things that are said to him sometimes whether it's social media or whatnot can be hurtful and that can stick on your mind. I think he does a good job blocking it out but no one can block all that out."
When asked about the significance of Wallace's win at Talladega, Blaney said it was special for multiple reasons, including the scene last year at the track when the drivers stood in solidarity with Wallace and pushed his car down the grid before the race.
"I think a win's going to make you feel good no matter where it is, your first win especially," he said. "I do think with what happened here last year, I think it is kind of neat how it kind of comes full circle where he had his biggest success. It was pretty neat I was able to win that race last year and he was able to come back and win it this year." 
Wallace talks about how he deals with criticism
As Blaney suggested, Wallace has received criticism for a long time, including stinging remarks from the former president in 2020 just weeks after the race at Talladega. During his postrace press conference following this year's race and victory, Wallace admitted that dealing with the criticism has been a challenge. 
"Some sleepless nights, talking to professionals to help me stay focused on the task at hand," Wallace said. "Really listening to my family. Amanda being there pushing me. I go into some of these races and I just have a negative attitude and she rips me an ass to get in shape and to show up with some positivity. So I appreciate her. It's just my family pushing me and knowing that as I'm being the realistic sometimes pessimistic person, they hold the optimism for me and allow me to keep showing up back to the racetrack with a good mindset." 
While Wallace's critics won't likely fade away anytime soon, his victory on Monday provided him with a big boost of confidence. He can also now say that he's a Cup winner and no one can ever take that away from him. 
Like Sportscasting on Facebook. Follow us on Twitter @sportscasting19.