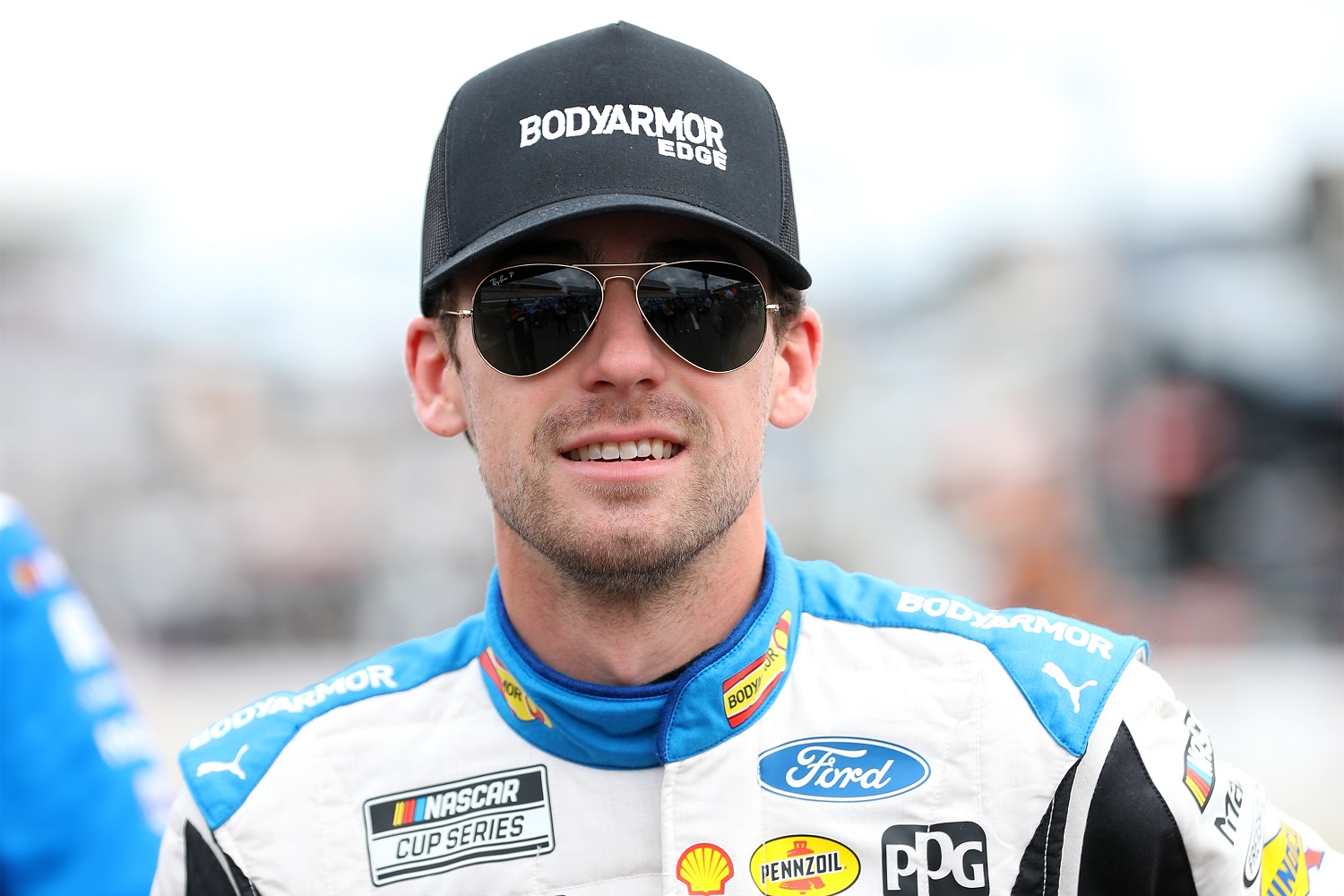 Ryan Blaney Is the Hot Name in the NASCAR Wars and Is a Huge Fan of 'Star Wars'
Ryan Blaney starts the NASCAR Cup Series playoffs on a two-race winning streak but it taking a cautious approach to the 10-race homestretch to the season.
We can skip all the "may the force be with you" puns about noted Star Wars enthusiast Ryan Blaney. The only force the eighth-year NASCAR Cup Series driver needs these days is his Team Penske No. 12 Ford.
Blaney begins the playoffs riding a two-race winning streak and top-six showings in seven of his last nine starts. He will be one of the most discussed and closely watched drivers when the field takes the green flag at Darlington.
Ryan Blaney is an aspiring Jedi who loves 'Star Wars'
Though he'd probably be OK with trading it in for "2021 NASCAR Cup Series champion" in mid-November, Ryan Blaney's Twitter bio currently describes the 27-year-old Ohio native as an aspiring Jedi.
USA Today anointed Blaney last year as unquestionably the biggest Star Wars fan in the NASCAR garage. He earned the reputation with his encyclopedic knowledge of movie plotlines, his Princess Leia costume for Halloween in 2019, and the Darth Vader tattoo on his thigh.
When he's not watching and re-watching the movies, Blaney finds subtle ways of incorporating Star Wars into his daily life.
"I don't quote it all the time, but (in The Empire Strikes Back), when Han is getting frozen in carbonite, Leia says, 'I love you.' And he's like, 'I know,'" Blaney told the newspaper. "So, whenever anyone gives me a compliment, I just say, 'I know.' It's not the exact line, but you know."
Of course, that would be redundant if someone suggests that Blaney is a rising star in NASCAR since the racing world already knows as much.
Ryan Blaney has momentum to open the playoffs
Ryan Blaney won one race a year from 2017-20, qualifying him for the NASCAR Cup Series playoffs, and he placed between seventh and 10th each time.  Understandably, his three victories this season feel like a breakthrough to some observers.
But while it's true that Blaney arrives at Darlington tied with Martin Truex Jr. 28 points behind regular-season champion Kyle Larson, this isn't necessarily Blaney's best overall season. He posted at least as many top-fives and top-10s in each of the three previous seasons, though Blaney has 10 races remaining to rectify that. On the other hand, he's already well on his way to his best average finish.
And, of course, the back-to-back wins at Michigan International and Daytona the past two weeks have created momentum.
"It's good for confidence. Not only my self-confidence, but everyone on the team, it's just huge," Blaney said following his latest victory. "You can really have good momentum. Momentum is a huge thing in sports especially. What we do. Confidence is big in not only motorsports but sports and life. If you have confidence in yourself, you can achieve something, know what your goal is, go out there and do the best you can and achieve it."
Ryan Blaney is taking a cautious approach
In the best tradition of boring athletes rather than intergalactic warriors, there will be no bold predictions from Ryan Blaney about winning the NASCAR Cup Series championship. He's deep into an "I'm taking 'em one game at a time" mentality.
"I'm just saying I'm only thinking about the first round right now," Blaney said. "I ain't thinking about that. The first round is my main focus, then ask me if I make it to like the Round of Eight or the Championship Four. I'm just thinking about the first round."
Blaney did go as far as to say the pieces are in place, provided he doesn't screw 'em up.
"I'll give you a little bit of something, I guess," he said. "I just think this team is so good, they can do it. If they really perform to the best of their abilities, and I do as well, I think we have a good shot at it. Capitalizing on opportunities, that's what we've been doing the last couple weeks, putting ourselves in positions to win races. That's what this team does a really good job at. You just try to keep applying that."
All stats courtesy of Racing Reference.