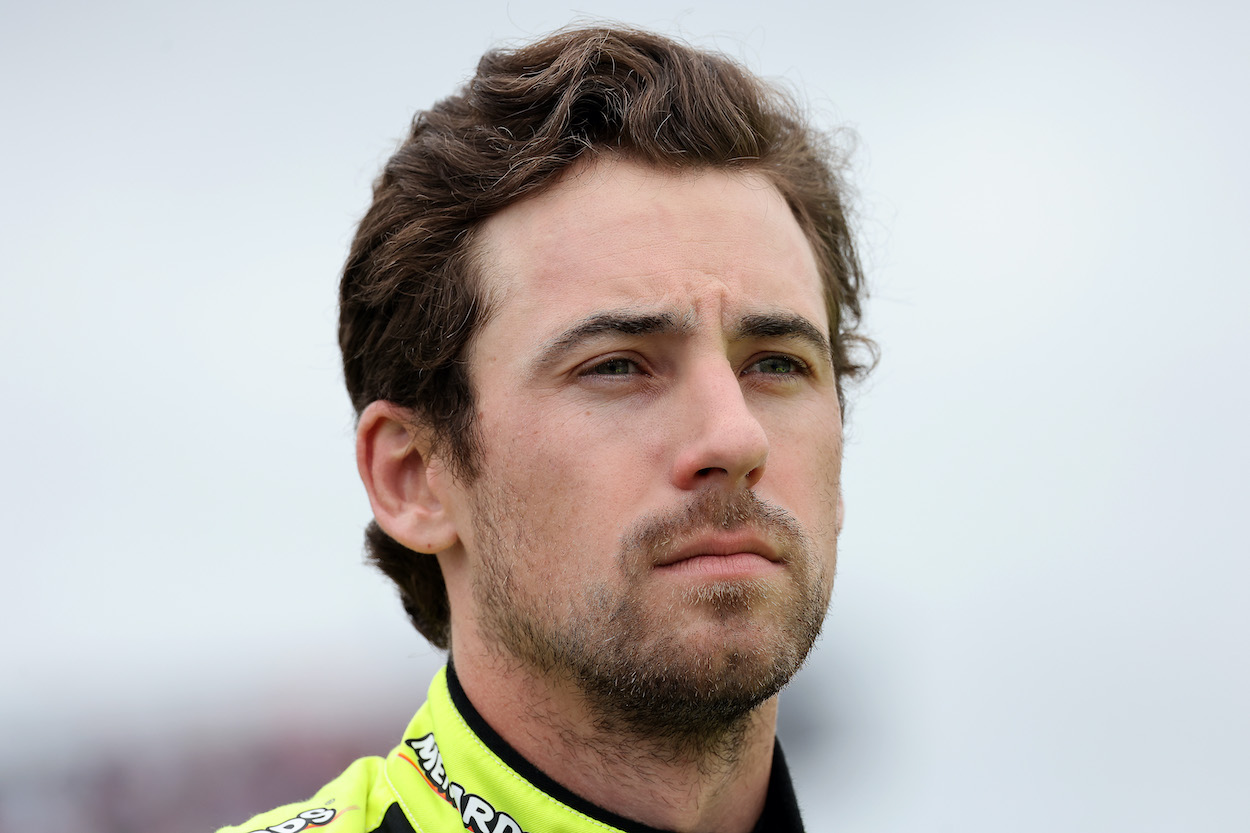 Ryan Blaney Surprisingly Admits to the Dangerous and Terrifying In-Car Move He Pulled Off Late in Race at Daytona
Ryan Blaney pulled off a dangerous and terrifying late-race move at Daytona en route to his third victory of the year.
The record books will show Ryan Blaney had a breakthrough year in the 2021 NASCAR Cup Series season. For the first time in his career, he won multiple races, including back-to-back wins to close out the regular season. Blaney's latest victory on Saturday night at Daytona was made possible in part to a late-race move where he avoided a massive wreck that ended the night for multiple cars. 
During the latest edition of "Radioactive" on NASCAR RaceHub, the 27-year-old's radio communication with his team revealed the dangerous and terrifying action he took the moment he thought he was about to be involved in the crash, and how astonished he was when he safely came out on the other side.     
Ryan Blaney having the best season of his career
Before this year, Ryan Blaney had a total of four wins in five full-time seasons, including a pair of victories at Talladega. This season the Team Penske driver added to his win total with an early-season victory in Atlanta. 
After that initial win, Blaney endured some struggles, including a 21st-place finish at Kansas and a 37th at Nashville. Since that poor finish in the Music City, Blaney had reeled off five top-5 finishes in his last eight races heading into the regular-season finale at Daytona. 
At the World Center of Racing, Blaney did the most important thing to win at a superspeedway. He stayed out of trouble. That included avoiding multiple crashes late in the race to claim his third victory of 2021.
Admits he pulled off late-race move with his eyes closed
With four laps to go in Saturday night's race at Daytona, Ryan Blaney found himself stuck in the middle lane with a train of cars on either side of his No. 12 car. When Chase Elliott pulled into the lead on the outside with Matt DiBenedetto and Denny Hamlin right behind him, Blaney maintained his position in the middle, with Ryan Preece on his inside. 
Things went sideways when Elliott attempted to block DiBenedetto first on the inside and then back to his outside. Both cars bounced off the outside wall, and Elliott slid down directly in front of Blaney before shooting back up the track and collecting the No. 21 car on the outside wall. Simultaneously, Preece lost control and spun toward the inside. Blaney stayed in his lane the entire time and made it through unscathed. 
"I don't know how the f— we made it through that. Holy s—," Blaney said over his radio.  
"Just driver talent," his crew chief Todd Gordon told him.
"Ha! I closed my eyes," Blaney bluntly admitted.  
NASCAR RaceHub host Shannon Spake picked up on the driver's comment and addressed it.
"You see every time I ask if a driver closes his eyes when he's trying to go through one of those wrecks, I get weird looks. But Ryan just basically admitted he was closing his eyes. I know you guys do," Spake said.
"Better to be lucky than good in some of these instances," 2010 Daytona 500 winner Jamie McMurray replied. 
Kyle Larson did same thing earlier this year
While Spake suggested drivers rarely admit to closing their eyes in the middle of a race, Kyle Larson confessed to doing just that earlier this year during the race at Darlington. 
Larson made his daring, eye-closing move late in the race in pursuit of leader Martin Truex Jr. when he threaded the needle and split the cars of Tyler Reddick and Ryan Newman in the corner. 
"Well, my thought process was if I didn't pass at least one of them in that corner I wasn't going to ever have a shot to get back to Martin," Larson told reporters. "Newman kind of pulled down really low, and Reddick entered on the top. I saw a hole, and kinda closed my eyes and shot through it. Thankfully, came out the other side."
Kyle Larson has five wins, the most in NASCAR this season. Ryan Blaney has three, tied for second-most with Truex. It just goes to show that NASCAR's most successful drivers have a willingness to take risks and will stop short of nothing, even closing their eyes while traveling at speeds near 200 miles per hour.
Like Sportscasting on Facebook. Follow us on Twitter @sportscasting19.