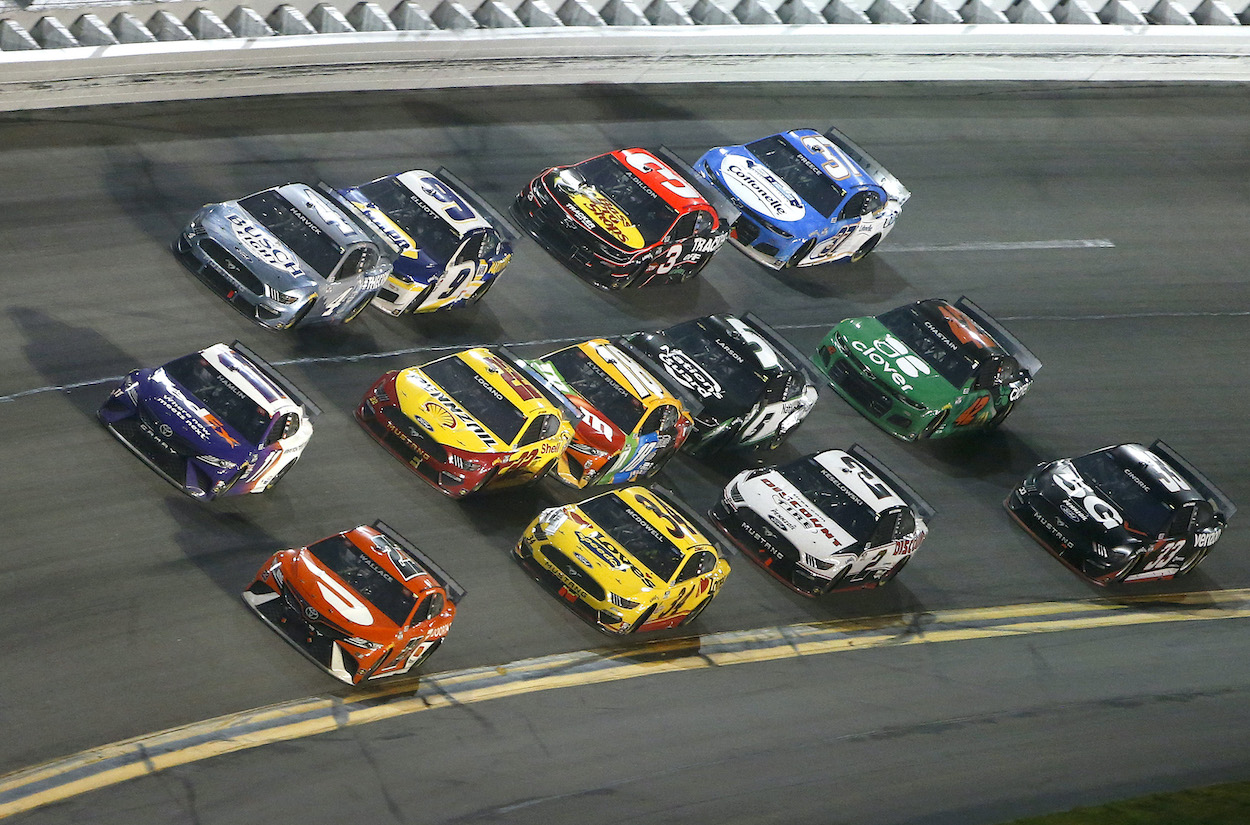 NASCAR Taking Extreme Measures With Teams to Detect COVID-19 This Weekend at Daytona
NASCAR is taking a unique approach to detect the COVID-19 virus this weekend at Daytona.
Corey LaJoie missing last week's NASCAR Cup Series race at Michigan due to COVID-19 protocols was a huge red flag and wake-up call for the NASCAR community. That single moment opened the eyes of most playoff-bound drivers and teams, and reminded them all that their season literally hangs in the balance if a driver tests positive and misses a race. This weekend at Daytona, NASCAR is showing just how serious it's taking the spike in cases and trying to keep its teams safe by implementing an extreme measure in the garage that involves man's best friend. 
Corey LaJoie missing Cup Series race served as wake-up call
Corey LaJoie was ruled out of last weekend's Cup Series race at Michigan due to COVID protocols. NASCAR's policy says that those who are not vaccinated and in close contact with someone who tests positive are required to quarantine for at least seven days and then can return if negative test and no symptoms. Those who are vaccinated would sit out for 3-5 days after exposure. 
Hours after the announcement, LaJoie went on SiriusXM Radio and talked about his situation. 
"It came from when we were doing the podcast on Monday afternoon," he said. "One of the people that was in the studio he tested a couple of days later, he was positive and contact tracing, regardless of if I had symptoms or a negative test, it's an automatic seven-day quarantine which, is frustrating. It stinks."
Lajoie said he wasn't happy with the situation but understood NASCAR's reasoning.
"It's the kind of world we live in," Lajoie said. "Do I agree with it all the time? Probably not, but I feel like NASCAR from start to finish was the first professional sport to get back on the race track. We all know how it went last year, how NASCAR continues to navigate this topic of COVID." 
NASCAR using dogs to detect COVID
With cases continuing to increase around the country, NASCAR decided on a unique way to navigate COVID for this weekend's race at Daytona by implementing an extreme measure that the organization tested out earlier in the season at Atlanta. According to Fox's Bob Pockrass, dogs are being used to detect COVID as teams enter the garage area this weekend.
"The dogs sniff a crew member's hand and if the dog detects the virus, the crew member would be tested and evaluated to determine whether allowed entry to garage," Pockcrass tweeted. 
Pockrass also provided a link to the University of Delaware website that details how dogs, which can sniff out bombs and cancer, have been trained to detect the virus. 
Joey Logano canceled appearances and got vaccinated
To some, the use of dogs for detecting the virus might seem extreme. That is until you consider how a single exposure, as happened with LaJoie, can sideline a driver for a race. That absence could cost the driver, and more significantly, the entire team, an opportunity to not only win that race but advance in the playoffs. In other words, large amounts of money are a stake. 
For that reason, Joey Logano admitted he received the first dose of the vaccination this last week.
"I think it made all the drivers very nervous after that," Logano said of LaJoie's situation. "It makes you kind of check up on what you're doing. We were starting to open that stuff back up and starting to do it and then when you hear that happen while Corey was doing a podcast to better our sport, that makes you check up to say the least."
NASCAR has successfully navigated the pandemic in the last 18 months by being both vigilant and creative. Introducing a dog to detect the virus is another one of those things that might sound extreme, but it's proven to be effective in the past. And it's never a bad thing to have man's best friend hanging around.
Like Sportscasting on Facebook. Follow us on Twitter @sportscasting19.