Ryan Blaney Has a 40% Chance of Finishing in the Top 10 in NASCAR Races and a 100% Chance of Choking Around Starlet Daisy Ridley
Ryan Blaney is moving up a notch within Team Penske when the 2022 NASCAR Cup Series season starts. However, there are 11 races left this year, and Blaney could be moving up a whole lot more than one notch among his racing peers by the time the season is over.
Even with a pair of victories this season, Blaney doesn't get the notoriety he deserves for his moves on the racing ovals. But his moves off the track could use some work since Blaney confesses to a crash and burn upon meeting Daisy Ridley, featured prominently in his beloved Star Wars films.
The Ryan Blaney watch is on for the NASCAR Cup Series playoffs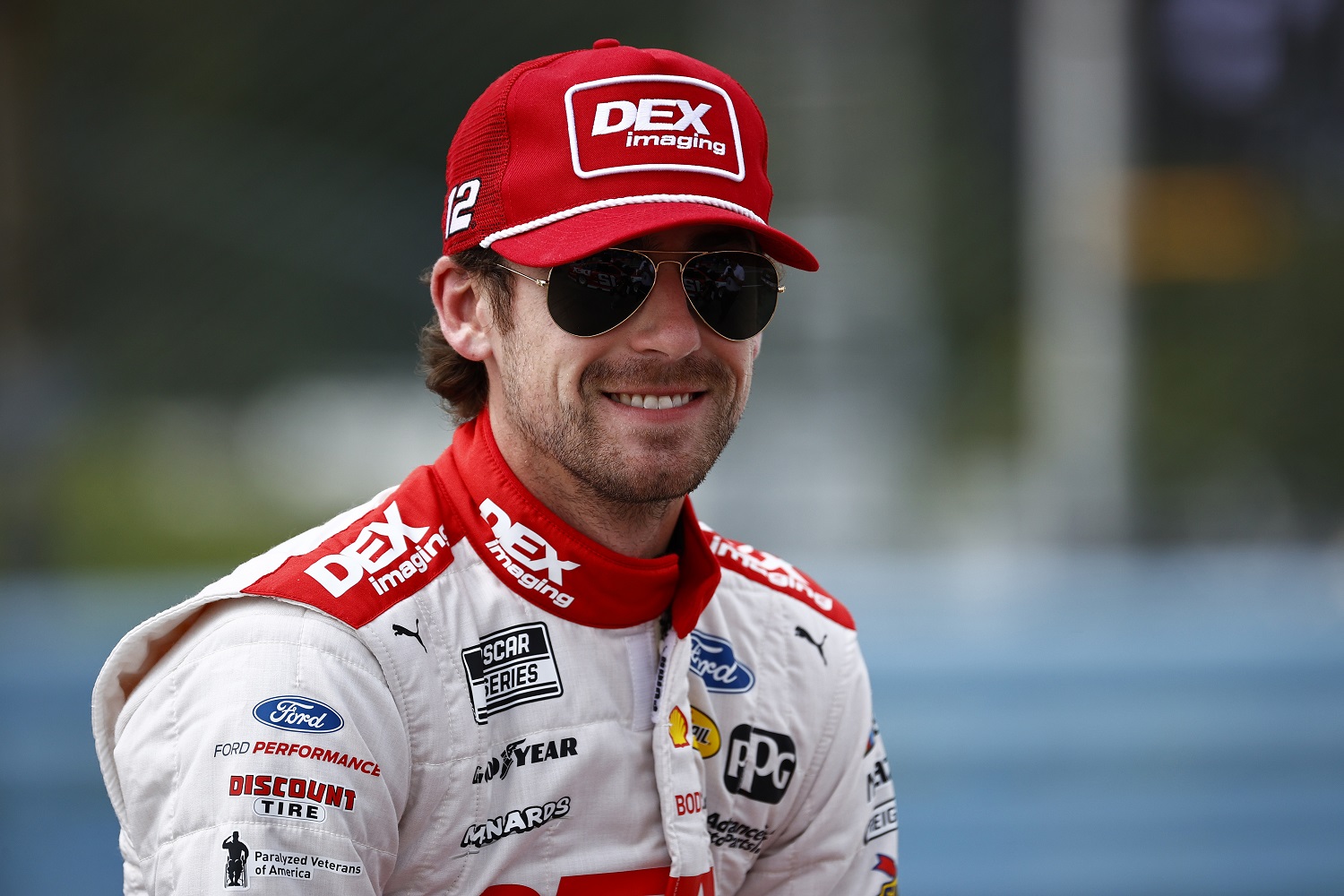 For a guy sitting seventh in points entering the NASCAR Cup Series regular-season finale, Ryan Blaney doesn't receive the attention he deserves. Winning always moves a driver to the forefront for the week, as was the case last weekend at Michigan International, but Blaney merits respect for his body of work this season, especially the past two months.
Starting with the Pocono back-to-backs, Blaney has finished in the top six in six of eight races, pushing him to seventh in points and creating momentum that probably makes him the most dangerous playoffs driver not named Kyle Larson or Denny Hamlin.
And the thing is, that's consistent with Blaney's resume. Since taking a full-time ride in the Cup Series in 2016, he has won half a dozen races and finished in the top 10 an impressive 42.4% of the time. That's in keeping with his work in trucks (40 of 58 top 10s) and the Xfinity Series (57 of 70).
So, yes, only a fool would discount Blaney's chances of working his way into the Final Four once the playoffs begin at Darlington on Sept. 5.
Ryan Blaney missed his opportunity with Daisy Ridley
When race fans aren't admiring Blaney's work on Cup Series tracks, they're expressing amusement over the Team Penske driver's love of the Star Wars movie franchise. USA Today labeled him the biggest Star Wars fanatic in NASCAR, and his own Twitter bio brands Blaney as an "aspiring Jedi."
Understandably, he embraces anything to do with one of Hollywood's most beloved creations. However, he somehow let Daisy Ridley slip through his fingers. Ridley, of course, rose to stardom as Rey in the third Star Wars trilogy that began with The Force Awakens in 2015.
Blaney tells the story of crossing paths with Ridley at a Los Angeles Lakers game with Bubba Wallace the week that the NASCAR Cup Series was at Fontana in 2016 or '17. While walking out of the arena, Blaney spotted the starlet, and "it was like sighting a unicorn and I'm never going to see her again," he told The Athletic.
Sure enough, he did see her again a few minutes later as both were heading for their cars.
"I was like, 'I'm never going to get this chance again, so I politely asked her for a picture. She was very nice to me. She stood there and took a picture with me, and we chatted for 30 seconds and went our separate ways, never to meet again.

"I probably had an opportunity, and I blew it. I was nervous. I was sweating. I don't ever get star-struck, but she made me just completely seize up.

"Missed opportunity."

Ryan Blaney
Not a total loss, however. He'll have that photo for as long as there's an iCloud.
The future looks bright for the NASCAR Cup Series driver
Give it another year or two, and it should be Ridley recognizing Blaney in a crowd. He's prominent in NASCAR now, and he's moving up. Blaney is part of the Team Penske stable with Brad Keselowski, Joey Logano, and Austin Cindric.
With Keselowski leaving at the end of the season to become an owner/driver at Roush Fenway Racing, Blaney can become the unquestioned face of the organization as he strives to move from the leading Ford driver to the leading driver, period.
Considering the streak he's been on since Pocono, Blaney can make big inroads in that department in this fall's Cup Series playoffs.
Like Sportscasting on Facebook. Follow us on Twitter @sportscasting19.
RELATED: NASCAR Interview Goes off the Rails After Ryan Blaney Discovers Instagram Filters and Leaves Joey Logano, Austin Cindric, and Host Laughing Hysterically