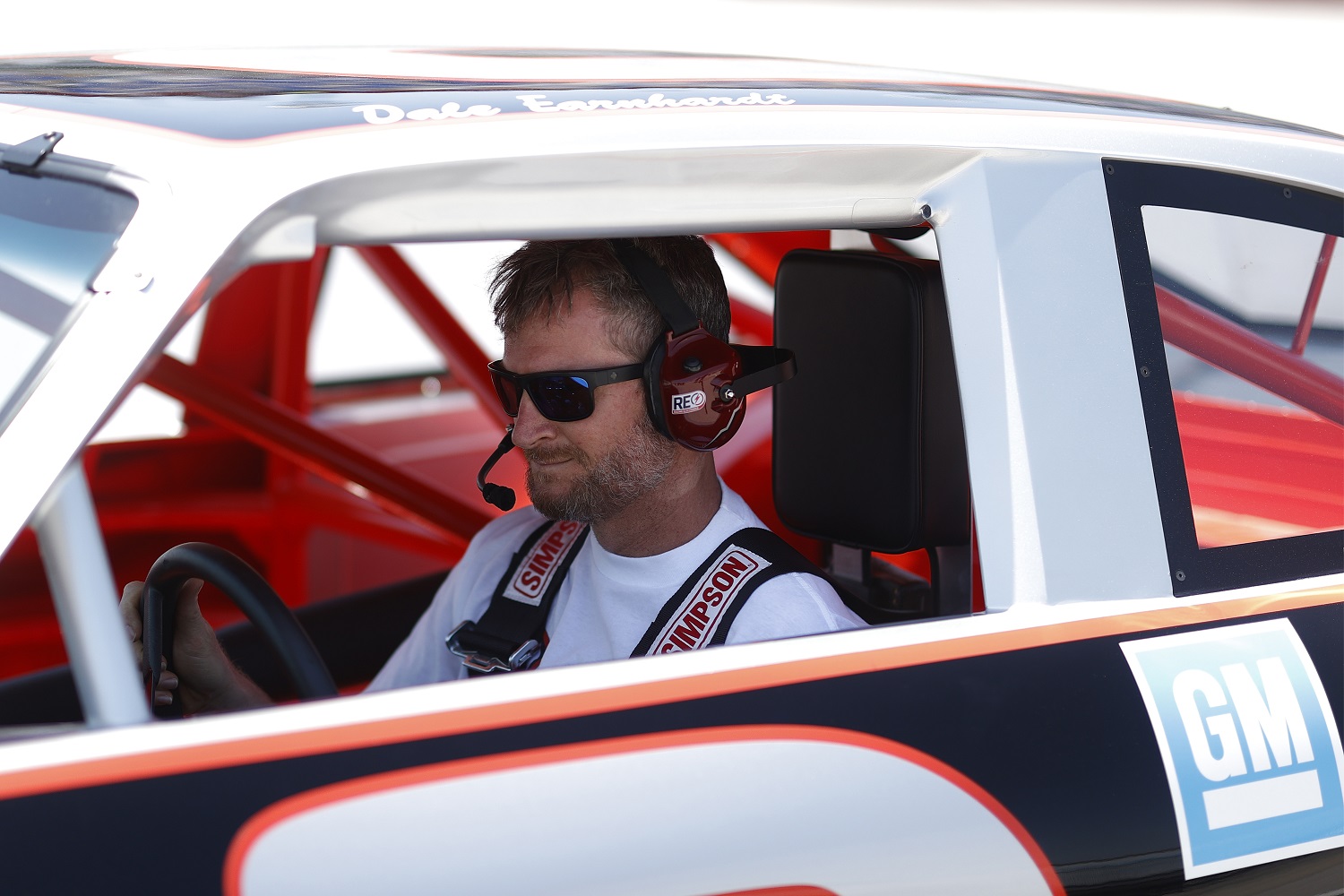 How Has Dale Earnhardt Jr. Fared in Xfinity Races Since Retiring From the NASCAR Cup Series?
Dale Earnhardt Jr. returns to the NASCAR Xfinity Series at Richmond International, Speedway, where he has a history of success.
Racing great Dale Earnhardt Jr. picks one weekend a year to put aside his roles as a NASCAR team owner and an NBC race analyst to get back in a car. Even with other drivers battling for Xfinity Series playoff spots, Earnhardt attracts tons of attention.
If he were doing it for the adulation, Earnhardt could just as easily serve as grand marshal at any track he wanted. He could ride around in the pace car, wave to the crowd giving him a standing ovation, and then watch the race from the pits.
But Earnhardt will show up at Richmond International Speedway on Saturday with a different purpose in mind. He is making his annual Xfinity Series appearance there because he suspects he can win.
Dale Earnhardt Jr. makes one Xfinity Series appearance per season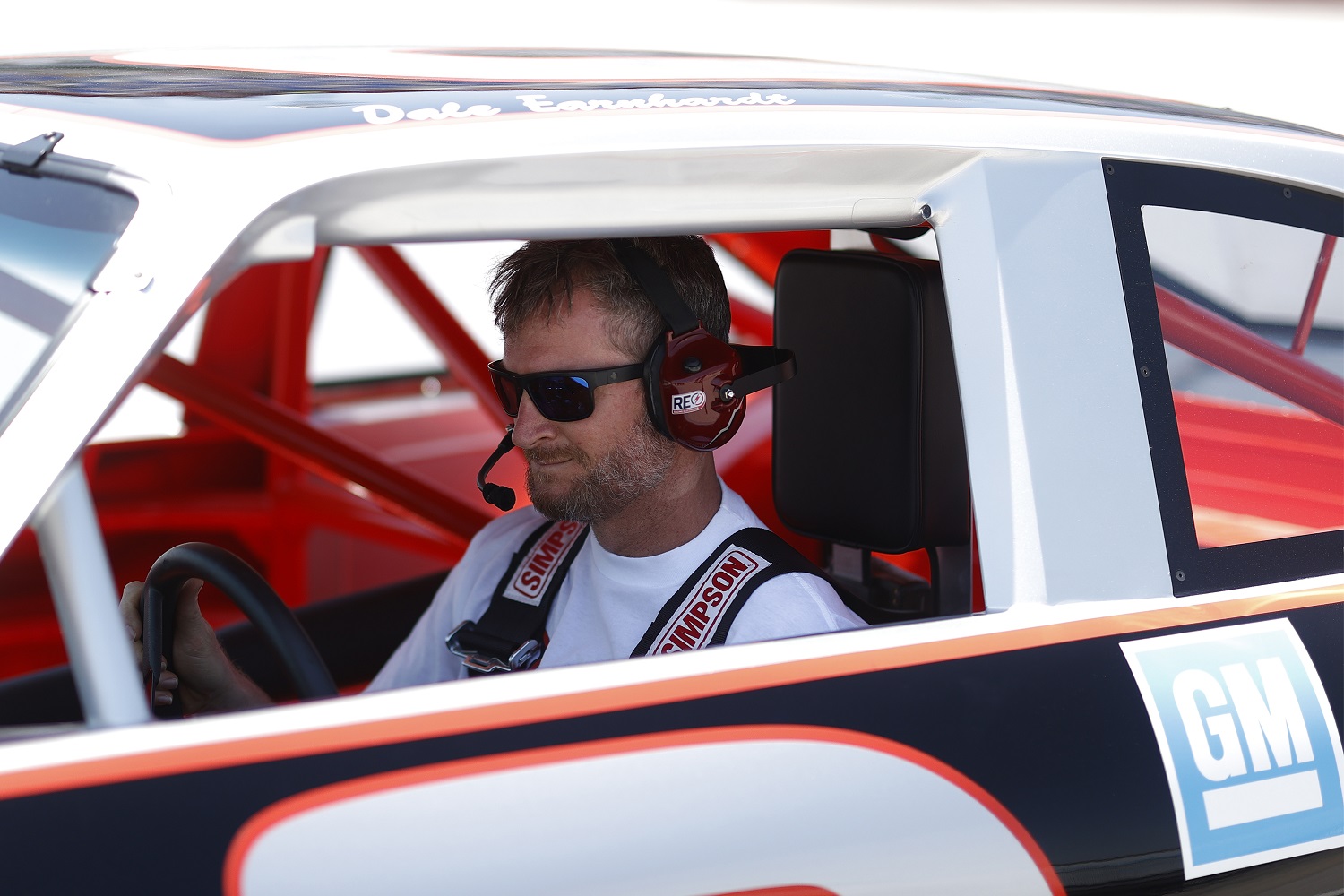 Dale Earnhardt Jr. retired from the NASCAR Cup Series at the end of the 2017 season, turning his full-time focus to operating JR Motorsports, developing a popular racing podcast, and working as a race analyst for NBC.
Earnhardt scored 26 Cup series victories in 19 seasons. Before that, however, he won two Xfinity Series season championships by winning 13 of 63 races. Joining the Cup Series curtailed Earnhardt's time in Xfinity cars, but he still scored another 11 victories in 67 starts from 2001-17.
These days, Earnhardt limits himself to one appearance per season. By contrast, active Cup Series driver Kyle Busch makes the maximum allowable appearances and scored victories in all five Xfinity starts this season.
Busch has taken checkered flags in 59 Cup Series, 102 Xfinity, and 61 truck races. Why does he do it? Well, he loves to race, and he wins. That applies to Earnhardt, too, just to lesser degrees.
And it explains while he'll race at Richmond this weekend.
How has Dale Earnhardt Jr. fared in Xfinity races since retiring from NASCAR?
Leaving full-time racing has not translated into a decline in Dale Earnhardt Jr.'s driving skills. Earnhardt, 46, has finished in the top five in all three appearances since retiring from the NASCAR Cup Series.
Last spring, Earnhardt competed at Homestead-Miami, where the No. 8 Chevy led for four laps before finishing fifth. In 2019, he picked a late-season race at Darlington and also placed fifth.
The 2018 appearance is most relevant to this Saturday's outing. Once again choosing to wait until late in the season, Earnhardt did more than just show up at Richmond. Running strong all day, Earnhardt won the second stage but relinquished the lead with 30 laps left in the race. Christopher Bell took the checkered, and Earnhardt finished a solid fourth with his first career stage win and 96 laps led in the books.
Junior will start 30th but figures to be competitive
Dale Earnhardt Jr. considers Richmond to be one of his best tracks. He won three NASCAR Cup Series races on the three-quarter-mile oval and four more in Xfinity races. In fact, his 2016 victory marked the last (for now) victory of Earnhardt's career.
Further, he's 6 of 8 when it comes to Xfinity top-fives at Richmond. His one clunker, a 32nd-place finish in 1999, was the result of a broken axle.
Understandably, he's eager to get back. With COVID-19 still putting a dent in practice time and qualifying, Earnhardt has resorted to reviewing old Richmond video in preparation for starting 30th on the grid.
"I watched a couple races," Earnhardt said on The Dale Jr. Download podcast. "I woke up at 4:30 in the morning and watched probably 150 laps of one of the races. I'm just getting it in my mind. Because we're going to go there with no practice and hit the ground running. I'm looking forward to it."
It's a nothing-to-lose proposition. Fans get to see the man that they repeatedly voted NASCAR's most popular driver. If he's competitive by the time the checkered flag drops, both Earnhardt and those fans go home with a great memory of the day.
Like Sportscasting on Facebook. Follow us on Twitter @sportscasting19.