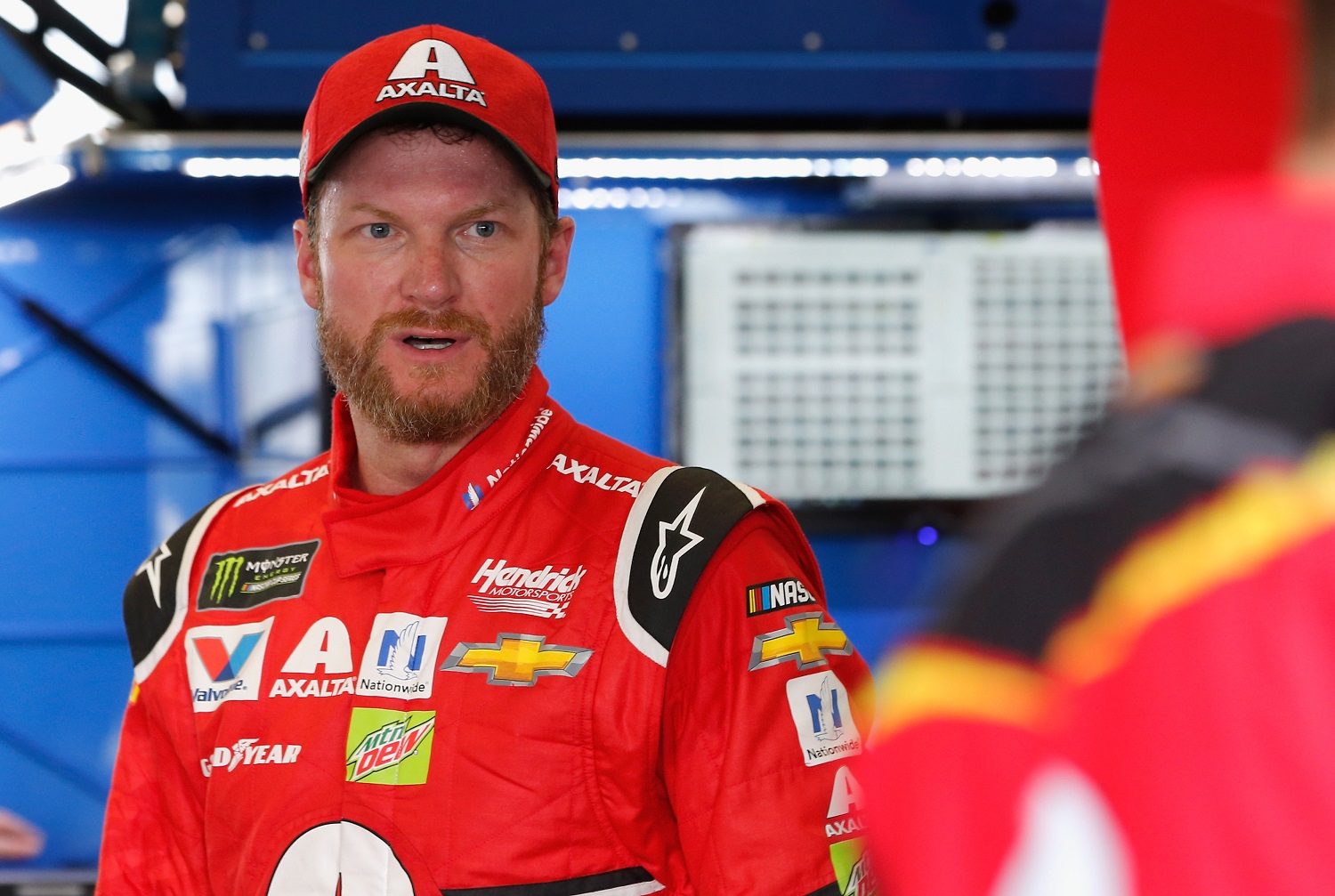 Dale Earnhardt Jr.'s Race Spotter Failed Massively and Hilariously in His First Task
Dale Earnhardt couldn't follow his future spotter's advice, turning a 650-mile trip from North Carolina to upstate New York in 2001 into a crazy 22-hour adventure.
Working as the spotter for Dale Earnhardt Jr., TJ Majors' longest day each year was at the Coca-Cola 600. NASCAR teams always count on 400 laps on the 1.5-mile oval at Charlotte Motor Speedway eating up four hours.
The fact that Majors even landed the job is impressive considering that his first attempt at safely guiding Earnhardt through 600 miles took the now-retired Cup Series star far out of his way and took 22 hours.
The pair laughed it off and went on to a successful team for a decade.
Dale Earnhardt Jr. and TJ Majors started out playing video games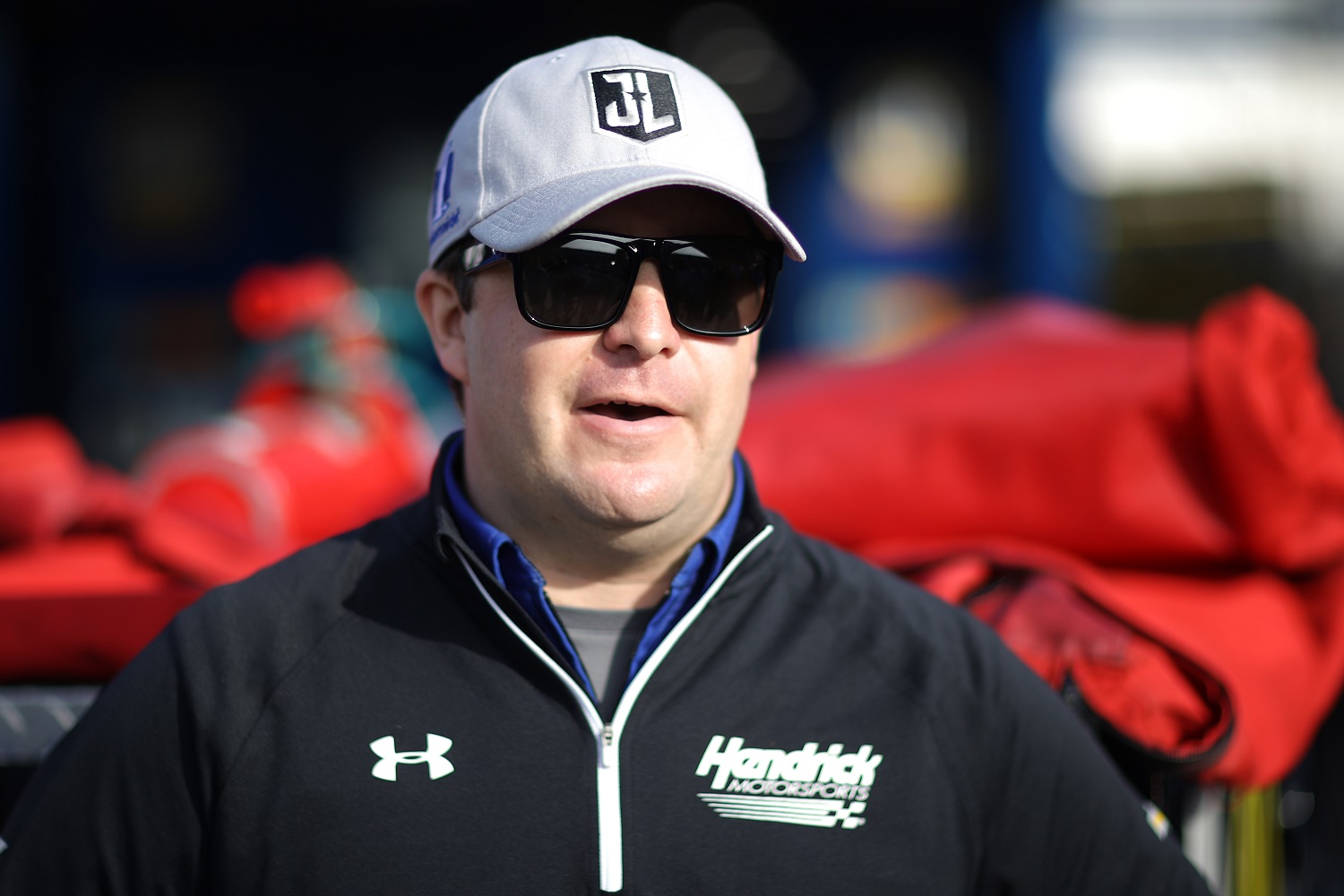 The engine and tires are a driver's two most important assets in a NASCAR Cup Series race. The spotter is a close third. Working from high above the track, the spotter feeds his driver non-stop information on what's going on behind him.
Every attempted pass begins with the eyes in the sky letting the driver know when it's safe to make his move. And if there's a crash ahead, the spotter makes a split-second decision whether the driver should go high or low to avoid the carnage.
Majors worked as the spotter for Earnhardt's entire time at Hendrick Motorsports, during which Junior won nine races and posted 139 top-10s. Following Earnhardt's retirement. Majors joined Joey Logano's team.
Earnhardt and Majors became close friends. The relationship began when they met as gamers playing NASCAR Racing online in 1997, according to USA Today. With competitive juices flowing, their battles would continue until 4 a.m., with Earnhardt in North Carolina and Majors living outside Buffalo, New York.
Earnhardt brought Majors to JR Motorsports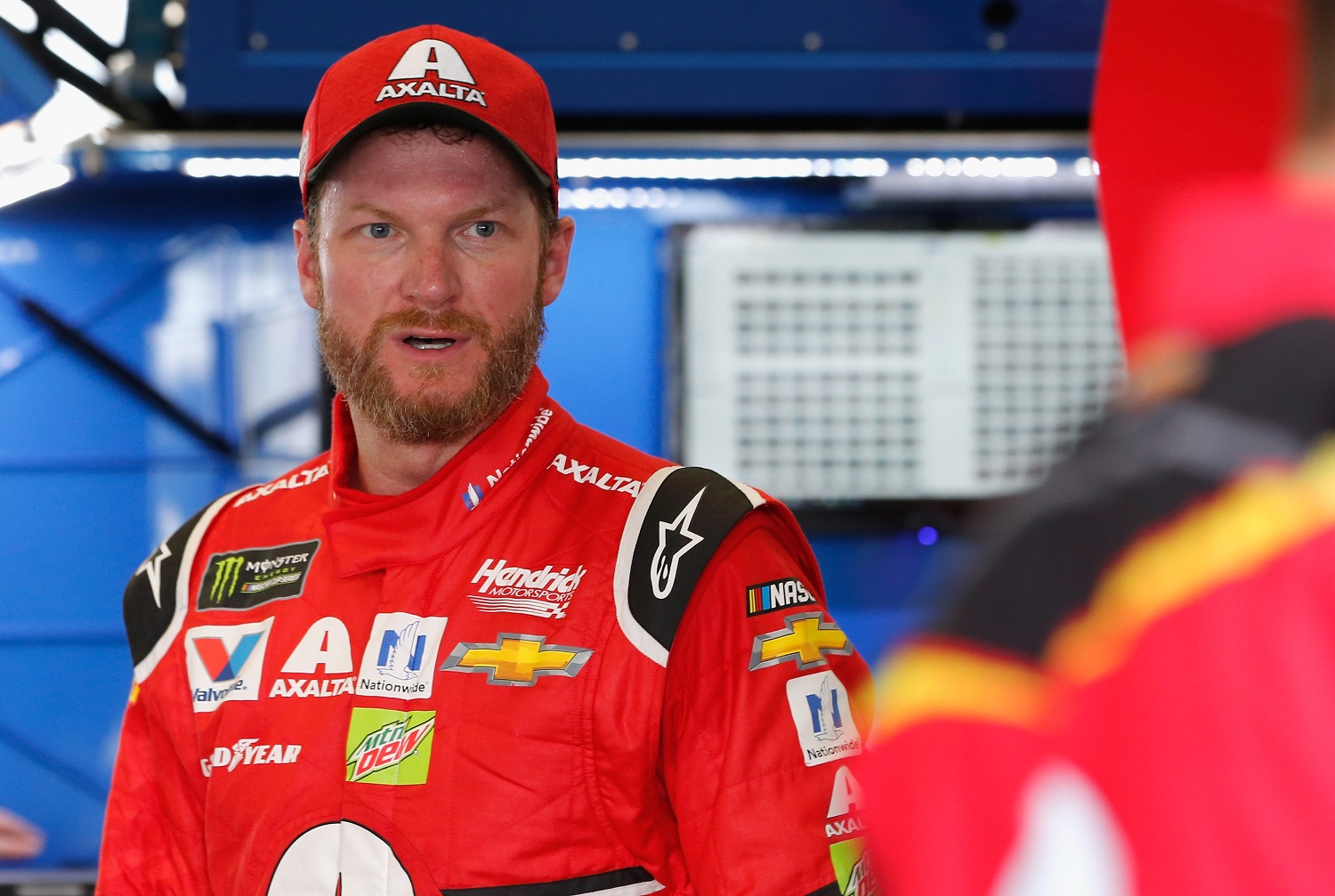 Online gaming was fun, but Majors aspired to compete in real-life racing. As they talked over the years, Earnhardt offered him the chance to move to North Carolina and learn the business. That led to Majors racing street stocks and late models for JR Motorsports, even winning races before becoming Earnhardt's spotter.
That move went infinitely more smoothly than the one from Buffalo to Mooresville, North Carolina, over the holidays in late 2001. For reasons not entirely clear, Earnhardt decided he'd drive to upstate New York to meet Majors in person, help pack, and bring his friend south. The maps say It's a straight shot up I-77, no more than 12 or 13 hours, even in bad weather.
Instead, Earnhardt called an audible.
"'We gotta drive all the way to Buffalo,'" Earnhardt recalled saying, according to Racing News. "'Why don't we just get off the interstate, not even look at a map. We're gonna follow the compass on the mirror and just keep going north.'"
Majors knew a bad idea when he heard one. He tried to talk Earnhardt into the safer, shorter route. But his future employer insisted on driving two-lane roads and following the compass.  By the time he got to Maryland – off course to the east by 150 miles – Earnhardt had missed his arrival time and was still 400 miles away.
"So, we're going through Washington (D.C.) at 2 o'clock in the morning and we've got the windows down because we're just lookin' around, seeing all the monuments," Earnhardt said.
It got crazier from there.
The trip to pick up Majors took 22 hours
The 9/11 terrorist attacks had happened less than four months earlier, so Earnhardt wanted to drive by the Pentagon. He got off the beltway, pleased that there was no traffic at 2 a.m. There turned out to be a good reason why: The future two-time Daytona 500 winner has driven into restricted space. A police car escorted him out of the area.
Not long after that misadventure, snow in Pennsylvania that was so bad that Earnhardt couldn't get his truck up a difficult hill. Finally, after 22 hours, he made it to Buffalo.
Earnhardt being Earnhardt, the trip back to North Carolina started off with another adventure. They detoured west to Ohio, where Earnhardt and Majors intended to hunker down in a hotel for the night and start fresh in the morning.
After checking in, they found a bar, where Earnhardt claims they triggered an epic melee.
"These two guys were arguing. In like 10 minutes, the whole bar became half of the guys were on this guy's side and half were on this guy's side," Earnhardt said. "And we instigated it into a fight. So, the whole bar began to fight. We watched."
Authorities showed up, and Majors and Earnhardt rode back to their hotel in a police car.
"At one point in the night, me and the police officer were racing luggage carts down the hallway of the hotel," Earnhardt said.
The only way to improve upon the story is if Earnhardt had hired the policeman as his chief of security.
All stats courtesy of Racing Reference.