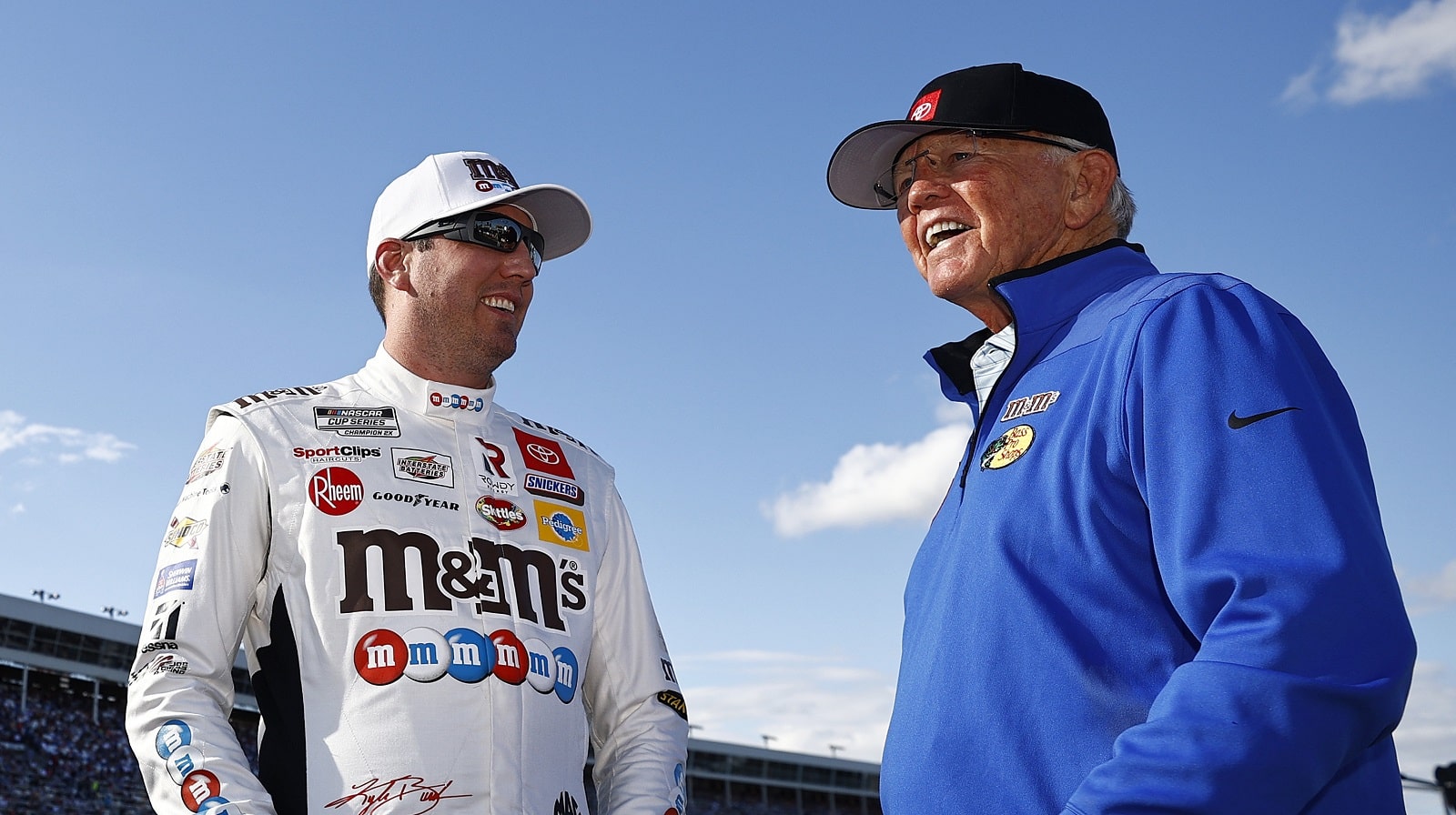 Joe Gibbs Racing Has Made a Desperate Move to Resolve Its Kyle Busch Problem
Joe Gibbs has reached out to another team owner to help find sponsors for Kyle Busch's Toyota in the 2023 NASCAR Cup series season.
The team's best week of the season offered hope that Joe Gibbs Racing can keep all four of its cars on pace to make the NASCAR Cup Series playoffs. At the same time, however, the owner may have just conceded he doesn't have the wherewithal to keep Kyle Busch and the rest of the team moving in the right direction in the longer term.
The disclosure that Gibbs has reached out to another team owner to shore up a critical part of the JGR operation should raise eyebrows in the racing community.
NASCAR fans are watching the Kyle Busch situation closely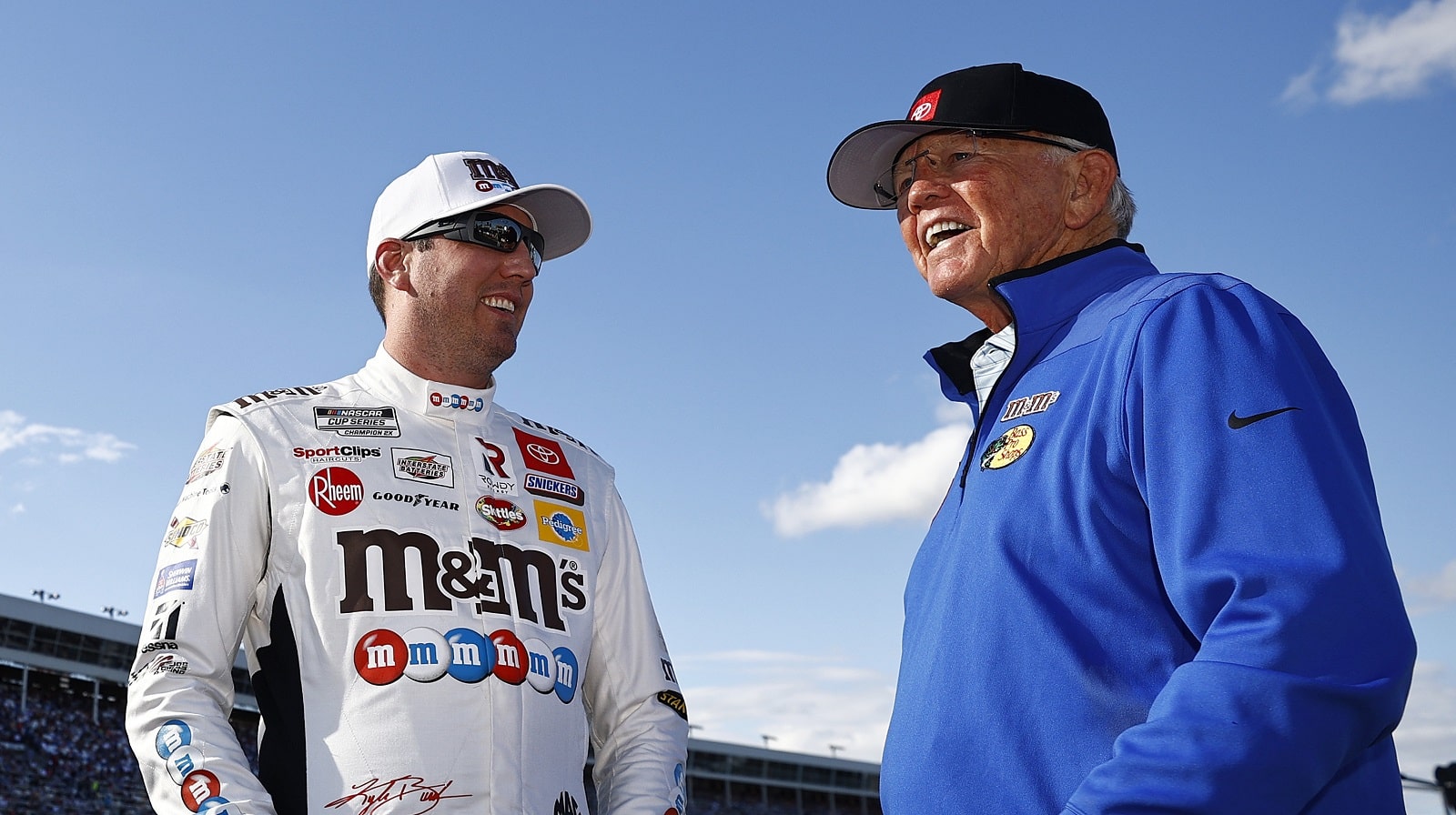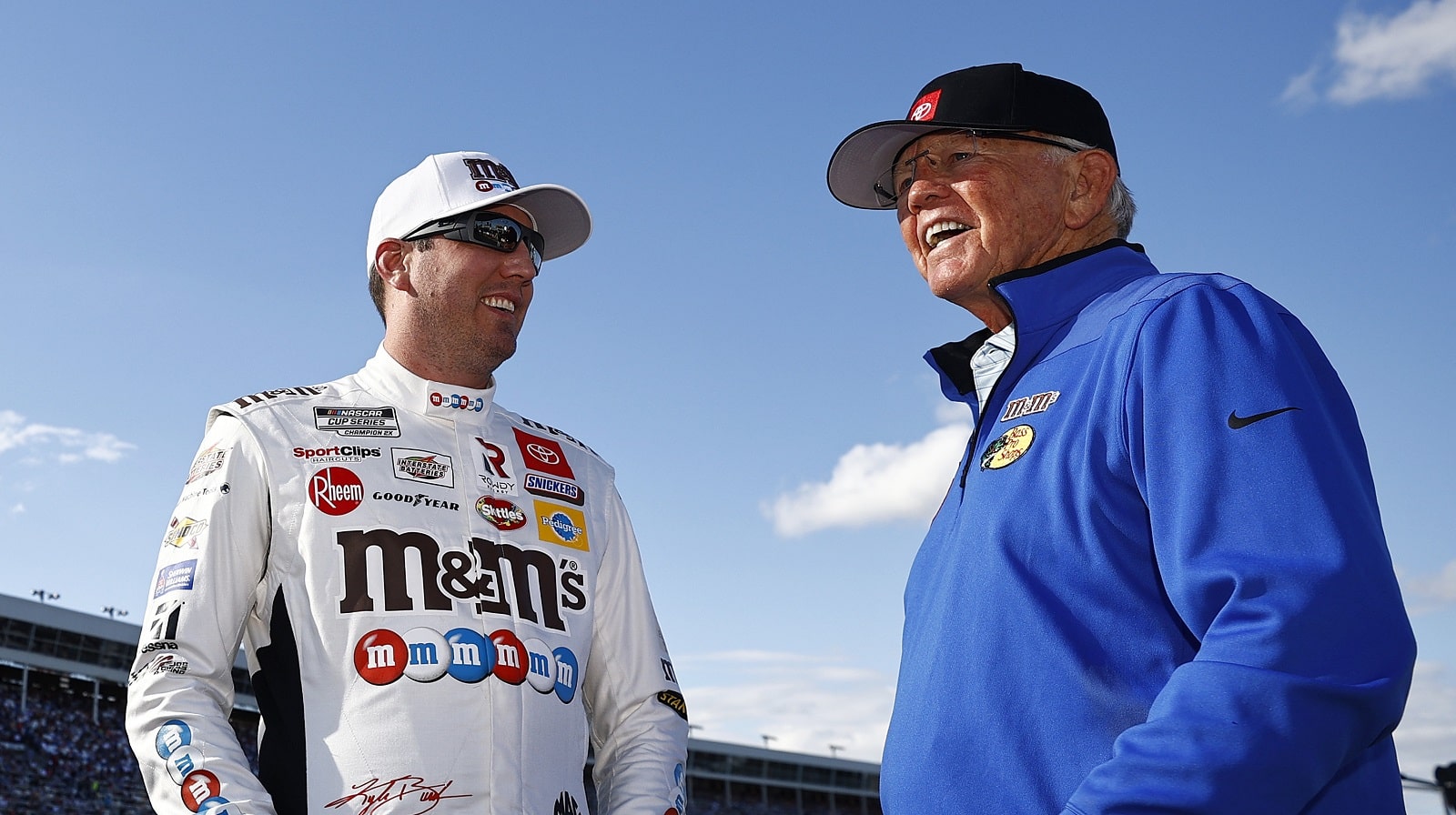 Throw out back-to-back misfires at Atlanta and COTA, and Kyle Busch has put together a strong season. Even after the Darlington wreck left him 33rd for the afternoon, Busch responded with a strong run at Kansas last weekend and placed third. Further, he was the team standard-bearer that day as Joe Gibbs Racing placed all four cars in the top six.
However, Busch, third in the season standings, has attracted attention for other reasons in the past month. Since he went public during the Talladega weekend about concerns over his future, fans and the media have been wondering what's in store in 2023.
Busch and JGR learned last season that Mars, Inc., the maker of M&Ms and a longtime Busch sponsor, is pulling out of NASCAR after this season. It's somewhat of a blow for NASCAR to see a brand with a long history in the sport exit, but it's potentially catastrophic for the team and the driver.
The company has been sponsoring Busch in three-quarters of his races, a commitment that Sports Business Journal values at $20 million to $25 million. JGR has not announced any new sponsorships since, the source of the alarm bells the driver set off at Talladega.
Were it a matter of needing to replace eight or 10 dates, it would be a matter of concern but not anxiety. But booking 27 races, which assumes that no other sponsors also leave, is a tall order.
Now, it sounds as though Joe Gibbs might not be up to the task.
JGR partners with the owner of JTG Daugherty Racing
Imagine Washington Commanders executives asking Dallas Cowboys owner Jerry Jones to help them scout the market and sign a free-agent quarterback. That's close to what Joe Gibbs is doing by reaching out to Tad Geschickter.
Besides being a Gibbs family friend, Geschickter co-owns the JTG Daugherty Racing team, which runs Ricky Stenhouse Jr.'s No. 47 Chevy in the NASCAR Cup Series. Stenhouse's car is fully sponsored, including a sizeable commitment by the Kroger supermarket chain. That didn't happen by accident: Geschickter, a former Procter & Gamble executive, owns a marketing agency that has helped teams in other sports make connections like the one Joe Gibbs Racing needs.
Sports Business Journal reports JGR might be in advanced discussions with a "major" technology company that could plug the hole in the budget for Kyle Busch's Toyota next season. If the discussions are that far along, though, it's puzzling why Joe Gibbs can't close the deal himself.
What's ahead for Joe Gibbs Racing and its Kyle Busch problem?
Theoretically, finding financial support to retain Kyle Busch could be the difference between running three cars or four next season. Sure, putting grandson Ty Gibbs into the No. 18 Toyota saves Joe Gibbs a ton in salary, but he'll still need sponsors.
Realistically, there's no chance JGR doesn't enter the full fleet in the 2023 NASCAR Cup Series. Further, it's hard to imagine Busch going anywhere. Even more significant than Tad Geschickter of JTG Daugherty getting involved is the fact that Toyota is pushing hard to keep Busch in the fold until the day he retires.
Silly Season is a 24/7/365 preoccupation in NASCAR, but it typically doesn't warm up before Memorial Day or turn hot before Labor Day. Somewhere between the holiday weekends, there's a decent chance Joe Gibbs, Kyle Busch, and a Fortune 500 executive will headline a news conference with smiles all around, putting an end to the current concerns.
Like Sportscasting on Facebook. Follow us on Twitter @sportscasting19 and subscribe to our YouTube channel.