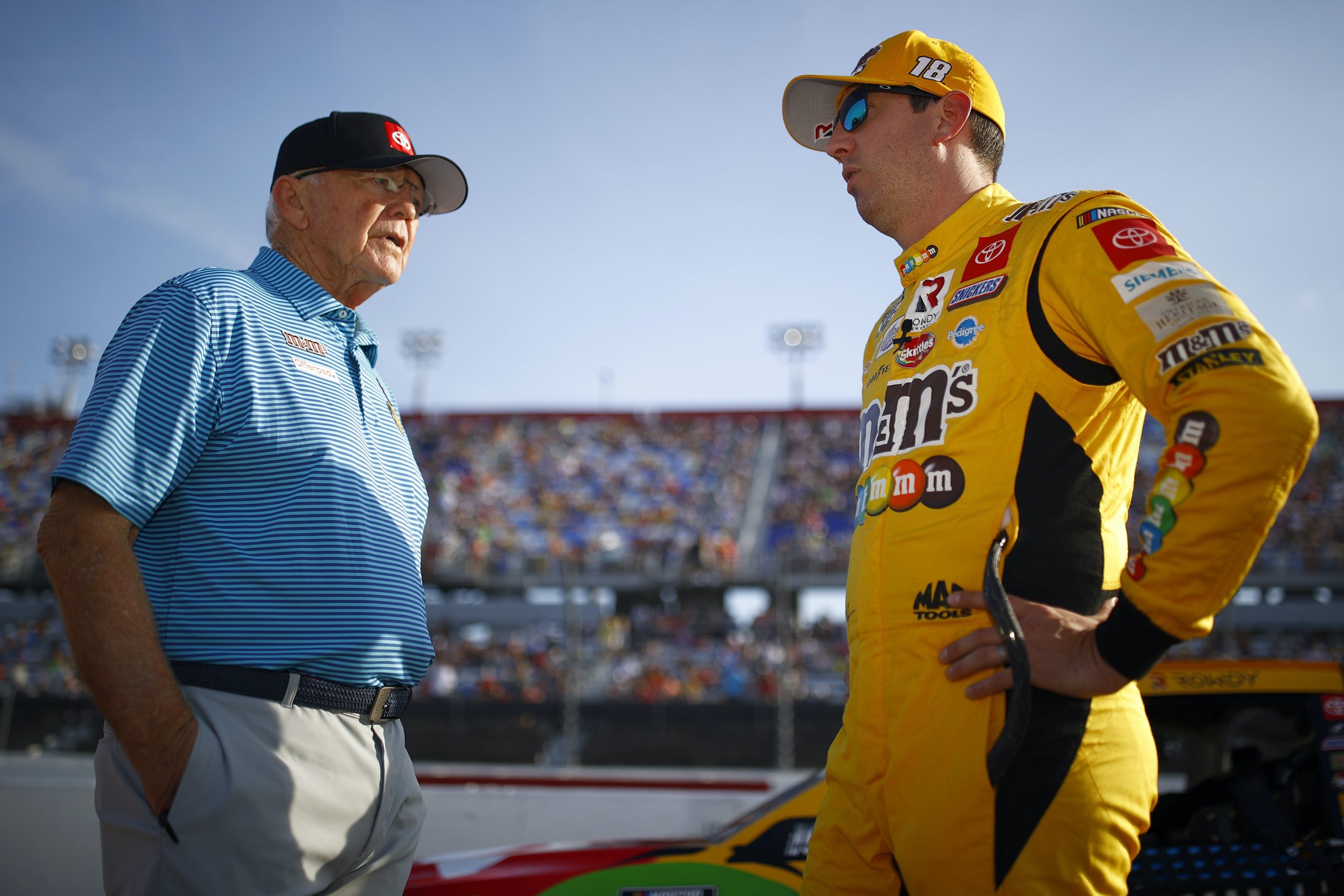 Kyle Busch Calls Out Joe Gibbs and Shockingly Admits Future With Team and in NASCAR Remains Uncertain
Kyle Busch called out Joe Gibbs and shockingly told reporters that he is uncertain about racing with JGR and his future in NASCAR.
Kyle Busch told reporters in January before the start of the 2022 NASCAR Cup Series season that despite losing his long-time sponsorship with M&Ms after this year, he remained hopeful about his future with Joe Gibbs Racing. 
Busch hadn't talked about the situation since. The two-time champ provided an update this week at Talladega. And he struck a dramatically different tone from just months earlier, acknowledging he's not only uncertain about his future with JGR but in NASCAR as a whole.
Kyle Busch loses M&M sponsorship
Kyle Busch received surprising news in August 2021 when Mars Inc. informed JGR that the company had decided to exit the sport as a sponsor after 32 years. In January, before the start of the 2022 season, the 36-year-old driver visited with the media and admitted he was disappointed in the decision but understood it was part of the business and still had hope about his future with the team. 
"I'm good where I'm at, absolutely," Busch told Fox's Bob Pockrass. "It would be nice to just have all the discussions out the window and have us ready to have something to announce. We're very early in that game, so we're not ready for that. Obviously, I'm good where I'm at, would love to stay, and hopefully all that works out."
Busch makes shocking remarks about future
The two-time champ hasn't addressed the situation all season. That changed on Saturday during qualifying at Talladega when The Athletic's Jeff Gluck asked him about a timeframe that he wanted to have his plans for next year decided. Unsurprisingly, Busch didn't hold back.
"Yesterday," the driver curtly replied. Gluck then asked if he was feeling antsy about the situation. "I'm not getting antsy about it. If it happens, it happens. If it don't, it don't. Goodbye."
"So goodbye is an option?" the AP's Jenna Fryer asked.
"Ask Joe Gibbs," Busch responded.
"Have you been knocking on his door about it?" SiriusXM's Claire B. Lang retorted.
"Not my problem," Busch answered. 
After admitting it's frustrating and interestingly pointing out how 95 percent of the Truck Series is "kids with money," Pockrass asked if Busch couldn't get a deal done with Gibbs would other potential teams be looking to land the future Hall of Famer.
"Probably not," he replied. 
Lang followed up, suggesting JGR wouldn't let him go. The driver once again called out the team owner: "Ask Joe Gibbs."
Based on his response to the Pockrass question, Fryer asked if retirement was an option. Getting frustrated, Busch answered, "I would say I lost my ride."
Gibbs responds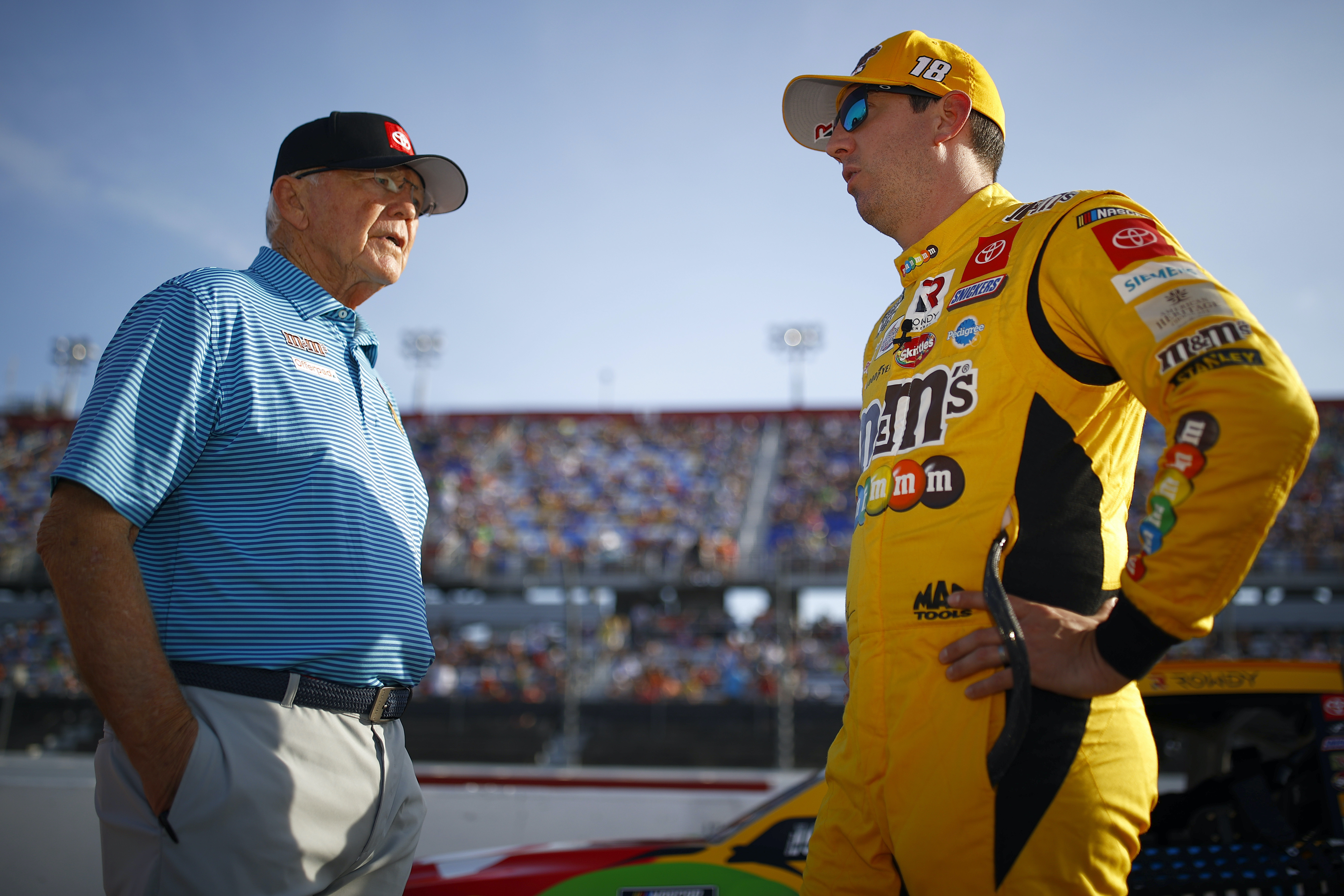 The business of NASCAR. The fact that Busch even suggests he might be out of a ride is stunning but falls in line with the sport's business model, where sponsorship is king, and even the best drivers can find themselves unemployed. 
If it were to happen, he would clearly go down in history as one of the greatest ever. His 60 Cup Series wins, and two championships speak for themselves. Add in his 163 combined wins between the Xfinity and Truck Series, where he is the all-time winningest driver in both, and he's a lock as a first-ballot NASCAR Hall of Famer. 
Gibbs later responded when asked about Busch's comments on his future. "We're confident we're going to get things done," he said. "So we're just working hard at it. It takes a while."
They said the same thing four months ago. Will it happen? Time will tell.
Like Sportscasting on Facebook. Follow us on Twitter @sportscasting19.