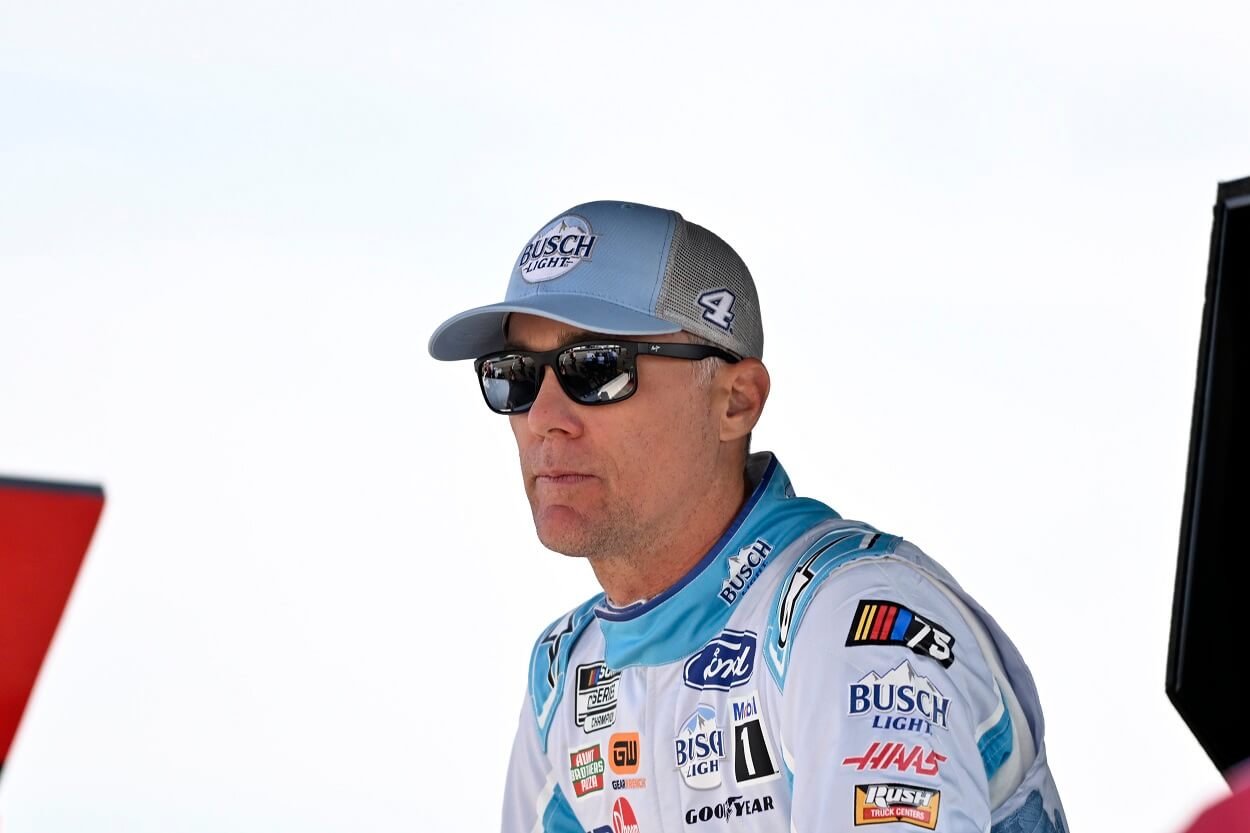 Kevin Harvick Says NASCAR Shouldn't Hold Another Chicago Street Race in 2024 but Not For the Reason You Might Think
Kevin Harvick explains why NASCAR shouldn't hold another Chicago Street Race for at least a few years.
As Kevin Harvick has already announced that this will be his final Cup Series season — at least his last full-time campaign — one has to assume he won't be in the field next year for the second edition of the Chicago Street Race. And if the Stewart-Haas Racing veteran had his way, NASCAR wouldn't return to the Windy City at all in 2024.
Now, one could read that intro and think Harvick only feels that way due to the overall troubles he had this past weekend.
After all, the 47-year-old had a rough start to his weekend when he crashed out during the final seconds of his qualifying run on the 2.2-mile street course, hitting the inside wall at the entrance to the first corner, which sent his No. 4 head-on to the concrete wall on the outside.
Thankfully, Harvick didn't suffer any severe injuries, but the incident knocked him down to the 35th position to start the race itself. And once the Grant Park 220 began, he didn't move up much, ultimately finishing well behind surprise winner Shane van Gisbergen in 29th place.
But the disappointing finish has nothing to do with why Harvick feels NASCAR shouldn't return for another run on the Chicago streets next year. Truth be told, he was a big fan of the setup and thought this unique venture was a great idea.
Harvick simply feels that there are even more opportunities like this out there and that NASCAR would be better served by exploring them.
Kevin Harvick says NASCAR shouldn't hold the Chicago Street Race for at least a few more years
During his pre-race press conference ahead of the Chicago Street Race, Harvick was asked his thoughts on the Cup Series schedule and how he might shuffle some things around given the variety of tracks on which NASCAR currently runs.
In response, Harvick stated he'd like to see more flexibility than what there is now, especially during the postseason, saying he'd "rotate the championship race, the playoff races, and create some sort of system that made sure there were enough road courses, short tracks, and everything in the last 10."
He did say that some of the traditional Crown Jewels on the NASCAR calendar, such as the Daytona 500 at Daytona International Speedway and the Southern 500 at Darlington Raceway, shouldn't be moved but that every other race on the Cup Series schedule should be "free game."
As it pertains to short tracks and street courses specifically, Harvick is all for adding more of those to the schedule, saying there are opportunities in Mexico and Canada that could be explored. And if that means only holding the Chicago Street Race every few years, so be it.
I'd say, 'I'll see you guys again in about five years. You can be excited about it for the next four; then we'll be back through the rotation.'

Kevin Harvick on the Chicago Street Race
Of course, Harvick won't get his way as NASCAR already has an agreement with the city of Chicago to host the street-course event in 2024 and 2025. But he certainly makes an interesting argument. Why let something as unique as the Chicago Street Race get stale by running it year after year when there are plenty of other locations from which to choose?
So what do you think? Would Kevin Harvick's flexibility plan be better for NASCAR overall?