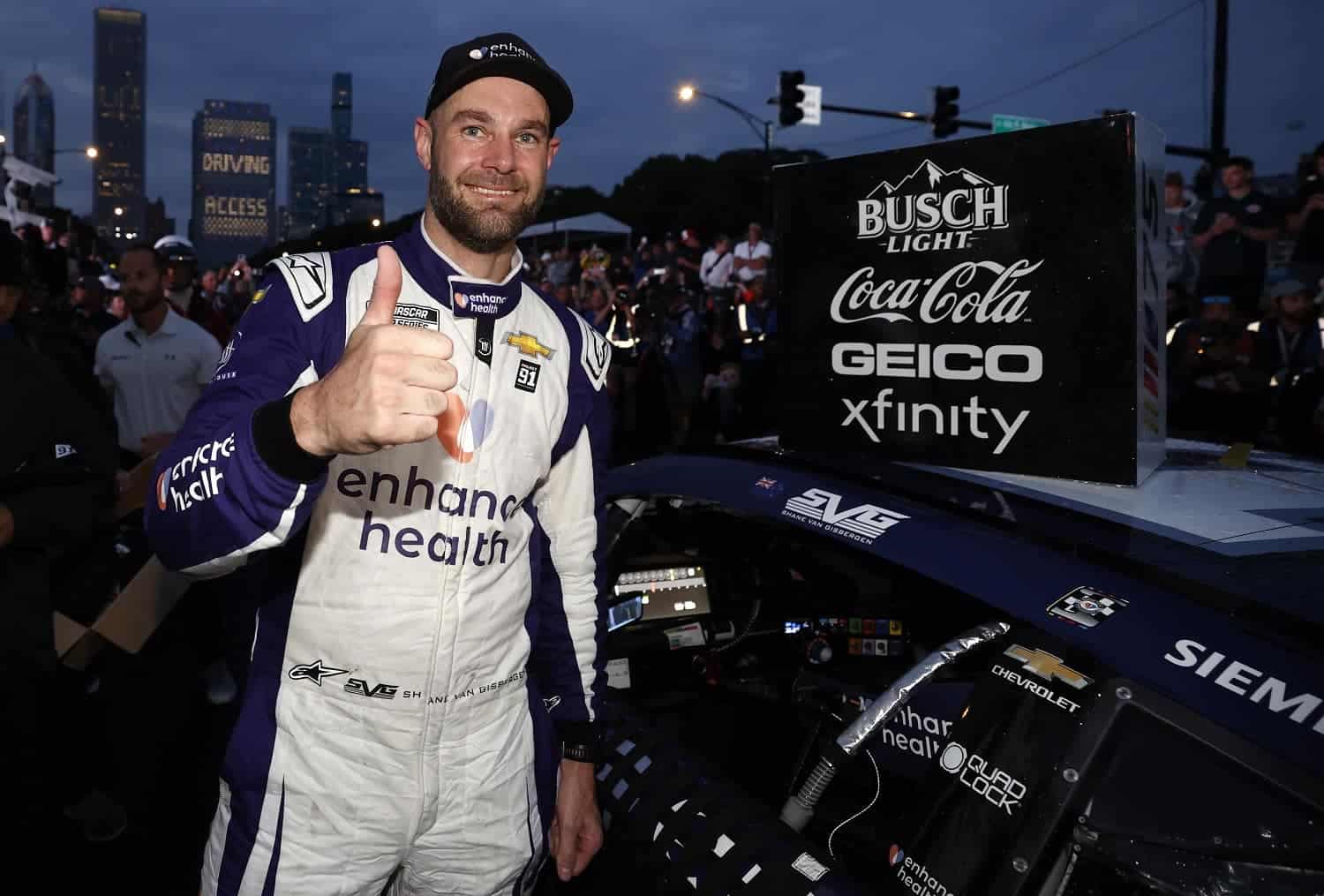 How Soon Could Shane van Gisbergen Race More in NASCAR?
Shane van Gisbergen is committed to the Supercars circuit next year, but he's left the door open to a NASCAR career beyond that.
It's understandable that Shane van Gisbergen shocked quite a few sports fans by winning the NASCAR Chicago street race in his Cup Series debut. However, his victory should never be confused with Chaminade beating Virginia or Buster Douglas taking out Mike Tyson.
The New Zealander is a big name in racing half a world away. So, while the circumstances were unusual, the outcome on Sunday was anything but unfathomable.
Within certain parameters, van Gisbergen easily could come stateside again and repeat his heroics. So, what would it take, and when could we see him again?
Shane van Gisbergen's Supercars Championship resume sparkles
Though average American sports fans may not have been familiar with Shane van Gisbergen, 34, before his victory on Sunday in the NASCAR Cup Series, people who follow motorsports tabbed him as somene to be taken seriously.
He was already racing extensively as a teen, and van Gisbergen made the leap to Supercars – a reasonable facsimile of Cup Series and Xfinity Series models – full-time in Australia and New Zealand in 2007. Though the number of races is comparable to a NASCAR schedule, Supercars competitors race multiple times in a single weekend.
With plenty of prime driving years remaining, van Gisbergen has already won 80 Supercars races and three season championships. He has also taken on various forms of endurance racing, including Le Mans and Daytona.
The timing of the Chicago race was a good fit
The 2023 Supercars schedule only has 13 race weekends, so drivers typically have two or three weeks off between competitions. In the case of Shane van Gisbergen, he posted second-, fourth-, and sixth-place finishes at Hidden Valley Raceway in Australia from June 16-18 and then had a clear schedule until the upcoming weekend.
That allowed him to travel to the United States to prepare with Trackhouse Raicng in the NASCAR team's Project 91 car for a week ahead of the Chicago race. The many adjustments included dealing with the driver's seat being on the left side of the car.
In case you're wondering, the next NASCAR action on road courses is Aug. 13 at Indianapolis Motor Speedway and Aug. 20 at Watkins Glen. The break in the Supercars schedule would allow van Gisbergen to compete at Indy. Whether he would entertain the idea of returning to compete at one of the world's best-known racing venues – Trackhouse or another team would certainly accommodate – is uncertain.
Shane van Gisbergen sees himself as more of a road racer
NASCAR competitors praised Shane van Gisbergen effusively over the weekend in Chicago, even before he won the Cup Series race. Kyle Larson referred to it as a butt-kicking of NASCAR's elites, but van Gisbergen was diplomatic.
"I'm sure if it was an oval, it would be the other way around," he said. "I guess this is my sort of bread and butter, the street circuits. Almost half of our series races are street circuits. I'm comfortable with the walls. It took me a bit to learn the proximity of the car, having the car on the other side of me, so I was missing apexes turning left and struggling turning right to know where that side of the car was.
"But yeah, I got better and better, and in qualifying I left a lot on the table. It's very intimidating on these straights. You have 90-degree corner and no runoff. I left a lot on the table in braking, and every lap today I was learning and getting better."
Undoubtedly, van Gisbergen's talents would translate to NASCAR's ovals-dominated schedule after a short breaking-in period in the simulator and on some tracks. But would he leave home to come to the U.S. and start a new phase of his career?
"I miss racing in the States," he said. "I've done Daytona four or five times now and just the way the American people are and how they go racing, it's so much more enjoyable. And even doing the media stuff, which I hate, everyone here is really nice."
He also took notice of the NASCAR competition and came away impressed.
"The qualifying at Nashville, I couldn't believe how relaxed everyone was," van Gisbergen said. "But then it was like a switch. The intensity turns on, and away it goes.
"I'm committed next year to Supercars. I still love Supercars and hope it goes well there. But in '25, who knows?"
Got a question or observation about racing? Sportscasting's John Moriello does a mailbag column each Friday. Write to him at [email protected].