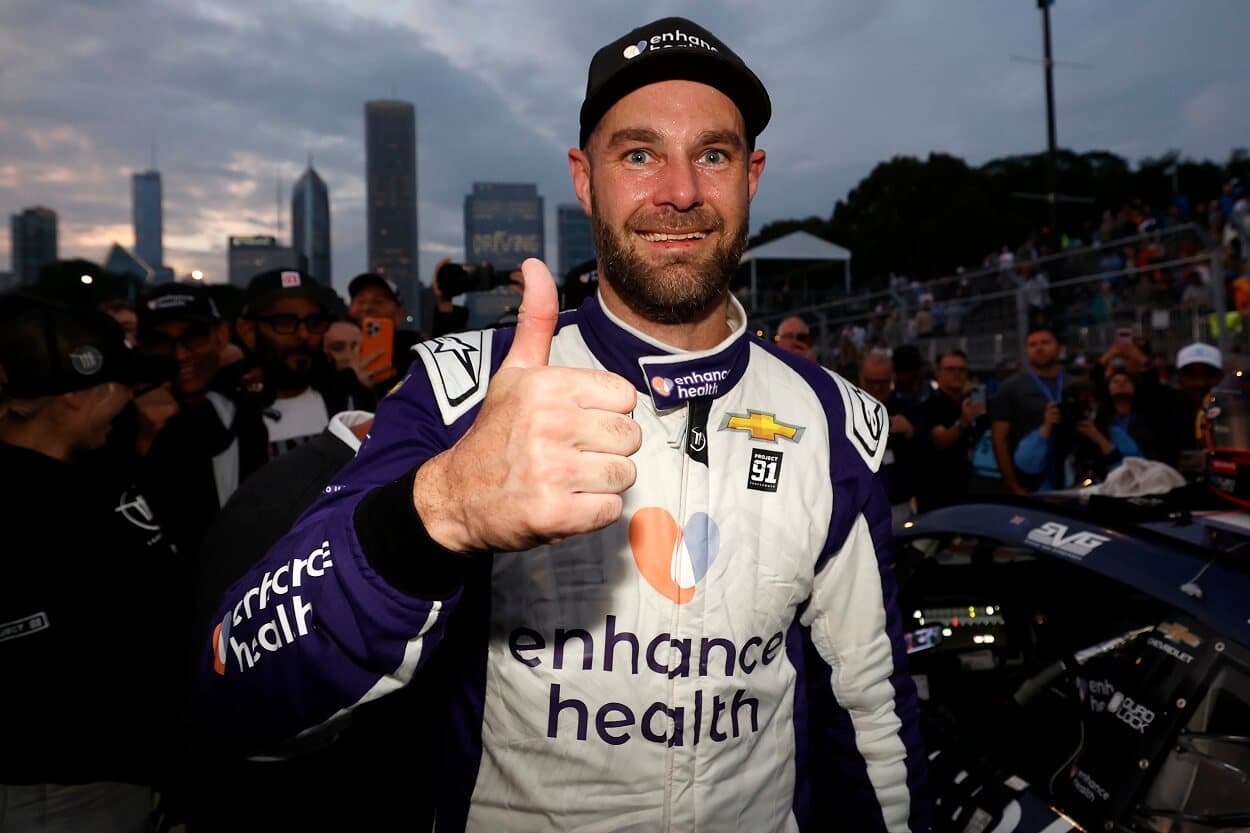 Why Shane van Gisbergen Was Actually the Perfect Person to Win NASCAR's First Chicago Street Race
Shane van Gisbergen was the perfect winner for the inaugural edition of the NASCAR Cup Series Chicago street race.
NASCAR may have had the most appropriate winner possible Sunday when Shane van Gisbergen crossed the finish line on South Columbus Drive in downtown Chicago to complete the first Cup Series street-course race.
Van Gisbergen became the first Cup Series driver to win his first start in the sport's top series in 60 years, which is only slightly less rare than NASCAR holding the first street-course event in its 75-year history.
NASCAR took a risk with an unprecedented street-course idea
The sanctioning body tried something completely new when executives developed the idea to run a points-paying race somewhere other than a purpose-built facility. Even the 0.25-mile track inside the Los Angeles Memorial Coliseum for the exhibition Clash race the past two years was designed specifically to host a NASCAR race.
The street-course idea required NASCAR to use roads that were already in place and have drivers make the best of the situation. By and large, they did so with only one massive pile-up and nine cautions through the event's shortened 75-lap length. NASCAR announced midway through the event that it would not run the final 25 laps because of approaching darkness after rain delayed the start by more than 90 minutes.
NASCAR had never embarked on the challenge of holding a street-course race before, and van Gisbergen had never previously competed in a NASCAR race of any kind.
The 34-year-old New Zealand native currently makes his living as a driver in Australia's REPCO Supercars Series and is the two-time defending champion of that series after winning a record 21 races a year ago. He is a 16-year veteran of the series and three-time series champ overall, with 80 career victories. Van Gisbergen has also run the 24 Hours of Daytona five times and participated in his first 24 Hours of Le Mans race in 2022.
Van Gisbergen is quite an accomplished driver, but his win Sunday on the 2.2-mile circuit was still a stunning upset given the difficult transition most road-course ringers have when they come to NASCAR.
He is the first such driver to come in and win a Cup Series race since Mark Donohue won at Riverside Raceway in 1973 and the first to win in his series debut since Johnny Rutherford won the 1963 Daytona 500 Qualifier race.
Even the most optimistic fans had to be surprised that van Gisbergen beat a full field of Cup Series drivers and left with the trophy.
Similarly, the Chicago Street Race idea provided plenty of room for doubt in the months leading up to the race. Critics wondered how stock cars would race on a street course as opposed to the open-wheel cars that regularly compete on street circuits. They provided reasons why different aspects of Chicago could make it particularly difficult to hold a race in a major city during a holiday weekend.
Then torrential rain plagued the entire weekend until the Cup Series race finally started at 5:37 p.m. local time.
Still, NASCAR pulled it off successfully. The race did not have any major incidents that will be remembered as a misguided failure. It was actually less of a circus than some races NASCAR holds on traditional purpose-built road courses. 
The weekend also opened up the possibility of similar events in the future for both NASCAR and Shane van Gisbergen.
Shane van Gisbergen and street races are both likely to be part of NASCAR's future
NASCAR has a three-year deal with the City of Chicago to hold the street race, but several other cities are likely to jump on board with the idea as well, which would allow NASCAR to take its events to previously untapped major markets.
Van Gisbergen, meanwhile, will surely be welcomed back to the Cup Series and could even be in line for a full-time ride in the near future. He said in his postrace interview that he plans to run one more year in Australia and then "I'd love to come over here."
Several teams would likely come running to sign van Gisbergen if Trackhouse Racing does not sign him to a full-time deal after he won just the third start for the company's Project91 team since team owner Justin Marks developed the program in 2022.
Regardless, both Shane van Gisbergen and street-course races are likely to remain a fixture in NASCAR for the foreseeable future after both had debuts that exceeded many expectations.