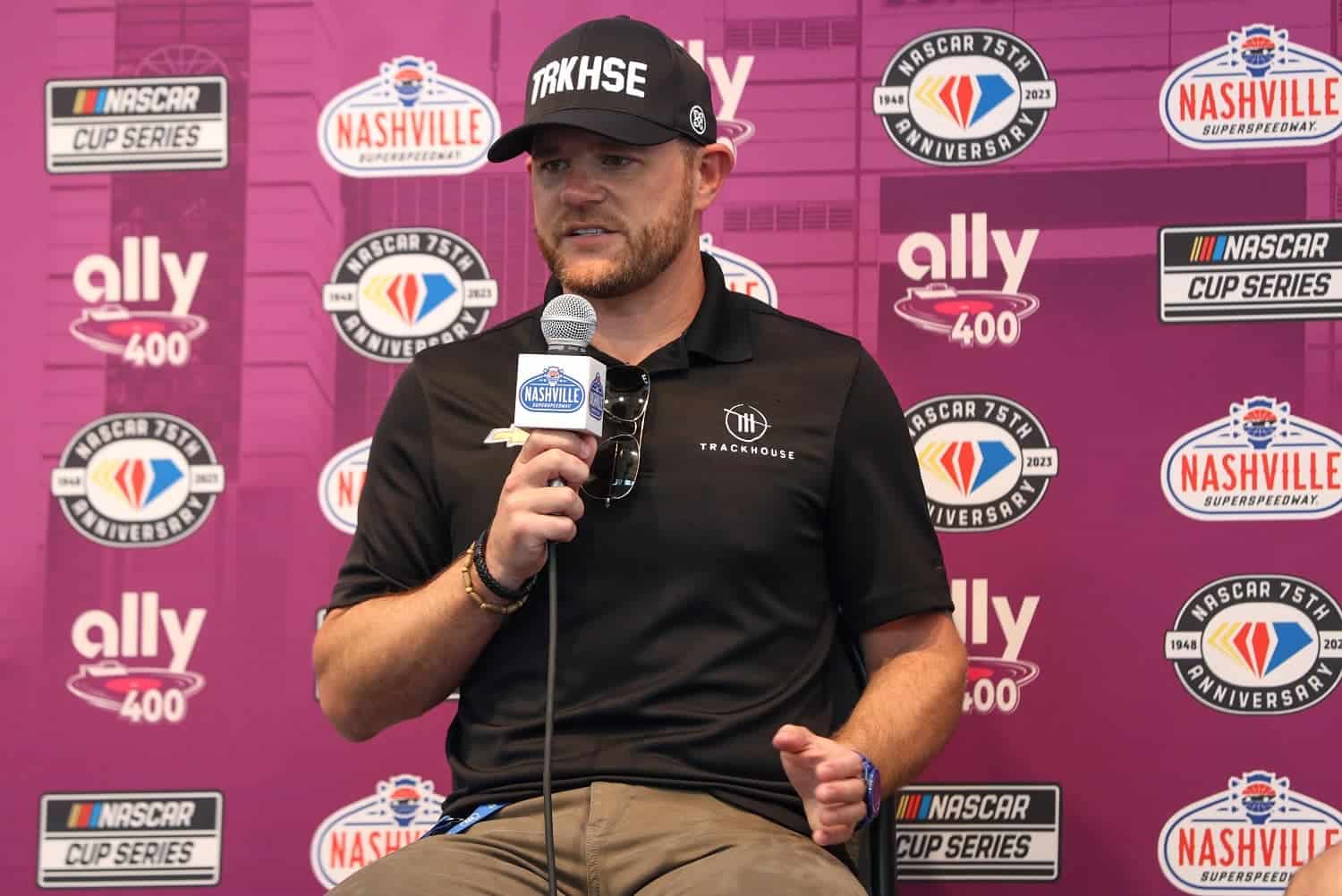 Justin Marks Just Cost NASCAR Money, but in a Good Sort of Way
Justin Marks' Project 91 initiative was an even bigger hit than the debut of Cup Series street racing.
Weather aside, NASCAR's Chicago experiment will go into the books largely as a success, courtesy of a huge helping hand from Justin Marks and Trackhouse Racing.
There was too much slipping and sliding into concrete and tire barriers on 90-degree corners, primarily due to the wet conditions early, for the sport's officials to be completely proud of their pet project. However, the race was a successful proof of concept; NASCAR can and should go forward with planning for future street courses.
I say that even as it runs contrary to what the executive suite's most recent mission has been.
Justin Marks unveils a new star – at a cost
The Chicago street race would have been judged a success anyway. It attracted a crowd, even if we're unsure how many spectators actually paid. It produced a lot more passing than the pessimists among us anticipated for a largely narrow layout. The major misfire revolved around dealing with standing water, though no one could have reasonably projected that much rain falling.
The real success, however, came from Justin Marks presenting the sport with a new star. We get the same 36 drivers every week, and maybe 20 of them are reasonable candidates to win. But Marks' Project 91 initiative fielded a car for Shane van Gisbergen, and the 34-year-old New Zealander pulled off a win for the ages.
Sure, the Garage 56 effort at Le Mans was a notch in NASCAR's belt, but it was also the culmination of a year of work. On the other hand, van Gisbergen showed up with minimal fanfare, logged a short burst of intense preparation, and gave the sport notoriety that NASCAR couldn't possibly buy.
Now, the bad news: It's going to cost money. Though safety was a meaningful consideration, cost-cutting drove the development of the Next Gen car. NASCAR executives undoubtedly looked at it as a case of every dollar they saved owners in building new cars was potentially a dollar they wouldn't have to share when the next TV deals are completed.
Now, though, they can expect to spend piles of money every year on street courses, infinitely more expensive to set up and tear down than the ovals and road courses across the country built specifically for racing. Chicago ate a lot of that cost this year, but it won't always be like that.
In a sport that's been navigating choppy waters in recent years, it sort of qualifies as a nice problem to have.
Winners from the Chicago street race
Justin Marks and Trackhouse Racing – Fresh off Ross Chastain winning at Nashville, the young organization scored a far more exciting triumph in Chicago. Marks and partner Pitbull foot the bill for Project 91, which launched with Kimi Raikkonen last season at Watkins Glen, but perhaps it's time for NASCAR to help defray some of the cost in response to the windfall of good PR that Shane van Gisbergen delivered on Sunday.
Ty Gibbs – The rookie continued his season-long objective of keeping his head low and his car competitive. Gibbs finished ninth and finds himself above the playoff cutline 18 races into the season. Even if it all falls apart from here – it won't, by the way – he has chalked up hard-earned respect in the garage.
Sunday's losers in Chicago
Noah Gragson — Feel the need to taunt the Legacy Motor Club rookie for some reason? Just chant "Turn 6" within earshot of him. Even factoring in the weather conditions, how is it even possible to hit the same tire barrier four times in one day?
Alex Bowman — It says here he still makes the playoff field either on points or by winning, but dropping to 20th in the standings is a setback. He made contact with Corey LaJoie mid-pack on Lap 11, spun himself on Lap 39, and lost his engine on Lap 44. A short, not-so-sweet afternoon.
Got a question or observation about racing? Sportscasting's John Moriello does a mailbag column each Friday. Write to him at [email protected].