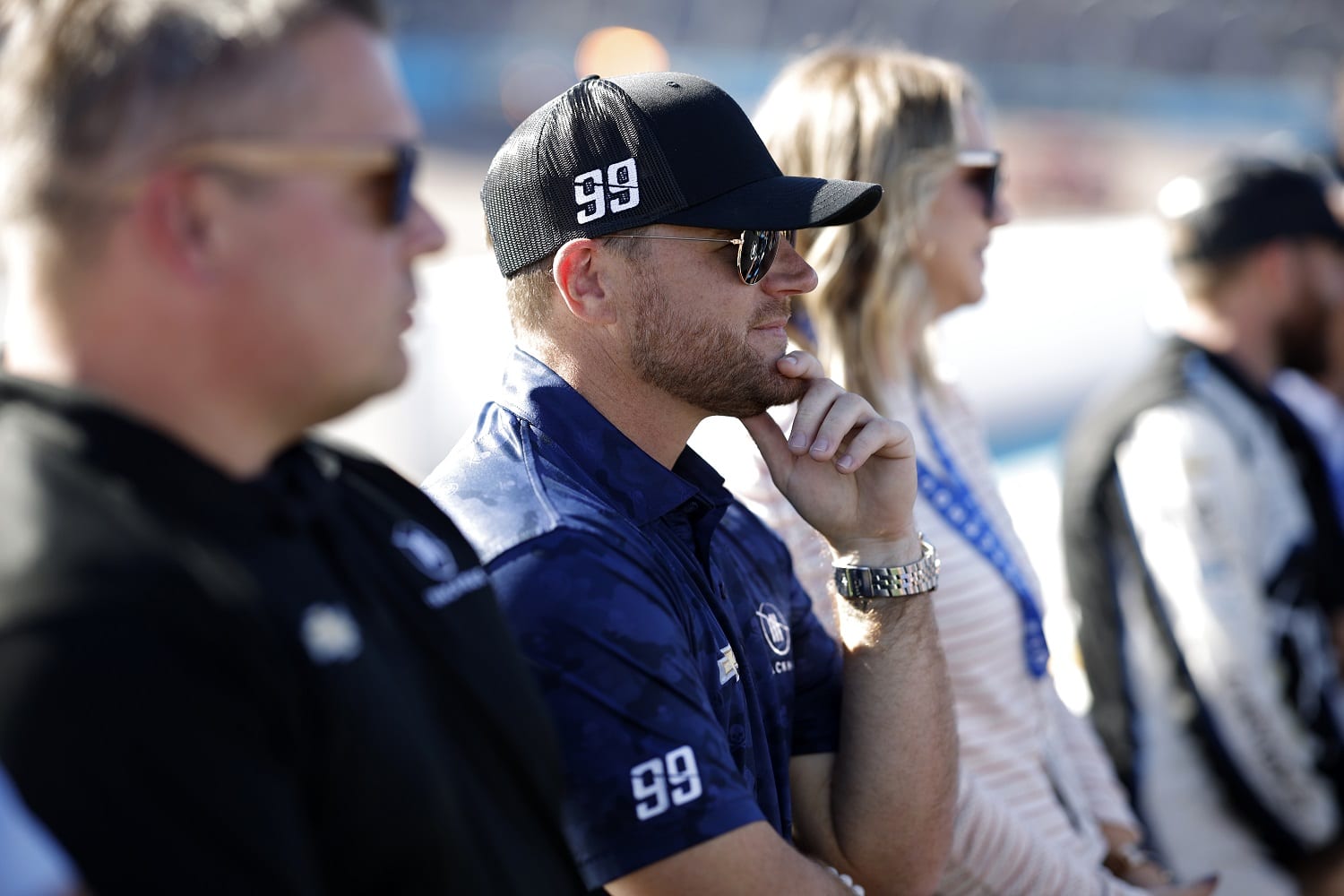 Justin Marks Isn't Going to Risk Making Denny Hamlin's Potential Daytona 500 Mistake
Trackhouse Racing will not run a third car at the Daytona 500.
Justin Marks just demonstrated he's more concerned with the big picture than he is with the big splash. It helps explain why his Trackhouse Racing team was the breakout performer of the 2022 NASCAR Cup Series season. His approach to the kickoff of the new season seems more prudent than the course Denny Hamlin has charted.
The Daytona 500 is coming up quickly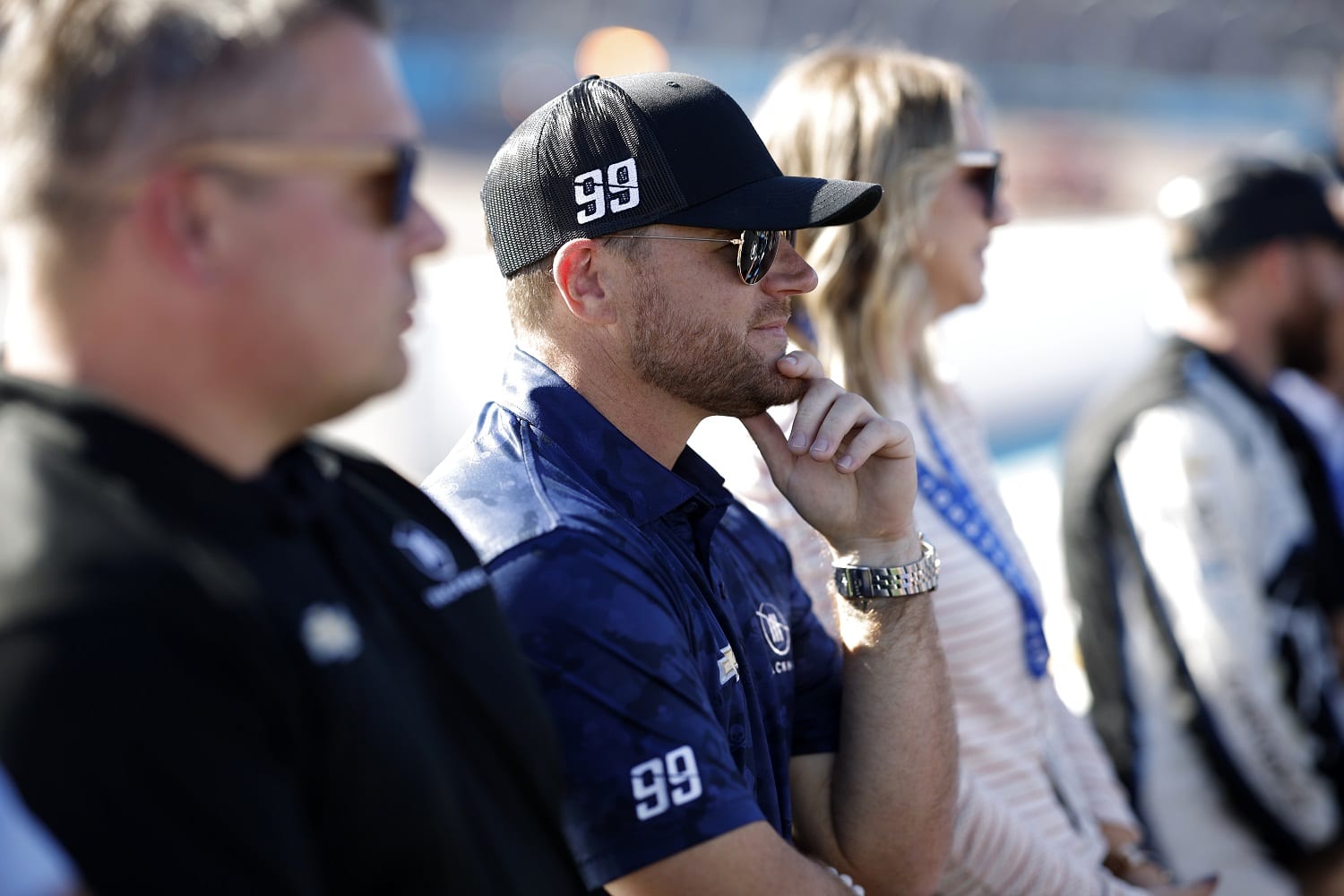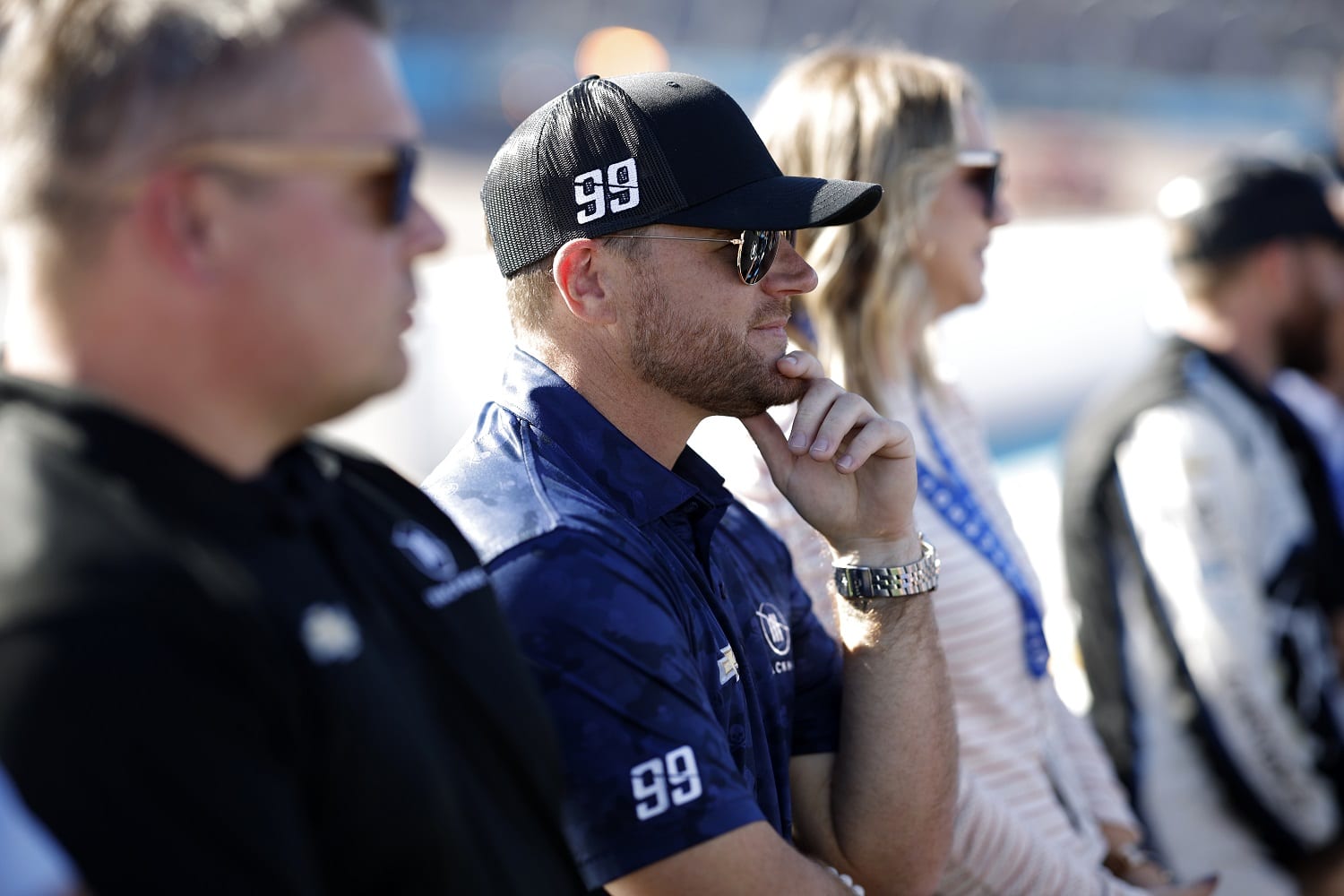 Though the Busch Light Clash in Los Angeles opens the NASCAR Cup Series season two weeks earlier, the Daytona 500 on Feb. 19 once again kicks off the points races portion of the schedule. The superspeedway is an imposing opening test for teams still working with limited track time ahead of the opener.
Daytona Speedweeks is a big platform for owners like Justin Marks and drivers like Kyle Busch as they roll out final preseason sponsorship news and promote their business partners. Additionally, Daytona is one of the few races where more than just the chartered teams show up. To date, the biggest name fitting that description is Jimmie Johnson. The seven-time Cup Series champion is running a limited schedule for Legacy Motor Club (formerly Petty GMS).
The chartered cars are all guaranteed places on the starting grid, leaving four spots in the 40-car field for Johnson and other hopefuls.
Justin Marks won't put Helio Castroneves in the Project 91 car
Aside from making a breakthrough in just its second season by placing Daniel Suarez and Championship 4 driver Ross Chastain in the playoffs, Trackhouse Racing innovated in 2022 by introducing the Project 91 car, a third Chevy earmarked for use by international drivers.
Kimi Raikkonen drove at Watkins Glen, and Justin Marks' plan this season is for that car to make six to eight starts. Given the nature of much of the racing scene outside of the United States, it makes sense for most of those races to be on the Cup Series' road courses. Still, there was a lot of speculation that Trackhouse would team up with Helio Castroneves to kick off the season at Daytona.
However, Marks has squelched the idea and will prioritize Chastain's No. 1 Chevy and Suarez's No. 99 Chevy.
"We took a hard look at the Daytona 500 with @THProject91, but at the end of the day decided to focus on the road courses and the 1/99 at Daytona," Marks tweeted. "We have some exciting P91 stuff being finalized."
Focusing on its own drivers is the right call by Trackhouse Racing
Justin Marks' decision regarding the Trackhouse Racing lineup is a sensible one. Helio Castroneves is an accomplished driver who'll likely land with The Money Team if he still wants to try Daytona. But even Castroneves would be hard-pressed to run in the top 15 with Trackhouse's third car.
Even if he were to post a strong showing, what does it accomplish for the team? There are no useful owners' points to be gained, a win wouldn't qualify him for the playoffs, and the driver's other personal and professional commitments would likely keep him from making more than one other appearance to capitalize on the showing.
Denny Hamlin and 23XI Racing are taking the contrarian approach. The third-year team has enlisted rallycross and stunt star Travis Pastrana to drive alongside Tyler Reddick and Bubba Wallace in the opener.
Again, there isn't much upside to the former Xfinity Series driver somehow finishing in the top half of the field. On the other hand, Hamlin and Michael Jordan are opening themselves up to criticism should a mechanical issue or a bad pit stop derail Reddick or Wallace.
Fair or not, people will ask whether 23XI gave its full-time drivers everything they needed, with the implication being that preparing Pastrana's car somehow presented an unnecessary distraction and caused something to be overlooked.
In that sense, it's almost better for 23XI if Pastrana fails to qualify.
Got a question or observation about racing? Sportscasting's John Moriello does a mailbag column each Friday. Write to him at [email protected].