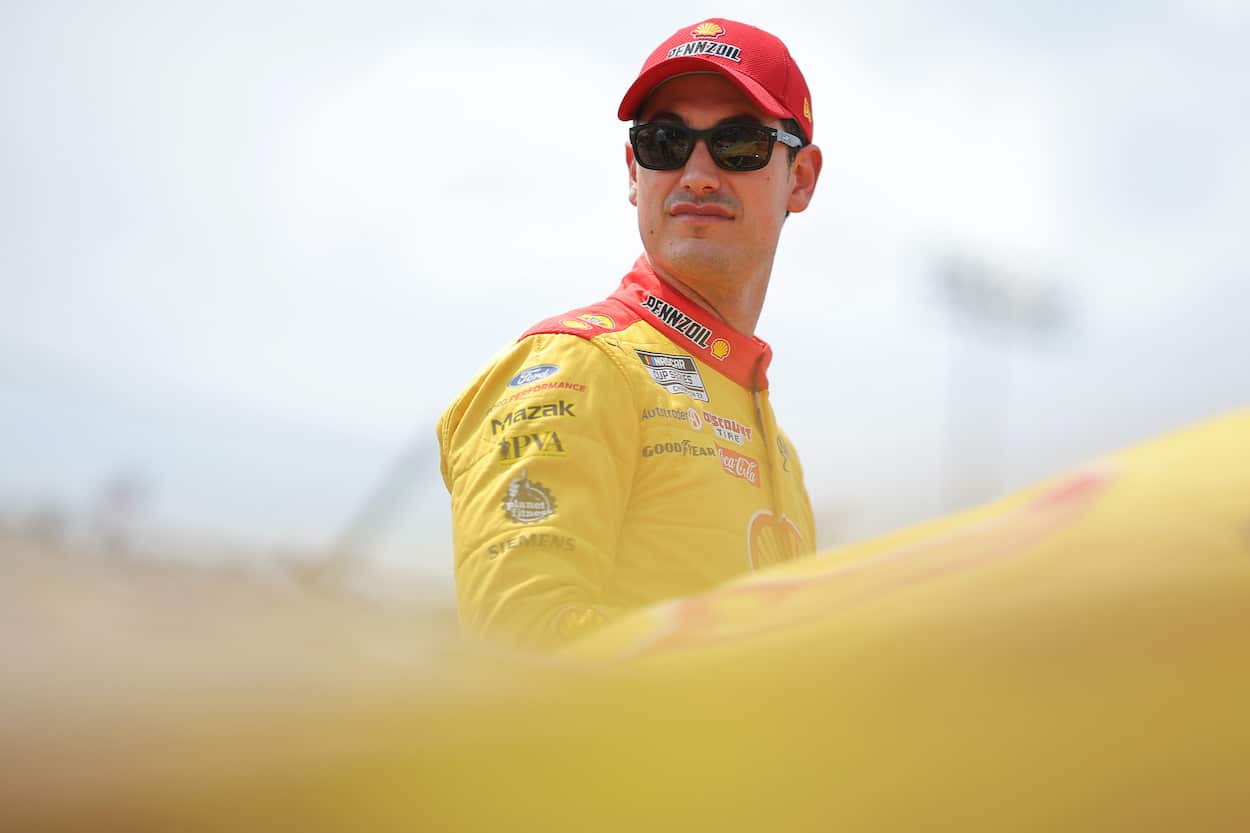 Upset Joey Logano Makes Shocking Admission About His Personal Experience with NASCAR's 'Broken' Business Model: 'I Had to Bring a Significant Amount of Money to Go Drive'
Joey Logano shockingly admitted this week how his Truck Series experience in 2023 opened his eyes to NASCAR's broken business model and why it's preventing him from racing more in the future.
Joey Logano is the reigning NASCAR Cup Series champion. He's a two-time winner. He's got clout. Or so you would think. 
Think again. 
The Team Penske driver visited with Kenny Wallace on his YouTube channel this week and made some shocking remarks about his Truck Series experience earlier this year on the Bristol dirt, including what it took for him to drive the truck and how it all opened his eyes to a "broken system."
Joey Logano wins Truck Series race on Bristol dirt
Joey Logano won the first-ever Cup Series race on the Bristol dirt in 2021. Last year, with the introduction of the Next Gen car, the Penske driver added the Truck Series event on the dirt to his calendar, trying to get any extra seat time and gain a better understanding of that year's version of the track. He finished sixth in trucks running for David Gilliland Racing and third on Sunday.
This year, he followed the same race routine again. With ThorSport Racing this time around, the 33-year-old dominated the Truck race, winning the first two stages and the race, holding off his ThorSport teammate Ty Majeski and Cup regular William Byron. 
That success, however, didn't translate into anything good in the Cup race. In fact, the No. 22 was the first car out and finished 37th after getting caught up in an early crash. 
Logano makes shocking admission when talking about broken system
While finishing first in Trucks and last in Cup, it'd be safe to assume Logano was more pleased with his run in the lower series than his regular job, this week during an appearance on Kenny Wallace's YouTube channel, the driver revealed the overall experience in Trucks wasn't as good as you would think and it opened his eyes to just how ugly the business model is. 
"I hate to say it, but it is a broken system. I hate to say it, but it is so challenging to make it because you got to have cash," Logano said. "Now, that's not everybody. Right? You got to be a standout. You better be ridiculously good today to get the opportunity that I had. 
"Even today, I can't go drive a truck without bringing money to the table, right? I drove that truck at Bristol this year, I had to bring a significant amount of money to go drive it. You would think you win a couple of Cup championships that you can go drive whatever you want whenever you want."
"They could sell you," Wallace suggested.
"Right. Well, they would want me in the cars. I can help them build their program. I have experience. I can help," Logano responded. "Nope. I got to bring money to go race still. If the two-time Cup Series champion has to bring money to go racing, what is the 18-year-old kid, 19, 20-year-old kid that does not have a resume expect? I don't know how you do it. Like, to the point that I don't know if I want my kids racing."
"This upsets me," the host told him. 
"It upsets me, too," Logano replied. "And I don't know the fix either. It's too freakin expensive. I think if you look at the lower levels, they're doing a great job at finding more efficient ways to go racing. If you look at quarter midgets, you brought that up. That's decent. Legends cars, late models. Some are way too expensive, but there are some local tracks that are doing it in a more efficient way. Dirt racing seems like one of the most efficient ways to go racing. 
"That's all good, but when you get to like ARCA, Trucks, Xfinity, the business model sucks. Just sucks. Like Cup racing the team owners, they can make money and that's important. And if they can get a sponsor and pay a driver to drive their car. That's great. But there's not many racing series these days that can do that. And doesn't matter what your resume is. You're going to have to pay to go play. "
Moments after Wallace expressed his disbelief in the situation, Logano closed with another disappointing word. 
"I wanted to run more but I couldn't find the money," he said. "And I don't want to pay. I want someone else to pay for me to race. I got to go find a sponsor to go drive a racecar."
To stay up to date on the latest happenings in NASCAR, including breaking stories you can't find anywhere else, follow Kyle on YouTube and Twitter.