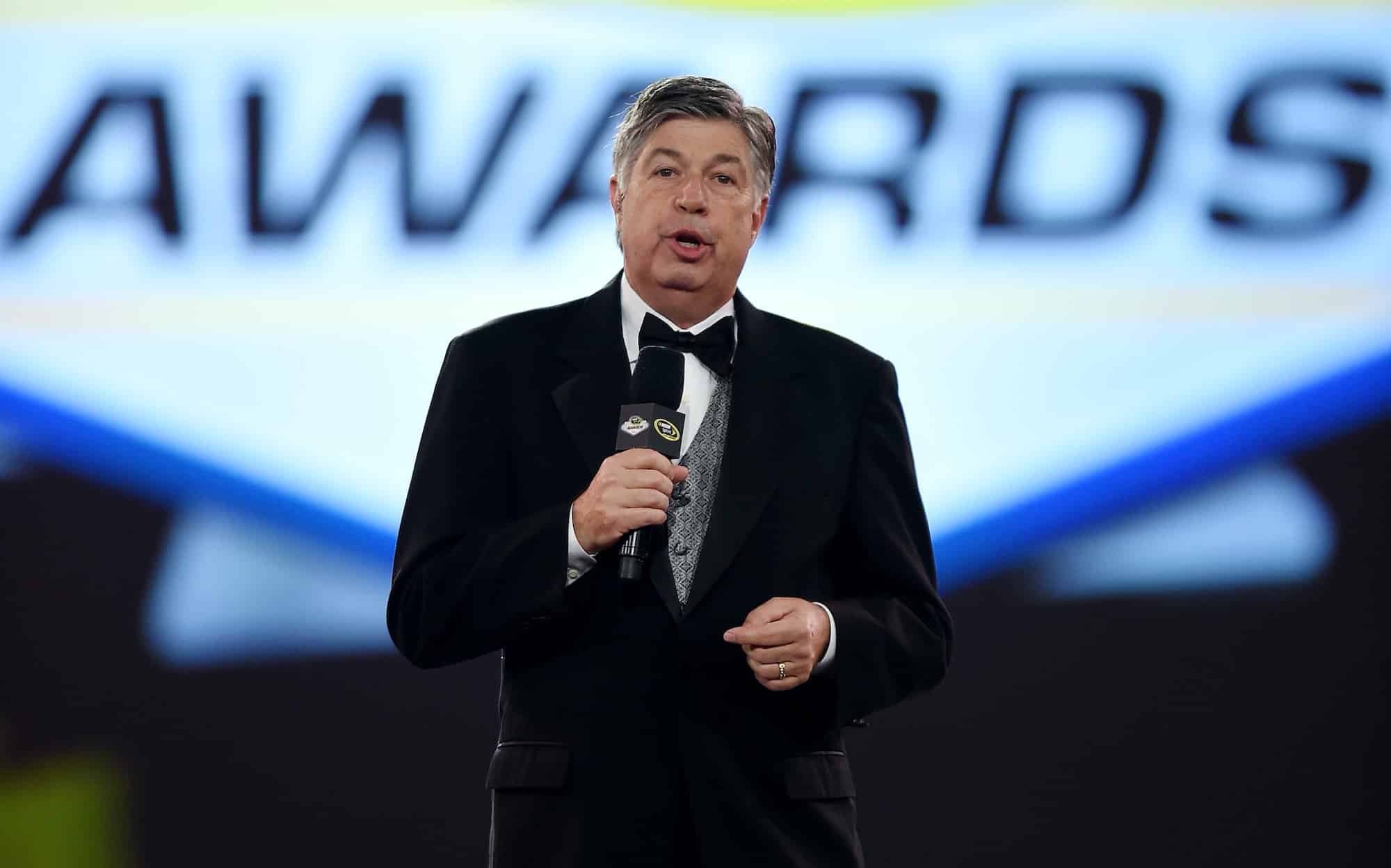 Mike Joy Gets It Wrong During Gateway Broadcast and Kenny Wallace Points It Out While Speaking Up for Fans
Mike Joy has made numerous mistakes this year and had another on Sunday that Kenny Wallace pointed out while also speaking up for the fans.
Mike Joy has been a broadcaster in NASCAR for decades. His legacy is secure. But that doesn't mean he gets it right all the time. This year, the 72-year-old has made more than a few mistakes and shown on occasion how he's disconnected from the sport.  
On Sunday, during the inaugural Cup Series race at World Wide Technology Raceway outside of St. Louis, it was the latter. And guest analyst Kenny Wallace pointed it out while speaking up for the fans. 
Mike Joy and Clint Bowyer joined by multiple guest analysts this year
This year, Mike Joy and Clint Bowyer have been the mainstays in the Fox broadcast booth for the network's Cup Series coverage. With the departure of Jeff Gordon, the pair have been joined each week by a guest analyst who has provided another voice, including Tony Stewart, Danica Patrick, and Matt Kenseth.
During Throwback Weekend at Darlington, the duo hosted Hall of Famers Richard Petty, Bill Elliott, and Bobby Labonte in the booth.
The results have been mixed. While all the guest analysts are undeniably qualified to offer their opinions based on their experience in the sport, not all of them are comfortable behind the microphone. And it's shown. Of all the guests, Tony Stewart and Bill Elliott stood out for their solid performances.
Mike Joy calls for parking cars and Kenny Wallace speaks up for fans
At World Wide Technology Raceway for the first-ever Cup Series race, Joy and Bowyer were joined by guest analysts Michael Waltrip and Kenny Wallace for Stage 2. And what a stage it was. 
Ross Chastain and his aggressive driving started two separate incidents with Denny Hamlin and Chase Elliott. After the second, the Hendrick Motorsports driver showed his displeasure with Chastain on the subsequent restart by shoving the Trackhouse car up the track. Hamlin followed seconds later by running right up next to the No. 1 before passing.
"Oh, a tag team," Kenny Wallace joked. 
"It's a worst-case scenario. Both cars you wrecked starting side-by-side to you," Bowyer laughed. 
After briefly talking about the action at the front with the leaders, the crew in the booth sensed the action between Hamlin and Chastain wasn't over. And they were right. 
"The 1 has still got to pass Denny," Bowyer pointed out. 
"And Denny's not giving him any room at all," Joy said as the cameras showed a shot of Chastain trying to get around the No. 11 Toyota. 
"I want to tell you what, this is a show," Wallace said, expressing the consensus of most fans watching in the stands and at home. 
"No," Joy interjected. "There's only one solution to this. Park them both."
"What are you going to do about Chase?" Waltrip jumped in, suggesting that Joy's comment ignored the retaliatory move by Elliott just moments before. 
"But look at the enjoyment we're getting," Wallace correctly pointed out, as the camera showed fans standing and cheering on the action between the pair. 
Joy could only laugh. 
NASCAR confirms Joy got it wrong
Joy wanted to park both cars, but why? Chastain had made one of his typical aggressive moves, sending Hamlin up the track. The three-time Daytona 500 winner responded by first squeezing the No. 1 car down the long straightaway and then blocking him after the restart. None of those moves were park-able offenses. 
And NASCAR admitted as much this week. 
"We don't like to see things like that, but there's a certain amount of we kind of have to let them handle it on their own somewhat," NASCAR senior vice president of competition Scott Miller said on SiriusXM NASCAR Radio. "What we saw, while we were annoyed by it, there was no real contact. They tried to make life miserable for Ross. We all witnessed that, but at least we didn't see a blatant takeout or anything like that."
Not the first time Joy has messed up this season
Unfortunately, this isn't the first time the longtime announcer has been wrong in 2022. At Talladega, when Dale Earnhardt Jr. crossed over from NBC to work with the Fox team, Joy repeatedly referred to Christopher Bell in the No. 20 JGR car as Erik Jones during an incident on pit road before Bowyer politely corrected him. 
Outside of the obvious mistakes, Joy's takes, like his one on Sunday about parking, have also been off the mark, including one, interestingly enough, involving Earnhardt. 
In April, the announcer responded to a fan's post on Twitter about postrace winning celebrations and how he thought they were better on the front stretch immediately following the race instead of Victory Lane, and offered a variety of reasons why.
"Victory Lane got to be a joke," Joy tweeted. "People drape a towel on the driver covering up his sponsors, put hats on his head, change them mid-interview, stack crap on the roof of the car, and even put up a 'fence' so he couldn't swat competing brands off his roof. Sad fight for TV airtime."
Junior disagreed. 
"Have to agree that this does more for me than the often awkward front stretch interviews," Earnhardt said of celebrating in Victory Lane. "The first thing a driver usually wants to do after taking the checkered flag is get to his crew to celebrate. It's a special moment."
Unsurprisingly, in an informal Twitter poll, more than 86% of the respondents agreed with Earnhardt. 
While there wasn't a poll related to parking the two drivers from Sunday's race at Gateway, it's safe to say a large number of fans disagreed with Joy, and more importantly, so did NASCAR. 
Like Sportscasting on Facebook. Follow us on Twitter @sportscasting19 and subscribe to our YouTube channel.