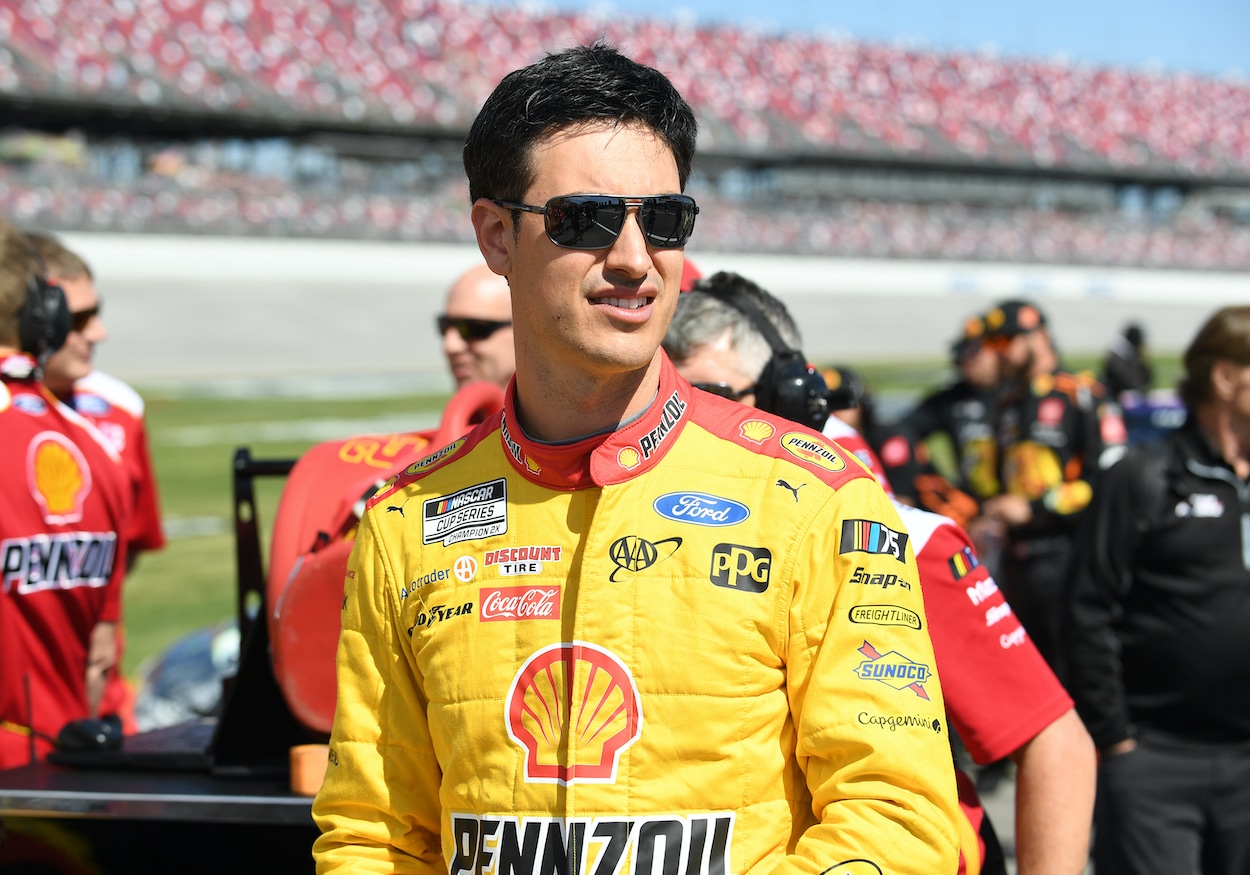 Joey Logano Openly Talks About Facing Death After Watching Violent Xfinity Series Accident at Talladega That Included Six Barrel Rolls
Joey Logano candidly talked about facing death during Saturday's Xfinity Series race broadcast, moments after watching a violent crash where a car barrel rolled six times down the backstretch.
Joey Logano has been in some scary crashes in his career. It comes with the territory of being a NASCAR driver. On Saturday, the Team Penske pilot watched a terrifying crash at Talladega from the Fox broadcast booth with Brad Keselowski and Adam Alexander during the Xfinity Series race. 
A few minutes after it happened, the two-time champion talked about what he experienced on the same track several years ago and openly admitted how it made him think about dying and how he had to get over it.  
Joey Logano witnesses and talks about terrifying Xfinity Series accident
Joey Logano joined former Penske teammate Brad Keselowski in the booth for Saturday's Xfinity Series race at Talladega, the 2.66-mile superspeedway known for its frightening high-speed crashes. The two champion drivers witnessed such a scary accident with three laps to go in Stage 2 when Blaine Perkins first got sideways before getting airborne and flying down the backstretch. And that was just the beginning.
The No. 02 car eventually caught an edge and began tumbling down the track at a high rate of speed. Six extremely violent barrel rolls later, and the destroyed car came to an abrupt stop. 
"Some big hits within the rolls," Logano noted on the replay. "The revolutions at that speed usually isn't bad, it's the impacts when you come down back onto the racetrack. Those are the ones that hurt."
Logano openly talks about facing death
During the lengthy red-flag break, the broadcast returned to the Charlotte studio, where they discussed the frightening crash back in Alabama. Just before returning to the track several minutes later, show host Shannon Spake asked Logano and Keselowski what goes through the minds of a driver after seeing such a big wreck and how they shake it off.
"That is something that is for real. I remember when I rolled over last time," Logano said of his 2021 crash at the same track. "It's no doubt it goes through your mind that night when you're going to sleep of, 'Holy cow! I was a little closer to the end than I wanted to be.' That plays in your mind, for sure. You've got to get over it." 
Keselowski has talked about Logano's accident in past
Interestingly, Keselowski didn't say anything on the broadcast, but he has spoken in the past about the fear he experienced with Logano's crash at Talladega. 
Last year during an appearance on the Daily Stoic podcast, the 2012 champion talked about the relationship drivers have with fear. He said as a professional, he's trained to turn off the fear, but acknowledged, sometimes, you just can't. 
"I'm not going to tell you that I've never been scared in a race car," Keselowski admitted. "Yeah, it happens. Had a wreck earlier this year that I wasn't in, but the car in front of me got up in the air and started flipping. You know, in the moment, it didn't scare me but a few seconds later, it was like, 'Wow, that was really bad. I was right there. If he would have come down at this angle, it could have been lethal, right.' So you do have those moments where you just try to turn down the noise."
There was a lot of noise at Talladega on Saturday. Another big crash later in that same race left Daniel Hemric on his roof for several minutes. It was a scary day in Alabama and the drivers took note.
For the latest breaking news and information about NASCAR's three national series, check out @kdsportswriter on Twitter.