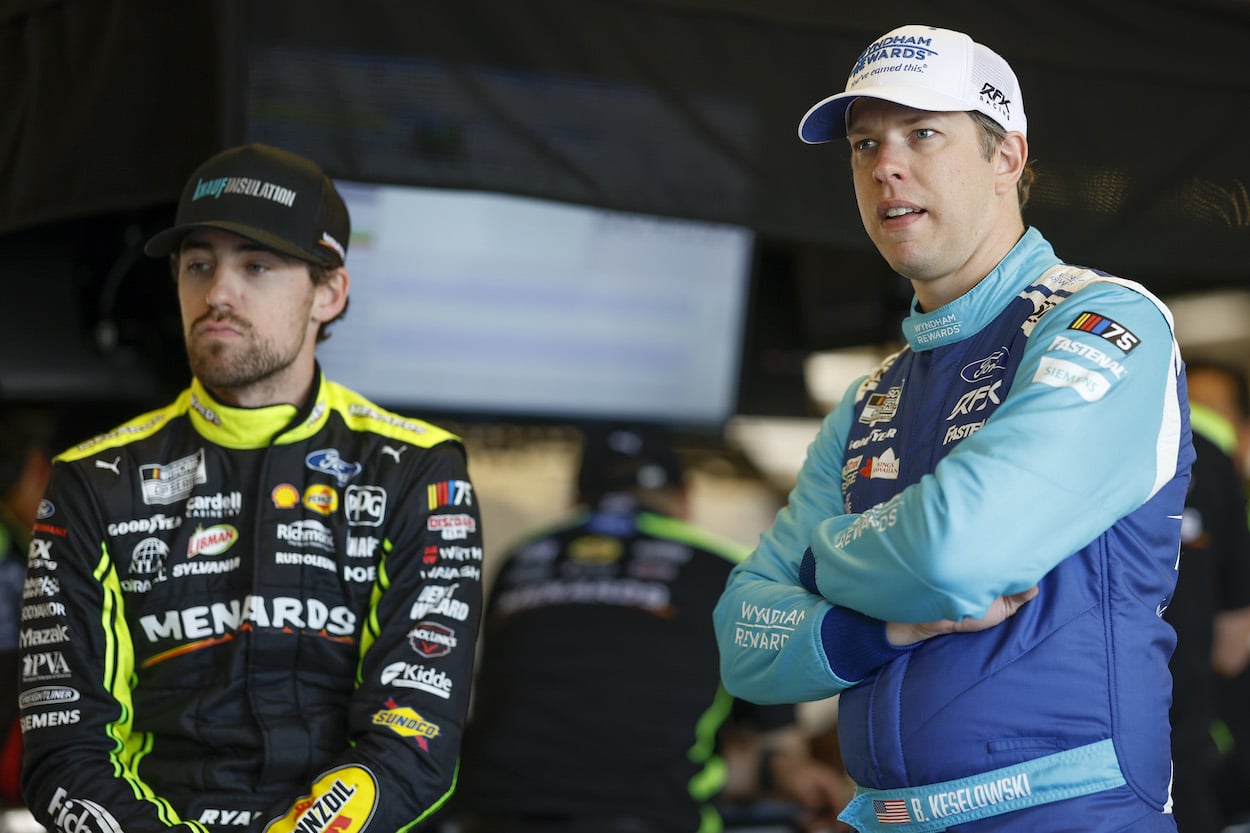 Brad Keselowski Calls Out Fox for Doing Him Dirty and Learns Ryan Blaney Also Disrespected by Network in Recent Past
Brad Keselowski bluntly called out Fox after he was embarrassingly missing from a Cup Series promotion and learned that network had done the same thing to Ryan Blaney, not once, but twice.
For years, Brad Keselowski, Ryan Blaney, and Joey Logano were Penske teammates. In addition to working together on the track, all three have shown they can mesh well in the broadcast booth, working multiple Xfinity Series races on Fox over the last few seasons.
The younger Blaney has been slighted not once but twice in his appearances when the network left him off promotions for the upcoming Cup Series race. The 29-year-old called out the situation both times, and Fox addressed it. 
On Saturday at Martinsville Speedway, it was Keselowski's turn. 
Brad Keselowski calls out Fox for excluding him on Cup Series promo
Brad Keselowski joined former Team Penske teammate Joey Logano and Fox's Adam Alexander up in the booth in Martinsville this past weekend. Both drivers have proven to be quite adept in their broadcasting skills, providing the audience with an informative driver's perspective throughout the race. 
Saturday night was no different as the pair seamlessly worked with the veteran broadcaster in describing the Xfinity Series action on the half-mile track. However, during a caution with just over 100 laps to go, things took an uncomfortable turn when the network aired a promotion for the next day's Cup race.
"Tomorrow, the NASCAR Cup Series is on FS1 for some short-track racing at The Paperclip in Martinsville," Adam Alexander said as a graphic showed Kyle Larson, Logano, Blaney, Bubba Wallace, and Denny Hamlin standing next to each other with Martinsville in big block letters in the foreground. "The pre-race kicks things off 2 eastern. We're going green just after 3. It's only on FS1 and the Fox Sports app. We got Logano on the board." 
"I don't know. I thought I knew people here at Fox. I thought they liked me," Keselowski said before circling Logano's face with the telestrator. "Joey gets on here. No Brad. No Chase Elliott."
"Forever Blaney wasn't on there," Alexander pointed out. 
"Now he's there," Logano said. 
"I was going to say he politicked his way to the board," the Fox announcer admitted. 
The RFK Racing driver/co-owner laughed.
"Great negotiations, Blaney," he said. "I'm going to take a lesson from you." 
Keselowski former teammate Ryan Blaney first got slighted last year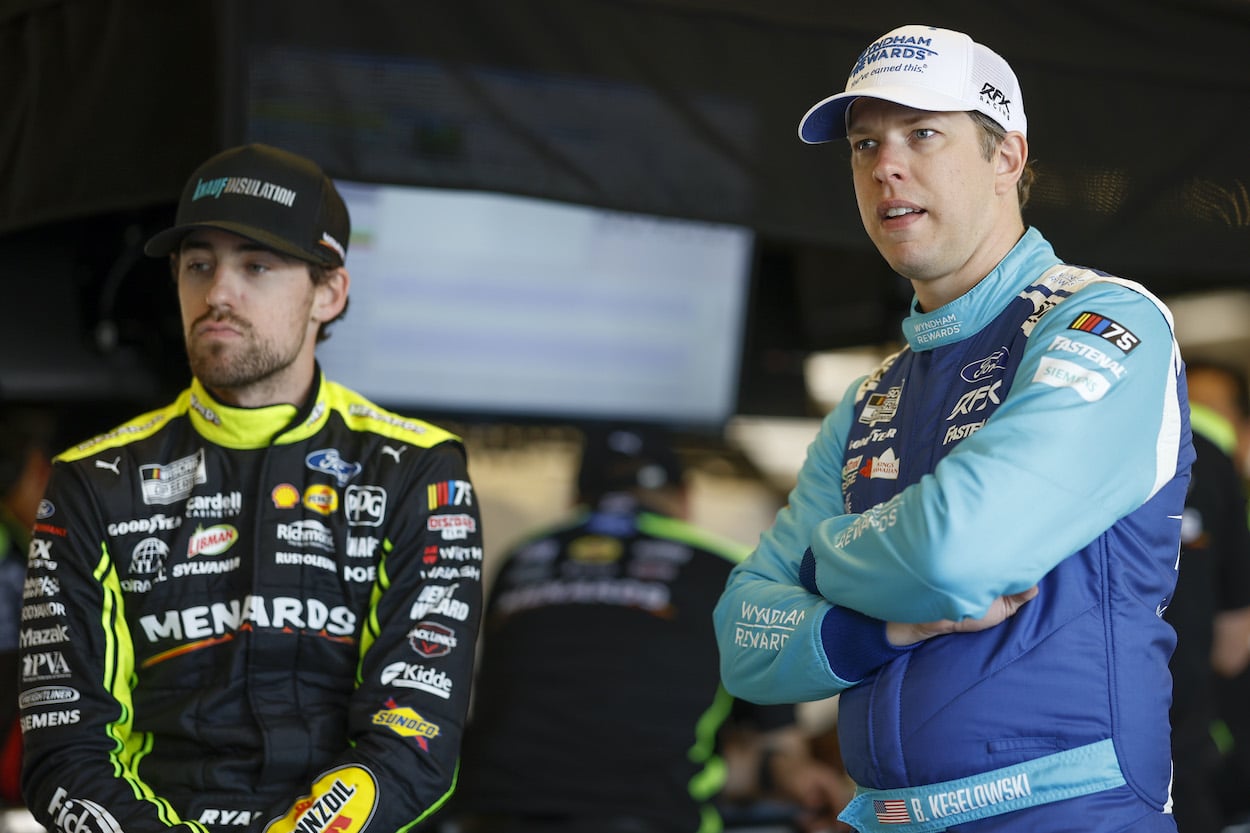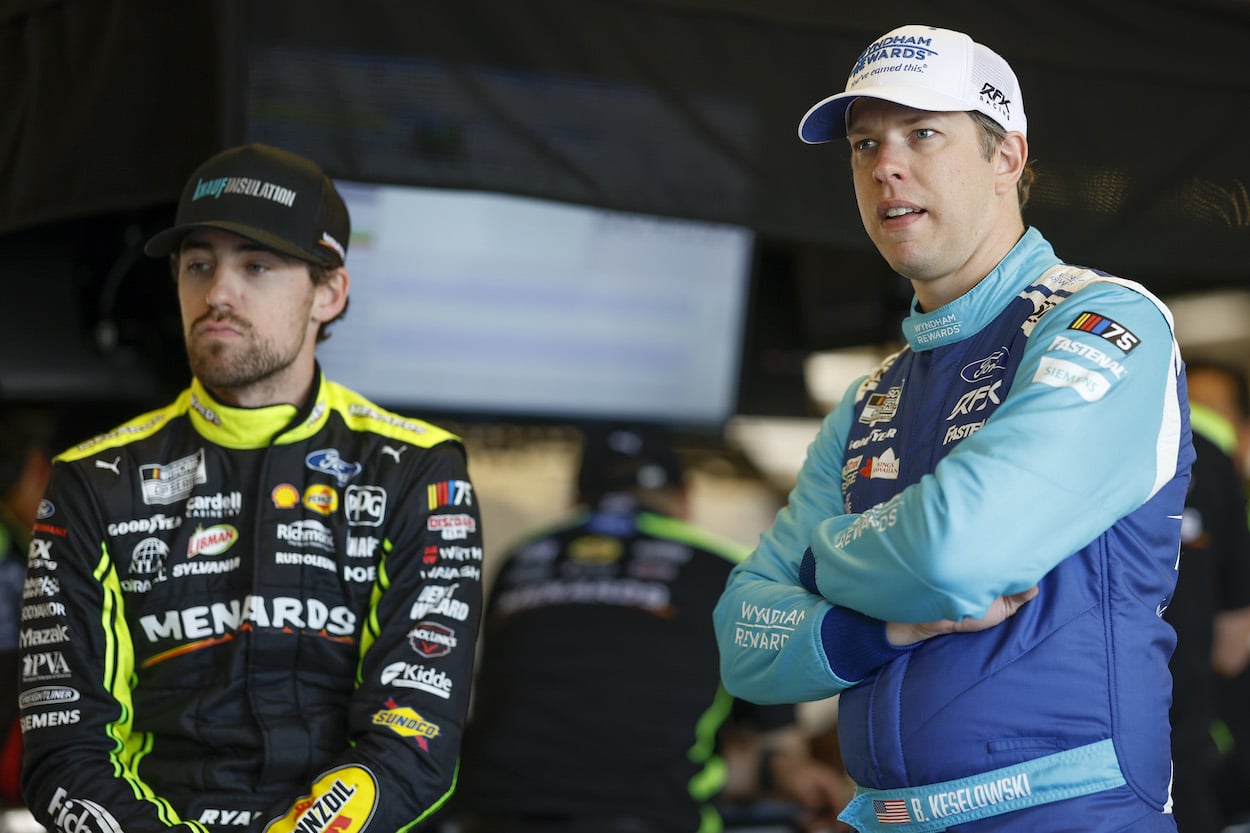 If Keselowski wants to take a lesson from Blaney, he's got options. That's because the network has snubbed the Penske driver on multiple occasions, starting last year in the second Xfinity Series race of the season at Auto Club Speedway. 
It happened during a caution in the second stage when the broadcast displayed a graphic featuring the next day's Cup Series race with Logano, Denny Hamlin, Kyle Larson, Bubba Wallace, and Chase Elliott. Blaney was notably missing. 
"I'm not a star, I guess because I didn't get my face on the deal," Blaney said, expressing surprise similar to Keselowski at Martinsville.
Fox aired the promo a second time later in the race and the driver jokingly threatened to walk off the air. He didn't. But a couple of days later, the network made up for its omission when the driver appeared on NASCAR Race Hub, and the show aired a promotion for the upcoming race at Las Vegas exclusively featuring the driver of the No. 12. 
"I really do appreciate that," he said. "I think I threatened to not come back on the broadcast or show. That's what you got to do. You got to lay the law down and look where it gets you."
Blaney left out for a second time this season 
Where that got Blaney last year obviously didn't carry over into 2023. The driver had flashbacks earlier this year at Fontana during the Xfinity Series broadcast when a promo ran for the next week's Cup race at Las Vegas, and you know who was missing.
"I come up here yesterday, raining, knowing we're not going to race yesterday, and you guys make me sit in the booth and then I come back today after the Cup race and you still don't put me on the damn picture," an annoyed Blaney said. "I tell you what — I don't know why I do this anymore with you guys."  
Unlike last year when the network made amends a couple of days later on Race Hub, they addressed the situation moments later when the broadcast returned to the Charlotte studio. 
"Hey listen, Ryan, we heard what you had to say about the promo out there and how they didn't put you on there, so we've taken care of that, my friend," Shannon Spake said, as three large graphics of Blaney appeared in the background. In addition, Spake and Larry McReynolds held cutouts of the driver. "This is the Ryan Blaney Race Day studio, OK."
It looks like Brad Keselowski has one more snub to go before he gets a studio named in his honor.
For the latest breaking news and information about NASCAR's three national series, check out @kdsportswriter on Twitter.