Joey Logano Admits He Sat Next to Kyle Busch on 5-Hour Flight With His 'Nice Face On' and Addressed Their Ongoing Feud: 'I Think We're OK'   
Joey Logano and Kyle Busch have had a running feud for years. The pair added a new chapter in the Clash at the Coliseum earlier this year with the Richard Childress Racing driver blasting the Team Penske driver and calling him two-faced and an ass**** after the race. 
Interestingly, the 37-year-old two-time champion recently made a remark before Phoenix and surprisingly defended Logano for a move others questioned at Auto Club Speedway. This week, we found out why during the 2022 Cup Series champion's appearance on SiriusXM NASCAR Radio. 
Joey Logano spins Kyle Busch at Clash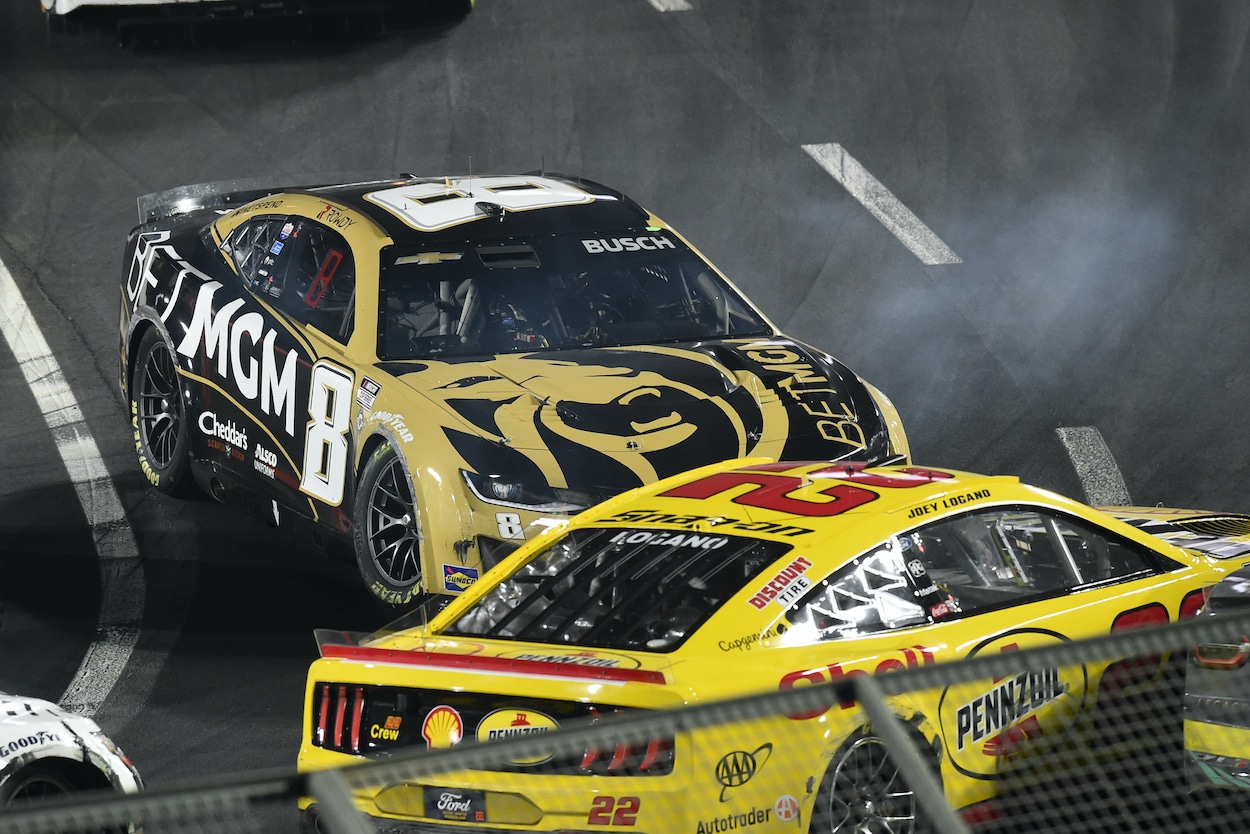 After finishing third in the Clash at the Coliseum, Kyle Busch was happy with the result, but not with what happened in the race when Joey Logano got into the rear of the No. 8 car and spun him. 
"Logano didn't get hit by nobody," Busch told the media after the race. "He just flat out drove through me so he's got another one coming. I owe him a few."
Busch wasn't done and offered an even harsher critique of the driver later with Claire B. Lang on SiriusXM NASCAR Radio.
"It's really unfortunate to be raced by guys that are so two-faced," he said. "We were in the TV booth earlier and nice together and when we're all done with that, he's like, 'Hey man, good luck tonight.' I'm like, 'OK. Great. Thanks. Yeah. Whatever.' And then, lo and behold, there you go, he wrecks me. Don't even talk to me if you're going to be that kind of an assh*** on the race track."
Busch surprisingly defends Logano
The Penske driver responded several days later, agreeing with Busch that he's two-faced and an a-hole, but only in a race car where he wants to win, not outside of competition. That was the last anyone had heard anything on Logano and Busch. 
However, that changed last week before the race at Phoenix when the RCR driver visited with the media and was asked about the extended restart zone and if it provided the leaders with an advantage. In his response, Busch surprisingly defended Logano after multiple drivers had blamed the 2015 Daytona 500 winner for causing a massive pileup on a restart at Auto Club Speedway a few weeks earlier.   
"No. I think all it's done is caused that wreck at California," Busch said of the restart zone. "In my opinion, it's done nothing different. Nothing on the positive end. It's only added a negative end to it because at California, Joey was just maintaining his speed and everybody was gaining, gaining, gaining, closing up their gaps because they all try to lay back and then time the run. 
"So he just waited for everybody to run into everybody and then went at the end of the zone. And so the bigger you make that zone the more anticipation everybody has and the more accordion effect you get. I knew that going in and I was not a proponent of lengthening the zone but nobody tends to listen to me a whole lot."
Pair had conversation and cleared the air
Busch saying anything remotely positive about Logano was surprising to say the least. When the Penske driver appeared on SiriusXM NASCAR Radio this week, fans found out why. He explained as part of the West Coast Swing, numerous drivers had flown together on a charter plane to the different races, including Kevin Harvick, Brad Keselowski, Martin Truex Jr., William Byron, Ryan Blaney, and, you guessed it, Kyle Busch.  
"I sat next to Kyle Busch shoulder-to-shoulder for five hours on the way to Vegas," Logano admitted. "How about that? Didn't see that one coming, huh? We talked it out. I think we're OK. I had my nice face on," he joked of his two faces. "We were OK." 
When asked where he put his other face, Logano offered the perfect reply. "Underneath in baggage storage," he said. "I get that out when I landed."
In other words, this isn't over.
For the latest breaking news and information about NASCAR's three national series, check out @kdsportswriter on Twitter.