Claire B. Lang of Sirius XM NASCAR Radio Reveals Most Compelling Interviews in 2022 NASCAR Season, Including Some Emotional Behind-the-Scenes Moments
Over the last two-plus decades, Claire B. Lang has been that friendly and informative voice NASCAR fans have regularly heard provide a unique behind-the-scenes perspective, featuring her inquiring interviews with drivers and other important players following every Cup Series race. The 2023 season will be Lang's 22nd year of coverage for SiriusXM NASCAR Radio (Channel 90). 
However, before we jump into 2023, it's time to have one last look back at 2022 through the eyes of the veteran reporter, and not in the typical way you would expect. Instead of a top-five list of drivers, races, or moments, this is Lang's perspective on her five most compelling interviews in 2022.  
She readily admits there are five intriguing interviews each race weekend, but these five immediately stand out to her following an action-packed and emotional 2022 NASCAR season. 
This story was provided to Sportscasting by Claire B. Lang. Unless otherwise specified, everything that follows is in her own words.
Claire B. Lang conducts last interview with Coy Gibbs after watching his son win the Xfinity Series championship
Coy Gibbs was always an incredibly humble and soft-spoken man who preferred to lead quietly rather than turn the attention on himself for an interview. When he entered the SiriusXM studio after his son Ty won the Xfinity Series Championship at Phoenix, I had no idea that my interview with him would be his last. 
It was tricky after Ty delivered a hugely controversial finish at Martinsville the week before in which he took his teammate out. Ty then proceeded to race cleanly, like a champion, at Phoenix to win the Xfinity title. I thought a lot about how to orchestrate a fair interview with the father and Joe Gibbs Racing executive about the challenging post-Martinsville week and the Xfinity Championship win, all in one interview.  
I have never seen Coy so outgoing as he was in that interview, so incredibly proud and supportive of his son. The interview post-Xfinity race at Phoenix was the best I have ever had with Coy, who died in his sleep hours later.
When I heard the next morning that he had passed away, I could not stop thinking about how glad I was that I gave that interview the best I had within because you never know when anything you do might be for the last time. 
Coy was at his best that night in the studio during that interview at Phoenix, enjoying his son's Xfinity championship, and I'll always remember him that way.
Joey Logano on the champion's stage at Phoenix
The challenging part about covering the championship race is that the Cup race finale comes at the end of a massively packed weekend of championship race coverage in all three NASCAR series. When it is all over, telling the story of the season and the race that culminated in the crowning of a new champion is a rush — but it is also beyond challenging. 
The biggest story of the season and the weekend comes at the end, and it requires total focus. The coverage that night is the champion's story. Every single emotion, every person who graces the champion's stage, and their reaction is so important. Every moment of post-race coverage means so much to the fans listening and to the champion. It has always felt to me like a huge responsibility to paint the exact picture of the story unfolding. 
As I take the stairs up to the champion's stage looking down over the race track and move in position to stand next to Joey Logano for my interview at one of the biggest moments in his career, I take a moment to remember every sight and sound – every teary eye and every exhale of pent-up stress from the season culminating in the ultimate prize. 
I remember the pure joy from Joey on the stage in the interview and that we laughed as he shared his trademark sense of humor and pure jubilation after a confident race to the championship in 2022 — a season full of hard work, sweat, struggles, and desire to put into one championship interview.
I was told I might want to get out of the area if I didn't want to get hit by champagne during the team's champagne spray down below before taking the stairs up to the stage. I wanted to feel and sense it all –so I ducked down low, scrunched in an area where I wouldn't get in the way, turned my phone to video and recorded the true emotion of the moment.
The champion's stage interviews are all special and have been for as many years as I can remember. The interviews live for years to come, and it is important to get it right.
Ty Gibbs winning at Martinsville and taking the championship at Phoenix
Post-Martinsville
Nearly every interview I had post-Xfinity race wins with Ty Gibbs was memorable, and I enjoyed each and every one of them. The young drivers are my favorite to interview. It is important to unwrap their young personalities slowly so that they become who they really are and not who you want them to be. 
It takes patience because initially, they are shy and don't fully know who they are yet because they are growing up in the midst of it all. Eventually, if you do it right – they learn to trust you and give you their real selves in the interview. Such was the case with Ty Gibbs in 2022. 
At Martinsville, after taking out his teammate Brandon Jones and winning the race and advancing to the Championship 4, I took great care to cover the fact that he had just won when he came into the studio but also, while hearing him out fairly, needed to cover what just happened and the fan and industry reaction. It was tough. 
I recall most the moment I told Ty there was room in the sport for the guy who wears the black cowboy hat but to be that guy, you have to not be bothered by fans who boo. I asked if he could handle that. I knew in that moment as he leaned forward into the interview that I was going to get something real. 
He talked of his faith and said that even Jesus got booed. And he said it because he trusted me. I knew what he meant, but his comment went viral, and people took it as if he was saying he was all that. That is not what he meant. I felt bad because as fans reacted and it made its way over social media, I knew he would not have said that if he did not trust me.
Post-Xfinity Championship at Phoenix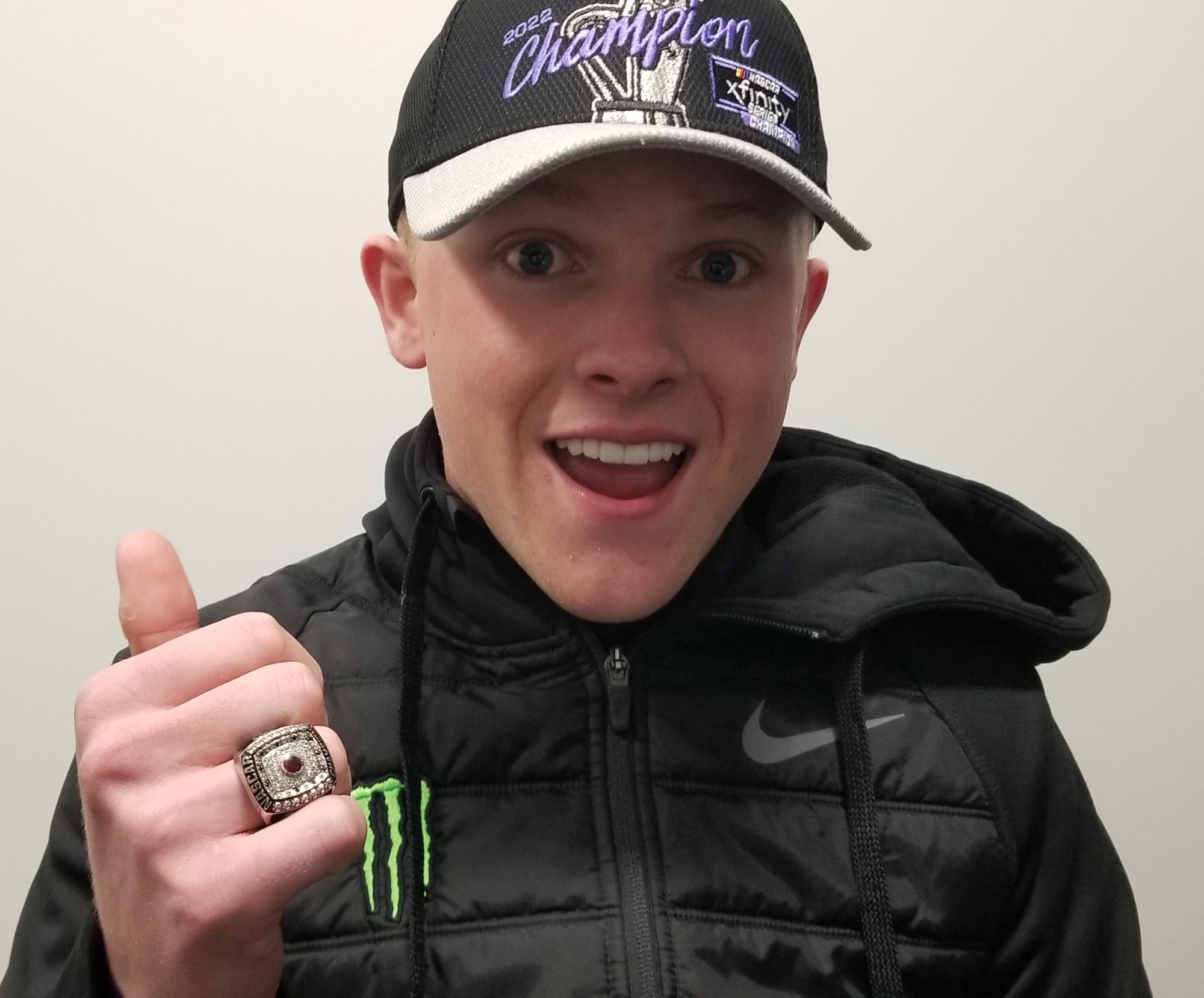 After a long hard week post-Martinsville, Ty raced like a champion and won the Xfinity championship. I interviewed the newly-crowned champ in the studio that night right after he won the race, and we touched on so much. He and I have this thing where after he wins, I ask him to do a pose for my phone camera, and I have many of those where he's laughing and enjoying the win and posing for me. It's just something that makes the moment fun. 
I am putting a microphone in front of these drivers all the time – and I want it to be a celebration for them capturing the win because wins are hard to come by. As Ty left the studio that night I asked him to do a pose for a photo, and he did, beaming having just won the championship, not knowing that his father would pass away just hours later.
I'm so glad I took that photo – and I thought that is probably the happiest Ty will ever be before the loss of his father and it is exactly how his father Coy would like to remember him — that happy and a champion after an impressive race.
I appreciate every interview I've done with Ty. I take nothing for granted. I'll never forget years from now having been a part of interviews with him when he was just beginning his trajectory on the way to being a superstar.
Kurt Busch becoming a leader at 23XI like his father after retiring from full-time racing
I have covered Kurt Busch's entire career and have many great memories of interviews with Kurt and his dad, Tom, who has always been good to me if I had a racing question of any kind. Tom Busch and I have had some great racing discussions, and I appreciate every single one of them. 
Now, to cover Kurt having to end his full-time career due to injury is beyond difficult, as he announced this season that he needed to step away from full-time racing. Yet, Kurt will rise to amazing achievement in other areas as he moves to the next stage of success in his life and joins the leadership group of 23XI Racing. 
I have covered Kurt through a lifetime of challenges. He has always rebounded and grown from any life or racing obstacle he faced, and he has risen to so many great moments. I am excited to cover him into 2023 at 23XI Racing and whatever else he chooses to do.
At the last race of the 2022 season at Phoenix, Kurt was coaching during Cup qualifying on pit road for 23XI as Ty Gibbs was filling in for him in the car. I walked down to pit road to the team's pit stall, and when I saw Kurt in action; it struck me, his arms folded as he watched every move of his team. 
His mere presence radiated confidence to the group and his young replacement driver that day. I thought – Wow! What I am watching right now is the next-era Kurt Busch. I went over and told Kurt that he reminded me so much of his father Tom as he coached. 
He took my hand and grasped it, looked into my eyes and said, 'Thank you' and told me that it was an honor to be compared to his father Tom, in any way.
Weekly visits with Denny Hamlin's crew chief Chris Gabehart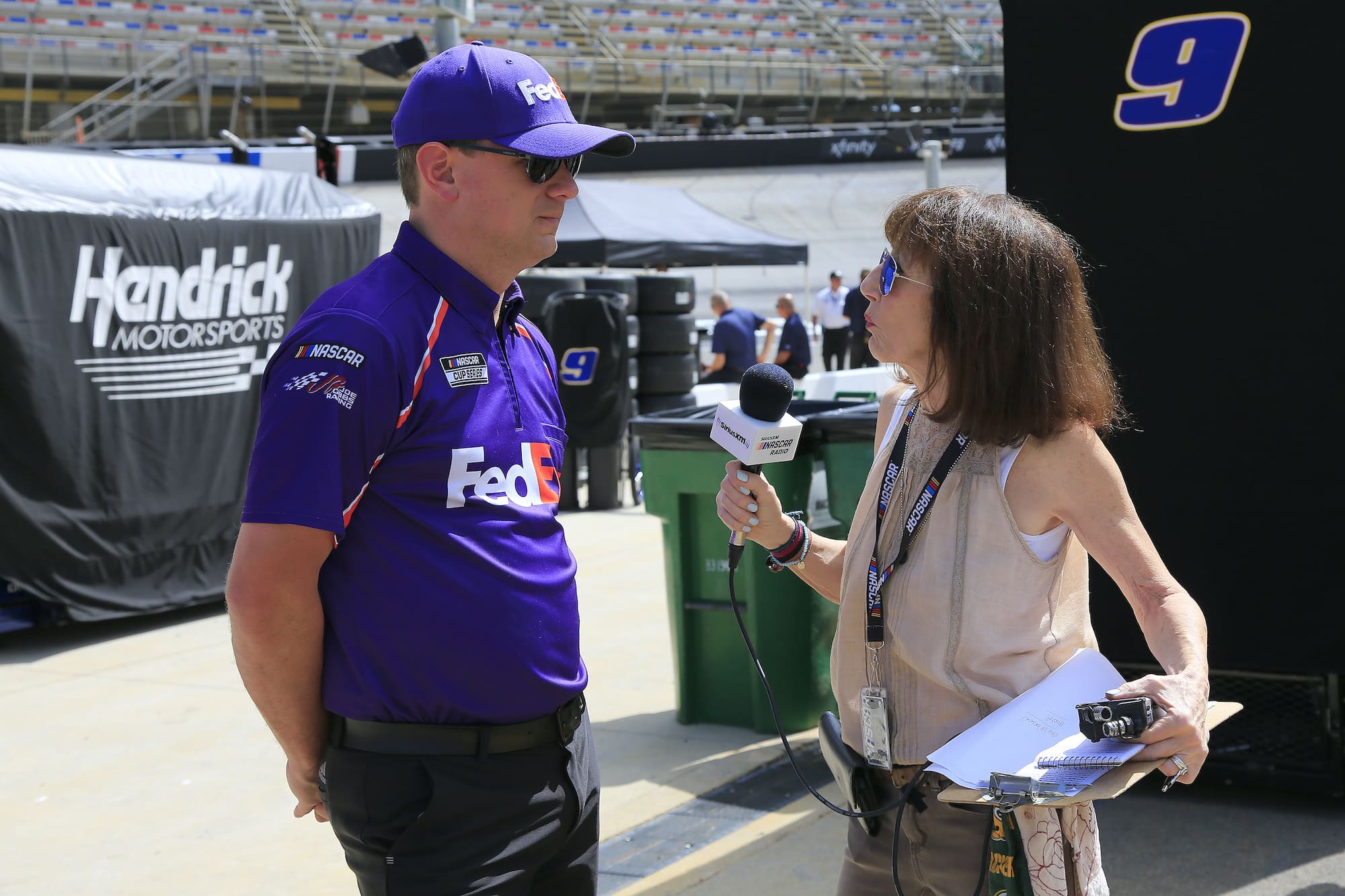 Chris Gabehart was a weekly guest with me on my nightly Dialed In show on SiriusXM NASCAR Radio in 2022. I don't do many regulars (weekly guests) because my show is only three hours in length, and on Fridays, it often is taken up with post-Xfinity and Truck race coverage as drivers stop in the studio with me after races. 
But I wanted to have Denny Hamlin's crew chief Chris Gabehart on as a weekly guest because he's so incredibly smart and beyond great at explaining difficult, competitive technical information to the fans and addressing topics about the sport as it relates to the teams. Not only is he good at it, but he is one who truly understands why the fans deserve to receive such a thorough explanation.
Even after the most difficult weekends or toughest issues facing the team, Gabehart never shied away from anything in his appearances this season. He took on the most difficult questions, answered them straight on, and the fans reacted by telling me how incredible it was to get to know Gabehart and learn from him.
In Gabehart's last interview of 2022, after the No. 11 team failed to advance to the Championship 4 following Ross Chastain's Martinsville miracle, it was trademark Gabehart that joined me for an interview. As always, without fail, he was truthful, honest, and most giving of his knowledge and passion for the sport.
It is challenging to summarize a season like 2022 in only five interviews, but hopefully, this provides fans with a better understanding of the great amount of care and thought that goes into every single interview that I am a part of bringing to the SiriusXM airwaves, which is only possible because of the guests who don't shy away from my microphone at the track.
I'm looking forward to delivering that same in-depth coverage in 2023. See you at the race track!
In 2023, Claire B. Lang will be working her 22nd season of NASCAR coverage at SiriusXM NASCAR Radio. The interviews covered in this story can be heard on race weekends throughout the season and on her 'Dialed In' call-in show heard weeknights on Channel 90.