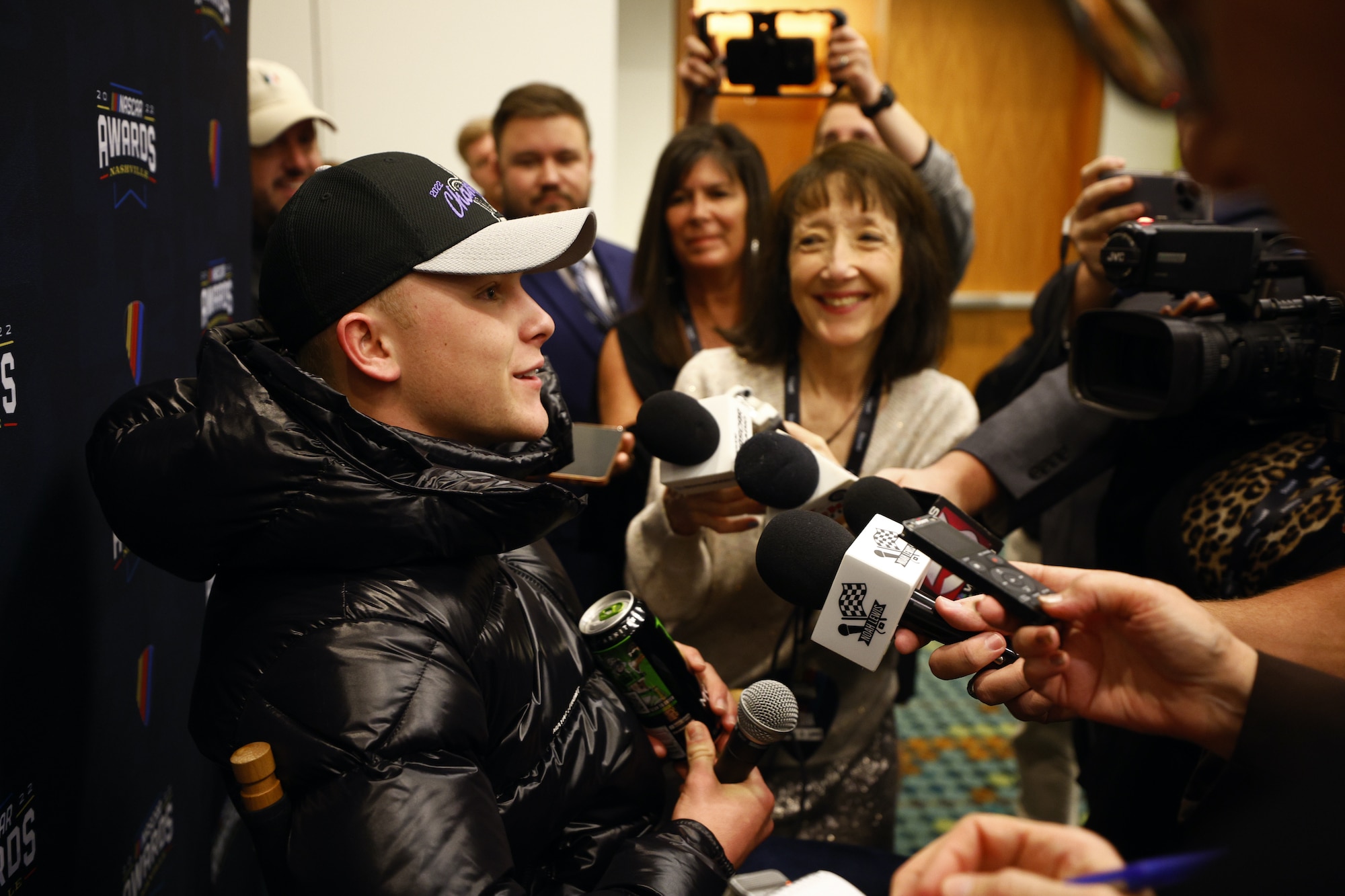 Ty Gibbs Makes First Public Remarks Since Winning Championship and Father's Tragic Death 
Ty Gibbs visited with reporters in Nashville as part of Championship Week and briefly addressed his father's unexpected death.
The last time NASCAR fans saw Ty Gibbs, he was triumphantly standing with his team at Phoenix after winning the 2022 Xfinity Series championship. Unfortunately, that celebratory mood shockingly vanished hours later when his father, Coy, unexpectedly died in his sleep. 
The 20-year-old driver didn't compete in the Cup Series finale as a substitute for Kurt Busch and 23XI Racing, and has understandably stayed out of the public eye. With this being Championship Week, the Joe Gibbs Racing driver is in Nashville to celebrate his achievement with the other champions. Just hours before the show, he visited with the media and talked about what he's been dealing with in the last few weeks. 
Ty Gibbs endured a range of emotions in last month
In the second-to-last Xfinity Series race of the 2022 season at Martinsville, Ty Gibbs was uniformly condemned for his last-lap move when he dumped Brandon Jones and ended his teammate's hopes of making the Championship 4 race in Phoenix while himself cruising to victory.
The following week in the desert, with the odds decidedly stacked against him racing against three JR Motorsports cars for the title, the youngster pulled it off. He won the race and, more importantly, did so cleanly. He was deservedly lauded for his efforts. 
Unfortunately, the thrill of victory was short-lived. Hours later, Gibbs' father Coy, who was the vice chairman at JGR and who had stood and taken photos with his wife and victorious son just moments after winning the championship, shockingly died in his sleep.
The tragic death shocked the entire NASCAR community. The young driver hadn't been heard from since. 
Discusses how he's doing since father's death
This week Gibbs is in Music City to celebrate with the other NASCAR champions at the annual awards ceremony. Before the banquet, the future full-time Cup Series driver visited with the media to talk about the season. Unsurprisingly, the first question was about how he was doing following the death of his father.
"How are you doing?" SiriusXM NASCAR Radio's Claire B. Lang asked. "It's a lot for a young man to shoulder but it's been a while. So how are you hanging in there?"
"Yeah, I've been doing good," Gibbs said. "Thank you for asking. I definitely appreciate you guys. But we've been doing good. Doing a lot this week for all this media stuff so it's been kind of fun to experience all that."
"I heard that there was a meeting at Joe Gibbs Racing and that your grandfather told everyone we've got to move forward. Everyone's mourning," Lang said. "Can you kind of summarize like how do you do that?"
"Yeah, for right now, I'm not going to touch on any of that subject at all. I'm just going to stick with all the racing questions and I will go from there."
The reporters respectfully steered clear of any other questions on the sensitive topic.  
Talking about 2023 and why he's running the No. 54 car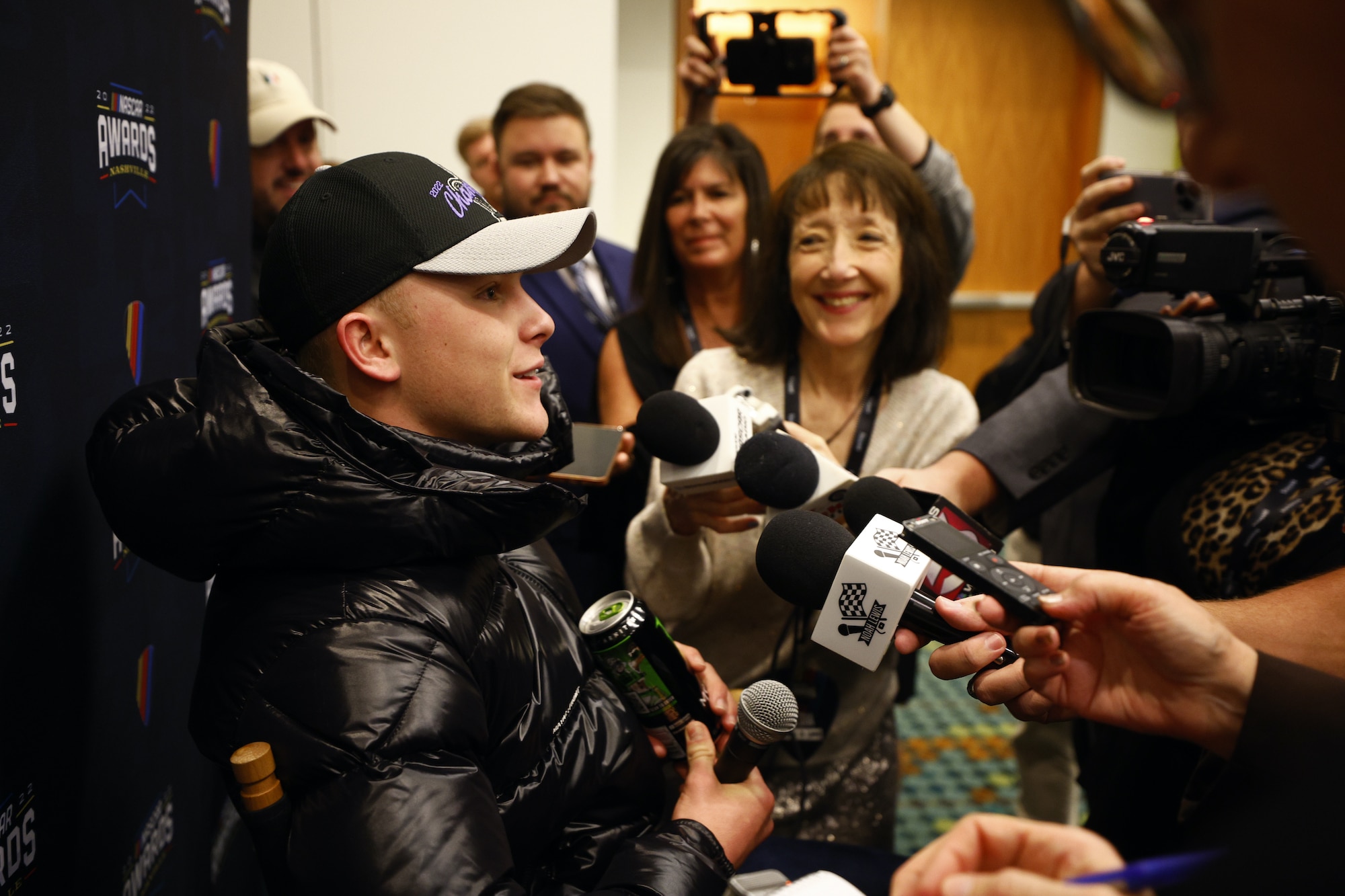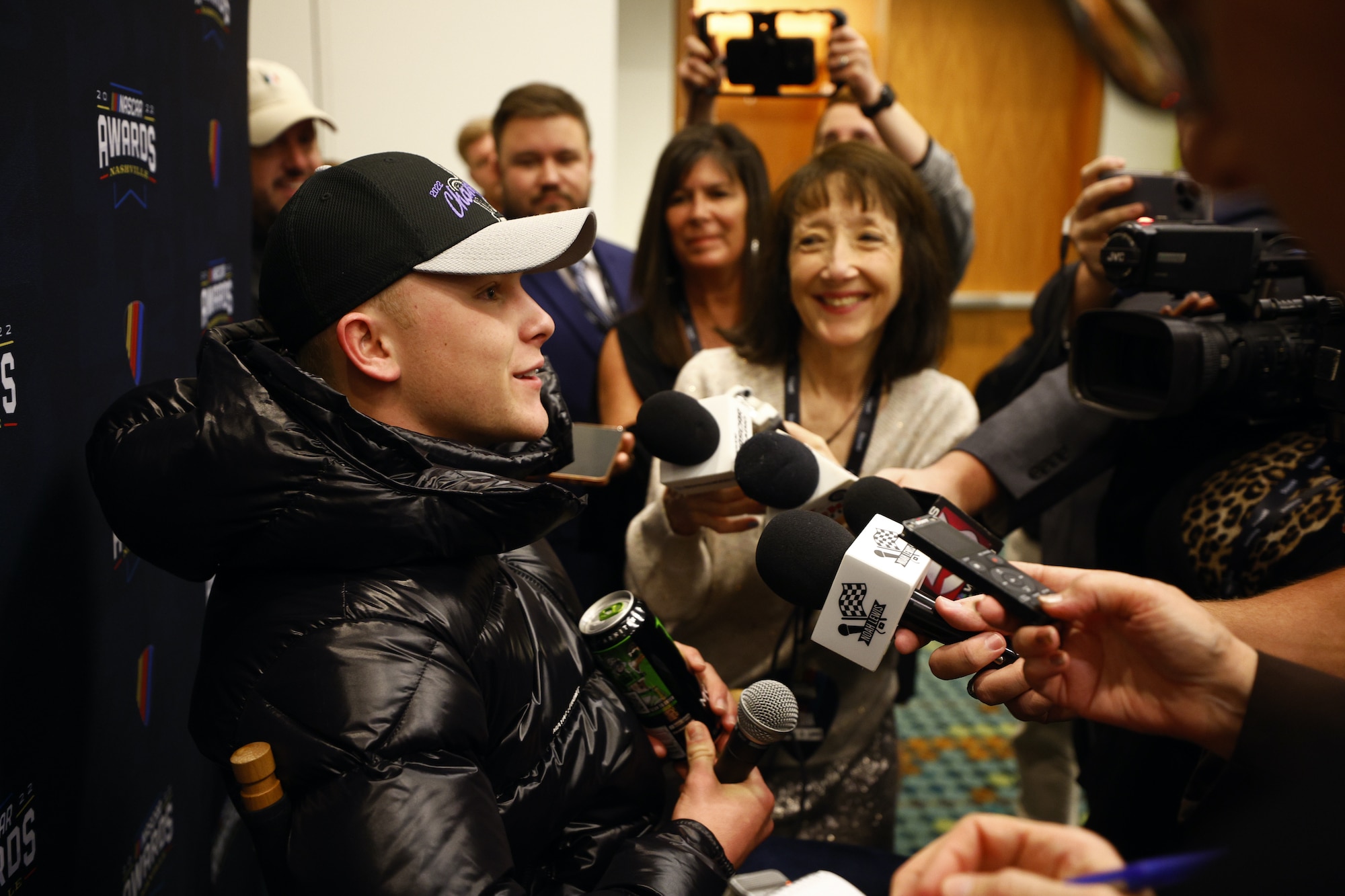 While Gibbs understandably didn't want to go into details about the tragedy, he did talk at length about the upcoming season, including why he opted to run the No. 54 instead of the No. 18 following the departure of Kyle Busch.  
"I enjoy the 54," he said. "I feel like it looks really great on the race car and feel like I've had great success with it. I don't believe in luck and taking stuff and wearing different colored socks to races, but I just enjoy the number. It was actually one of my first numbers when I was competing when I was younger as well. I feel like it means something to me."
There's no doubt under that smile, there's considerable pain for the fresh-faced youngster. But as a true professional, he put it aside and answered the questions about his recently completed season. He'll undoubtedly address those tough questions at some point in the future. For now, it's time to reflect back on a championship-winning season and celebrate all of his achievements.